Brad Keselowski's Dream Weekend
Sprint Cup: Keselowski untouchable at Loudon
You get so tired of hearing it. "Track position was" -- now fill in the blank: important, crucial, vital, key, everything -- "today."
Couldn't someone just overcome it, just keep driving back to the front and stop leaning on "aero push" and all those engineering terms that have become such tedious excuses in NASCAR?
Finally, Sunday, someone did. Brad Keselowski and crew chief Paul Wolfe took the track position bogeyman by the scruff of the neck, slapped it around, knocked it flat, walked away and forgot about it.
They dominated every which way, and won at the ultimate haunted house of track position, New Hampshire Motor Speedway.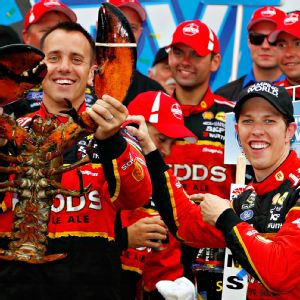 Matt Sullivan/Getty ImagesBrad Keselowski and crew chief Paul Wolfe, left, celebrated their third Cup win of 2014 on Sunday.
In the process, they made a pretty nice show of their de facto runaway. Each caution period, they would take four tires while most competitors were taking two, and Keselowski would -- as other drivers might whine -- lose track position, sometimes dropping out of the top 10.
And then he would drive right back up through the field. Time and again. Dominant car and driver, but good show as he kept passing cars on the way back to the front.
"When you have cars like we did today," Wolfe said of the No. 2 Ford to reporters at the track, "it's almost like your competition is always going to do the opposite of what you do, and that kind of happened the first stop when we went with four and everyone [else] did two. ... I think it was within 10 laps we were back in the lead.
"From that point, I felt pretty good about the strength of our car and what Brad was able to do moving through traffic."
At the very end they did take two tires, and Keselowski could have used aero push as an excuse for having trouble getting by Jeff Gordon to take the lead for keeps, but he didn't.
Not even a green-white-checkered finish could stop him, as Kevin Harvick, starting alongside, ran out of gas immediately and Keselowski blasted away from everyone else.
Team owner Roger Penske, who has employed a driver or two (dozen) in his day, pointed out: "At the end of the day, you can't have a great car if you don't have the best driver, and I can tell you today there was nobody that could beat him. And it was just great execution by everybody."
Speaking of execution, remember how, when Keselowski won the Cup in 2012, there was discussion that he and Wolfe might be emerging to challenge Jimmie Johnson and Chad Knaus as the best driver-crew chief tandem in NASCAR?
Then that discussion faded last year as the No. 2 team stumbled through bad luck and blown engines and didn't even come close to repeating.
Well, now they're back. Just take Sunday, when Wolfe and the crew executed and Keselowski drove, without gimmicks. Johnson crashed out early after Knaus sent him out on treacherously low-tire pressures that bit the 48 team.
Keselowski became the first driver ever to sweep a NASCAR weekend at New Hampshire, having run away with the Nationwide race on Saturday.
For Keselowski and Wolfe, this made three Cup wins this season, two in the past three races, and really two in a row, if you figure that Casino de Daytona and its rain-interrupted plate race last week can't be counted as typical on the tour.
"I'm committed to winning another championship," Keselowski said.
And you know what? A championship seems more within the grasp of a stronger Team Penske now than it did at this point in 2012.
Fuel Gamble Doesn't Pay Off For Gordon
Video: N'wide at New Hampshire
Nationwide: Brad K cruises
Brad Keselowski keeps turning proud moments into human moments -- topping off dominant drives with celebration screw-ups.

Keselowski
This time, he dropped the American flag during his victory lap after running away with the Nationwide race at New Hampshire Motor Speedway on Saturday.
The muff was due to a hand still sore from a gash suffered in Victory Lane at Kentucky two weeks ago, when he broke a champagne bottle, bashing it on a podium.
Dropping Old Glory was "not one of my prouder moments," he told reporters at New Hampshire. "It was really windy and my hand was really sore, so I couldn't really hold the steering wheel, and I took my hand off the flag for a second and the wind just ripped it right out."
The sore hand hadn't kept him from leading 153 of the 200 laps.
Kyle Busch finished second, and whether the finish was in doubt depended on whom you listened to -- Keselowski thought it was close, but Busch thought it was hopeless.
Busch had "a second-place car all weekend," he told ESPN reporters. "I'm glad we could get what we could get out of it today."
Near the end, "I couldn't maneuver around anywhere," Busch said. "Any time I got out of my line, the car was just erratic."
It didn't look that way to Keselowski in his mirror.
"It was really, actually hard-fought there at the end," he said in Victory Lane. "I think Kyle was just a little bit faster. I didn't think I was going to be able to hold him off."
Camping World: Blaney denied
That No. 51 truck is still a target out front of Ryan Blaney, but he keeps gaining on it. With Erik Jones in the seat, Kyle Busch's indomitable Toyota won again Friday night at Iowa Speedway. But Blaney made Jones work for it.
Blaney
With 16 laps left, Blaney's Ford came alongside for a duel that sent both trucks squirrelly, but both drivers regained control before Jones got away for keeps.
"There was nothing left in that thing at the end," Jones said of the 51 to Fox reporters in Victory Lane. "Just a great race with Ryan. Great competitor. Great guy to race against. Raced me hard. Raced me clean. I thought we showed a lot of respect for each other."
Jones is 18, and is driving the truck in which Busch had already won five races this season.
Blaney, 20, recorded his fifth straight top-5 finish of the season, but is weary of chasing the Busch trucks. Last race, at Kentucky, Blaney finished third as Busch and Darrell Wallace Jr. finished 1-2.
This time, Blaney got by Wallace for second near the halfway point, and Wallace fell back thereafter with an ill-handling truck.
But the 51 remains Blaney's sorest issue.
"I'm tired of seeing that truck in Victory Lane," Blaney said. "[But] we're making strides."
As Jones fought traffic late, Blaney ran him down and managed a challenge.
"I was so tight when I got close to him, it was hard to go anywhere," Blaney said. "I got really loose under him [alongside] trying to make a move."
The next stop on the tour may be a whole different story, on dirt, as the trucks visit storied Eldora Speedway on July 23.