Sunday Convo: Earnhardt's Dream Season?
Sprint Cup: Hendrick's faith in Dale Jr. paying off
Of course Dale Earnhardt Jr. heard it, and read it, from the Junior haters -- and even thought it himself: Maybe Rick Hendrick ought to fire him.
Six years, four of them with goose eggs in the wins column, the best two with a single win in each.
"He had every right in the world to replace me with another driver and nobody would have said a thing about it," Earnhardt told reporters at Pocono on Sunday after sweeping the triangular track's Cup races this season and running his wins total to three.
As of now, he's the top seed in the Chase, where in other years at this point in the season it was iffy whether he'd make NASCAR's playoffs at all -- and even then would have been viewed as a nominal entry, not a real contender.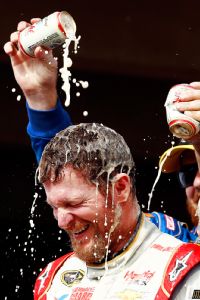 Jeff Zelevansky/Getty ImagesThe top-seeded Chase driver after Sunday? That would be Dale Earnhardt Jr., who celebrated his third victory of 2014 -- and second at Pocono.
Haters ridiculed him and his 88 team as the weakest link in the four-car Hendrick Motorsports armada.
Now he and the 88 are the strongest.
That became evident when he seized the lead with 14 laps to go Sunday and then held off Kevin Harvick on a late restart.
As for Earnhardt's teammates, the erstwhile flagship 48 team of Jimmie Johnson limped home a miserable 39th after getting itself into tire trouble yet again. Johnson tacked that one onto finishes of 42nd, 42nd and 14th in his previous three races.
Jeff Gordon, who led a race-high 63 laps, wound up sixth. Kasey Kahne finished 10th and didn't lead a single lap.
Hendrick wasn't there Sunday, but Earnhardt, on his phone from Victory Lane, "told him thanks for believing in me and making my life better," Earnhardt said.
For years, "We weren't running good enough and it would have made perfect sense to everybody if he had went that route [firing Junior]," Earnhardt said.
"But he stuck with me and said, 'We're going to make it right. We're going to make it right.'
"And he put me with Steve [Letarte]," the crew chief who sat beside Earnhardt Sunday at the winners' interview, and who has turned Earnhardt's outlook and career around.
"It was touch-and-go there for a while," Earnhardt said of the early period of his pairing with Letarte, "but we have worked, we have done some good things together and we have continued to get better and we finally are realizing that potential and doing the things on the racetrack that we dreamed about when we first started working together."
So, all told, Rick Hendrick, the man so reverently called "Mr. Hendrick" by all of his employees for his kindnesses to them, "has helped me become a better person," Earnhardt said, "put me around people that influence me to be a better person, so I just want him to know that I appreciate it."
Cup Rundown: Logano, Bowyer and Kahne
The Rundown: N'wide at Iowa
Nationwide: The Brad K show
Oh, go ahead. Interrupt and threaten one of those Brad Keselowski runaways with a late caution. All that's likely to happen is for him to make a better show of the finish.
Saturday night at Iowa Speedway, there he was, cruising along, with second-running Sam Hornish Jr. just trying to keep Keselowski in sight -- little hope of catching him without a caution.

Keselowski
With nine laps left, there it was. A suddenly leveled playing field -- well, sort of.
With a split-second dive into the pits, just as he saw Hornish turning in his rearview mirror, Keselowski barely cleared the commitment line.
Hornish's team went for its best possible onslaught, changing all four tires. But Keselowski took only two, as did Michael McDowell, so they came out 1-2 and Hornish's longer stop got him out seventh.
McDowell took the lead on the restart, with three laps to go, and for a few seconds it looked like Keselowski might not recover this time.
"Michael had me cleared," Keselowski told ESPN reporters in Victory Lane. "And I just barely pulled a move around him in [Turns] 3 and 4."
Actually McDowell's car wiggled a bit, and Keselowski held steady coming alongside down the backstretch.
By the end of that first restart lap, Keselowski was off and running away again while McDowell had to hold off Trevor Bayne and Hornish for second place.
"I kind of feel a little lucky to win it," Keselowski said. "I didn't get through Turn 1 on very well on the restarts ..."
Just enough of a glitch to force Keselowski to make a show of it.
Camping World: Toyota stalls
Toyota's beyond-dominant streak is over in Trucks, but it took a Toyota to propel a Chevrolet like a rocket-booster on the green-white-checkered restart at Pocono on Saturday.

Dillon
Austin Dillon, starting outside, got an enormous push from Johnny Sauter to blast away from the field and get Chevy's first win in the series since brother Ty Dillon won at Texas last Nov. 1.
That ended what had been a 10-0 record for Toyota this season and a dozen straight dating into last year.
"Chevrolet has been working really hard to get their trucks better, and obviously it showed up today," Austin Dillon told Fox reporters in Victory Lane.
"I think this will help going forward for all the Chevys going forward, that we can kind of use these notes," Dillon said.
But there was some Toyota power involved in that winning combination, Sauter pointed out.
"I gave the 3 [Dillon] the best push I could," Sauter said, "and probably pushed him too far forward to even have a run at him. But he had a really good truck at the end of the race."
Clint Bowyer, who restarted alongside Dillon for the final sprint, was shuffled back to fourth in the overtime by Sauter and Joey Coulter.
Ryan Blaney, who finished fifth, stayed atop the standings by seven points over Sauter.