Sprint Cup: Big Day For Gordon
Sprint Cup: Chase fight heating up
Kyle Larson's potentially historic bid is in jeopardy.
Greg Biffle is hanging on to a Chase for the Sprint Cup berth by a root, but sounds like he's plummeting. Clint Bowyer, likewise.
Kasey Kahne, meanwhile, keeps flitting around the periphery.
Such is the increasingly odd and angst-addled three-race approach to the Chase under the new format instituted this season by NASCAR. There was little consolation for winless drivers with postseason aspirations on Sunday at Michigan International Speedway. Even if they did well.
Larson didn't even do well, as his Chase attempt could ultimately be undone by two tires. Specifically right-front tires, the ones that blew out at Kentucky Speedway in July and at MIS on Sunday.
The 22-year-old's eventful day ended on Lap 94 of 200 when his No. 42 Chevrolet veered hard into a wall after a tire failure and began trailing flame.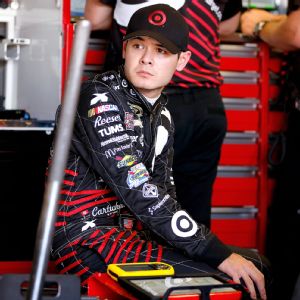 Gregory Shamus/Getty ImagesKyle Larson's Chase chances are getting thinner with three races until the playoffs begin.
He finished 43rd, dropping to 19th in the standings and a weighty 24 points behind Biffle for the 16th and final Chase spot.
"It's just a shame," Larson said after his third unfinished race of the season. "We were up there in the points battle, so we have to work even harder now to try and get in the Chase. I thought we had a car capable of winning the race for sure."
Larson appeared able to compete earlier in the race, running eighth on Lap 21 before a competition caution. But a pit-road collision with Dale Earnhardt Jr. likely altered the tow of his car, Larson said, contributing to the blowout.
"Before that competition caution we were really fast," said Larson, who finished 40th at Kentucky with the first right-front blowout of his stock car career. "I could pass people no problem and was catching the two in front of us."
Larson is heartened by a 10th-place finish -- after starting 20th -- in his first Bristol start this spring, saying, "We were really good at Bristol earlier in the year. So we just have to go back there and try and get a win. That is really all we can do now."
Pretty much.
Larson's misfortune in attempting to join Denny Hamlin (2006) as rookie Chase-qualifiers allowed Biffle to slink back into the Chase boundary with a workmanlike 10th-place finish. The Roush Fenway Racing driver had fallen off the postseason grid last week despite an eighth-place finish at Watkins Glen. Biffle called Sunday's result at MIS "a huge improvement for us," but bemoaned what he considered a wasted opportunity.
"I guess it was a good day," he said. "We got a top-10. [I] really wanted to run up in the top five. We had a car to do that and that track position we would get loose around other cars. We still have to work on that with our race cars."
Kahne managed to advance a spot in the standings to 17th with a less-impressive 16th-place run at Michigan. The margin between him and Biffle is nine points.
A first-time winner from beyond their points strata would be very bad news for these three, with 12 of the 16 Chase spots already held by victors. Fortunately for them, the most likely first-time winners are already holding transfer spots on points.
Matt Kenseth, whose No. 20 Toyota was involved in an early multi-car incident with Danica Patrick, is 13th in the standings after a 38th-place finish on Sunday, but appears even after finishing in that position in two of the past three weeks to have amassed enough points with eight top-5s and 14 top-10s to advance comfortably.
And statistically, the 2013 series-leading seven-time winner could be primed to simplify things with a win after failing to reach Victory Lane so far this season.
Kenseth has gained more points at the next three venues over the past five races than any driver, including the most at Bristol (where he won last fall) and second most at Atlanta.
Granted, Kahne won at Bristol in the spring of 2013, but has done little to seize opportunity this season as his Hendrick Motorsports teammates flourish.
And then there's Bowyer, who has won twice at Richmond, most recently in the fall of 2012. But at 15th in the standings, winless and just 12 points ahead of Biffle, he sounded insecure on Sunday, even after producing four top-10s in his past six races.
"We clearly got a lot of work to do," he said after finishing sixth. "It's unfortunate. We're behind, there's no question. We just did what we needed to do today.
"Right now, everything has to be perfect to get a decent finish and today everything was perfect. This is a tricky part of the season. Everybody is pushing hard. You got a lot of guys coming from behind that are getting their stuff working better. Everybody's working hard. It's that time of year."
And that time is running out.
Contributor, espnW.com
Brant James has covered the Daytona 500, Indianapolis 500, a World Series and Stanley Cup for the big hometown daily, an NCAA tournament and a Super Bowl. He's walked to the paddock with Kentucky Derby horses before post, ridden to the top of Mount Washington with Travis Pastrana and landed on an aircraft carrier with Dale Earnhardt Jr.
Cup Rundown: Buescher's Breakthrough
Nationwide: Rookie rolls
The Nationwide Series has been fulfilling its mandate recently.
Granted, the field at Mid-Ohio Sports Car Course on Saturday wasn't chocked with Sprint Cup performers. There was no Kyle Busch or Brad Keselowski or Joey Logano to contend with in a standalone event.
And yes, Cup drivers have still won 13 of 22 races this season and half of the Nationwide regulars' wins have occurred away from companion events.
But a rookie winning for the third time this season -- and third in five races -- allowed NASCAR's top-tier developmental series to actually look like one again as Chris Buescher, 21, won to join fellow rookie winners Ty Dillon, 22, who won at Indianapolis Motor Speedway, and Chase Elliott, 18, who captured his fourth of the season at Chicago.
Better still for the series, Elliott currently sits atop the driver standings -- 10 points ahead of JR Motorsports teammate Regan Smith -- with Dillon fourth and Buescher seventh.
Elliott's win in the Chicago standalone came with just two Cup regulars -- Kyle Larson and Kasey Kahne -- in the field, but Dillon was followed by Busch, Matt Kenseth, Kevin Harvick, Joey Logano and Paul Menard at the Indianapolis companion event.
Camping World: Sauter shines
Kyle Busch did not win the NASCAR truck series race on Saturday. That was perhaps more noteworthy in the broader sense than Johnny Sauter actually claiming victory at Michigan International Speedway.

Sauter
But the veteran's first win of the season was huge for Sauter, vaulting him into the points lead with 10 races remaining. Not bad in his first race with new crew chief Jeff Hensley.
Busch, who had won each of the five truck races he had entered this season, ran out of fuel while leading and attempting to stretch a fuel window near the midpoint of the race.
Sauter assumed the lead when ThorSport Racing teammate Matt Crafton surrendered a 31-second lead to pit for fuel with three laps left and eventually reached the checkered flag .43 seconds earlier as a Toyota won for the 10th time in 11 races. Busch finished fifth.
Hensley had replaced Dennis Connor as Sauter's crew chief about a week ago.
"This is great. This is the thing we needed to swing it," said Sauter, who leads Crafton by nine points in the driver standings. "We've had a good year, but not a great year. We've been consistent. We finally got speed this weekend."
Plenty. Sauter broke his record for average race speed at 161.087 mph in a race that featured just one caution for six laps.