Sprint Cup: Chase-clinching win for Kahne
Sprint Cup: Bowyer back in Richmond spotlight
Clint Bowyer must have anticipated it. Certainly, there was realization beneath that cavalier veneer that his return to Richmond International Raceway this week would put him at the center of the storyline in the crucible weekend of the Sprint Cup Series schedule.
Get penalized by NASCAR for helping rig the finish of a Sprint Cup race and the constitution of the Chase for the Sprint Cup field, and that kind of thing is going to come up again on the one-year anniversary.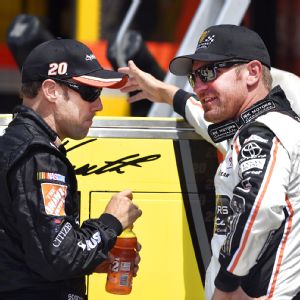 AP Photo/David TulisMatt Kenseth, left, clinched a Chase berth Sunday at Atlanta, leaving only two spots open for playoff hopefuls Ryan Newman, Greg Biffle, Clint Bowyer, right, and Kyle Larson.
At least he could have grinned through it, made little quips, spoken of moving on as he had there this spring and gone about his business of claiming the Chase berth that Michael Waltrip Racing's punitively hammered shenanigans cost him last fall. But after a transmission failure Sunday night in the penultimate race of the regular season, after a 38th-place finish that dropped him from comfortably inside the playoff boundary to the outskirts of town, Bowyer now has a multitude of nagging storylines with which to contend.
At the crux of it is unfavorable math. Kasey Kahne's first victory of the season Sunday increased the number of automatic qualifiers for the 16-driver Chase field to 13. But Matt Kenseth, who has managed to remain third in points despite being winless, sealed a playoff spot with a runner-up finish and his 10th top-5 of the season. That's two spots remaining for points transfers, if there are no more first-time victors. And those spots are held by ninth-place Ryan Newman, and 10th-place Greg Biffle.
Then there's Bowyer, 23 points behind Biffle, and rookie Kyle Larson, 24 behind. That seems like a long way on a short track.
Kenseth said he's not a proponent of momentum, and perhaps Bowyer shouldn't be now, either. Because it's driving him away from the Chase. Bowyer was 10th in points and seemingly snug inside the envelope after finishing fourth at Pocono on Aug. 3, still so after finishing sixth at Michigan on Aug. 17. But after being collected in a crash and finishing 17th at Bristol last week and finishing 38th on Sunday, his trend line is troubling.
Bowyer was 31 points ahead of the cutoff entering the Atlanta race.
Granted, the situation could be worse for Bowyer. A two-time winner at the .750-mile bullring, Bowyer could simplify things greatly by replicating his performances of the 2008 spring race with Richard Childress Racing and the fall of 2012 with MWR.
That said, two wins and an average finish of 12th is no guarantee in a must-win predicament, and he finished 43rd there this spring because of a suspension problem.
Bowyer, though obviously affected by the aftermath of the Richmond scandal last season, may be capricious enough or resolute enough to grin and bear down and push through these multiple layers of distraction, but this is about more than just redemption.
Just one driver has ever pulled a Jeremy Mayfield -- not surprisingly, Mayfield himself, a decade ago -- to launch themselves into the Chase at Richmond from the outside. And a must-win situation in the 1-versus-42 scenario of a race is much more difficult than in a head-to-head sporting event. Even when racing well, odd things happen, like gear shifters and transmissions breaking.
Does Bowyer consider karma, or should he, given that he never admitted culpability in the Richmond scandal? Maybe he doesn't lament his balky transmission at Atlanta as some sort of cosmic comeuppance for that hurting arm that crew chief Brian Pattie so infamously instructed him to itch at Richmond last year, precipitating a suspicious spin that began a chain of events that helped place teammate Martin Truex Jr. in the Chase ... until NASCAR sanction ejected him, NAPA bailed and Truex's team dissolved.
That's a lot to think about. Especially when there's already plenty on the mind and plenty on the line.
Contributor, espnW.com
Brant James has covered the Daytona 500, Indianapolis 500, a World Series and Stanley Cup for the big hometown daily, an NCAA tournament and a Super Bowl. He's walked to the paddock with Kentucky Derby horses before post, ridden to the top of Mount Washington with Travis Pastrana and landed on an aircraft carrier with Dale Earnhardt Jr.
Cup Rundown: Edwards breaks down Atlanta
Stewart's return: Craven analysis
Nationwide: Busch unsatisfied
Kyle Busch logged his 17th top-5 finish in 18 Nationwide Series starts this season on Friday, but a fourth-place result at Atlanta Motor Speedway was unsatisfying for the circuit's all-time wins leader.
Busch
Though the Sprint Cup driver's success in NASCAR's top developmental series has become a source of consternation within the sport, there is no doubt he is out for more than purse checks.
"Fourth in Nationwide is not acceptable," said Busch, who leads the series with 66 victories in 288 starts.
Kevin Harvick won the race.
Busch started third in the No. 54 Toyota but was relegated to fourth, incredibly matching his second-worst result in the series this season. Even with a 17th-place finish in the Daytona summer race, Busch is averaging a result of 3.3 in Nationwide this season.
Busch called the Atlanta finish "better than it should have been, I guess."
"We struggled," he continued. "Just not a very good race car at all around this racetrack."
Many aspire to such struggles.
Nationwide Rundown: Scott's take
Camping World: Win for Team Kes
Brad Keselowski would have felt much more empowered with a steering wheel in his hand, but, watching on television as Ryan Blaney won his race team's second straight Truck series event, the 2012 Sprint Cup champion did what he could on Sunday afternoon:

Keselowski
He just kept clapping as Blaney held off German Quiroga by .049 seconds to win for Brad Keselowski Racing at Canadian Tire Motorsport Park in Bowmanville, Ontario.
"I'm a lot more comfortable driving than I am watching," Keselowski said. "That hasn't changed, but I had to watch. It was good and I'm gonna enjoy this one."
And why not? With the win, Blaney's third in the Truck series; he pulled within 13 points of leader Johnny Sauter with eight races remaining.
"I'm just really proud of Ryan to get back on his feet there and get a win," Keselowski said. "I wouldn't have thought his first win of the year would have come on a road course, but that makes it even more exciting. They certainly have some momentum back to make a run for this championship, and they're poised to strike."
This a week after Keselowski won at Bristol in a second Truck that Alex Tagliani drove to a 16th-place finish on Sunday.
"I think it just shows that things are coming together for us fairly well, but we have to keep pushing, and while we can be happy with today, we've got to keep working for tomorrow," Keselowski said.