Johnson ready after heartbreaking week
Jimmie Johnson came into the media center at Texas Motor Speedway and got right into what was on most people's minds.

Johnson
His brother-in-law, Jordan Janway, died in a skydiving accident Monday in California. He was 27. Johnson spent the week grieving with his wife's family.
"I appreciate the opportunity to say thank you to everybody for your thoughts and prayers, he said. "This week has been a very difficult week for the Janway family. It's been so tough for me to sit back and watch the people I love so much deal with so much pain. But, things are progressing and everybody is as good as you could hope. Last night, the family spent a lot of time telling stories about Jordan and smiling a little bit; smiling more than tears, and the healing process has definitely started."
Of course now he's back in the office, and Johnson is trying to look ahead and get ready to race at a track where he's had a great deal of success with three victories in the Sprint Cup Series, including one in November.
"I just wanted to come in and make a brief comment before we got busy with racing," Johnson added. "And then, try to switch my mind into this racing reality and focus the next couple of days and go racing and try to win a race.
"So, just once again, thank you to sponsors, fans, friends, and everybody involved. The few times I did check into social media, there's just been a huge outpouring of support and I'm very thankful."
Janway, a skydiving instructor, was very involved in extreme sports.
"He was just a free spirit, a very adventurous guy, Johnson said. "Base-jumping and parachuting and wearing the squirrel suits like you see the guys flying along the cliff sides, that's what he did. He's in a lot of those videos shooting that footage. So, it was a tragic death for sure. But he was doing something he loved. He was very passionate about it.
"And he never met a stranger. He was a very warm and caring young man, and he's definitely going to be missed."
Logano stays above the fray
So what does Joey Logano -- who has had his share of on- and off-track disagreements -- think of the war of words between Kurt Busch and teammate Brad Keselowski?

Logano
"At least it's not me this time," he said and then laughed. "It happens. I know it. Like I say all the time, we race against each other every week and eventually we're gonna run into each other and eventually we're gonna get aggravated with each other, and it's just how you reason with it and how you get over it.
"Everyone has their own way of doing it and has different ways of doing it, but those guys are two championship race car drivers. They'll figure out how to get over it and move on here fairly shortly, but that's part of our sport and it's cool."
Logano is famous, or maybe infamous, for past feuds with Kevin Harvick, where he drew Harvick's wife into the fray by saying, "[She] tells him what to do and wears the firesuit in the family."
Then there was the one last year with Denny Hamlin that led to a last-lap wreck at Fontana in which Hamlin was injured and missed four races. A disagreement with Tony Stewart occured directly after that race.
Tire concerns at Texas?
Are drivers worried about tires at Texas, the way they were following the race at Fontana, Calif., two weeks ago, when some teams elected to push the limits on low tire pressures and many paid the price? Yes, they are.
Are tire supplier Goodyear and NASCAR worried about tires at Texas? Not so much.
Why?
"Really I think on the heels of the issues we saw at Fontana, people are asking the question, 'Is there a possibility we could see the same thing?'" said Greg Stucker, director of race tire sales for Goodyear. "There's always that possibility.
"People are always pushing the envelope, always trying to stress all parts of the racecar. We understand that and support that. That's what makes racing great, right?"
Despite some drivers and teams calling for NASCAR to set rules on air pressure in tires, Stucker said NASCAR and Goodyear agree that leaving that call in teams' hands makes for better racing.
And Robin Pemberton, NASCAR's vice president for competition, reminded drivers and teams that they don't always like mandates from NASCAR and to be careful what they wish for.
"Yeah, and I think it's a small group [of drivers and teams asking for NASCAR rules on air pressure]," he said. "We're early in the process this year in a lot of different areas. Sometimes that question will be raised.
"But long-term, they would rather be in charge of their own destiny, I think."
Podcast: Marty & McGee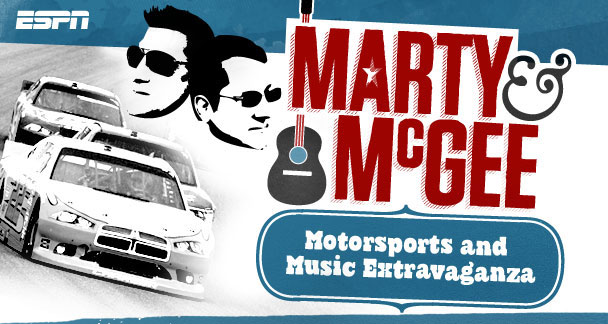 ESPN
Marty Smith and Ryan McGee discuss Kurt Busch's win at Martinsville, Busch's transformation as a person, Denny Hamlin's reaction to critical comments about him and much more. Listen