Keselowski likes getting personal
Brad Keselowski is one of the more thoughtful drivers in NASCAR, and he's never been shy about sharing his opinions.

Keselowski
His newest forum -- a blog he writes himself -- is turning out to be a hit with fans and members of the media alike.
How does he feel about that?
"I think you can look in this room and most in the media would tell you that the sports world is evolving, at least in a media sense, and so it is a challenge to me to be able to put out great content for not just my fans but all of our sports fans," Kedselowski said. "I understand some of the challenges that are within this room to get those messages out and it seems like specifics of this sport, those messages always seem to get stuck in some kind of PR front or branding front and that was always very frustrating to me, personally.
"That was kind of a way for me to escape that and get out great content and also at the same time it is personally rewarding as a way to engage some people that I wouldn't have been able to really reach before. I think it has had a further reach than I thought it would, which is great.
"Certainly in some ways it serves as therapy and way for me to talk and take a more measured step to not get in trouble like I used to all the time. That is good for me. It is certainly good for [team owner] Roger [Penske] and I am having fun with it and am really thrilled there has been a response at all. I am happy and humbled by that."
Check out his blog at bradracing.com
Some powerful arguments
There may be a power struggle coming to the Sprint Cup Series.
Senior vice president of racing operations Steve O'Donnell said Thursday at Iowa Speedway that engine revisions for 2015 are part of a total package NASCAR is looking to change, with an announcement coming as soon as All-Star weekend in Charlotte, N.C., in the middle of May.

Johnson
"Engines, downforce, aero and tires," O'Donnell told the Des Moines Register.
Among those changes could be a reduction in horsepower. Count Jimmie Johnson among the skeptics that it would lead to better racing.
"Every driver and team that I have spoken to isn't up for a horsepower reduction," he said. "We all feel that having power creates better racing. Especially on the driver's standpoint, where you go down to the Nationwide Series and run flat-out at a lot of the tracks. So we are all trying as drivers and members of this sport to say what is best for the racing. If its reduction in power that makes competitive racing, I think we are all more than willing to get on board and to go down that road. But it's not a guarantee, in my opinion, and an example is at Michigan last week, or actually it was a couple weeks ago. There was a tire test and they took the power out of the 21 car, and his center-of-the-corner speed almost went up 10 miles an hour than what an unrestricted engine was running at."
Carl Edwards is a little more open to the idea.
"I could not be more excited that they are considering the whole package," he said. "When I first heard the horsepower change, I thought, 'Oh man, this is not going to be good.' But to read the comments and see the word aerodynamics in there -- you guys know how I feel about that. I have worn them out.
"They roll their eyes when I start talking about less downforce, but I really believe it doesn't matter if we have 500 horsepower if we don't have aerodynamic influence it allows Goodyear to build softer tires and make the racing more dynamic."
NASCAR Next group announced
The 2014 NASCAR Next class was announced on Friday at Richmond.
There are some familiar names on the list for those who keep up with their local tracks, and one -- Erik Jones -- is already racing in NASCAR's Camping World Truck Series, the lowest rung on the national touring series ladder. The NASCAR K&N Pro Series East is particularly stacked, with seven of the 12 NASCAR Next drivers set to make their mark.
The Class of 2014 (and the series they will race in) is: Cole Custer (NASCAR K&N Pro Series East) Ruben Garcia Jr. (NASCAR Mexico Toyota Series) Gray Gaulding (K&N East) Ryan Gifford (K&N East) Austin Hill (K&N East) Erik Jones (NASCAR Camping World Truck Series) Jesse Little (K&N East) Dylan Lupton (K&N West) Brandon McReynolds (K&N West) Ryan Preece (NASCAR Whelen Modified Tour) Ben Rhodes (K&N East) Kenzie Ruston (K&N East)
Podcast: Marty & McGee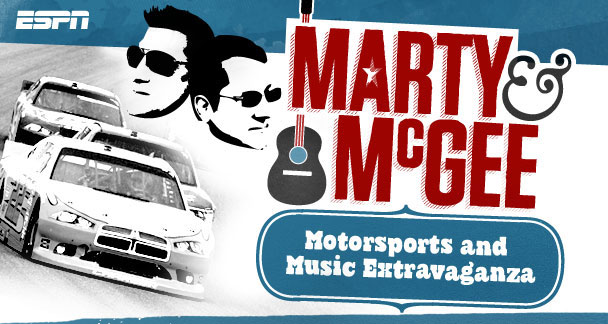 ESPN
Marty Smith and Ryan McGee recap Harvick's win at Darlington and talk with UConn's Shabazz Napier and Stefanie Dolson about the NCAA's treatment of student-athletes, what their legacies will be, UConn's departure from the Big East and more. Listen