Revisiting Talladega
Winning at Talladega is a pretty big deal. What does David Ragan remember about his Sprint Cup victory there last spring, and what does it mean to him now?
Drivers on edge for knockout qualifying at Dega
TALLADEGA, Ala. -- The "big one" might not wait for Sunday this time -- it could come as early as Saturday's qualifying.
"The potential is there," Matt Kenseth said, for the kind of massive pileup drivers have come to expect in races here, but not in running for the pole.
"I think it's going to happen," Joey Logano said. "I think there'll be a wreck in this qualifying session, just because of the closing rate" -- that is, how quickly one car catches another in the draft, which will be used for the first time in Cup knockout qualifying in groups.

Logano
Logano comes in red-hot, fresh off a second win this season and therefore padlocked into the Chase. So he and Penske Racing teammate Brad Keselowski can afford to go all-out in Sunday's Aaron's 499 -- and go for broke in qualifying, as well.
Logano is the only driver to make all segments of all qualifying sessions thus far this season.
"That's something to be proud of," he said. But, "This is the one real wild card."
Kenseth was last year's winningest driver, with seven, but he has yet to win this year.
Although the kaleidoscope of the ever-changing drafting lines sometimes makes qualifying seem less than crucial here, "Everybody's going to try to do a strategy to get the fastest lap they can, to start as far as they can toward the front," Kenseth said. In other words, it's better to be running in front of the wrecks here rather than to run up on them.
But behind the pack is where you need to be to win the pole Saturday, Kenseth figures, going into the three group sessions of 25, 10 and five minutes.
"The people in the big pack aren't going to be the ones running the fast lap," Kenseth said. "It's going to be the people behind the big pack ...
"The bigger the group is, and the farther you are back from it to a certain point, the bigger run you're going to get and the faster lap time you're going to get.
"That's no secret," Kenseth said. "Everybody knows that. So if everyone's waiting for that group [to form], there's never going to be a group. So I think it's going to be kind of funny to watch."
But maybe not to do.
Logano is wary of a wreck "just because of the closing rate [at which] you're going to be catching some of these guys," he said. For example, if "a guy's in the middle of the racetrack and you're going to the bottom [to get around him] and he decides he wants to get out of the way and goes to the bottom -- well, shoot, you're going to get in a crash.
"You've just got to be on your toes throughout the whole session."
Logano and Kenseth both figure the first few minutes of the first session will most closely resemble the last laps of a race here.
"The first round is where you're going to have your fast lap times, and where you're going to have to make more calculations or more aggressive moves," Kenseth said. "Once they start thinning the field out [by eliminations], it's going to change.
"But there's always the potential for a wreck when you put 43 cars out there."
"I think you have to put your lap up pretty quick," Logano said. "Because after the first five minutes, the top 18 cars or so are probably going to pit and not be out there. So the less cars there are on the track, the harder it is to run that fast lap. ...
"As each session goes on, it's going to get a little bit calmer, because there's going to be less cars out there," Logano said.
But for a change, the first five minutes of qualifying here might look something like the last five minutes of a race.
***
Earnhardt won't risk much in Saturday Cup qualifying
You'll pardon Dale Earnhardt Jr. if he doesn't care to get involved in whatever craziness might arise in Saturday's most-anticipated knockout qualifying session of the season.
Earnhardt, winner of the only restrictor-plate race thus far this season, the Daytona 500, considers Talladega "a very laid-back atmosphere," and he plans to keep it that way.

Earnhardt
For Sunday's Aaron's 499, "We built a brand-new race car, so our willingness to take risks is going to be pretty limited throughout that [qualifying] process," he said Friday.
"We just need to get into the field with the car; it doesn't matter where you start, other than just picking [a stall] on pit road."
Earnhardt ought to know, having virtually owned Talladega Superspeedway between 2001 and 2004, winning four in a row and five out of seven.
He hasn't won here since '04 -- but then again, he hadn't won the Daytona 500 since '04 until he won it this February.
So, coming in here, "I'm pretty confident," he said.
But in the race itself, "The car gives you the confidence" to make the right moves in the drafting lines, he said. "You get a sense of the car's ability ...
"When the car is very good and you appreciate what the car is doing throughout the day, you tend to expect it to make the moves you want to make, and accomplish what you want to accomplish in the draft late in the race."
That pretty well summarizes his relationship with his car in the Daytona 500. This is a new one, so who knows?
Earnhardt just doesn't want to mess it up in a wild qualifying session.
What they're tweeting ...
Ragan: Talladega a 'crapshoot'
David Ragan is the personification of precisely how NASCAR's win-you're-in Chase format works -- and doesn't.
A win Sunday -- and Ragan's record here shows he's plenty capable of that -- would lock him into the playoffs -- but only if he finishes the regular season in the top 30 in points.

Ragan
Ragan is 31st in the standings going into the Aaron's 499 at Talladega Superspeedway, which has been easily his best track in recent years.
He's defending champion of this race, as part of four straight top-10 finishes at NASCAR's biggest oval. He's a master drafter who used a push from teammate David Gilliland to lead a 1-2 finish for shoestring Front Row Motorsports last May.
"Hats go off to NASCAR for being bold and making that adjustment to our playoff system that expands the field to 16 teams," Ragan said Friday.
But he quickly conceded that, as far back as he is in the standings, "We are not a Chase contender. We are a wild-card contender."
Even with top 30 in points required, "I think one win can get you into the Chase, and that's why we take Talladega very serious," he said.
His team's budget is so Spartan that the focus each season is on restrictor-plate races, where the playing field is leveled for smaller teams by the crapshoot of the draft.
That focus got him and Gilliland to the front last spring, but, in the October race, they couldn't hook up as a drafting tandem and Gilliland finished sixth.
"Like every other team, we had a game plan that, if we're close together, we'll certainly try to work together," he said. "But this is very much a crapshoot, a roulette wheel... There are so many factors that go into what happens, because you're dependent on one another in the draft."
Whether it's Front Row or not, some little-guy team is going to make the Chase, Ragan figures, and Talladega is as good for underdogs as any place on the tour.
"You look at AJ Allmendinger, Casey Mears ... even look at the Petty cars, Marcos Ambrose and Aric Almirola ... look at our team ... Reed Sorenson had a shot to win the Daytona 500 this year. Yes, there will be one, maybe two cars that will benefit from the changes and will make the Chase -- absolutely."
Toward that end, "In the closing laps of Sunday's race," Ragan said, "I guarantee that the top eight or 10 guys in contention for the win are going to be thinking about that Chase berth if they cross the finish line first."
Ambrose moving forward
Marcos Ambrose remains the classic rugged Australian optimist, moving forward past his $25,000 fine for punching Casey Mears in an altercation after last week's race at Richmond.

Ambrose
"If we get ourselves in a pub somewhere, I'd buy him a beer, no problem," Ambrose told reporters at Charlotte Motor Speedway on Thursday before heading to Talladega for the next race, Sunday's Aaron's 499.
"We've spoken in-depth more than once," Ambrose said. "I honestly believe that we'll enjoy having a beer with each other."
Mears was fined $15,000 for initiating the scuffle, angrily approaching and then pushing Ambrose.
Ambrose said that right after the Richmond race, he was actually heading over to smooth things over with David Gilliland after they'd had some contact on the track, but then Mears came up to him and "I was confused about why Casey was so annoyed with me.
"Once he put his hand on me and started pushing me around," Ambrose continued, "I was just trying to stand up for myself and my country and my family and my reputation, and I threw a punch down on him to get him out of the way and let him know that I didn't respect him not giving me my private space ... a wiser man would have walked away a little bit earlier and not gotten himself in that situation."
Still, "I don't apologize for my actions."
But he said he wasn't upset at the penalty because "I got myself in a bad situation. I caused an action that NASCAR needed to reprimand, so I'm happy to pay it and move on."
Even more optimistically, "I think my NASCAR career may well be remembered for one of the best finishes of all time [his 2012 win in a wild scramble at Watkins Glen, N.Y.] and one of the best fights of all time, too.
"It's OK."
Podcast: Marty & McGee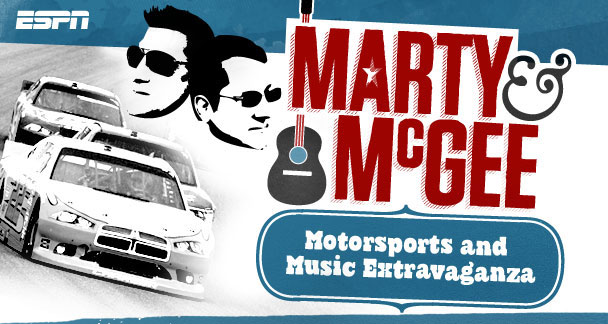 ESPN
Marty Smith and Ryan McGee talk with former Cleveland Cavaliers center Brad Daugherty about Adam Silver's decision to give Donald Sterling a lifetime banishment from the NBA. Listen