Edwards' next step?
By
K. Lee Davis
| ESPN.com
As rumors swirl about Carl Edwards' future at Roush Fenway Racing, Edwards addressed changes happening now at RFR, if not with him.

Edwards
"Yeah, I feel like there have been a bunch of moves internally -- there definitely will be changes at Roush Fenway Racing," said Edwards, sporting a Ford Racing hat and not one for his team or sponsor. "[Former lead engineer] Chip Bolen moving on is a huge change and shows you the magnitude -- I guess we understand where we are at.
"We know we have to be faster and there are big changes trying to address that. [Crew chief] Robbie [Rieser], [adviser] Bob Osborne, [owner] Jack [Roush], everyone is working as hard as we can and we just have to hope that we work on the right things and are able to implement the findings and be better.
"We have everything there, we just need this much more speed and we would be really good."
Edwards is in his free-agent year with Roush Fenway, and owner Roush is a notoriously tough negotiator. Edwards' teammate Greg Biffle is also a free agent at the end of the year unless Roush locks him up before then.
Podcast: Marty & McGee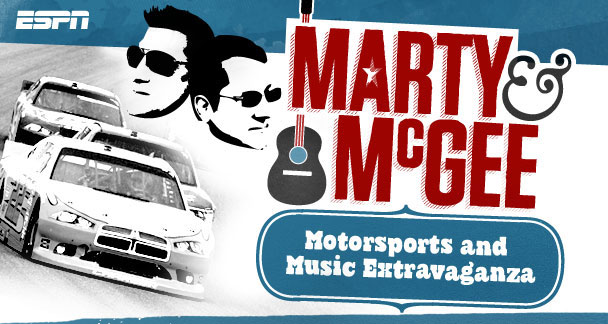 ESPN
Marty Smith and Ryan McGee delve into the track falling apart last weekend at Dover and in honor of Pocono Raceway -- the "Tricky triangle" -- this weekend, give their top five cheatin' songs. Listen

Larson sticking it out
By
K. Lee Davis
| ESPN.com
Kyle Larson said shifting gears is not his strong suit. How bad is it? He recounted how his team told him to get a car to drive around and learn how to be better at the necessary skill after recent tests at Pocono and Road Atlanta revealed he has room for improvement.
"It seems like I'm probably the worst shifter of all time in a stock car," Larson said. "It's kind of embarrassing missing a lot of shifts.
"That's my biggest worry going into this weekend, making sure I don't miss any shifts. My timing is just off. I think I try to rush things too quick, and I start missing shifts."
His car of choice is a Chevrolet Camaro SS, so that's not too bad a gig. And he did shift well enough Friday to earn the pole for Saturday's Pocono ARCA 200 race.
Larson's team, Chip Ganassi Racing with Felix Sabates, wanted him to run the ARCA race to get seat time at Pocono, a track he has never raced at.
"That's why we are here," he said. "The ARCA car is really smooth in all of the turns, really. I'm looking forward to the race tomorrow."
Little pink race cars
By
K. Lee Davis
| ESPN.com
Watch out, world, there may be a new racing Johnson to contend with.

Johnson
"Yeah, I'm definitely entertaining quarter-midgets and go-karts. Genevieve has a four-wheeler," said Jimmie Johnson when asked if he was ready to get his daughters into racing. "Lydia is a couple of years away from all that yet. But, in our race shop a lot of our crewmen have their kids in kid karts and driving at various places.
"So, I've considered it. I've been serving it up to [wife] Chani, and she's semi-OK with it. And Genevieve is all about it. So, hopefully this summer I'll get a chance to put her in a kart and just see how she goes. She's been very responsible on her four-wheeler. So, now if I can find a pink go-kart, I think she's in."
Genevieve Johnson turns 4 on July 7. Lydia turns 1 in September. But with a wave of babies born to NASCAR drivers in recent years, Johnson's not the only one with kids and racing on his mind.
Jeff Gordon related his experiences watching his 6-year-old daughter, Ella, drive a quarter-midget earlier this year.
"It terrified me," he said. "From a parent's standpoint, it's kind of tough to watch them go around there and not have any control of what's going on and know that it's all on them now. It's amazing the focus they can have at such a young age, to go on and do that, but at the same time you know all the things that can go wrong and that's kind of scary."