Stenhouse still seeking speed
SPARTA, Ky. -- To say Ricky Stenhouse Jr.'s sophomore campaign in the Sprint Cup Series has been disappointing is putting it kindly. Sitting 27th in points with just one top-5 and three top-10s is hardly what the two-time Nationwide Series champion was expecting.
Then again, Roush Fenway Racing has struggled most of the season on tracks were aerodynamics most come into play. Teammate Greg Biffle is 15th in points with just two top-5s and five top-10s. Carl Edwards leads the organization with two wins, but they came at Bristol and Sonoma, not the aero-dependent intermediate-style tracks that make up the bulk of the schedule.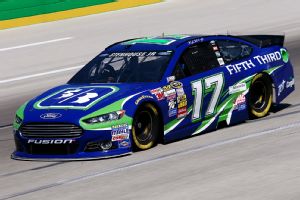 Todd Warshaw/Getty ImagesRicky Stenhouse Jr. and his team are still trying to hit on a fast setup.
"Being off the oval last week, we worked really hard on this car, and I'm excited to get it on the racetrack and see what Mike Kelley and the guys put underneath this thing that hopefully will make it fast for us," Stenhouse said Friday at Kentucky Speedway.
Stenhouse says the team is off in numerous areas, and that has led to an increased emphasis on testing, with additional tests planned. Although the entire operation is struggling, Stenhouse knows his team has work to do as well.
It was thought that reuniting Stenhouse and crew chief Kelley, with whom Stenhouse won his Nationwide titles, would boost the driver's performance, but that hasn't been the case just yet.
"I think we've missed it as a team, as a 17 team at racetracks. I've missed it as a driver when we've had decent cars," Stenhouse said. "At Michigan I thought we had a pretty fast car and I got in the wall early, so I think that kind of ruined a chance there. Last week we had a pretty fast car at Sonoma, which last year I was 37th the whole race, and we were inside the top 10 at times, so I think at times we've got the right pieces and we've just got to put them all in our race car and make sure we don't make mistakes.
"But Jack [Roush] is definitely working really hard at making sure that the pieces that we're bringing to the race track are better than they have been. We thought we had it back earlier in the season when we had a really good car that turned right off the truck at Bristol. We all had really good runs, so we're looking to bring fast race cars to the racetrack, but everybody from [engine builder] Doug Yates to our body shop to our chassis shop, everybody is working really hard and they have their heads down digging as hard as they can."
Stenhouse's hopes went unrealized in the first practice, which was yet another struggle for Roush Fenway Racing. Biffle led the trio at 26th overall, with Edwards (28th) and Stenhouse (29th) also searching for more speed.
Johnson sees White House through fresh eyes
Meeting the president and touring the White House is old hat to Jimmie Johnson, who has been there repeatedly as Sprint Cup Series champion or as part of the driver entourage that has accompanied the champion in past seasons.

Johnson
This year was a little different and gave Johnson a fresh appreciation of how lucky he's been. Instead of other Chase drivers also heading to the White House, this visit was reserved for Johnson and his Hendrick Motorsports team.
Most of them, including crew chief Chad Knaus, were seeing the White House and meeting President Obama for the first time on Wednesday. So while Johnson was seeing things he'd seen before, he could see them as his team was, too.
"You end up seeing the same stuff. They are only going to give you so much access to look around in the White House. There are only so many rooms you can go in," Johnson said. "... To have my team there was the difference.
"Before, you were walking around with the other drivers and it was a great experience and fun, but to actually share those moments and watch the tour take place and all those fresh faces that are my teammates; and hear the story, go to all those different rooms, meet different Secret Service folks was fun. ... We were able to share and experience a lot of things together, and that really was the difference."
Johnson, Bowyer focus on quality of the field
With just 42 cars entered for Saturday night's Quaker State 400, the NASCAR Sprint Cup Series will have a short field for the first time since the 2001 season finale. There were just 42 cars at New Hampshire that November, a race moved from its September date in the aftermath of the Sept. 11 terrorist attacks.
There were 43 cars entered for that race in September, but one team closed shop prior to the end of the season.
There were 42 cars on the initial entry list for Kentucky, and the entry of a fourth BK Racing car, for Mike Bliss, would have made it 43, but Xxxtreme Motorsport withdrew J.J. Yeley's entry at the last minute.
The size of the field has evolved over the years, with the size being set at 43 beginning in 1998. Prior to that, the field was 42, with another spot reserved for a past champion who didn't otherwise qualify. Six-time champion Jimmie Johnson and veteran Clint Bowyer, who have only known 43-car fields during their Cup careers, say it's no big deal.
"When you compare our form of racing to others, we have double the fields compared to a lot of other major auto racing series," Johnson said. "I hate to see it, obviously. There's that prestige of having 43 since way back. But I don't think it has any bearing on the strength of our sport.
"When I look at all the markers our sponsors look at and why they're partners on our race car, things are going in the right direction. So, I don't think it's a real reflection of the strength of our sport, [or] the strength of the competition on the track. The fact of the matter is this is the top form of racing, in my mind, in the world, and [to] some, maybe just in North America. And it's not cheap. I understand why there could be a short field, but there's no concern on my behalf."
Bowyer agrees that a quality field is more important than a "full" field.
"I don't think any set number has anything to do with the product of our racing and this sport of NASCAR. It has to do with the product and being able to put a consistent race-winning competition on that race track for our fans," Bowyer said. "I think that's what's going to make a good race. It's not any kind of number that you can ever come up with.
"I've seen some of the best races I've ever seen with the first- and second-place guy in races and just out in front of the field putting on a show, and I've also been at a local dirt track and watched the 10th- and 11th-place guys beating and banging on each other, putting on a show, and I know everybody else was. I know it has to do with competition and good racing on the race track. It doesn't matter if it's for the lead or for 43rd."
Or, as the case will be Saturday, for 41st and 42nd on the track.
NASCAR
• Ashenfelter is an Event News Editor at ESPN.
• Worked at NASCAR Scene for eight years.
• Has covered NASCAR since 1999.
What they're tweeting ...
Keselowski wins Kentucky pole
Brad Keselowski won the pole for Saturday night's Quaker State 400, his third pole of the season. While that wasn't a surprise, the fact that Jimmie Johnson and Dale Earnhardt Jr. failed to advance past the first round of knockout qualifying did open a few eyes.

Keselowski
Johnson qualified 25th and Earnhardt will roll off 29th. This is one of four tracks where Johnson has yet to win a Cup race, a stat he hopes to change this weekend. Team Penske, meanwhile, continued its dominance of qualifying this season, sweeping the front row for the third time to go along with early season races at Phoenix and Las Vegas.
This is Keselowski's ninth front-row start this year and the fifth for Logano.
"We're right where we want to be; it's a great start, but it's just a start and we have to execute the race," Keselowski said. "We'll keep pushing forward. I'll take a second to reflect on the efforts of our team and how proud I am of them."
Keselowski, who won the Cup race here in 2012, points out his team struggled in qualifying last year. He's happy with how the team is qualifying, but Saturday night is what matters.
"At the start of the week, nobody talks about who won qualifying, but who won the race," Keselowski said.
Teammate Logano also gave much of the credit to his crew.
"It's not easy, but the guys have been building fast race cars and our qualifying setups are good," Logano said. "... We had some speed in practice [today]. I thought we were a top-five car in practice and we'll be better in the race. ... Brad found some magic in that last segment and found a couple of tenths on me."
Keselowski's lap was a blistering 188.791 mph, compared to Logano's lap of 187.175. Jeff Gordon, Denny Hamlin and Kevin Harvick completed the top five.
With just 42 cars entered, no one missed the field.
Podcast: Marty & McGee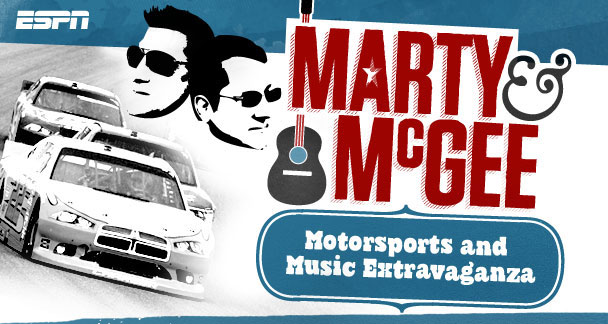 ESPN
Marty Smith and Ryan McGee talk about how much music means to them, take questions from the 406 mailbag and find out if Dodd's wedding was a success. Listen

Brad K paces final practice
With a pair of practice sessions during the day, it remains to be seen how much practice speeds will mean once the green flag drops about 7:45 p.m. ET on Saturday.
But they may give an indication of what to expect in qualifying.
Brad Keselowski led the final session with a lap of 183.101 mph in his Team Penske Ford.
Matt Kenseth, Kyle Larson, Jeff Gordon and Joey Logano rounded out the top five.
With some drivers focusing on qualifying and others on race runs, Jimmie Johnson was just 27th overall, but fastest of the nine drivers who ran at least nine consecutive laps.
Bowyer starting to focus on a win
Although NASCAR has emphasized on winning with its new format to make the Chase for the Sprint Cup, Clint Bowyer never felt he had to win to qualify.
The number of winners through 26 races in seasons past has shown that it's unlikely to have 16 winners after Richmond. With 10 winners thus far, the final six drivers who would qualify are the six who are highest in points without a win.

Bowyer
Sitting 14th in points entering Saturday's race at Kentucky Speedway, Bowyer knows maintaining that position could be vital. But because he last visited Victory Lane in October 2012 at Charlotte, the feeling is getting old.
"I wasn't one of the ones that was saying, 'It's all about winning, it's all about winning,'" Bowyer said Friday. "Common sense tells you to look at the past history, and the math shows you that points are always going to prevail. He who has the most points is always going to win the championship.
"You've always been able to race your way into the Chase, and I think it still will [be the case] today, but right now we need a win. We're at the point in our program with our 5-hour Energy Toyota that we're desperately in need of a win and we need to throw it all out there and go for it and try to get ourselves a win somewhere. We were definitely in the hunt and after one in Sonoma. We had a lot of confidence going in out there and we had a fast race car, and by all means we were chasing a win big-time."
A flat tire dashed Bowyer's hopes at Sonoma, but coming off a third-place run here last year, he's looking for more this weekend.
"This is a fun racetrack," Bowyer said. "It is a challenge to get through those bumps in the corners, but that's an opportunity. You have to be able to pounce on opportunities right now in the situation we're in.
"Daytona [on July 5] is another opportunity. A lot of people go into Daytona right now looking over their shoulders and not worried about the task at hand and just going out there and winning the race -- getting yourself in position, and that's been a good track for us, so we're looking forward to that one as well."
Johnson sees focus in Junior
Jimmie Johnson was asked whether he's noticed teammate Dale Earnhardt Jr. being more aggressive this season, but the six-time champion says he hasn't been around Earnhardt during those instances. The times Johnson sees a more focused Earnhardt are in team meetings at the track or back at the shop.

Earnhardt
"I see a guy that knows his race car better than ever and a guy that's focused on all the details," Johnson said. "He's thoroughly involved, is much more open and communicating on a far deeper level than I've seen him, especially when he started at Hendrick Motorsports.
"As my years go on, teams slow down when the communication stops. And his team has gotten faster and faster, and he is more talkative and involved and engaged and sits in meetings with notes and setup sheets. He's really in the game."