Kahne getting help from old mentor
If Kasey Kahne rallies to make the Chase for the Sprint Cup, he'll have a familiar face to thank.
When Ray Evernham returned to a competition role at Hendrick Motorsports, much of it was undefined. As Kahne struggled to start the season, owner Rick Hendrick asked Evernham to spend time with the No. 5 team.

Kahne
Kahne welcomes the attention, saying Evernham -- who brought him to the Cup level when he owned Evernham Motorsports -- brings out the best in him.
"I really like working with Ray because he holds you to your part. He makes you step up. He makes you know," Kahne said Friday at Pocono Raceway. "He talks to you about the things you did right and the things you didn't do right. You are accountable for that when he's around.
"It's nice to have someone like that. He gives me confidence. Every time he's at the racetrack, we run better. When he's with my team, with [crew chief] Kenny Francis, with myself, and I think that is just because he's been really good to me in the past, yet he's been tough on me at times, too. There haven't been too many people that have really held me accountable over the years."
Kahne says Evernham's strength is finding ways to get Kahne to communicate better with his team, whether that's by poring over notes from previous races at a track or by simply showing up with a better frame of mind.
With four top-10 finishes in the past six races, Kahne, although winless on the season, sits 15th in points with six races before the Chase field is set. He's just four points behind Austin Dillon, the last winless driver who'd make the 16-driver field as it now stands.
Leading a race-high 70 laps at Indianapolis did a lot to bolster Kahne's confidence heading to Pocono, where he won this race a year ago.
"To lead a lot of laps at Indianapolis and run up front throughout the whole race was good for my confidence," Kahne said. "What I liked the most about the entire weekend was the team stepped up. It was the first time of the season we have put a full race together.
"From me driving, to them on pit road, to pit calls, everything about it was right. That is something that we haven't done this year. We haven't even come close to doing that. It was a big weekend for all of us, and we got some momentum out of it, some confidence, I think, on all of our parts. Hopefully, we can carry that into this weekend and especially Sunday."
Podcast: SVP & Russillo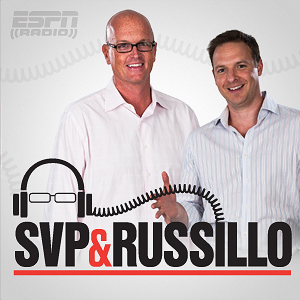 ESPN
ESPN NASCAR analyst Rusty Wallace offers his insights on Jeff Gordon's future in the sport, racing his Corvette and more. Listen

Summer swoon for No. 48?
With four Brickyard 400 wins, Jimmie Johnson was among the favorites last week at Indianapolis Motor Speedway.
Then they waved the green flag.
While he avoided the wrecked race cars that left him 42nd at both Daytona and Loudon, Johnson was a nonfactor as he finished 14th. Since winning at Michigan in June, he's led just one lap in the last five races, that coming on the road course at Sonoma.

Johnson
Johnson is at his best early in the season and during the Chase; one key ingredient is that the Sprint Cup Series season begins and ends at many of the same tracks.
"The summer stretch has been tough on us. It always has," Johnson said Friday at Pocono Raceway. "There have been years that we make it through a little smoother than others. This year has been as inconsistent as probably any of them for us.
"So we certainly want to stop that and start here with a very smooth weekend and successful weekend, and carry that on through The Glen and Bristol, that's a tough track for us. There are still a few challenges ahead. But literally, when the Chase starts, we roll into our 10 best tracks. So we're trying to maintain sanity until then and obviously keep progressing our cars through the end of summer."
Under crew chief Chad Knaus, the No. 48 team has always been ahead of the curve, and that may explain the struggles last week at Indy. Dale Earnhardt Jr., who shares a shop with Johnson's team, was ninth and also an afterthought compared to teammates Jeff Gordon and Kasey Kahne, who share the other shop at Hendrick Motorsports.
Johnson said his team focused on trying to maximize its speed via its aero package at Indy, while Gordon and Kahne took a different approach. Sure, teams share info, but Johnson said he's not that worried about what worked for his teammates.
"We've built speed in our cars and have won races and championships by a certain mindset. And it's not been by looking and digging through others' information and looking over our shoulder at what somebody else is doing," Johnson said. "It's always about pushing technology and trying to find an advantage.
"At times, especially with single-car speed, we were the fastest in all the practice sessions. So that kind of sucked us in, thinking we had a fast car. We'd run one fast lap and then unfortunately dropped off too much after that. So we'll make notes and go back to Indy next year and try not to make that mistake again."
Knaus said it's no secret his team lacks consistency, and it would be nice to have momentum heading into the Chase. Then again, the team has shown repeatedly that it can flip a switch when it matters.
"The fact of the matter is you can overcome anything if you have the right tools," Knaus said. "That is what we are fighting for right now, to make sure that when we show up in Chicago, Loudon and all those races that we have the proper race cars."
Hamlin not expecting drop-off
With his team appealing a penalty from Indianapolis that has crew chief Darian Grubb and car chief Wesley Sherrill starting six-week suspensions at Pocono Raceway, Denny Hamlin is focusing on the positives.

Hamlin
He's finished sixth, eighth and third, respectively, in the past three races and says his finish in the Brickyard 400 would have been the same no matter what. In postrace inspection, NASCAR took issues with several of the coverings in the car's rear firewall.
The coverings are meant to keep cars from gaining an aerodynamic advantage. Grubb also was fined $125,000 and the team docked 75 driver and owner points. Solidly inside the top 30 in points and with a win to his credit, Hamlin is all but a lock to make the Chase for the Sprint Cup.
"You use stuff like this as motivation to go out there and prove that you can run fast no matter what and you can run well," Hamlin said Friday at Pocono Raceway. "We were on a run there [the] last month and a half to two months that I feel like our cars were really starting to turn the corner. So, really, I'm excited about what these next six weeks brings. We've got some great racetracks ahead of us -- a lot of them which we feel like we can win."
Mike Wheeler is filling in as crew chief during Grubb's absence. Although the suspensions of Grubb and Sherrill could be lessened upon appeal, they are serving them immediately to ensure they'll be back for the first race of the Chase for the Sprint Cup.
Although Grubb won't be at the track, he's allowed to communicate with Wheeler and the team. That's just one of the reasons Hamlin isn't worried about the transition hurting his team.
"I'm in pretty good hands. I'm with the guy that I've been with for 10 years. I've been with Mike Wheeler longer than I've been with anyone in the Cup series," said Hamlin, who is also reunited with Chris Gillin, who was his car chief in the past. "We worked together a lot, and [I'm] pretty confident in the job that he's going to do. … Even though it's tough losing those guys and it's tough for them especially, I don't think things will change at the racetrack too much."
That said, six-time Cup champion Jimmie Johnson knows Hamlin's team will go through a few rough spots while Grubb is sidelined. He's won races with an interim crew chief while Chad Knaus was suspended but was amazed that was the case.
"The element of truly having a conversation with someone and understanding how tight the car might be, or how uncomfortable you might be [with the handling], that element is so vital," Johnson said. "And when somebody is in North Carolina and the others are at the track, it's impossible to get that pulled together."
Kenseth hoping upward trend holds
As Matt Kenseth sat down in the media center at Pocono Raceway, it was mentioned that the room had recently been repainted. Kenseth replied that he wasn't familiar enough with the room to notice.

Kenseth
With just three top-5s and 10 top-10s in 29 starts at NASCAR's most distinct track, he wasn't joking. Still looking for the win that would lock him into the Chase for the Sprint Cup, Kenseth knows he won't be among the favorites come Sunday afternoon.
In three Pocono starts with Joe Gibbs Racing, Kenseth hasn't finished better than 22nd. The good news is that he's a solid fourth in points and a strong candidate to make the Chase on points assuming five other winless drivers this season don't notch a victory in the next six weeks.
Kenseth thinks all of JGR has picked up the pace of late, but that's no guarantee things will go his way at Pocono. Some races he's run well here, but circumstances have led to a mediocre finish. Other times, he just hasn't been competitive on the 2.5-mile triangular layout.
"I guess naturally you're better at some places than others. Maybe it's the track you struggle a little bit more at or you've got to work harder at or your feedback is not as good or whatever," Kenseth said. "I feel like when our cars run good, all three [JGR teams] seem to run pretty good no matter what the track is. We seem to be able to help each other and feed off each other and get running better."
It's been a frustrating season for JGR as Kyle Busch and Denny Hamlin have just one win apiece. Hamlin is without crew chief Darian Grubb this weekend as he begins serving a six-race suspension following a violation at Indianapolis.
The JGR trio finished second, third and fourth at Indy, and Kenseth sees things continuing to trend in the right direction.
"I think whenever you run good really anywhere except maybe a superspeedway, it gives you confidence going into next week even if it's a totally different kind of racetrack," Kenseth said. "I feel like at Loudon all three of us had top-5 cars, and we all ran well at Kentucky. We all ran well last weekend, and those are all very different racetracks. So it gives you some hope that in general and on average you're getting your stuff better, and it's getting faster, and we seem to be gaining on it toward the right time of the year."