Johnson not off to championship start four races into season
Sprint Cup Series: 48 Team Struggling To Find Championship Form
Jamie Squire/Getty Images
HAMPTON, Ga. -- Slipping, sliding and getting lapped twice by race leaders is no way to win a third consecutive Sprint Cup title. For the second straight race, nothing looked championship caliber for
Jimmie Johnson
and the No. 48 Chevrolet team. Johnson's effort Sunday in the Kobalt Tools 500 was as ugly a 13th-place finish as you could ever see. But it was a testament to Johnson's driving skills that he managed to complete the event without putting his Impala in the Atlanta Motor Speedway wall. Hard tires affected most drivers, but Johnson's car often raced through Turn 4 in a sideways glide, more appropriate for "Tokyo Drift" in a compact sports car. Johnson's spot in the box score was misleading. The way the car raced was painfully similar to Las Vegas last week when Johnson finished 29th. Most people wrote off last week as a one-race fluke. But two in a row? Not this team. Not the picture-perfect 48 that can do no wrong. The last time Johnson went two consecutive races without a top 10 was July of last season. But both those bad outings came from accidents. This is different. Johnson's car just hasn't been competitive in the past two races. Crew chief Chad Knaus never found a setup that worked at Vegas and never came close to making the car decent at Atlanta. How bad was it? On Lap 188 of the 325-lap race, Johnson saw leader
Clint Bowyer
zoom past him like Johnson was moving in slow motion. A caution 44 laps later enabled Johnson to get the free pass and move back to the lead lap. It was false gratification. It took leader
Carl Edwards
only 24 laps to catch Johnson and put him a lap down again. Another caution a few laps later gave him the free pass once more, artificially making his result look better than it was. He ended the race as the last car on the lead lap, a long way behind winner
Kyle Busch
. For the second consecutive week, Johnson left the garage without speaking to reporters. This team has problems that are more serious than one bad race. But the good news is Johnson still ranks 13th in the standings, second-best among the four Hendrick Motorsports drivers.
Dale Earnhardt Jr.
is sixth,
Jeff Gordon
is 15th and
Casey Mears
is 30th. The Hendrick clan remains winless after four events. But Johnson's performance the past two weeks must have a lot of people at the Hendrick shop shaking their heads and looking for answers.
-- Terry Blount
Nationwide Series: Not All Good News For Kyle Busch -- Yet
HAMPTON, Ga. -- It's beginning to look a lot like 2007 for
Kyle Busch
, at least as far as the Nationwide Series is concerned. And that's not necessarily a good thing for a driver who has dominated the past two races only to have two badly damaged Toyotas to show for it. A year ago, Busch dominated the races in Las Vegas and Atlanta, only to come up short of victory both times.
Jeff Burton
got by on the final lap at Vegas, with Busch spinning out in a futile attempt to win. A week later at Atlanta, a botched final pit stop derailed his effort. Given that a failed fuel pump had ended his '07 opener at Daytona, Busch could have opened the year with three straight wins. Instead, starting at Fontana, Calif., he ran off finishes of third, second, third, third and seventh. When Busch kept the car underneath him to the finish, he'd wind up in the top 10, but he didn't reach Victory Lane until the July race in Daytona, his 11th start of the season in the series. This year, he was second at both Daytona and Fontana and was headed to top-5 finishes at Las Vegas and Atlanta until ending up in the wall both times. A blown tire was the culprit in Vegas and a broken shock mount or a cut/blown tire put him in the wall in Atlanta. Busch is proof positive that you don't have to slow down to go fast, but it can be argued that if he were to slow down just a bit, his Joe Gibbs Racing Toyotas might stand a better chance of making it to the end of the race. If he makes that transition, he might just turn the Nationwide Series into his own personal playground. As it is, it's the only national NASCAR series in which he's not leading the points standings. The bad news for the rest of the field is that he's got six top-seven finishes, including a win at Bristol. And he led 63 laps at Bristol before a crash relegated him to a 38th-place finish in 2005. Busch won four times in just 19 starts last year; there's no telling how dominant he'll be this year if he starts making it to the finish each time out.
-- Mark Ashenfelter
Craftsman Truck Series: All Good News For Kyle Busch -- So Far
Kyle Busch
likely had second place locked up with fewer than 20 laps to go Friday night at Atlanta. If he was racing for a championship and this was October instead of March, that kind of finish might not have been worth taking chances with. Of course, Busch isn't an everyday Craftsman Truck racer -- just a part-time extraordinary one with no use in settling for seconds. The 22-year-old Sprint Cup regular kicked off an historic weekend with his second consecutive win in the three-race-old truck season, making a late play for tires pay off in beating defending series champion
Ron Hornaday
. Busch was four seconds behind Hornaday when crew chief Richie Wauters pulled him into the pits for fresh tires with 18 laps to go. Hornaday came in for tires the very next lap and both he and Busch soon cycled back to the lead, but Busch's Billy Ballew Motorsports Toyota was stronger in a four-lap dash to the finish following a nearly 10-minute red flag for rain. Busch didn't lead the most laps in the race (Hornaday did), but he put on the best show. Twenty laps in, he sat in the pits with his hood up while the team made wholesale adjustments, yet by Lap 50 he was in first thanks in part to running along the apron to pass. NASCAR officials admonished Busch over the radio for such below-the-bottom feeding, so he moved to the high side to continue his march to the front. Somewhat less thrilling yet significant in terms of the season were the nights of the second- and third-place trucks. Hornaday's runner-up moved him to third in points, 50 behind Germain Racing's
Todd Bodine
(ninth at Atlanta), the de facto points leader with Busch on a part-time schedule.
Mike Skinner
, second in the series in 2007, made a late charge to finish third, his best effort of the year.
-- John Schwarb
Jayski Podcast

Kyle Busch wins in Atlanta, but Tony Stewart and Dale Earnhardt Jr. are unhappy with their tires. Mark Garrow wraps up the weekend action from Atlanta Motor Speedway.
Listen

Bristol Nuggets from Racing Resources
Milestones
Starting Up Front Matters
There have been 94 NASCAR SPRINT Cup races at Bristol.
Sixty percent of those 94 races were won from a top-five starting position (56 of 94 races).
Four of the last five races at Bristol have been won from top-10 starting positions.
One of those was won from the pole.
All five of those races were won from a top-20 starting position.
Pole Winners
There have been five different Coors Light Pole winners in the last six races at Bristol (since 2005).
Qualifying was rained out for the 2006 Food City 500.
Jeff Gordon has won five of the last 12 Coors Light poles at Bristol (42 percent - since 2002).
Jeff Gordon won the Coor's Light Pole last March at Bristol.
Top Starters
Multiple Winners
There have been four different race winners in the past four races at Bristol.
Darrell Waltrip leads all drivers with 12 Bristol victories.
Jeff Gordon and Kurt Busch lead all active drivers, each with five Bristol victories.
Skunked At Bristol
Would You Believe?
Jimmie Johnson has scored just one top-10 finish in his past five races at Bristol, a 10th-place finish in August 2006.
Johnson has a 16.0 average finish at Bristol. There are 17 other tracks where his average finish is better and only five where it is worse!
Ones To Watch
Kyle Busch has scored four top-10 finishes in his past four races at Bristol Motor Speedway, the longest current streak by all drivers at Bristol.
Dale Earnhardt Jr. has scored 12 top-15 finishes in his past 13 races at Bristol.
Carl Edwards has scored four top-15 finishes in his last four races at Bristol.
Disappointment
Bobby Labonte has finished 16th or worse in seven of his past nine races at Bristol.
Ryan Newman has finished 30th or worse in three of his last six races at Bristol.
Tony Stewart has scored just one top-10 finish in his past four races at Bristol.
Martin Truex Jr. has not scored a top-10 finish in his four races at Bristol.
Brian Vickers has not scored a top-10 finish in his seven races at Bristol.
-- Racing Resources
Standings
We're Off To ... Bristol Motor Speedway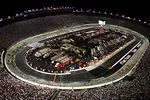 There is no experience quite like a NASCAR race at Bristol Motor Speedway, especially at night. The 0.533-mile oval features 36-degree banking in the turns, making it possible for the cars to go unusually fast on such a small track. Bristol's first race, the Food City 500 on March 16, is the fifth of the season. It's a day race, but expect plenty of excitement as competitors tend to trade paint all race long. Most of the competitors honed their skills growing up on short tracks. Bristol is the track that, more than any other, takes them back to those days, and the fans love it. And there are 160,000 there to prove it.
ESPN Travel