Dale Earnhardt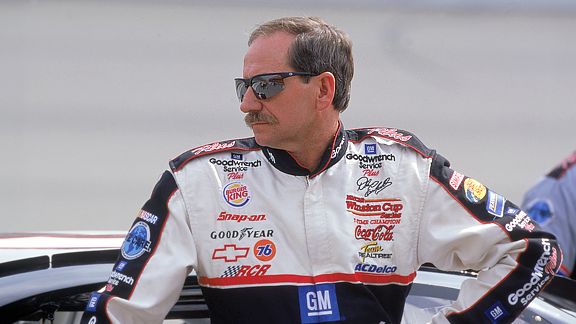 Ralph Dale Earnhardt Sr. was a NASCAR driver who became famous for his impressive résumé in Winston Cup racing in the 1980s and 1990s. Earnhardt earned seven championships during that time, tied for most all time, and was named driver of the year four times. He was known as "The Intimadator" for his skillful -- and controversial -- driving style.
Earnhardt died Feb. 18, 2001, on a last-lap crash during the Daytona 500. He has left a strong legacy in the sport and was one of the inaugural inductees into the NASCAR Hall of Fame in 2010.
Ralph Dale Earnhardt was born April 29, 1951, in Kannapolis, N.C. His father, Ralph, was a short-track race driver well known in North Carolina (he won one NASCAR championship, in 1956 in Greenville, S.C.). Dale was adamant about following in his father's footsteps on the track, although his parents did not particularly approve. Earnhardt's desire to prove himself in racing grew only stronger after his father's death in 1973.
By the age of 15, Earnhardt was racing often on the local tracks. He dropped out of school in the ninth grade to take up the sport full time. In 1970, his neighbors gave him his own race car: a 1956 Ford Victoria. He made his Cup Series debut five years later, in the World 600 in Charlotte. He finished 22nd. Earnhardt continued with a relatively unknown and local career until 1978, when he met Rod Osterlund.
Osterlund, a California-based sponsor, was looking for a new driver that year and thought he saw something special in Earnhardt. He signed the driver to his first Winston Cup contract that year after Earnhardt passed a tryout. Just a few months after signing on full time, Earnhardt, driving the No. 2 car, won his first NASCAR race, the Southeastern 500 at Bristol International Speedway.
By the end of the 1979 season -- despite missing four races with a broken collarbone -- Earnhardt was ranked seventh on the overall points list and had become the first driver to win more than $200,000 in his first year as a professional. He was named rookie of the year.
The next year proved even more monumental for Earnhardt. He created his own race team, Dale Earnhardt Inc., co-owned by himself and his wife, Teresa. He also won his first NASCAR points championship. With five wins and 19 top-five finishes in his 31 starts, Earnhardt just edged out veteran Cale Yarborough. He became the first -- and, to date, only -- driver to win rookie of the year and a NASCAR season title in consecutive years.
Earnhardt spent the next five years with Osterlund, although he didn't win another championship, before the sponsor sold his company. Earnhardt decided to join Richard Childress' Chevorlet team in 1981, and he eventually found huge success with the new team. After a two-year break, when he joined Bud Moore's Ford team at Childress' suggestion, he returned to Childress in 1984, and his season finishes immediately climbed. He finished fourth in '84, his first season in the No. 3 car with Childress.
Two years later, Earnhardt won his second Winston Cup title -- the first ever for Richard Childress Racing. A year later, in 1987, Earnhardt won yet another title after his best season ever. The driver won 11 races and finished in the top five in 21 of his 29 starts. It also was around this time that Earnhardt was formally warned for his reckless behavior on the track -- he was known for bumping other drivers out of the way to get a win. After being warned, Earnhardt did make an effort to befriend other drivers more -- although he still held on to his "Intimidator" nickname.
He won his fourth and fifth Winston Cup titles in 1990 and 1991 -- setting a NASCAR record for earnings ($3,083, 056) in 1990. Mechanical troubles in 1992 cost Earnhardt the title (he finished 12th). That 1992 finish was the only time in 10 years Earnhardt would finish outside of the top three in the final standings.
He bounced back in 1993 with another title, then won yet again in 1994 -- his seventh championship, tying Richard Petty for the most ever. He passed $3 million in winnings for the third time in five seasons, and he continued to dominate throughout the next several years. Earnhardt never won another championship after 1994, but he also never finished below eighth in the standings. In 1996, he became the first driver with 500 consecutive Winston Cup starts, and the next year, he became the first driver to pass $30 million in career earnings.
In 1998, Earnhardt finally won the one race that always had eluded him: the Daytona 500. After finishing second four times (by terribly close margins in 1991, '94 and '95), he won his first Daytona in 20 starts to open the 1998 season. His son, Dale Jr., began racing full time in Winston Cup races in 2000.
Dale Earnhardt Sr. died Feb. 18, 2001, on the last turn of the last lap of the Daytona 500. He was participating in the race with good friend Michael Waltrip and son Dale Earnhardt Jr. on his team, and, despite not performing as well as usual in the run-up events, Earnhardt and his supporters had high hopes going into the race.
Those appeared to be founded when Earnhardt was in good position early in the race. He spent much of the early parts of the race leading or near the front of the pack. A multicar crash late in the race eliminated many of the top contenders, including Tony Stewart, and Earnhardt and his teammates were among the few cars left up front.
Sterling Martin was right on Earnhardt's bumper, and he made contact with Martin's front fender several times. The final time, Earnhardt's car veered slightly and hit Martin's. He slid off the banking and turned toward the outer wall, colliding then with another car driven by Ken Schrader. Earnhardt's car snapped on impact, and both slammed into wall nose-first -- Earnhardt's at an angle at almost 160 mph.
Upon impact, Earnhardt's hood slammed open and up against the windshield. Schrader, upon exiting his vehicle, went to check on Earnhardt and immediately called for EMTs. He was driven to the hospital, but it was later determined that Earnhardt died on impact.
NASCAR president Mike Helton announced Earnhardt's death at a news conference later that night, calling it "Undoubtedly ... one of the toughest announcements I've personally had to make." Many of the traditional Daytona 500 events were postponed indefinitely after the discovery of Earnhardt's death.
Earnhardt's official cause of death was determined to be "blunt force injuries of the head," according to the final autopsy. The fatal injury was a basilar skull fracture (fracture at the base of the skull), and Earnhardt sustained eight broken ribs, a broken left ankle, fractured breast bone, and collarbone and hip abrasions.
He was survived by his wife, Teresa, a co-owner of Dale Earnhardt Inc.; son Kerry (from a first marriage); daughter Kelly and son Dale Jr. (from a second marriage); and daughter Taylor.
One of the most important after effects of Dale Earnhardt's death was the new NASCAR requirement that all drivers wear HANS devices, which restrain the head and neck and attache to the helmet. At the time of Earnhardt's death, the devices were optional, and he did not wear one because he thought it was uncomfortable. Although the cause of his full injuries is not completely clear, a HANS device would have prevented a basilar skull fracture, Earnhardt's fatal injury.
Earnhardt's owner, Richard Childress, pledged that no car would again bear the No. 3 logo, black coloring and a GM Goodwrench sponsorship. Although the No. 3 car has never been officially retired, most NASCAR owners agree not to use the number in honor of Earnhardt. Childress does own the rights to the logo and colors Earnhardt used during his career.
Several NASCAR events and other drivers have attempted to pay homage to Earnhardt through the years. One of the more moving of those events was when Earnhardt's son, Dale Jr., drove a No. 3 car twice in 2002: once at Daytona -- a race Earnhardt Jr. won -- and again at Charlotte, the first race his father ever won. Earnhardt Jr. also had won the first event at Dayton held since his father's death, the Pepsi 400 in July. He and Michael Waltrip, an Earnhardt teammate whose victory at the Daytona 500 had been so overshadowed, had an emotional celebration on the infield.
Earnhardt had a street named after him in his hometown of Kannapolis, N.C., which begins a self-guided driving tour of important milestones in the driver's life. One of the interstates in North Carolina was renamed "3," and an entrance to Texas Motor Speedway now is named "Dale Earnhardt Way." NASCAR holds an annual Dale Earnhardt Day on his birthday each year. A seating section at Daytona International Speedway also was renamed "Earnhardt Tower" after the driver.
Shortly before his death, Earnhardt became a part-owner of the Kannapolis minor league baseball team, which was renamed the Intimidators after his death. A roller coaster at Virginia's King's Dominion also is called the Intimidator after Earnhardt.
Dale Earnhardt Inc., continued to sponsor drivers after Earnhardt's death before disbanding in 2008. The company now remains as the Dale Earnhardt Foundation (which sponsors students at Clemson University in South Carolina each year) and the Earnhardt Technology Group.
Dale Earnhardt Sr. Career Winston Cup Wins
| Date | Race | Site | Start | Money |
| --- | --- | --- | --- | --- |
| 4/1/1979 | Southeastern 500 | Bristol | 9 | $19,800 |
| 3/16/1980 | Atlanta 500 | Atlanta | 31 | $36,200 |
| 3/30/1980 | Valleydale Southeastern 500 | Bristol | 4 | $20,625 |
| 7/12/1980 | Busch Nashville 420 | Nashville | 7 | $14,600 |
| 9/28/1980 | Old Dominion 500 | Martinsville | 7 | $25,375 |
| 10/5/1980 | National 500 | Charlotte | 4 | $49,050 |
| 1/4/1982 | CRC Chemicals Rebel 500 | Darlington | 5 | $31,450 |
| 7/16/1983 | Busch Nashville 420 | Nashville | 3 | $23,125 |
| 7/31/1983 | Talladega 500 | Talladega | 4 | $46,950 |
| 7/29/1984 | Talladega 500 | Talladega | 3 | $47,100 |
| 11/11/1984 | Atlanta Journal 500 | Atlanta | 10 | $40,610 |
| 2/24/1985 | Miller High Life 400 | Richmond | 4 | $33,625 |
| 4/6/1985 | Valleydale 500 | Bristol | 12 | $31,525 |
| 8/24/1985 | Busch 500 | Bristol | 1 | $34,675 |
| 9/22/1985 | Goody's 500 | Martinsville | 11 | $37,725 |
| 4/13/1986 | TranSouth 500 | Darlington | 4 | $52,250 |
| 4/20/1986 | First Union 400 | North Wilkesboro | 5 | $38,550 |
| 5/25/1986 | Coca-Cola 600 | Charlotte | 3 | $98,150 |
| 10/5/1986 | Oakwood Homes 500 | Charlotte | 3 | $82,050 |
| 11/2/1986 | Atlanta Journal 500 | Atlanta | 4 | $67,950 |
| 3/1/1987 | Goodwrench 500 | Rockingham | 14 | $53,900 |
| 3/8/1987 | Miller High Life 400 | Richmond | 3 | $49,150 |
| 3/29/1987 | TranSouth 500 | Darlington | 2 | $52,985 |
| 4/5/1987 | First Union 400 | North Wilkesboro | 3 | $44,675 |
| 4/12/1987 | Valleydale Meats 500 | Bristol | 3 | $43,850 |
| 4/26/1987 | Sovran Bank 500 | Martinsville | 4 | $50,850 |
| 6/28/1987 | Miller American 400 | Michigan | 5 | $60,250 |
| 7/19/1987 | Summer 500 | Pocono | 16 | $55,875 |
| 8/22/1987 | Busch 500 | Bristol | 6 | $47,175 |
| 9/6/1987 | Southern 500 | Darlington | 5 | $64,650 |
| 9/13/1987 | Wrangler Jeans Indigo 400 | Richmond | 8 | $44,950 |
| 3/20/1988 | Motorcraft Quality Parts 500 | Atlanta | 2 | $67,950 |
| 4/24/1988 | Pannill Sweatshirts 500 | Martinsville | 14 | $53,550 |
| 8/27/1988 | Busch 500 | Bristol | 5 | $48,500 |
| 4/16/1989 | First Union 400 | North Wilkesboro | 3 | $51,225 |
| 6/4/1989 | Budweiser 500 | Dover | 2 | $59,350 |
| 9/3/1989 | Heinz Southern 500 | Darlington | 10 | $71,150 |
| 9/17/1989 | Peak Performance 500 | Dover | 15 | $59,950 |
| 11/19/1989 | Atlanta Journal 500 | Atlanta | 3 | $81,700 |
| 3/18/1990 | Motorcraft Quality Parts 500 | Atlanta | 1 | $85,000 |
| 4/1/1990 | TranSouth 500 | Darlington | 15 | $61,985 |
| 5/6/1990 | Winston 500 | Talladega | 5 | $98,975 |
| 6/24/1990 | Miller Genuine Draft 400 | Michigan | 5 | $72,950 |
| 7/7/1990 | Pepsi 400 | Daytona | 3 | $72,850 |
| 7/29/1990 | DieHard 500 | Talladega | 1 | $152,975 |
| 9/2/1990 | Heinz Southern 500 | Darlington | 1 | $210,350 |
| 9/9/1990 | Miller Genuine Draft 400 | Richmond | 6 | $59,225 |
| 11/4/1990 | Checker 500 | Phoenix | 3 | $72,100 |
| 2/24/1991 | Pontiac Excitement 400 | Richmond | 19 | $67,950 |
| 4/28/1991 | Hanes 500 | Martinsville | 10 | $63,600 |
| 7/28/1991 | DieHard 500 | Talladega | 4 | $88,670 |
| 9/29/1991 | Tyson Holly Farms 400 | North Wilkesboro | 16 | $69,350 |
| 5/24/1992 | Coca-Cola 600 | Charlotte | 13 | $125,100 |
| 3/28/1993 | TranSouth 500 | Darlington | 1 | $64,815 |
| 5/30/1993 | Coca-Cola 600 | Charlotte | 14 | $156,650 |
| 6/6/1993 | Budweiser 500 | Dover | 8 | $68,030 |
| 7/3/1993 | Pepsi 400 | Daytona | 5 | $75,940 |
| 7/18/1993 | Miller Genuine Draft 500 | Pocono | 11 | $66,795 |
| 7/25/1993 | Die Hard 500 | Talladega | 11 | $87,315 |
| 3/27/1994 | TranSouth Financial 400 | Darlington | 9 | $70,190 |
| 4/10/1994 | Food City 500 | Bristol | 24 | $72,570 |
| 5/1/1994 | Winston Select 500 | Talladega | 4 | $94,865 |
| 10/23/1994 | AC-Delco 500 | Rockingham | 20 | $60,600 |
| 4/9/1995 | First Union 400 | North Wilkesboro | 5 | $77,400 |
| 5/7/1995 | Save Mart Supermarkets 300 | Sonoma | 4 | $74,860 |
| 8/5/1995 | Brickyard 400 | Indianapolis | 13 | $565,600 |
| 9/24/1995 | Goody's 500 | Martinsville | 2 | $78,150 |
| 11/12/1995 | NAPA 500 | Atlanta | 11 | $141,850 |
| 2/25/1996 | Goodwrench Service 400 | Rockingham | 18 | $83,840 |
| 3/10/1996 | Purolator 500 | Atlanta | 18 | $91,050 |
| 2/15/1998 | Daytona 500 | Daytona | 4 | $1,059,805 |
| 4/25/1999 | DieHard 500 | Talladega | 17 | $147,795 |
| 8/28/1999 | Goody's Headache Powder 500 | Bristol | 26 | $89,880 |
| 10/17/1999 | Winston 500 | Talladega | 27 | $120,290 |
| 3/12/2000 | Cracker Barrel Old Country Store 500 | Atlanta | 35 | $123,100 |
| 10/15/2000 | Winston 500 | Talladega | 20 | $135,900 |
TOP STORY
Remembering The Intimidator
Dale Earnhardt's death delineated NASCAR eras. Ten years later, his ghost, that No. 3 car, is still lapping the field as racing struggles to find an authentic modern identity. Story »
10 YEARS GONE: DALE EARNHARDT
Dale Earnhardt died on the last lap of the 2001 Daytona 500, protecting the lead of the two drivers -- Michael Waltrip and Dale Earnhardt Jr., respectively -- sprinting to a 1-2 finish for his team, Dale Earnhardt Inc. What mark has he left on the sport even 10 years after his death? It is indelible.

Monday

Tuesday

Wednesday

Thursday

Friday
NASCAR CAREER RESULTS
| Year | Rank | Starts | Wins | Top5 | Top10 | Winnings |
| --- | --- | --- | --- | --- | --- | --- |
| 2000 | 2 | 34 | 2 | 13 | 24 | 3,701,390 |
| 1999 | 7 | 34 | 3 | 7 | 21 | 2,712,089 |
| 1998 | 8 | 33 | 1 | 5 | 13 | 2,611,100 |
| 1997 | 5 | 32 | 0 | 7 | 16 | 1,663,019 |
| 1996 | 4 | 31 | 2 | 13 | 17 | 2,285,926 |
| 1995 | 2 | 31 | 5 | 19 | 23 | 2,295,300 |
| 1994 | 1 | 31 | 4 | 20 | 25 | 1,465,890 |
| 1993 | 1 | 30 | 6 | 17 | 21 | 1,326,240 |
| 1992 | 12 | 29 | 1 | 6 | 15 | 838,385 |
| 1991 | 1 | 29 | 4 | 14 | 21 | 1,029,060 |
| 1990 | 1 | 29 | 9 | 18 | 23 | 1,307,830 |
| 1989 | 2 | 29 | 5 | 14 | 19 | 885,050 |
| 1988 | 3 | 29 | 3 | 13 | 19 | 739,175 |
| 1987 | 1 | 29 | 11 | 21 | 24 | 1,041,120 |
| 1986 | 1 | 29 | 5 | 16 | 23 | 868,100 |
| 1985 | 8 | 28 | 4 | 10 | 16 | 457,658 |
| 1984 | 4 | 30 | 2 | 12 | 22 | 509,805 |
| 1983 | 8 | 30 | 2 | 9 | 14 | 396,991 |
| 1982 | 12 | 30 | 1 | 7 | 12 | 357,270 |
| 1981 | 7 | 31 | 0 | 9 | 17 | 324,290 |
| 1980 | 1 | 31 | 5 | 19 | 24 | 451,360 |
| 1979 | 7 | 27 | 1 | 11 | 17 | 237,575 |
| 1978 | 44 | 5 | 0 | 1 | 2 | 20,145 |
| 1977 | 118 | 1 | 0 | 0 | 0 | 1,375 |
| 1976 | 104 | 2 | 0 | 0 | 0 | 3,085 |
| 1975 | 130 | 1 | 0 | 0 | 0 | 1,925 |