Shaka Hislop's top five goalkeepers
ESPN FC's resident goalkeeping-expert Shaka Hislop lists his current top five netminders in world football.
Fans go crazy as Liverpool, Napoli meet at Anfield
ESPN FC was on the scene for a decisive day in the Champions League that was full of tension, nerves and, at full-time for the home side, joy and relief.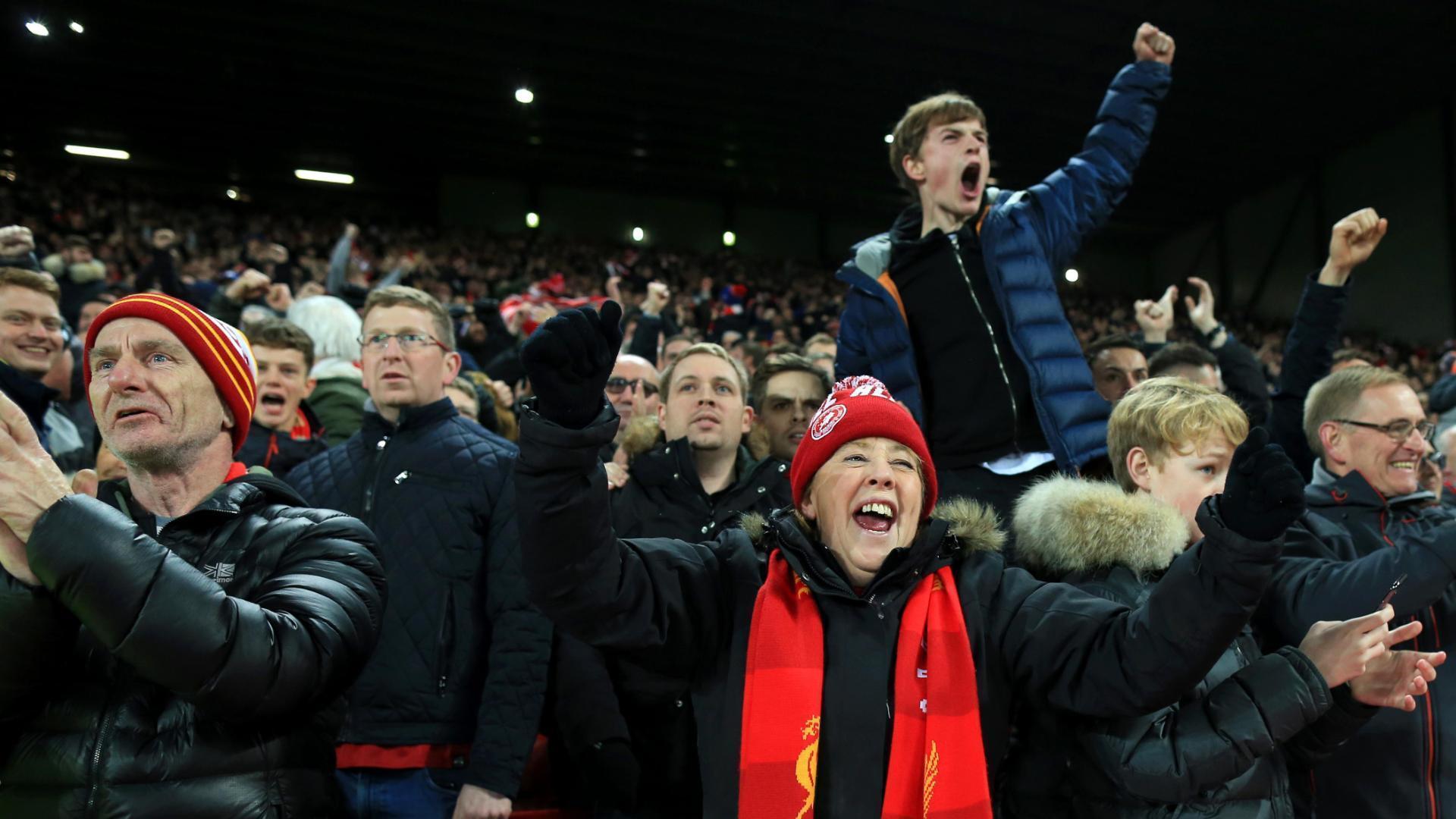 Walton: Referees the front line against fan racism
Peter Walton calls on his experience to describe how referees can combat racial abuse from fans after an incident involving Raheem Sterling.
Argentina's Madrid takeover: River, Boca at the Bernabeu
Fans from all over the world converged on Madrid to watch the Copa Libertadores final. Here's the best of the best from a historic day of football.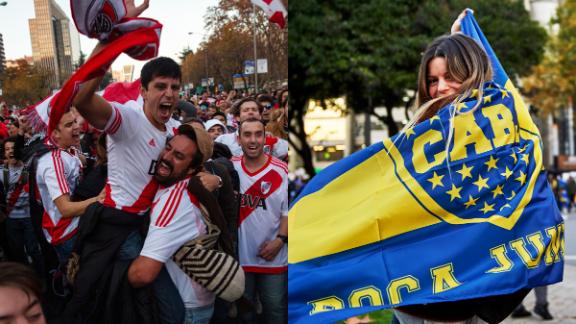 FC 100: Are Man City the attacking midfield kings?
There's Manchester City players on the list of the top attacking midfielders, but it's Arsenal's Mesut Ozil that ignites the debate.
FC 100: Messi, Ronaldo, Griezmann fight for forward spot
It's the usual suspects leading the world's best forwards in 2018, but did Lionel Messi really have a better 2018 than Cristiano Ronaldo?
FC 100: Is Pogba a top-five central midfielder?
Luka Modric leads a Clasico-dominated list of the best central midfielders, as Paul Pogba's positioning causes a stir.
FC 100: De Gea or Ter Stegen the top keeper?
David de Gea is crowned king of goalkeepers in the 2018 FC100, but have some other No.1's been overlooked?
FC 100: Cavani, Suarez trail Kane for leading striker
Harry Kane claims top spot amongst the best strikers in 2018 with Sergio Aguero and Edinson Cavani hot on his heels.
FC 100: Top centre-back a closed shop
La Liga dominates amongst the top 10 central defenders in the world, but is Sergio Ramos the true pick of the bunch?
FC 100: Who reigns at left-back?
Real Madrid's Marcelo holds onto his place as the best left-back, but there's controversy amongst his challengers.
FC 100: Carvajal the right choice at right-back?
In a competitive list of the 10 best right-backs, Real Madrid's Dani Carvajal comes out on top.
Hislop: Why Steffen chose Man City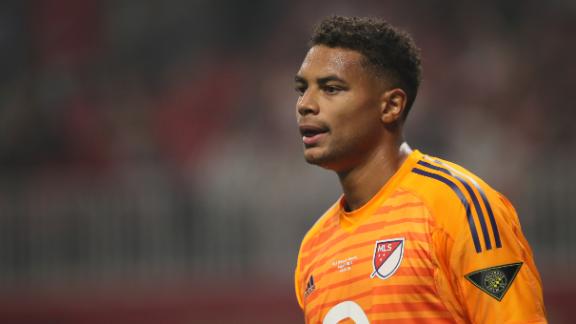 Ask the Ref: The foul that led to Atlanta's 2nd goal
Former GM of PRO referees Peter Walton joins the FC crew to dissect the foul on Josef Martinez that led to Atlanta's second goal against Portland.
Project MLS Cup: Atlanta reigns supreme
From celebrity predictions to locker room celebrations, go behind the scenes of Atlanta United's historic MLS Cup win.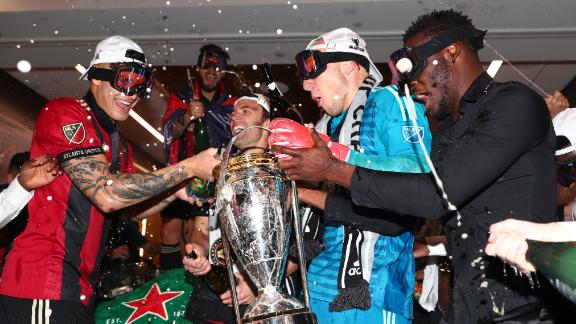 7-year-old Malea Emma's jaw-dropping national anthem
Before MLS Cup kicked off in Atlanta, young Malea Emma stole the show with another phenomenal rendition of the national anthem.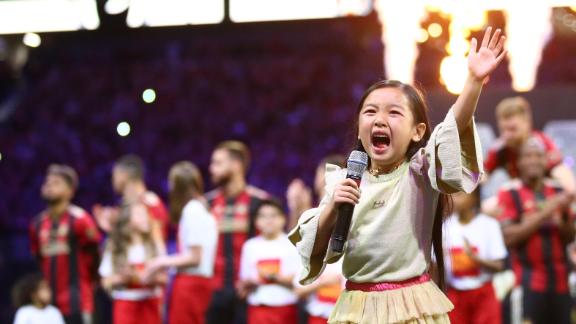 Atlanta United 2-0 Portland: Martinez & Co. win MLS Cup
Atlanta United lift their first MLS Cup in just their second-ever season with a convincing 2-0 win over the Portland Timbers.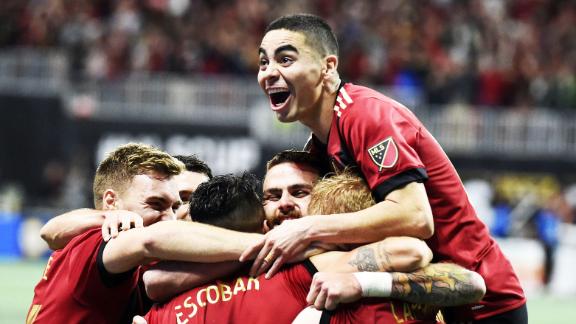 Atlanta United celebrate city's 1st championship in 23 years
The city of Atlanta turned up to celebrate Atlanta United's MLS Cup victory, the city's first major championship in 23 years.
Transfer Rater: Gunners going for defence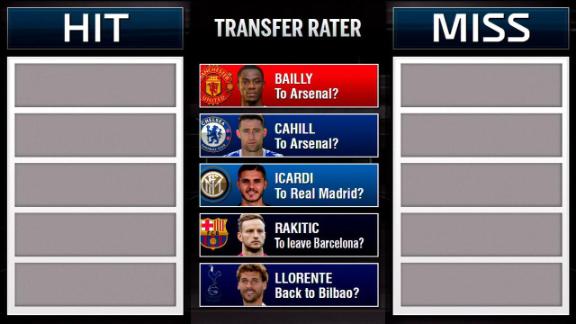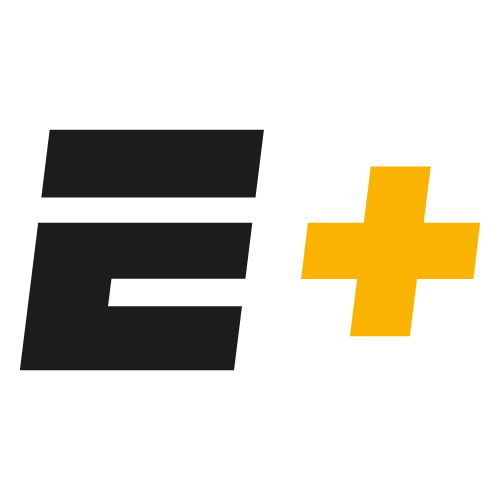 ESPN FC DAILY
Streaming now on ESPN+
The FC crew discuss Liverpool's win over Napoli and how Inter Milan's draw helped Tottenham advance to the UCL knockout round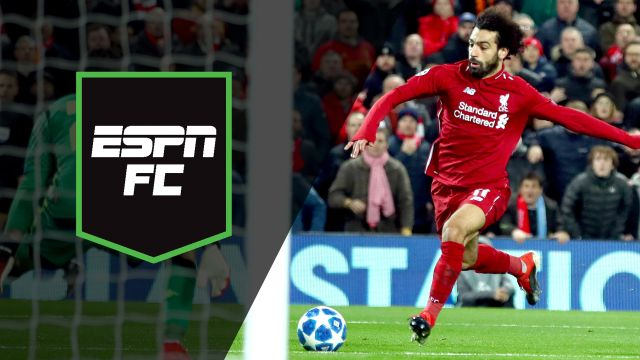 Ryan Inzana

Here are the top 100 players and managers in men's soccer, as rated by our experts.

ESPN Fantasy Football promo

Manage your squad in the Premier League, Champions League, La Liga and Liga MX.

no_source

We examine the UK and Ireland, Germany, Italy, Spain and France to look at areas of production and ask our writers to explain the results.

Finbarr O'Reilly for ESPN

The Class of '92 made their names and won it all at Old Trafford. Now they're trying to take a tiny, working-class team to the Premier League.

Filippo Monteforte/AFP/Getty Images

Roma beat Lazio, but the derby doesn't end, it merely pauses. Because like the city that birthed both clubs, it is eternal.

Dustin Evans

PSG star Neymar was the muse for the main character of a new comic book series, "Inked," in which tattoos come alive to help fight crime.

Angel Martinez/Real Madrid via Getty Images

The biggest problem with the Champions League is that it's trying to be everything to everyone. It's time for the tournament to go rogue.

Freak City for ESPN

Deliberate isolation. Petty feuds. Constant turmoil. The Manchester United manager wouldn't have it any other way.

Aurelien Meunier/Getty Images

When you win the World Cup at 19, where is left to go? This is the challenge -- and possible nightmare -- facing Kylian Mbappe, writes Simon Kuper.

ESPN Illustration

Ten years ago, Sheikh Mansour of Abu Dhabi bought Man City, transforming the club from Premier League punchline to a dynasty in the making.

ESPN

Marvel

It might not be part of the traditional comic book universe, but Marvel laced up its boots to bring you the epic stories in Russia.

USA Today

Who should be blamed for the U.S.' World Cup qualifying failure? Do young American players get sufficient playing time? What about pro / rel, salaries and dream signings?

Trey Ingram

Our intrepid writer suffers -- and suffers some more -- through a player medical at Everton.

Brian Konnick

We select the best players under 21 who are primed to rule the football galaxy.

ESPN

MLS Rivalry Week is full of contentious clashes. Here are some of the best in unique video game format. Ready ... FIGHT!

EPA/FERNANDO BIZERRA JR

In November 2016, Brazilian underdogs Chapecoense boarded a plane to play in the game of their lives. Instead, their biggest moment turned into a tragedy no one can forget.

Getty

Check out the completed deals from all the major leagues this summer.

Getty

Keep track of all the important upcoming fixtures in the Premier League, Champions League, La Liga, English Football League and more.

Getty

Results and scores from the Premier League, Champions League, La Liga, English Football League and more.

Getty

Updated tables from the Premier League, Champions League, La Liga, English Football League and more.
Customize ESPN