Sevilla 0-5 Barcelona: History for Barca.
WATCH: Iniesta lifts the Copa del Rey trophy for Barcelona.
WATCH: Iniesta gets standing ovation after being subbed off.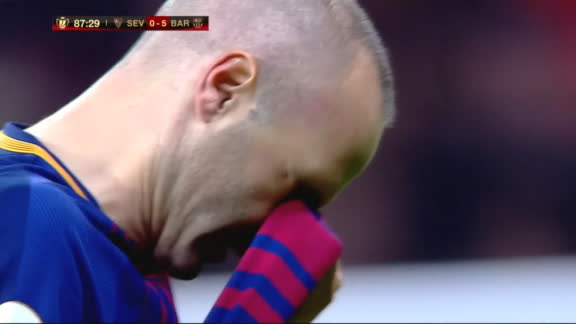 Coutinho's penalty makes it 5-0 Barcelona.
Iniesta dances his way to Barcelona's fourth goal.
Suarez makes it 3-0 on give-and-go with Messi.
Alba sets up Messi goal with backheel pass.
Suarez puts Barcelona ahead in the Copa del Rey final.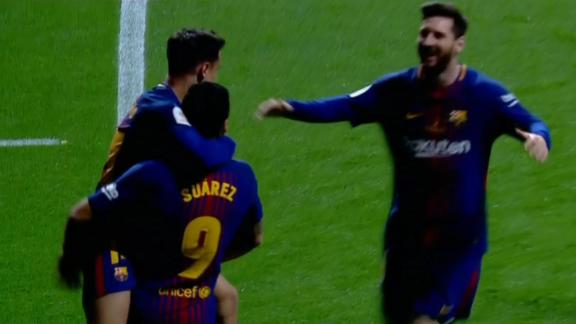 Montreal 3-5 LAFC: Impact implode - Via MLS.
Houston 5-1 Toronto: Dynamo rout TFC reserves - Via MLS.
WATCH: LAFC score fifth goal on Montreal howler.
Sporting KC 6-0 Vancouver: SKC thrash 9-man Whitecaps - Via MLS.
How Liverpool's back line is shaping up ahead of Roma.
ESPN FC's Craig Burley delves into Liverpool's defensive structure against West Brom and how Mo Salah & Co. will come together against Roma.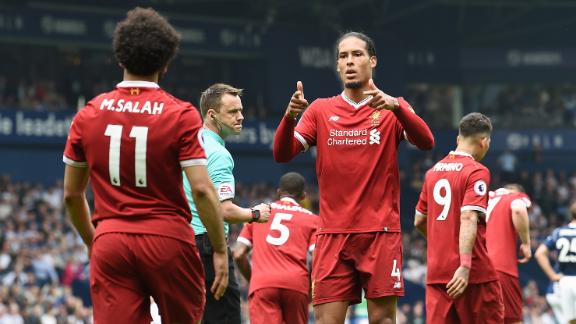 WATCH: Klopp irate with West Brom pitch & officiating.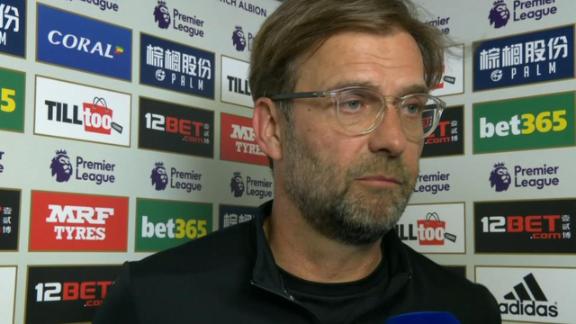 West Brom 2-2 Liverpool: Salah equals record.
West Brom 2-2 Liverpool: Salah equals record.
Rondon heads in West Brom's equalizer.
Livermore gets one back for West Brom.
Salah ties Premier League all-time goalscoring record.
Liverpool's Ings scores first goal since October 2015.
WATCH: Klopp irate with West Brom pitch & officiating.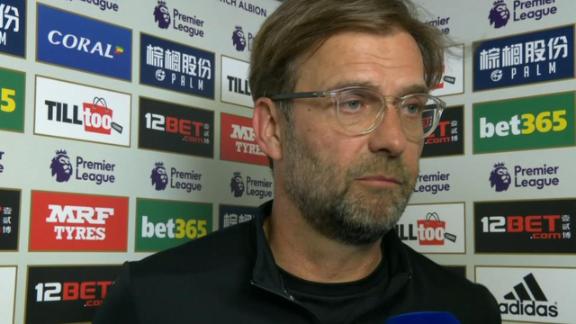 Rondon: It feels like West Brom just got relegated.
Premier League Highlights
Watford 0-0 Crystal Palace: Eagles nab valuable point.
West Brom 2-2 Liverpool: Salah equals record.
Burnley 1-2 Chelsea: Chelsea five points from 4th.
Leicester City 0-0 Southampton: Spoils shared.
Bournemouth 0-2 Manchester United: "B" squad does just fine.
Brighton 1-1 Tottenham: Hosts earn valuable point.
Prem: Top goals of Week 34.
WATCH: Manchester City's top goals of the season.
A 'Max Minute' on the Champions League semis.
Max Bretos checks in from Miami and holds fast to his earlier prediction that Liverpool is the team to beat.
ARSENE WENGER TO LEAVE ARSENAL
Arsenal Fan TV host reacts to Wenger leaving.
Gazidis: Wenger made art out of football.
WATCH: Arsenal's tribute to Arsene Wenger.
Fans' Eye View: Wenger is a fraud.
Conte: Wenger one of the best mangers in the world.
Klopp: Football will be different without Wenger.
Hughes: Wenger moved the goalposts for everybody.
Moreno: Toronto looked like they didn't belong.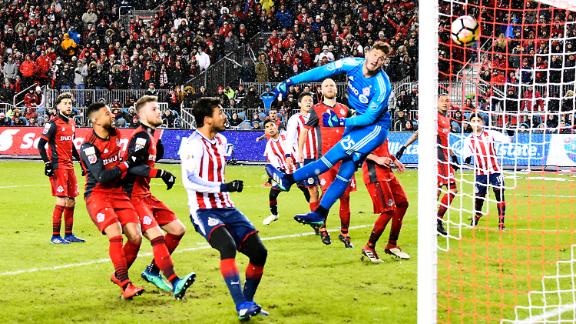 USA Today

Who should be blamed for the U.S.' World Cup qualifying failure? Do young American players get sufficient playing time? What about pro / rel, salaries and dream signings?

Trey Ingram

Our intrepid writer suffers -- and suffers some more -- through a player medical at Everton.

Getty

We can support the World Cup -- and the players -- without supporting the world's ugliest regimes such as the 2018 hosts, Russia.

adidas/puma/nike

A look at all the confirmed jerseys so far from the 32 teams at Russia 2018.

Gabriele Maltinti/Getty Images

"Davide Astori ... One of us!" Wright Thompson was present as a city bade farewell to its captain.

Dave Flanagan

The world's top soccer players, ranked by position.

Brian Konnick

We select the best players under 21 who are primed to rule the football galaxy.

ESPN Illustration

The 19-year-old discusses the U.S.' World Cup failure, his development at Borussia Dortmund and his future.

Brian Konnick

Andrea Pirlo, football's undisputed King of Cool, has officially retired. So who will take over the mantle? We pick four compelling candidates.

ESPN Illustration

You know the kind of player who just divides opinion wherever he goes? Well, ESPN FC has picked out seven of the best.

Aaron Dana

Cristiano Ronaldo isn't just one of the greatest on the pitch; he's the G.O.A.T. off it, too. Take a trip inside the mad world of CR7's brands.

ESPN

MLS Rivalry Week is full of contentious clashes. Here are some of the best in unique video game format. Ready ... FIGHT!

EPA/FERNANDO BIZERRA JR

In November 2016, Brazilian underdogs Chapecoense boarded a plane to play in the game of their lives. Instead, their biggest moment turned into a tragedy no one can forget.

Jean Catuffe/Getty Images

Simon Kuper explains how it became the best and deepest source of soccer excellence.

no_source

"Rogue One: A Star Wars Story" has us buzzing, and it got us thinking: Who are football's rogues and who would they play in the Star Wars universe?

David Ramos/Getty Images

The January transfer window is closed; here are all the completed deals.

Michael Steele/Getty Images

Keep track of all the important upcoming fixtures in the Premier League, Champions League, La Liga, English Football League and more.

Darren Walsh/Chelsea FC via Getty Images

Results and scores from the Premier League, Champions League, La Liga, English Football League and more.

AP Photo/Paul White

Updated tables from the Premier League, Champions League, La Liga, English Football League and more.

ESPN

Who wields the most influence in the world game, those men and women who have some combination of money, authority and power to shape the sport?

espn

The summer transfer window (open from July 1 to 11 p.m. GMT on Aug. 31) is always a volatile and exciting time for clubs, players, agents and fans alike. Here's what happens.
Customize ESPN