Commentary
Destination 2010
America's quest to play in World Cup 2010 all hinged on one week in September
Updated:
December 3, 2009, 8:23 PM ET
By
Luke Cyphers
| ESPN The Magazine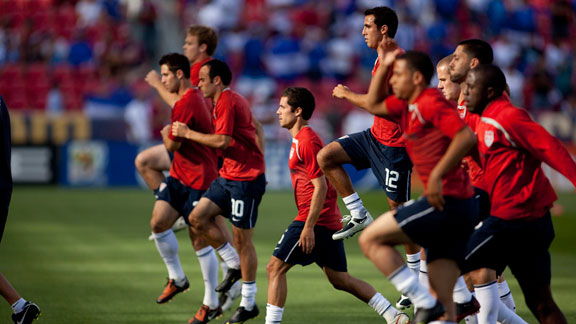 Robert CaplinThe team was staring at 15 months, 14 games and 27,927 miles worth of World Cup anxiety before playing this qualifier against El Salvador on Sept. 5th. (They won.)
This article appears in the October 5 issue of ESPN The Magazine.
The U.S. Soccer team's road to the World Cup has been bumpy, rutted and about as scenic (on the field, at least) as the New Jersey Turnpike. Clunky first touches, long stretches of stale offense, fidgety moments of defense, a knack for conceding the first goal to the opponent. The Yanks' first eight matches during the final round of qualifying for their region (the Confederation of North, Central America and Caribbean Association Football) have been marked by messy play and nail-biting finishes. "CONCACAF games are weird, man," says U.S. goalkeeper Tim Howard. "There doesn't seem to be any rhyme or reason."
U.S. Soccer Blog
An interview with U.S. supporter Drew Carey, addressing the "enemy fan problem" and news and notes from the week. READ
Indeed, it's been a long, strange -- but successful -- slog thus far. The Americans lead the pack in the scramble for the region's three guaranteed slots in the South Africa 2010 pool and control their destiny as they head into the final two qualifiers, at Honduras on Oct. 10 and in Washington, D.C., against Costa Rica on Oct. 14. But first they had to take care of business in September. The Mag tagged along with the squad for all 11 days of its most recent qualifying junket, at home in Utah's high desert against El Salvador, then on the road in the Caribbean rain forest of Trinidad and Tobago. Our takeaway? Random and ragged and weird as their games sometimes look, the boys' methods are anything but.
PARK CITY, HERE WE COME
SUNDAY, AUG. 30

Assembling a roster of players from all corners of the globe is no easy task. U.S. team members suit up for clubs in Denmark, England, France, Germany, Italy, Mexico and Norway, as well as MLS. Every one of those players had a match on Saturday or Sunday, and they all needed to be in Utah no later than Monday for training camp. French leaguer and U.S. captain Carlos Bocanegra finished a game in Lens on Saturday evening, got to his home in Rennes a little past midnight, caught five hours of shut-eye then headed to the airport for a flight to Utah via Paris. Now he meets his prearranged car service at Salt Lake International and makes it to Park City in plenty of time for an evening gym session with his teammates. "Really smooth," Bocanegra says of his U.S. Soccer-organized sojourn. "You don't have to worry about much." Unless, of course, you ignore the team's travel assistance. Kyle Beckerman and Robbie Findley play for Real Salt Lake, just a short drive from Park City. They refuse the car service -- and promptly get lost looking for team headquarters. "I took a wrong exit," Beckerman says later. "Then we drove around the hotel a couple of times." Leave it to U.S. players to make their lives more difficult than they need to be.
SETTLING IN
MONDAY, AUG. 31, TO WEDNESDAY, SEPT. 2

To call U.S. head coach Bob Bradley meticulous is like saying Amy Winehouse lacks discipline. For Bradley, no detail is too small to ponder. While his players fire shots at the goal at the end of training sessions at Quinn's Recreation Complex, Bradley often wanders the field fixing divots in the turf. On the field and off, he talks a lot about "moments" in a match, little plays where games are won or lost. And any and every seemingly inconsequential thing can have an impact. That's why players are constantly evaluated -- and not merely on their play. The coaching staff carefully notes how they cope with travel, how their bodies recover from training (players are hooked up to a machine called an Omegawave that measures their circulatory and muscular systems), whom they eat with and how their moods shift.
Every player brings his own set of challenges. Some play regularly for their clubs abroad, others don't. Some compete in great leagues, others in middling ones. Some are healthy, others nicked up. Some have played intense international matches for years, but more than a few haven't. In the coming week, Bradley must organize this variety pack into a coherent unit by melding disparate skill levels and different personalities. "In a perfect world, you'd always just pick up where you left off," he says. "That's not the way it works here."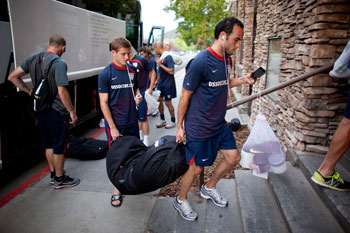 Robert CaplinWhen it's time to come together, Team USA goes all out, carrying equipment together and eating every meal as a group.
Bradley tries to build an atmosphere where all players can be frank with each other, especially behind closed doors. Or, as the coach likes to call it, "on the inside." Whatever happens outside the team -- media and message-board criticism about their sometimes lackluster play, for instance -- doesn't ultimately matter. Instead, unity in tight spots and tough times is what counts. When you're up against Mexico, or down a goal in El Salvador, it's easier to run yourself past the point of exhaustion to get to a 50-50 ball if you know every guy on your side will do the same thing. Asked what it means to be captain, Bocanegra suggests there are really "multiple" team leaders. He refuses to stick out. Things that stick out get noticed, after all. Take, for example, Charlie Davies' left hip. The 23-year-old forward, whose prolific goal-scoring generated buzz this summer, unintentionally assumes a jaunty stance during a postpractice interview. His thrust-out hip is immediately mocked by Howard and midfielder Benny Feilhaber. "Hey, sailor," Howard says, busting Davies.
MAKING ADJUSTMENTS
WEDNESDAY, SEPT. 2, TO THURSDAY, SEPT. 3

During their last qualifier, a 2-1 loss to Mexico at the punishing, 7,400-foot altitude of Mexico City, the Americans wilted in the game's final minutes. But it wasn't from a lack of teamwork or skill. The match calendar simply hadn't allowed time to train for the thin air. With any luck (not that anything is left to chance), they won't wear down this week. The game against El Salvador is at Rio Tinto Stadium, in the Salt Lake suburb of Sandy, which sits at 4,500 feet. It's no accident that the U.S. training facility is located 2,500 feet higher.
Bradley runs the squad hard for an hour or so every morning, focusing first on a battery of passing and running drills and scrimmages, then following up in the afternoon with 45-minute gym sessions dedicated to weight-training or stretching. Three days into practice, Jozy Altidore is feeling it. After a great run at the June Confederations Cup in South Africa, the 19-year-old striker took a month off, played in the U.S.-Mexico match Aug. 12, then sat on the shelf for 10 days awaiting a loan from Villarreal, his Spanish club, to England's Hull City. That explains why he's hunched over after a particularly grueling scrimmage. The new U.K. resident keeps a stiff upper lip, telling reporters, "The wind's all right, man." Another player isn't all right, though. Defender Jay DeMerit's strained groin is keeping him out of training. His central-defense partner, Oguchi Onyewu, will also miss Saturday's game after earning his second yellow card of qualifying during the Mexico match. That means not one but two holes in the starting lineup. Just more obstacles to overcome.
BREAKING IT DOWN
FRIDAY, SEPT. 4

In a secluded hotel ballroom, assistant coach Pierre Barrieu repeatedly fast-forwards and rewinds a video before his captive audience. He's showing the whole team what to expect when El Salvador defends a free kick. The Salvadorans like their defenders to step upfield just before the ball is struck, creating an offside trap, where the attacking team can't touch the ball. (They used the ruse in their most recent match against the U.S., a 2-2 draw in March.) The players make a mental note. They always do during Barrieu's shows.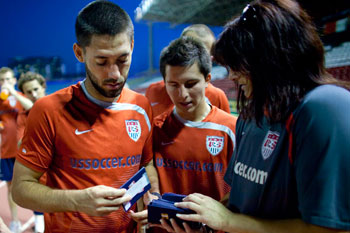 Robert CaplinUnlike their fans, the players have little time to savor victory in Utah. Instead, they grab their passports and head to the next qualifier, 3,600 miles away in Trinidad.
Team USA's coaches work video machines like an NFL staff. Bradley typically watches video of opponents and of his own team, and of his players' club outings, trying to spot any weaknesses. Tomorrow, game day, he'll show his team a half-hour video, most of it focused on set pieces. Beyond that, study time is up to the individual player. "I'll sit down with Pierre, and we'll go over who we're matched up against," says Jonathan Spector, who, like most defenders, watches video extensively. "When you're up against a striker, you make one mistake and that's it." How big are the next two matches? Barrieu says more players seem to be asking for video cut-ups lately.
GETTING IN THE GAME
SATURDAY, SEPT. 5

Here they go again. The Americans are heavily favored against El Salvador and start an attacking lineup on an 80° night at Rio Tinto Stadium. But once more, they're sometimes shaky on the ball, and in the 32nd minute, they feel the absence of DeMerit, who hasn't healed enough to play. The U.S. surrenders an ugly goal after a poor clearance from Jonathan Bornstein. The Yanks trail 1-0 -- the fourth time in the past six qualifying matches they've given up the opening goal. Two things save them: One is the play of Landon Donovan, the wily veteran who tirelessly roams the field. The other is the team's preparation. As Donovan launches a perfect free kick into the box, the Salvadorans set their offside trap, just like they did on Barrieu's video. Anticipating this, Clint Dempsey starts his run from deeper than usual, helping him avoid traffic and guaranteeing that he stays onside. Hours of work culminate in that one moment, the fraction of a second it takes Dempsey to flick the ball off his scalp and send it into the net to tie the game. After another spot-on pass from Donovan, Altidore scores the game-winner minutes later.
TAKING A BREATHER -- SORT OF
SUNDAY, SEPT. 6

While last night's starters sleep in, the 51-year-old Bradley, a fitness fanatic, leads his mostly twentysomething reserves through short sprints and conditioning drills. Later, the players kick around new balls, the same brand they'll use in Trinidad. Different countries use different game balls, so the U.S. always makes sure to order 20 of them well ahead of time. Details.
Meanwhile, fresh off a win, Altidore and Davies are busy scheming. They're trying to figure out how best to coax the 27-year-old Donovan to join in their "Stanky Legg" goal celebration. But it's highly unlikely he'll join them in the slack-leg hip-hop dance, as his tastes run more toward Boyz II Men than GS Boyz.

MAKING OUR MOVE
MONDAY, SEPT. 7, TO WEDNESDAY, SEPT. 9

The team leaves Salt Lake on a morning charter flight, first to Miami, then to Piarco in Trinidad and Tobago. Howard sleeps nearly eight hours during the trip, a veteran move. There are some individual scouting sessions on the flight, then some TV interviews and a training session at the team hotel on Tuesday. Mostly, though, Trinidad is dull. With the tropical isle basically out of the running to make the World Cup, few here seem to care about the game. A notable exception is Lance Clark, a Trinidadian immigrant to the U.S., who flies down from Atlanta to see his son Ricardo play -- although there's no guarantee that will happen, considering that Clark didn't even suit up against El Salvador.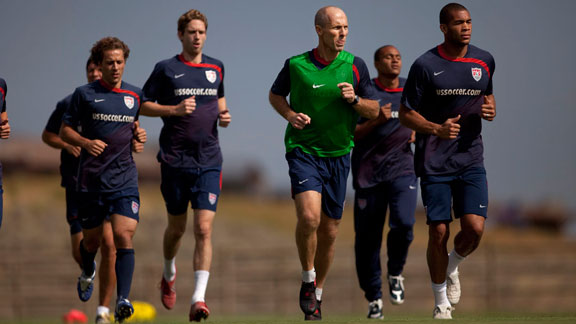 Robert CaplinWith Bradley (in green) leading the way, the U.S. has tallied a 33-14-5 record in international competition.
FINISHING BIG
WEDNESDAY, SEPT. 9
The 27,000-seat Hasely Crawford stadium in Port of Spain is colorful but only a quarter full of fans wearing the Soca Warriors' signature red-and-white. The Yanks won't get a better chance to earn a victory on the road. But once again they can't find their touch, and they narrowly avoid giving up the first goal when a looping shot by Trinidad's Cornell Glen hits the crossbar in the 29th minute. They eventually settle down, falling back on their fitness, an old staple that has powered the U.S. through a slew of uneven performances. Donovan is seemingly everywhere at once and lays off a nifty pass to Clark, who has indeed started. He's rested and prepared to seize one of those moments Bradley talks about, the ones that can turn a match. The play begins seconds earlier when Clark's fellow midfielder, Michael Bradley -- the coach's son -- outhustles the Socas to a loose ball. Instead of passing it back, Bradley avoids the pressure and threads the ball forward to Dempsey. As Bradley moves close to the Trinidad goal, he draws defenders with him, leaving Dempsey to pass to Donovan on the wing. "In that moment," says Coach Bradley, "you hope the guy can read the situation." Which Donovan does, of course, finding Clark in the middle of the field. In front of his dad, Clark drills home the game-winning goal from 25 yards in the 62nd minute.
When the elder Bradley later reflects on the match in Trinidad, he notes just how far the Americans have come: "On a day when maybe it's not going great at halftime, we had the ability to make some little adjustments, get a goal and ride it out. Those are good qualities to have." Still, he wants his squad to become more adept at deciding when to attack, and when to have the patience to pull the ball back, make another couple of passes and see what develops. This time, though, their efforts have paid off. They've earned six points in two games and now sit in first place in the region. A draw in each of their next two matches, or just one win, will book them a trip to South Africa. Not that there's time to celebrate. The team heads straight from the stadium to the airport. After hopping off the charter in Miami, the players scatter across the world to their respective clubs, cautiously optimistic about their World Cup fate.
"You have to remember that we still have a very young, relatively inexperienced team," Donovan says. "We're still learning."
Yeah, the road is bumpy, but if it gets them where they want to go, they'll take it.
Luke Cyphers is a senior writer for ESPN The Magazine.
Luke Cyphers is a former senior writer for ESPN The Magazine.
EDITORS' PICKS
Jeff Carlisle examines the talent gap between the U.S. and Mexico.
Column »

The first of our four-part Premier League preview.
Tyler »

Are U.S. owners out of their (Premier) league.
Read »