Donaire trying to focus on here and now

By Dan Rafael
ESPN.com
Archive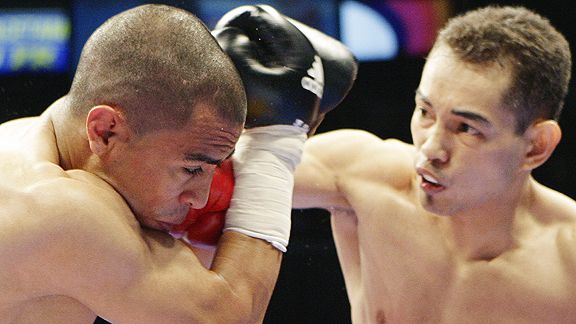 AP Photo/Aaron FavilaNonito Donaire, right, knows the hardest aspect of Saturday's fight will be not looking past it.
Whether Nonito Donaire faces Gerson Guerrero or last-minute substitute Manuel Vargas, it doesn't really matter. The "Filipino Flash" is supposed to win. He knows it. Manager Cameron Dunkin knows it, and Top Rank promoter Bob Arum knows it.
They all know that if Donaire takes care of Vargas, an opponent only secured Wednesday after Guerrero failed a prefight eye exam, the door for a series of important fights will likely be open.
"Latin Fury 13/Pinoy Power 3"
TV lineup for Top Rank's pay-per-view card Saturday night (9 ET, $39.95) from the Las Vegas Hilton:
Junior bantamweights: Nonito Donaire (22-1, 14 KOs) versus Manuel Vargas (26-4-1, 11 KOs), 12 rounds, for Donaire's interim title
Bantamweights: Fernando Montiel (39-2-2, 29 KOs) versus Ciso Morales (14-0, 8 KOs), 12 rounds, for Montiel's title
Bantamweights: Eric Morel (41-2, 21 KOs) versus Gerry Penalosa (54-7, 34 KOs), 12 rounds, title eliminator
Featherweights: Mario Santiago (21-1-1, 14 KOs) versus Bernabe Concepcion (29-2-1, 17 KOs), 10 rounds
Donaire, a regular on the pound-for-pound list, will defend his interim junior bantamweight title against Mexico's Vargas on Saturday night (Top Rank PPV, 9 ET, $39.95) at the Las Vegas Hilton in the main event of "Latin Fury 13/Pinoy Power 3."
Despite the fact that few expect Donaire (22-1, 14 KOs) to have any serious issues with Vargas (26-4-1, 11 KOs), he's trying not to get too far ahead of himself.
"That's the hardest part for a fighter, not looking ahead," Donaire said. "It's a lot of pressure on your shoulders. This fight is a gate for my future fights. I have to fight this fight first before I get those bigger names. This is where I've seen fighters stumble and not get their biggest fight. I try to stay focused as much as I can. When I train, though, I get the vision of fighting those other guys and it's hard to focus on this guy.
"I'm not purposely looking ahead, but part of my mind and body is so excited about those other fights that it's hard not to. So this fight is sort of like the motivation. I trained so hard because I don't want to stumble."
Those "other fights" Donaire is talking about include a rematch with unified division champion Vic Darchinyan, whom Donaire knocked out in a 2007 flyweight title fight; Jorge Arce, the charismatic action star who claimed a title a couple of weeks ago; and bantamweight titleholder Fernando Montiel, who defends his belt against Ciso Morales in one of the televised undercard bouts.
"I definitely want to fight those guys, especially Arce and Darchinyan," said Donaire, who is friends with Arce. "It's now or never because my body is feeling the pain of cutting down weight and it's doing more harm than good. I am concentrating on making the weight more than on being in shape, so it's now or never. If those guys want to step up, fine, but we have to schedule it. I want it on paper that we'll make it happen. Boxing is a short life span. I want to reach my potential. If I stay at 115 for a while, it will limit me from where I want to be."
Where he'd like to be is eventually at featherweight, where he says Israel Vazquez has called him out.
"What I want from Darchinyan is the two belts he holds. From Arce, I want the belt he holds," Donaire said. "I don't really want to wait for an opportunity that will take a long time to happen. I want to do those fights, Montiel at 118 and then you have Vazquez. Let's go."
Said Dunkin, "Nonito is 26. He wants the high-profile fights. It's just a matter of putting them together. He's ready to make the move."
Donaire iced Darchinyan with one massive punch in the fifth round to score the upset. A rematch has been talked about since. Now that Darchinyan is the champion at the heavier weight and Donaire is technically his mandatory challenger, it makes all the sense in the world.
"I'm in favor of that rematch," Arum said.
Darchinyan has a Showtime fight on March 6 against Rodrigo Guerrero, but after that his camp is as ready as he is to make the fight.
"I'm on record saying that we're ready to sit down and negotiate that fight on March 7," said Gary Shaw, Darchinyan's promoter.
"Gary said that he could do it in August on Showtime," Dunkin said. "In fact, Darchinyan is fighting [March 6] because he wants to stay on schedule with Donaire."
Arce was beaten down by Darchinyan over 11 lopsided rounds in February 2009. It looked like that might be the end of Arce, who won his next fight but then lost a clear decision to Simphiwe Nongqayi for a vacant belt in September. However, Arce remained alive for another significant fight when he soundly defeated Angky Angkota to claim a vacant belt last month. An Arce-Donaire bout is easy to make because they are both promoted by Top Rank.
"To me, I love Jorge Arce and I only can see one way the Donaire fight ends, which is not so good for Arce," Arum said. "But if [co-promoter] Fernando [Beltran] and Arce want to do it, I would go along, but it wouldn't make me happy."
Donaire wants to fight both guys.
"I would love the rematch with Darchinyan. I want to make it happen," he said. "Everyone wants it. I dissected his style and he hasn't changed. I am ready for it. I'm trying to go after his two belts. But for me, it doesn't matter what order it is. If I get Darchinyan, then I want Arce next. If I get Arce, then I want Darchinyan next. That's what I want to make happen. And then I am ready to move up to 118 and take on Montiel. I think that's the best scenario. If I get past Montiel, I am ready for 122 right away."
While at ringside Saturday, Dunkin will be watching Montiel closely in anticipation of a possible fight with Donaire.
"The Arce and Darchinyan fights are doable, but Montiel is for sure," he said. "I would think that will happen, and I will be watching Montiel closely. That's a terrific fight when Nonito gets to 118."
Arum, who also promotes Montiel, said it's a fight he would also like to make.
"Donaire is a terrific fighter, a terrific talent," Arum said. "He says he is going to go all the way up to featherweight, which means a helluva lot of good matches for him."
The smaller fights, like Donaire-Vargas, are often money-losers for Top Rank, which makes it all the more important to get the higher-profile matches made.
"All you can do is just keep going," Arum said. "You keep him busy and hope you get lightning in a bottle. Other than Showtime, which has showcased Darchinyan, there is really no market for these little guys in America, which is sad because they are very good fighters. So what we have to do is resort to our own devices and do these pay-per-views which can showcase them, and hopefully do enough revenue to pay for it. Sometimes it does, sometimes it doesn't. It's a lot of work, not a lot of reward. But these kids deserve a chance."
With a win, it looks like Donaire will get his.
Jones-Hopkins II undercard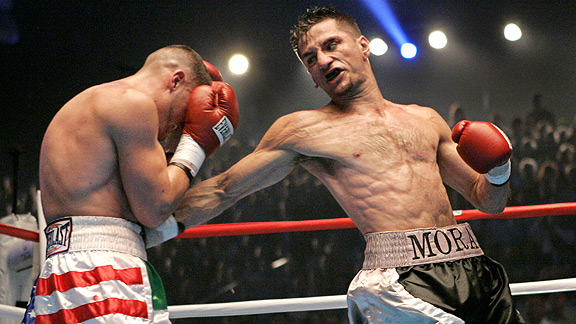 AP Photo/Danny MoloshokIs it that time again? Sergio Mora, right, who hasn't fought since 2008, may finally have a match.
Golden Boy and Square Ring are working on the televised undercard for the Bernard Hopkins-Roy Jones Jr. pay-per-view April 3, and a few fights are under discussion, all of which would match a Golden Boy fighter against a Square Ring boxer.
Golden Boy matchmaker Robert Diaz told ESPN.com that one of the bouts being discussed is former junior middleweight titlist Sergio Mora against "The Haitian Sensation" Daniel Edouard (22-2-2, 13 KOs).
Mora (21-1-1, 5 KOs), who was supposed to fight Jan. 30 on the Shane Mosley-Andre Berto undercard before the show was canceled, hasn't fought since losing his title via decision in a rematch with the late Vernon Forrest in September 2008. Edouard, who is on a four-fight winning streak, probably is best known for being knocked out by Jermain Taylor in three rounds in 2005 in the fight before Taylor beat Hopkins to become undisputed middleweight champ.
"We like that fight," Cameron Dunkin, Mora's manager, told ESPN.com. "It's a tough fight, a hard fight, but Sergio is ready and wants a good opponent and wants to be on pay-per-view."
Another bout being discussed would match junior lightweight titlist Rocky Juarez (28-5-1, 20 KOs) against Jason Litzau (26-2, 21 KOs).
Golden Boy, which promotes Mora and Juarez, wants to make both fights. Square Ring CEO John Wirt said he wasn't necessarily interested in either bout.
Another fight Wirt said was being discussed would match Ukrainian light heavyweight Ismayl Sillakh (11-0, 10 KOs), a standout amateur who signed Wednesday with Square Ring, and Golden Boy's Enrique Ornelas (29-6, 19 KOs), who dropped a lopsided decision to Hopkins in December.
Dan Rafael covers boxing for ESPN.com.
QUICK HITS

Khan
• With Juan Manuel Marquez declining to face junior welterweight titlist Amir Khan and upset about Golden Boy's perceived favoritism toward Khan, talks for a Khan-Paulie Malignaggi bout on May 15 have reignited. If the bout is finalized, it would take place at the Madison Square Garden Theater in New York. Although Golden Boy, which recently signed Khan, hoped to have the Brit make his American debut in Las Vegas, it's now willing to go to New York, Malignaggi's hometown and the location his promoter, Lou DiBella, wants the fight to be held. "It makes sense to be in New York," Golden Boy matchmaker Robert Diaz told ESPN.com. "For the people in the U.K., it's a five-hour flight versus a 10-hour flight to Vegas. Naseem Hamed's first fight in America was in the Garden, and then he moved over to Vegas. Ricky Hatton fought on the East Coast before he fought in Vegas. So Khan can go to beat Malignaggi in his hometown and then fight in Vegas." Junior welterweights Nate Campbell and Victor Ortiz would meet in the HBO co-feature. Marquez was upset by comments from Golden Boy CEO Richard Schaefer about Khan's future, as if a win against Marquez was a foregone conclusion. He also turned it down because trainer Nacho Beristain was against it, Diaz said. "Our job is to offer the biggest fights to these guys, which we did, and he decided not to take it," Diaz said. "It was history in the making, because Marquez could have become the first Mexican to win titles in four divisions."

Berto
• DiBella continues to work on the next fight for welterweight titlist Andre Berto. There was serious discussion about Berto defending against former junior welterweight titlist Malignaggi, but with it looking more and more like he'll wind up facing Khan, Berto's April 10 HBO bout could come against former titleholder Carlos Quintana, whom DiBella also promotes. There's a good chance, according to DiBella, that the bout, originally discussed for Madison Square Garden, could move to the Miami/Fort Lauderdale, Fla., area. A possible HBO co-feature: light heavyweight titlist Tavoris Cloud making his first defense against mandatory challenger and former champ Glen Johnson, who knocked out Yusaf Mack in the fifth round in a Feb. 5 title eliminator.

Funeka
• With Robert Guerrero out of his March 27 lightweight fight against Michael Katsidis because of his wife's serious illness, interim junior welterweight titlist Marcos Maidana's defense against Victor Cayo moves up to main event status on HBO's "Boxing After Dark" card at a site to be determined. The new co-feature isn't set yet, but the leading possibility is a rematch between Ali Funeka and Joan Guzman, who would meet for a vacant lightweight belt. Katsidis was offered Funeka, but he turned it down. Funeka pummeled Guzman when they met for the vacant belt on HBO in November, but it was ruled a draw in one of the most controversial decisions of 2009. Guzman's side is willing to take the fight. Gary Shaw, who co-promotes South Africa's Funeka, said he was waiting to hear back from Funeka's manager about accepting the bout. Funeka-Guzman II became possible when Rolando Reyes declined to face Funeka because he didn't want to go to South Africa under the terms of Branco Sports' winning purse bid. Once Reyes declined, the IBF moved to its next available contender, which was Guzman.

Linares
• Former featherweight and junior lightweight titlist Jorge Linares (27-1, 18 KOs) is making his comeback. Shockingly knocked out in the first round by Juan Carlos Salgado in October in Japan, Linares lost his 130-pound title. A few weeks before the fight, Linares had signed a deal for Golden Boy to promote him along with Japan's Akihiko Honda of Teiken Promotions. A win over Salgado would have launched him into a major fight in the United States. Now he's taking it slowly. He'll fight March 27 in his native Venezuela, Golden Boy matchmaker Diaz told ESPN.com. He said they've offered the fight to former titlist Carlos Hernandez and are waiting to hear back.

Klitschko
• Heavyweight titleholder Vitali Klitschko (39-2, 37 KOs) is in talks for a late-May optional defense against former titleholder Nikolai Valuev (50-2, 34 KOs). Shelly Finkel, Klitschko's adviser, told ESPN.com he has been in talks with Valuev co-promoter Don King for the fight. However, they are far apart on the money, with King asking for a $4 million package for the bout and the Klitschko side offering about half that. "There's dialogue, but mostly Don calls and talks and I listen," Finkel said. "We'd like to make the fight, but he's got to be reasonable."

Spadafora
• Former lightweight titlist Paul Spadafora (43-0-1, 17 KOs) continues his comeback against Italy's Ivan Fiorletta (24-5-2, 7 KOs) on March 12 in Fort Lauderdale in a 10-round welterweight bout. The fight will be Spadafora's third in nine months after a layoff of more than two years, much of which he spent incarcerated. Spadafora, 34, who is trained by Hall of Famer and former four-division champion Pernell Whitaker, made eight defenses during his 1999-2003 title reign.
• Featherweight Miguel Angel "Mikey" Garcia (19-0, 16 KOs), one of Top Rank's most highly regarded prospects, can move a step closer to a mandatory title shot against Cristobal Cruz if he wins his next bout. Top Rank matchmaker Brad "Abdul" Goodman told ESPN.com he was working to finalize a title eliminator for him, possibly against Eduardo Escobedo (27-3, 19 KOs). The fight would headline a "Top Rank Live" (FSN) card in April. Goodman said welterweight Mike Alvarado (26-0, 18 KOs) will also return in April in a "Top Rank Live" opening bout. Alvarado hasn't fought since May 2009 because he was incarcerated until a few months ago.

Kessler
• Former super middleweight titlist Mikkel Kessler has moved his training camp from Copenhagen to Berlin as he continues training for his April 17 Super Six World Boxing Classic fight with titleholder Carl Froch, which is slated to take place in Kessler's native Denmark. The bout will be televised in the United States on same-day tape along with live coverage of titleholder Andre Ward's Super Six fight against Allan Green. Kessler lost his title to Ward in November and is trying to bounce back. Since the loss, Kessler fired trainer Ricard Olsen and replaced him with longtime assistant Jimmy Montoya. "I really had a bad night against Andre Ward, but I had a good rest, analyzed everything with my team and now I am ready for Froch," Kessler said. "I have just started my preparation with my new coach, Jimmy Montoya. Things have been going really well. I feel very hungry without a world title and I will take the WBC belt from Froch."
• Famed trainer and manager Lou Duva is going to be the subject of a feature film by producer John Edmonds Kozma. "We've seen a lot of great films about fighters in the past. Whether about real-life legends like Jake LaMotta or Muhammad Ali, or fictional characters like Rocky Balboa, Hollywood has always focused on the guy in the ring," Kozma said in announcing his plans. "I thought it would be a great slant on the genre if we told the story through the eyes of someone who lived through it and observed it for over 80 years. Lou's literally a walking history book and has a million colorful tales to tell." Duva, 87, was 10 when he first boxed as an amateur in 1932. During his career, Duva has worked with such stars as Evander Holyfield, Pernell Whitaker, Meldrick Taylor and many others. The release of the film is tentatively set for early 2012.
QUOTABLE

Hopkins
"My statement is simple. This fight is very important to me because it is personal. We have 17-plus years of on-and-off history. I can't speak for Roy, but my name is 'The Executioner.' I execute. I am going for his head. It is important to get the knockout. There is a financial incentive. I want to finally close a chapter personally. This is a 17-year rivalry. I am going to kick his ass." -- Bernard Hopkins, at a news conference this week announcing his rematch with Roy Jones Jr. on April 3, 17 years after Jones beat him, and noting that if the winner of the bout scores a knockout, it will be worth an additional 10 percent of the revenue
QUOTABLE

Jones
"I only hit with one hand last time. I've got two hands now. With two hands, I'm going to beat the hell out of this old man." -- Jones, at the news conference, predicting a win against Hopkins, whom he beat the first time despite a hand injury