Clottey confident Pacquiao plays by the rules

By Dan Rafael
ESPN.com
Archive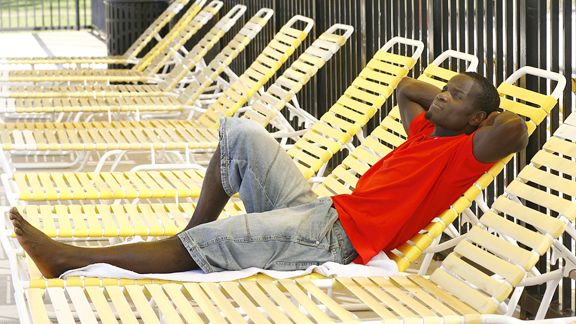 Chris Farina/Top Rank Fighting Manny Pacquiao will be no day at the beach for Joshua Clottey.
As the year began, the attention of the boxing world was on the negotiations between Top Rank and Golden Boy, rival promoters who were attempting to finalize the biggest fight in the sport -- a showdown between Manny Pacquiao and Floyd Mayweather Jr.
We all know by now what happened -- how the fight fell apart over a single issue when the sides wouldn't compromise on drug-testing protocol.
Pacquiao and Mayweather went their separate ways after weeks of one of the more rancor-filled negotiations in recent history.
Pacquiao (50-3-2, 38 KOs) quickly came to terms with former welterweight titlist Joshua Clottey (35-3, 20 KOs), who is also promoted by Top Rank, making their deal a snap to finalize. They'll meet for Pacquiao's welterweight title on March 13 (HBO PPV) at Cowboys Stadium in Arlington, Texas.
Mayweather ultimately came to terms to challenge welterweight titleholder Shane Mosley for his belt on May 1 (also HBO PPV) at the MGM Grand in Las Vegas.
The replacement fights certainly have merit. Both shape up as competitive bouts in which all four fighters have reasonable chances to win, even if Pacquiao and Mayweather are the favorites in their respective bouts.
But even with two strong bouts taking the place of Pacquiao-Mayweather, there is still the feeling that the new bouts are merely a consolation. Even Top Rank's Bob Arum can't escape that feeling, although he tried to put a happy face on it.
"Are they consolation prizes? Maybe," Arum said on a media conference call with Clottey to promote the fight with Pacquiao on Thursday. "[Pacquiao-Mayweather] didn't happen for one reason or another. I am not here to cast blame. But it didn't happen and now we have this fight that could go either way that I believe is Manny's toughest fight."
As for the possibility of putting Pacquiao-Mayweather together in the future if each wins, Arum was unsure.
"Life goes on," he said. "That's what these boys fight for. If Joshua beats Manny and Mosley beats Mayweather, maybe we do a Mosley-Clottey fight. That's what makes boxing interesting. If I did a walkover fight like Pacquiao-[Paulie] Malignaggi, which was talked about, then people would say I'm just keeping Pacquiao busy and there is no danger in him losing the fight.
"But there is danger in him losing the fight. Joshua Clottey is a very dangerous fighter. Similarly, maybe Mosley goes back to the fountain of youth that he had for the [Antonio] Margarito fight [13 months ago]. That Mosley could very well beat Mayweather. That's what makes boxing interesting. If these would be walkover fights nobody would give a damn. You'll see fireworks [in Pacquiao-Clottey] and if there is an upset, that's what boxing is all about."
For his part, Clottey sounded happy to be in the position of having the biggest fight -- and first seven-figure payday -- of his career, especially because he is coming off a split-decision loss last summer to Miguel Cotto, who was later battered by Pacquiao in a 12th-round knockout in November.
"I'm coming to do my best," Clottey, a native of Ghana living in New York, said from his training camp in Fort Lauderdale, Fla. "Like I always said, he is a good fighter. He is the best now. This is the test and I am going for the WBO title. I'm going all out. I have my game plan and I always come to fight.
"I am so happy about this opportunity. He's the man now and he is giving me a chance. If I win, I will be on top of the world."
Unlike Mayweather did in the talks for the fight with Pacquiao, Clottey and manager Vinny Scolpino didn't ask for any special drug testing.
"I don't want to do that because I respect him so much," Clottey said. "He's a very nice guy. I feel comfortable around him. He's a nice, classy guy, he respects everybody."
Mayweather and his father, Floyd Mayweather Sr., accused Pacquiao of using performance-enhancing drugs, even though they had no proof.
Clottey said he didn't think Pacquiao was doing anything against the rules.
"I don't think Manny Pacquiao does that," he said. "But if he does, then he is cheating the sport. I don't think he did that steroid thing. I believe that."
Scolpino said additional drug testing never came up in the negotiations with Arum. Of course, Clottey had zero leverage in the talks to demand more testing even if he wanted it.
"If the [Texas] commission wants to implement other drug-testing rules, let them and we will follow it," Scolpino said. "We abide by the rules set forth. Manny is a super champion and we all hope he is doing the right thing. If they find something in the drug testing, that's the way it is.
"We were going to abide by the rules set forth in the state. We're not getting into extra testing. We're professionals in the sport. Joshua is a professional, Manny is a pro. If the commission says do it, we do it."
Arum, who was against additional testing during the Pacquiao-Mayweather talks, agreed with Scolpino.
"My view is that [drug testing] is not a topic for negotiations," Arum said. "That is something for the commission to decide. Any participant in a boxing match who wants more stringent testing than is applicable in that state can go before the commission and ask for it. It's not for amateurs to make a bunch of demands. That is called chaos. Every fighter has the right to go before the commission and say I want such and such done on the testing and you let the commissioners decide. That is what they are getting paid for."
Movie theater boxing is back
Boxing is headed back to movie theaters. Buoyed by the success of the Floyd Mayweather-Juan Manuel Marquez fight being shown in high definition on about 200 big screens nationwide in September, Golden Boy made a new deal with NCM Fathom to go back to theaters for two upcoming fights, Golden Boy CEO Richard Schaefer told ESPN.com.
The April 3 Roy Jones-Bernard Hopkins rematch and the May 1 Mayweather-Shane Mosley fight, along with their undercards, will be in select movie theaters, he said.
Jones-Hopkins will be available on between 150 and 200 screens while Mosley-Mayweather will play on more than 400 screens.
"They did a survey about Mayweather-Marquez and it was No. 1 for positive feedback of any event they ever had in their theaters. It was unbelievable," Schaefer said. "It was a huge success. We're doing it again and believe it will be another huge success."
Although Golden Boy will generate revenue from the theater tickets (Mayweather-Mosley theater tickets will cost between $20 and $25 with Jones-Hopkins being priced lower), the real enticement of the deal is the thousands of screens that will advertise the fight before movies begin.
HBO, Showtime specials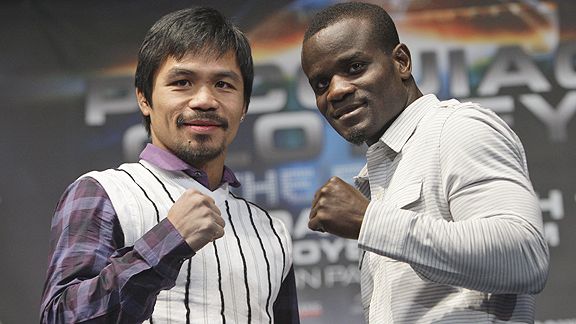 AP Photo/Frank Franklin IIHBO's 30-minute preview show will walk fans through "Road to Dallas: Pacquiao vs. Clottey."
Although HBO isn't producing a "24/7" series ahead of the March 13 HBO PPV fight between Manny Pacquiao and Joshua Clottey, the network will debut "Road to Dallas: Pacquiao vs. Clottey" on March 6. The 30-minute preview show will take an in-depth look at the fight, which will be the first fight to be held at the $1.2 billion Cowboys Stadium in Arlington, Texas. The special, which features fighter profiles and expert analysis, begins at approximately 11 p.m. ET/PT, immediately following live coverage of the Devon Alexander-Juan Urango junior welterweight unification bout on "Boxing After Dark," with numerous replays leading up to the bout.
On Showtime, the fourth episode of "Fight Camp 360°: Inside The Super Six World Boxing Classic" debuts Saturday night (7:30 ET/PT). The series has delivered compelling behind-the-scenes footage during the buildup and the aftermath of the bouts in the six-man super middleweight tournament.
The new installment features what Showtime is billing as an "an emotional interview with Jermain Taylor as he discusses his withdrawal from the tournament."
Also on tap for the episode is footage of the Super Six promoters candidly discussing Allan Green, Taylor's replacement, and of Arthur Abraham and Andre Dirrell preparing for their March 27 fight, which opens Group Stage 2.
Dan Rafael covers boxing for ESPN.com.
QUICK HITS

Valuev
• Negotiations for a fight between heavyweight titlist Vitali Klitschko and former titlist Nikolai Valuev have broken down, Klitschko manager Bernd Boente told ESPN.com. The issue, according to Boente, is that Don King, Valuev's co-promoter, continues to demand $4 million for the fight. "Valuev is a no go, but because of King not [co-promoter Wilfried] Sauerland," Boente said. "King still wants $4 million against 40 percent, no options. So we are in the middle of nowhere. … Sauerland wants the fight and agreed to our offer but King declines it. Valuev, even as unbeaten champion, has never made anything close to our offer. King thinks he promotes the new Ali." Klitschko is now looking at a May 29 fight in Germany against Odlanier Solis, a 2004 Cuban Olympic gold medalist now based in Miami. The Klitschko camp has made an offer to Top Rank for the fight in the event there is no Valuev bout, but it would need American television support for the fight. "Solis is one possibility, but without U.S. TV he makes probably no sense because then he's too expensive," Boente said.

Maidana
• Golden Boy's March 27 "Boxing After Dark" card on HBO finally has a home at the Hard Rock in Las Vegas, Schaefer told ESPN.com. In the main event, interim junior welterweight titlist Marcos Maidana faces Victor Cayo and Ali Funeka meets Joan Guzman in a rematch of their controversial draw for a vacant lightweight title. The card was originally supposed to be headlined by a lightweight fight between Michael Katsidis and Robert Guerrero in Guerrero's home region of Northern California. But after Guerrero withdrew because of his wife Casey's serious illness, Golden Boy had been looking for a new location. With Katsidis-Guerrero off, Australia's Katsidis has a mandatory defense of his interim belt on tap against England's Kevin Mitchell. The WBO called a March 2 purse bid. Minimum bid: $150,000.

Peterson
• Lightweight Anthony Peterson (29-0, 19 KOs) returns against Juan Ramon Cruz (16-7-1, 12 KOs) on the "Top Rank Live" undercard March 12 in Grapevine, Texas, just outside of Dallas. The bout will be Peterson's first since August and only his second since August 2008, in part because of a knee injury. The fight is a tuneup for a world title bout. The following night at Cowboys Stadium, Humberto Soto and David Diaz meet for a vacant lightweight belt in the Manny Pacquiao-Joshua Clottey HBO PPV co-feature. Top Rank's Carl Moretti told ESPN.com that the winner of Soto-Diaz will make his first defense against mandatory challenger Peterson, probably in June.

Harris
• Golden Boy promoter Oscar De La Hoya told ESPN.com about two fights the company is working on. One is a rematch between Lucas Matthysse and former junior welterweight titlist Vivian Harris. Matthysse was credited with a highly questionable fourth-round TKO against Harris last Saturday in a welterweight bout in Mexico. "I told Vivian and [trainer Tommy] Brooks we will get him the rematch. It's only fair," De La Hoya said. "We'll figure it out, but that's definitely a TV fight here in the States. Vivian was in the fight and it shouldn't have been stopped." Also, De La Hoya said Mexican welterweight Saul "Canelo" Alvarez, who recently signed with Golden Boy, would make his Golden Boy debut May 1 on the Shane Mosley-Floyd Mayweather HBO PPV undercard. Alvarez, who fights in Mexico March 6, could face Matthew Hatton, Ricky Hatton's brother, De La Hoya said. "That's one of the names we're discussing for Canelo. I think it's a great fight," he said.

Forbes
• Steve Forbes (34-7, 10 KOs), a former junior lightweight titlist and runner-up on "The Contender," will fight for the first time in exactly one year when he faces Harrison Cuello (18-12-3, 14 KOs) in a junior welterweight bout March 6. Forbes, who knocked out Jason Davis in two rounds last March 6, will be fighting for the first time since signing with promoter Don King in late 2009. The bout is on the untelevised undercard of the Devon Alexander-Juan Urango junior welterweight unification fight at the Mohegan Sun resort in Uncasville, Conn. Forbes is 2-4 in his last six fights, including a split-decision loss to Grady Brewer in the 2006 "Contender" finale, a controversial points loss to Demetrius Hopkins in 2007, and lopsided decision losses to Oscar De La Hoya (his last win before retiring) and welterweight titleholder Andre Berto in 2008.

Cunningham
• Don King will promote a rare "Friday Night Fights" card on ESPN2 on March 26. On the card, cruiserweights Steve Cunningham and Matt Godfrey will meet for a vacant title. The bout was originally going to be March 19 in Sunrise, Fla., without television. But when the "FNF" date became available King moved the bout. King told ESPN.com that he is looking for a new venue for the date, but that it could wind up in St. Louis with hometown fighter Cory Spinks defending his junior middleweight belt against mandatory challenger Cornelius "K9" Bundrage on the show.
• King won two purse bids this week at the WBA offices in Panama City. His $150,000 offer, the minimum and the only bid, secured the rights to promote the bout between lightweight titlist Paulus Moses and interim titlist Miguel Acosta. Moses is due 55 percent of the winning bid ($82,500) to Acosta's 45 percent ($67,500). King listed Namibia (Moses' home country), the U.S. and Germany as possible sites for the bout, which is due within 90 days. With a bid of $200,000, King also won the right to promote the bout between cruiserweight titlist Guillermo Jones and mandatory challenger Valery Brudov, which is long overdue. Jones gets 75 percent of the bid ($150,000) with Brudov due 25 percent ($50,000). Sampson Lewkowicz, representing Brudov, also bid $200,000, but his bid was disqualified because his deposit check was not certified, according to the WBA.

Chagaev
• Former heavyweight titlist Ruslan Chagaev (25-1-1, 17 KOs) of Uzbekistan and Australia's Kali Meehan (35-3, 29 KOs) will meet in a title eliminator for the right to challenge the winner of the April 3 title bout between David Haye and John Ruiz. Universum, Chagaev's promoter, announced that it made a deal with King, Meehan's promoter, to avoid a purse bid. The fight date and location aren't set yet, although with Universum in control, it likely will be in Germany. Meehan has won six in a row against lesser opposition since a fourth-round knockout loss to ex-champ Hasim Rahman in 2004. Chagaev hasn't fought since June, when Wladimir Klitschko stopped him in the 10th round of a title bout. "I want to become a world champion again and want to make changes in my style compared to my fight against Klitschko," Chagaev said. "I took my time to think and now I'm extremely motivated to implement and carry out the things I have learned."

Diaz
• Former two-time lightweight titlist Julio Diaz (36-6, 26 KOs), who is coming off back-to-back losses to Rolando Reyes and Victor Cayo and looking to get his career back on track, signed with Thompson Boxing. "I've been watching what Thompson Boxing has done with fighters like Tim Bradley and Yonnhy Perez, and I want to become the team's next world champion," Diaz said. "I feel better than ever at 140 pounds, and the fans are going to see a new and improved Julio Diaz in 2010." The pairing appears logical: Diaz is from Coachella, Calif., and Thompson Boxing promotes shows in Southern California. "Julio Diaz has always been one of my favorite fighters to watch, and we're honored to now have him on the team," said promoter Ken Thompson. "He's more determined than ever to get another world championship, so it's going to be a fun ride back to the top."

Mares
• Manager Frank Espinoza said bantamweight Abner Mares will fight March 25 on Golden Boy's "Fight Night Club" in a tuneup ahead of his May 22 shot at titleholder Yonnhy Perez. Perez-Mares will air on Showtime as the co-feature to the fourth Israel Vazquez-Rafael Marquez fight at Los Angeles' Staples Center. … Golden Boy's Richard Schaefer said although the April 3 Jones-Hopkins undercard isn't complete "one thing is for sure -- [middleweight] Sergio Mora will be on the pay-per-view." … Promoter Lou DiBella said super middleweight prospect Marcus Johnson will headline an April 30 "ShoBox" card.
QUOTABLE

Green
"I always had a feeling I was going to get into the tournament. I don't think I'm a long shot. I'm one of the best super middleweights in the world and the tournament rules allow me to come in and be in the mix with a chance to advance and ultimately win this thing. I just don't see anyone who can beat me. I've watched all the fighters over and over. I've studied all of them and know I can beat any of them." -- Allan Green, on the formal announcement that he will replace Jermain Taylor in Showtime's Super Six World Boxing Classic