Dirrell happy to be fighting at home

By Dan Rafael
ESPN.com
Archive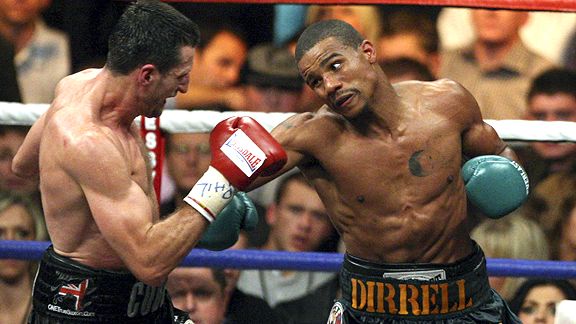 AP Photo/Tom HeveziDespite dropping a decision, Andre Dirrell feels he learned a lot in his fight with Carl Froch.
After suffering a split-decision loss in his previous fight in his opponent's hometown, Andre Dirrell sure is glad to be home for his next assignment.
"Fighting at home is going to be a real confidence-booster for me," Dirrell said. "I call it a do-or-die situation for me. I'm training harder than I ever did and even smarter than I ever did, because I always train hard. I'm highly prepared for battle."
He'll need to be, because Dirrell will square off with heavy-punching former middleweight titleholder Arthur Abraham of Germany on Saturday night (Showtime, 10:30 ET/PT, free preview weekend) at Joe Louis Arena in Detroit in the opening match of Group Stage 2 of the Super Six World Boxing Classic.
"I have faced power punchers before, none as explosive as Abraham, but I have fought power punchers in my career and handled them well," Dirrell said. "I'm smarter, faster and more elusive, and I feel that I have the most skill and speed. It will be difficult for him to catch on to my style, but not for me to adjust to his."
Super Six Scoreboard
Standings for Showtime's Super Six World Boxing Classic through Group Stage 1. Group Stage 2 begins Saturday with the Abraham-Dirrell bout. Fighters are awarded three points for a knockout win, two points for a decision win, one point for a draw and no points for loss. The top four fighters advance to the semifinals following Group Stage 3 (Green replaced Jermain Taylor, who dropped out after Abraham knocked him out in Group Stage 1):
| Record | Fighter | Points |
| --- | --- | --- |
| 1-0 | Arthur Abraham | 3 |
| 1-0 | Carl Froch | 2 |
| 1-0 | Andre Ward | 2 |
| 0-1 | Andre Dirrell | 0 |
| 0-1 | Mikkel Kessler | 0 |
| 0-0 | Allan Green | 0 |
Dirrell, from Flint, Mich., will be the crowd favorite, a far cry from the situation he was in for his most recent fight, when he traveled to Nottingham, England, and lost to Carl Froch on Oct. 17 in a title bout in a Group Stage 1 match of the tournament featuring six of the top 168-pounders in the world.
"I'm glad to be back in Michigan, and the opportunity to fight here in Detroit is a great thing," said Dirrell, 26, whose only previous pro fight in his home state was in his 10th fight. "This is a history-making event, and I'm excited to be a part of it. I really wanted to bring something positive to this community. It feels good to fight in Detroit, and it's something that I'm really looking forward to. When fighters fight at home, your mental game has to be really strong. This is a big, monumental event, and I'm looking forward to it, but I won't let it distract me.
"This area has been sleeping on boxing for a while now, but I'm bringing excitement about the sport back to Detroit with this fight. I'm here to make a statement to the boxing world and all the fighters in the Super Six tournament with my performance in this fight. "
Abraham (31-0, 25 KOs), 30, who drilled Jermain Taylor in the 12th round in Berlin in his opener Oct. 17, is the tournament leader with three points and is favored against Dirrell.
But the 6-foot-2 Dirrell (18-1, 13 KOs), a speedy 2004 U.S. Olympic bronze medal winner with a four-inch height advantage over Abraham, is confident he'll prevail. Part of the reason is because of what he learned in the loss to Froch, which many believed Dirrell won.
"It was a championship fight. It was in his hometown," Dirrell said. "I had a game plan, but it unfolded when he started using dirty tactics. But I've learned from that. Going into the late rounds, my mind was kind of wondering if I could go 12 rounds. By the ninth round I figured 12 would be a cinch. And I finished strong. But as far as the holding went, it wasn't part of the game plan. I wasn't meant to hold that much, but because of the dirty tactics, he threw me off my game plan. When I got on the inside I clinched a little too much, and so I'm working on that right now. I'm prepared for anything now.
"When Arthur Abraham steps into the opposite corner as me I'll be ready to get busy and get this win. Winning is everything right now. I already have one loss, and I can't lose again or I'm out of the tournament. So I'm coming off a loss and looking for that victory. I'm just working hard to get that victory, and if the knockout comes, it comes."
Dirrell is still guaranteed a Group Stage 3 bout if he loses, but advancing to the semifinals with two losses will be difficult.
The fight was originally supposed to take place March 6 in Rancho Mirage, Calif., but Dirrell tweaked his back during training, forcing the bout to be postponed to Saturday. When the original venue at the Agua Caliente resort was not available, promoter Gary Shaw moved it to Detroit.
As of a week ago, Dirrell said his back was "90 percent."
Even with the setback, he said he's well-prepared for Abraham, one of most vicious knockout artists in boxing.
"I've trained with many guys that fight like Arthur Abraham," Dirrell said. "He has awesome defense, he's very explosive and has dangerous weapons he brings into the ring."
Besides punching power, Abraham also brings tremendous desire. He wants to be great, and has embraced the idea of leaving Germany to fight in the United States, even if means coming to Dirrell's turf.
"This is a really big chance for me to be a big star in America. It's what I've been looking for," said Abraham, whose only previous fight in the U.S. was his fourth-round knockout of Edison Miranda in their June 2008 rematch. "I really feel that there is so much interest from America and from Showtime and from the journalists in the Super Six. I'm just really happy to be here, and this is a great chance for me.
"I guess it will be a little bit of an advantage for him to fight in front of his home fans, but inside the ring we are all just by ourselves and you have to fight on your own, so that shouldn't be a problem."
Maidana back in action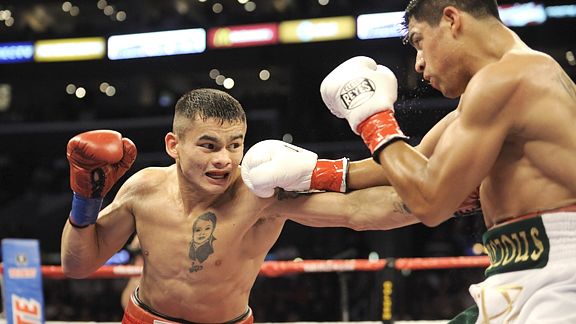 Matt A. Brown/Icon SMICome on, Khan: Marcos Maidana is keen on fighting Amir Khan sooner rather than later.
Marcos Maidana burst on the American boxing scene last summer when he made heralded prospect Victor Ortiz quit in the sixth round of an all-action HBO fight in Los Angeles. The victory netted Maidana an interim junior welterweight belt and put him into the mix for major fights in a loaded 140-pound division.
After one defense in his native Argentina in November, Maidana (27-1, 26 KOs) is back in the United States to defend his belt against highly regarded Victor Cayo (24-0, 16 KOs) at the Hard Rock in Las Vegas on Saturday night (HBO, 10:30 ET/PT).
Maidana is apparently taking the fight quite seriously as he trained for two full months, including the last month-plus in Las Vegas.
"I have watched several videos. He has a good technique, swift legs, very fast," Maidana said of Cayo. "I hope he will not be able to resist my power, and if he is, then I am prepared to win on points."
Before the fight was made, Maidana had to agree to forego a mandatory fight with full titleholder Amir Khan, who was not interested in facing the dangerous Maidana yet. Maidana was disappointed but understood the business aspect.
"Khan wouldn't like to face me at the moment," Maidana said. "This shows his intelligence. I would have liked to make a unification fight right now, but my manager, Mario Margossian, advised me that it would be better to make two fights in the U.S. before the unification, which will be a very important fight. I have watched various tapes of Khan's fights and thus know him quite well. He will not be able to resist my attacks. I am sure that I am going to win by KO."
Opening the telecast, South Africa's Ali Funeka (30-2-3, 25 KOs) faces Joan Guzman (29-0-1, 17 KOs) of the Dominican Republic in a rematch for a vacant lightweight belt. In November, they fought to a highly controversial draw most observers thought Funeka easily won.
Molitor's second chance
Canada's Steve Molitor (31-1, 12 KOs) is happy to have another chance. The former junior featherweight titleholder was blown out by Celestino Caballero in four rounds in a November 2008 unification fight, and it's taken until now to get back where he wants to be -- in another title fight. Molitor has won three straight, including an eliminator, and Saturday night faces South Africa's Takalani Ndlovu (30-5, 18 KOs) for a vacant belt at Casino Rama, where Molitor has will be fighting for the 10th consecutive time, in Rama, Ontario.
"Boxing is unlike any other sport," Molitor said. "If I was in the NHL, a two-game losing streak wouldn't mean I couldn't win the Stanley Cup. But in boxing, one tough loss set me back a year and a half. That's the nature of the sport. It's brutal and unforgiving, but I'm seriously and honestly at the top of my game, and ready for another lengthy title reign beginning Saturday night."
During his first title reign, Molitor stopped Ndlovu in the ninth round of his first defense. Molitor is expecting another knockout win against his familiar foe.
"I'm healthier and stronger than ever heading into a fight," he said. "And given the fact that I've already smacked him around the ring once, I know what to expect out of him. Come Saturday night I'm going to reclaim my title."
So does Molitor expect anything different from the first fight?
"Other than him getting knocked out a lot sooner, nothing at all," he said.
Dan Rafael covers boxing for ESPN.com.
QUICK HITS

Solis
• Heavyweight Odlanier Solis (16-0, 12 KOs), who dominated Carl Drumond and made him quit one second into the fourth round last week, is one win away from a mandatory title shot against Vitali Klitschko. Solis, a 2004 Cuban Olympic gold medalist who defected and is now based in Miami, was ordered this week by the WBC to face Ray Austin in a final eliminator. If Solid's handlers, Top Rank and Arena Box, don't make a deal with Don King, Austin's promoter, an April 23 purse bid is scheduled. "Solis has tremendous hand speed and power and we are ready to do that fight with Austin," Top Rank's Bob Arum told ESPN.com. "We're negotiating with King."

Gamboa
• Electrifying featherweight titlist Yuriorkis Gamboa (17-0, 15 KOs) is back where is his pro career began: Germany. Gamboa makes his third title defense against Argentina's Jonathan Victor Barros (28-0-1, 16 KOs) in Hamburg. Gamboa, a 2004 Cuban Olympic gold medalist, fought four of his first five pro fights in Germany after defecting in 2007. Now, he's based in Miami, but in Germany to fight on co-promoter Ahmet Íner's debut show under his new deal with German TV outlet SAT.1. "I'm happy to be back at the place where my pro career started," Gamboa said. "I still appreciate all the help and support my German friends have been giving me after defecting from Cuba. I still have lots of friends here and I am happy that I can defend my title here in Hamburg." Arum, Gamboa's co-promoter, told ESPN.com that if Gamboa wins he'll next July 17 or 24 on HBO, probably in Las Vegas. Arum wants to match him with Celestino Caballero, the junior featherweight titlist who is moving up to featherweight. He needs to defeat Daud Yordan on HBO April 10 to preserve the fight. Although there is no live American TV coverage of Gamboa-Barros, Top Rank's Carl Moretti said highlights will air during Saturday night's "Top Rank Live" (FSN) card.

John
• Featherweight titlist Chris John (43-0-2, 22 KOs) will make his 13th title defense against Argentina's Fernando Saucedo (38-4-3, 1 KO) on May 22 in Bali, Indonesia, John's home country, Sampson Lewkowicz, John's adviser, told ESPN.com. "The deal is done," Lewkowicz said. "I got the contract (Wednesday)." John has been out of action since easily outpointing Rocky Juarez in their September rematch. John may have been back sooner, but a case of dengue fever put him in the hospital in October, and he took an extended break. Saucedo hasn't lost since dropping a 10-round decision to Acelino "Popo" Freitas in 2004.

Alexander
• HBO and promoter Don King are discussing a late July or August fight for unified junior welterweight titlist Devon Alexander. The network would like to see him face Zab Judah or Marcos Maidana, if he beats Victor Cayo on Saturday. A possible undercard bout for the next Alexander date is the overdue mandatory fight between light heavyweight titlist Tavoris Cloud and Glen Johnson. Lou DiBella, Johnson's co-promoter, told ESPN.com that King has been in touch with him to begin talks about the fight.

Soto
• On March 12, Anthony Peterson knocked out Juan Ramon Cruz in what was supposed to be a tune-up for a shot at a lightweight title. The following night, on the Manny Pacquiao-Joshua Clottey undercard, Humberto Soto outpointed David Diaz to claim a vacant lightweight belt. Soto's first defense was supposed to be a mandatory against Peterson (30-0, 20 KOs). Top Rank's Arum said repeatedly that was the plan. He was going to put the fight on the June 5 Yuri Foreman-Miguel Cotto undercard at Yankee Stadium, and HBO had agreed to televise Soto-Peterson. However, Arum told ESPN.com this week there's been a change of plans -- that Soto (51-7-2, 32 KOs) won't make the mandatory defense against Peterson. "It isn't going to be Soto-Peterson on that card," said Arum, who is working with HBO to come up with an alternative bout. "Soto wants permission to fight in Mexico and is getting an exception (from the WBC)."

Cotto
• Arum told ESPN.com that the news conference to formally announce the Foreman- Cotto junior middleweight title bout, the first fight at the new Yankee Stadium, will be April 9 at the stadium. "The fight is done, everything's done," Arum said. "We have only put off the news conference because all of the Yankee people are down at spring training."

Litzau
• Golden Boy and Square Ring have finalized the pay-per-view undercard for the Roy Jones-Bernard Hopkins rematch April 3 at Las Vegas' Mandalay Bay. In the co-feature, junior lightweight Jason Litzau (26-2, 21 KOs) defends his regional belt against Rocky Juarez (28-5-1, 20 KOs). Also, middleweight Sergio Mora (21-1-1, 5 KOs), fighting for the first time since losing his junior middleweight belt to the late Vernon Forrest in September 2008, faces Calvin Green (21-4-1, 13 KOs) in a 10-rounder. In the opener, Ukrainian light heavyweight prospect Ismayl Sillakh (11-0, 10 KOs), who recently signed with Jones' Square Ring, steps up in competition against Daniel Judah (23-4-3, 10 KOs).

Jacobs
• Middleweight Daniel Jacobs, the 2009 ESPN.com prospect of the year, is ending a seven-month layoff caused by a hand injury in his last fight, a clear unanimous decision against fringe contender Ishe Smith. The 23-year-old from Brooklyn, N.Y. faces Jose Rodriguez-Berrio (12-4-1, 6 KOs) on Saturday night at the Hard Rock in Las Vegas on the untelevised portion of the Marcos Maidana-Victor Cayo HBO card. HBO may show highlights of the bout. If Jacobs (18-0, 15 KOs) comes through the fight and has no issues with his hand, his next bout could come May 1 on the pay-per-view undercard of the Shane Mosley-Floyd Mayweather Jr. fight.

DeGale
• James DeGale, a 2008 British Olympic gold medalist, has had just six pro fights, but the super middleweight prospect (who has yet to fight a scheduled eight- or 10-round bout) is moving into a 12-rounder for his next fight on May 15 in England. DeGale (6-0, 4 KOs), who will challenge for a regional title, faces Sam Horton (15-1, 2 KOs) on the undercard of the interim lightweight title bout between Michael Katsidis and Kevin Mitchell. "I've done 10 rounds in sparring, but I feel ready for the step up," DeGale said. "I've had a lot of amateur fights, a lot of experience before I turned professional, and people are going to see another wicked performance from me. I'm looking forward to hearing the bell go for rounds nine, 10, 11 and 12 so I can prove to people that I can do the championship distance."

Donaire
• According to Arum, the target date and venue for the Nonito Donaire-Vic Darchinyan rematch, which would be for Darchinyan's junior bantamweight championship, is Aug. 7 on Showtime from the Home Depot Center in Carson, Calif. … The IBF rewarded Steve Cunningham for his trouble after Matt Godfrey pull out of their Friday night vacant cruiserweight title bout at the last minute. Cunningham, likely to face Troy Ross, the next leading available contender, for the vacant title instead, will get 60 percent of the money if a purse bid is needed, rather than the usual 50 percent for a vacant title bout. The IBF has the latitude to adjust the purse splits in a bid situation. … Ex-cruiserweight titlist Giacobbe Fragomeni (26-2-1, 10 KOs) of Italy and Poland's Krzysztof Wlodarczyk (42-2-1, 31 KOs) meet for a vacant belt May 15 in Lodz, Poland, Leon Margules, Wlodarczyk's co-promoter, told ESPN.com. They'll fight for the belt Zsolt Erdei relinquished. The bout was originally slated for June 5 but moved due to Polish television scheduling.
QUOTABLE

Loew
"Lou DiBella made a comment at the press conference announcing Kelly's fight with Martinez comparing Martinez to Carlos Monzon. DiBella may be a good promoter but he is no boxing historian. He wouldn't know Carlos Monzon from Gorilla Monsoon." -- Jack Loew, who trains middleweight champ Kelly Pavlik, on Martinez co-promoter DiBella, who compared Martinez to fellow Argentinean fighter and Hall of Famer Monzon
QUOTABLE

DiBella
"Tell Jack Loew that at the end of Pavlik's fight with Sergio Martinez, Martinez will be holding their belt and Jack will feel like he got body slammed by Gorilla Monsoon." -- DiBella, responding to Loew's dig that invoked Monsoon, the all-time great pro wrestler
QUOTABLE

Berto
"He's a tough veteran. If you give him too much room or a little too much confidence he will take advantage of that. You have to impose your dominance early. I'm in a tough situation. Realistically, I train hardest when a lot of people expect me to win. He's a spoiler and he did the same with Paul Williams, and I have to make sure I stay sharp and do a good job and dispose of him." -- welterweight titlist Andre Berto, on former titleholder Carlos Quintana, whom he defends against April 10 (HBO) in Sunrise, Fla.