Despite setbacks, Berto focused on task at hand

By Dan Rafael
ESPN.com
Archive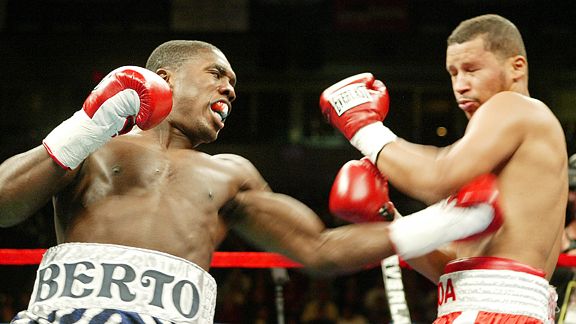 Josh Barron/Fightwireimages.com The stars might seem aligned for Andre Berto, but he isn't underestimating Carlos Quintana.
WESTON, Fla. -- Andre Berto no longer fights just for himself and his family. The welterweight titleholder is also fighting for a nation: Haiti.
Although he was born in the United States, Berto's parents are Haitian immigrants and many of his family members still live there. When the Caribbean island nation was devastated by a 7.0 earthquake in late January, it hit home.
Hard.
Eight members of Berto's family were among the more than 200,000 casualties. For several days, his sister Naomi and her daughter were unaccounted for, until they were able to make contact.
The tragedy occurred less than two weeks before Berto was scheduled for the biggest fight of his career, a unification bout with Shane Mosley on Jan. 30.
But as he grieved for his family and their ravaged homeland, Berto couldn't focus on the fight. Understandably, he withdrew.
"It was definitely an overwhelming situation," said Berto, a resident of Winter Haven, Fla. "I was preparing for the biggest fight of my life and then I got the phone call about what happened and saw all the devastation on TV. It was hard. I was there a couple of months before that. I went there doing charity work -- fed families, gave out thousands of pairs of shoes."
With the fight off, Mosley agreed to face Floyd Mayweather on May 1. Meanwhile, Berto and his older brother Cleveland went to Haiti to assist in relief efforts.
The week that the 26-year-old Berto spent in Haiti about two weeks after the earthquake left him a changed man.
"I don't think people can be in that type of situation and not change," Berto said. "Seeing how graphic it was, personally being there, was overwhelming. You could see the debris in the air and smell the dead bodies. We knew it was real life. We didn't want to be treated any different. We wanted to be in the trenches and do whatever we could do. We were pulling people out of the rubble, carrying people to the hospital. We were feeding the kids. We were there when the kids were being amputated.
"It's definitely something I will never forget. That week there matured me. It was a character-building process. It definitely changed me as a man and my life in general."
Although he still has a heavy heart, Berto (25-0, 19 KOs) is ready to fight for the first time in 11 months as he defends his belt against former titlist Carlos Quintana (27-2, 21 KOs) on Saturday night (HBO, 10:30 ET) at the BankAtlantic Center in Sunrise, Fla.
In the co-feature, junior featherweight titlist Celestino Caballero (33-2, 23 KOs) of Panama moves up to featherweight to tangle with Indonesia's Daud Yordan (25-0,19 KOs). A victory could set up Caballero for a July HBO fight against featherweight titlist Yuriorkis Gamboa.
While Berto's fourth title defense is important to him, he's determined to use the big stage to bring continued awareness to Haiti's plight. It's why the card is titled "Fighting For Haiti."
"I think this has given him tremendous motivation to train hard and win because the best way he can help Haiti is to increase his own profile so he can use it to bring attention to Haiti and raise money," said Lou DiBella, who promotes Berto and Quintana. "He's very serious about his foundation, and he knows if he loses fights, his profile won't go up and it will be harder to raise money."
Ten percent of the ticket proceeds (and 20 percent from the most expensive $500 tickets) will go to Haitian relief efforts through Berto's Dynasty Foundation and Project Medishare, which is heavily involved in providing medical care in Haiti.
"I've trained for this fight just as hard as for the Mosley fight," Berto said. "There's so much more that I'm trying to accomplish when it comes to this fight. There's a purpose behind this fight. I believe everybody that is blessed with the talent, there's always a purpose. Mine I think is to inspire the kids in my neighborhood or my country, and we'll continue bringing the awareness and the eyes of the world to the victims in Haiti. I am fighting for Haiti."
Once Berto returned from Haiti, getting back to work in the gym wasn't easy, but he said he's prepared to face Puerto Rico's Quintana, 33, the only man to defeat Paul Williams (although Williams stopped him in the first round of their rematch).
"It took some time," said Berto, who plans to return to Haiti later this year for more relief work. "Being in Haiti was mentally and emotionally draining. Seeing as much as we saw, I was at a standstill for a few days. I couldn't register what we had seen. And then to be back here where it's peaceful? I had to take some time and get my mind set. I locked myself in the house for two or three days and tried to register everything that happened.
"After a couple of days of being with my family and trying to understand everything, it made me more hungry to get back in the gym. Of course, by the things I witnessed, they are so vivid you can never lose sight of it. But I have been fully focused on this fight. I'm in tremendous shape. I am just ready to go in there and put on a tremendous show."
DiBella said he was concerned about Berto when the fight was made because of everything he'd been through. However, DiBella is convinced Berto is ready to fight.
"He seems very focused to me, and I was concerned because it's been 11 months since his last fight and he's had a tough stretch," DiBella said. "Emotionally, he seems very at peace and very focused. But I also think he has a very tough fight. Quintana is a very good fighter. When he is on he can beat anyone, as he proved the first time with Williams."
Berto called Quintana a "spoiler-type" and respects him as a quality opponent.
"I'm not looking past him at all," Berto said. "But he's going to be in there dealing with a rough customer that's been having a lot of emotions, and I'm ready to get relief. If he makes mistakes, he's definitely going to pay for it."
Holyfield returns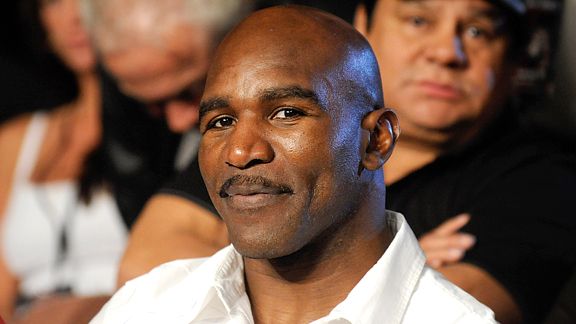 Ethan Miller/Getty ImagesLike a typical boxer, Evander Holyfield doesn't know when to say when.
Yes, Evander Holyfield, 47, is still fighting and thinking big.
"I'm not finished, yet. I will be champion of the world again," said Holyfield, using his tireless refrain.
The former four-time heavyweight champ faces 41-year-old Francois Botha (47-4-3, 28 KOs) on Saturday night (Integrated Sports PPV, $29.95) on a Crown Boxing-promoted card at the Thomas & Mack Center. It's Holyfield's first bout in Las Vegas since James Toney stopped him at Mandalay Bay in 2003.
"Realistically, everything good happened to me in Las Vegas, starting when I made the 1984 U.S. Olympic team," Holyfield said. "I became the undisputed world cruiserweight champion there [in 1988]. The first time I won the world heavyweight title was there [in 1990]. My second [1993], third [1996] and fourth [2000] heavyweight titles were all won in Las Vegas. It's where I've done my greatest things and I'm really looking forward to fighting back in Las Vegas."
Holyfield (42-10-2, 27 KOs) has lost two in a row, both title bouts. However, his majority decision loss to then-titlist Nikolai Valuev in Switzerland in December 2008 was highly controversial. Holyfield, whose financial difficulties have been well-documented, still has aspirations to win the undisputed title, even that's highly unlikely.
"My goal has simply been to be undisputed heavyweight champion," he said. "I think my attitude is good when people tell me I can't do something. I'm driven by what people say I can't do to prove I can. I'm not disappointed by decisions. I felt I beat Valuev. I won't quit seeking to do my best, and Saturday night you'll see me give my all. If not enough, I'll make adjustments."
Botha's only losses are to Lennox Lewis, Wladimir Klitschko and Michael Moorer in title bouts and in a nontitle fight against Mike Tyson.
"We both have a lot of experience and it's going to be a good fight," Botha said. "I know he's going to be right there and he'll be in good condition. This is a chance for me to prove I still got it. Holyfield is coming to prove himself as well. If he doesn't beat me, he's done, and I'm going to make sure that this is his last fight. I'm going to retire him once and for all."
Dan Rafael covers boxing for ESPN.com.
QUICK HITS

Alexander
• HBO and promoter Don King are discussing Aug. 7 in St. Louis as the date and location for junior welterweight titlist Devon Alexander's next fight, his manager/trainer Kevin Cunningham told ESPN.com. Alexander's opponent hasn't been determined. There were discussions that Alexander, of St. Louis, might face Marcos Maidana, who looked good knocking out Victor Cayo on HBO March 27. But Maidana instead will face titleholder Timothy Bradley on June 19 on HBO.

Johnson
• Light heavyweight titleholder Tavoris Cloud is overdue for a mandatory defense against former champ Glen Johnson. They were scheduled to fight Saturday on the Berto-Quintana undercard, but Cloud withdrew, claiming a hamstring injury and signing with King. Now, the IBF has given Cloud and Johnson until Tuesday to make a deal. If they don't, a purse bid will be ordered.

Cotto
• Although Top Rank's biggest Puerto Rican star, Miguel Cotto, will skip his usual date of fighting at New York's Madison Square Garden on the eve of the annual Puerto Rican Day parade this year (because he faces junior middleweight titlist Yuri Foreman the week before at Yankee Stadium), the promotional company is keeping the tradition alive and will put on a "Top Rank Live" card (FSN) at the MSG Theater June 12. Top Rank's Carl Moretti told ESPN.com they're working to finalize a card that would feature junior flyweight champ Ivan "Iron Boy" Calderon (33-0-1, 6 KOs) of Puerto Rico against former title challenger Jesus Iribe (16-6-5, 10 KOs) of Mexico, with the Philippines' Jhonreil Casimero (14-0, 8 KOs) defending his interim belt in the opener against Mexico's Ramon Garcia (12-1-1, 8 KOs). The winners would meet in a mandatory fight, probably in late summer. Moretti said he was awaiting the expected approval from the WBO.

Ponce De Leon
• Golden Boy finalized another bout for the May 1 Shane Mosley-Floyd Mayweather HBO PPV undercard. Mexico's Daniel Ponce De Leon (38-2, 32 KOs), an ex-junior featherweight titlist, faces Mayweather protégé Cornelius Lock (19-4-1, 12 KOs) in a featherweight bout. Ponce De Leon has won four in a row, including a third-round knockout of Orlando Cruz in February, since Juan Manuel Lopez stopped him in the first round and relieved him of his 122-pound title in June 2008. Lock also knocked out Cruz in his last fight, stopping him in the fifth round on the Mayweather-Juan Manuel Marquez undercard in September. The co-feature between welterweight Saul "Canelo" Alvarez and Jose Cotto, brother of Miguel Cotto, has also been agreed to, but Golden Boy is waiting for Cotto's signed contract. A fourth TV fight is in the works.

Mayweather
• HBO's Emmy-winning "24/7" franchise returns Saturday night (10 ET) when the first of four weekly episodes of "24/7 Mayweather/Mosley" debuts. The series will follow the buildup to the May 1 showdown between welterweight champ Mosley and former champ Mayweather at the MGM Grand in Las Vegas. The premiere follows the fighters as they open training camp -- Mayweather in Las Vegas and Mosley in the mountains of Big Bear, Calif. -- following their national media tour.

Roach
• Trainer Freddie Roach may add two more fighters to his growing stable. He may train brothers Julio Cesar Chavez Jr. and Omar Chavez, the sons of Mexican icon Julio Cesar Chavez Sr. They're talking, and the brothers may work out with Roach at his Wild Card Gym next week. If they all feel comfortable, they'll put a deal together for Roach to train them full time. Roach is also now training junior middleweight Roberto Garcia, who will face Antonio Margarito in his comeback fight on May 8.

Martirosyan
• Top Rank announced that it re-signed junior middleweight Vanes Martirosyan, the 2004 U.S. Olympian it has promoted throughout his pro career. Martirosyan (27-0, 17 KOs), 23, is on the verge of a title opportunity and is coming off his most notable victory, a tight decision against former titleholder Kassim Ouma in January. "Vanes is definitely one of the future superstars in boxing," Top Rank's Bob Arum said. "We helped develop Vanes during his first five years. Now, with the coaching of the great Freddie Roach, Vanes will be heading to the top level of boxing." Top Rank also announced it signed Craig Hamilton-managed junior middleweight Christian Martinez (3-0, 3 KOs), 22, of the Bronx, N.Y. As an amateur, Martinez, originally from Puerto Rico, was a New York Golden Gloves champion. His first bout of the deal will come June 5 at Yankee Stadium on the Foreman-Cotto undercard.

Guerrero
• When Golden Boy and Spanish-language network Telefutura revive "Solo Boxeo Tecate" on April 30 -- 16 months after the series was initially canceled -- it will mark a weekly commitment to the series through 2011, according to Golden Boy CEO Richard Schaefer. The series will give fans a chance to see Golden Boy cards previously unavailable in the United States. For the past couple of years, Golden Boy has promoted a monthly fight series at various sites throughout Mexico and Latin and South America. But they have been available only on HBO Plus, an HBO service in those regions. However, Tecate is also a sponsor of those cards, and Schaefer said that Telefutura will become the American outlet for those fights. In addition to the live U.S.-based shows and the HBO Plus simulcasts, Schaefer said Telefutura would round out the weekly schedule with a handful of shows featuring replays of Golden Boy's top fights. "Solo Boxeo Tecate" premieres with lightweight Robert Guerrero, a former two-division titleholder, versus Roberto Arrieta at the Tropicana in Las Vegas.

Hopkins
• After outpointing Roy Jones last week, Bernard Hopkins, who was fouled numerous times with illegal blows behind the head, wound up spending the night at a Las Vegas hospital after collapsing in the dressing room following the fight. He was released the next day. "It was a hard and scrappy fight which got much harder after the sixth round when I started seeing spots after he hit me with that illegal punch in the back of my head," Hopkins said. "The doctors at the hospital told me the punch landed at the stem of the brain which effects both vision and balance. It wasn't easy to get adjusted after that, so I fought on instinct and heart, choosing to keep fighting like the champion I am, when others maybe would have quit."

Johnson
• Former top heavyweight contender Kirk Johnson (36-2-1, 26 KOs), 37, who hasn't fought since a no-decision in which he suffered a knee injury against Javier Mora in 2006, is making a comeback. The Dallas-based former title challenger is in soft against Douglas Robertson (3-23-2, 8 KOs) in a four-rounder April 29 at the Texas Motor Speedway on a card being promoted by former bantamweight champ Paulie Ayala. "I had a great run, with a lot of big wins," Johnson said. "But I'm not satisfied I walked away without becoming the world heavyweight champion. I know what's out there now and feel I have a very good shot at any of the champions if all goes well. This fight will hopefully be the start of a successful comeback that will result in me fulfilling my dream."

Sylvester
• Middleweight titlist Sebastian Sylvester (33-3, 16 KOs) of Germany makes his second defense against Los Angeles-based Russian mandatory challenger Roman Karmazin (40-3-1, 26 KOs) on June 5 in Germany. Although Karmazin's promoter, Steve Bash, won the purse bid and talked about putting the fight in St. Petersburg, Russia, it became clear there were scheduling and financial issues, so he struck a deal with Sylvester promoter Sauerland Event that will give Sylvester home-turf advantage. "Roman Karmazin, a true road warrior in every sense of the word, is eager to come back to Germany and become the first Russian boxer in history to win a world title in two different weight classes," Bash said. Sylvester was prepared to go on the road if necessary. "As a world champion, you have to prove yourself all over the world," he said. "That is why a fight in St. Petersburg would not have been a problem for me. But now with my fans behind me, I will be even stronger."
QUOTABLE

Mosley
"I was 38-0 with 35 knockouts when I stepped into the ring and lost for the very first time. So when you say 40-0, that doesn't mean a thing to me. All it means is that I'll be the one giving him his first loss. No disrespect, but I really don't think he's been in there with a fighter like me, and I believe that when I beat Floyd, I will send him into retirement. May 1st will be May's first loss."
-- Shane Mosley, predicting he will hand Floyd Mayweather his first loss when they meet May 1 (HBO PPV) at the MGM Grand in Las Vegas