Pavlik feels better than ever ahead of fight

By Dan Rafael
ESPN.com
Archive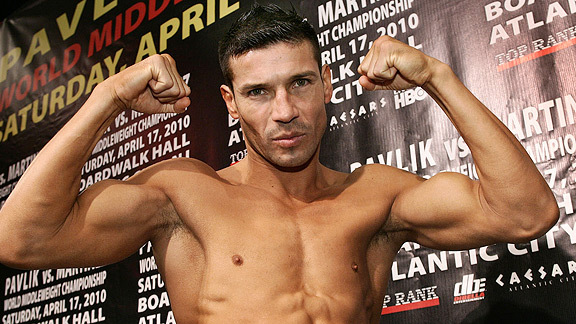 Chris Farina/Top RankSpoiler? Abs-olutely! Sergio Martinez is used to being the underdog.
Middleweight champion Kelly Pavlik finally feels good.
It's been a rough couple of years for the Youngstown, Ohio, native because of a lingering staph infection in a finger. The infection severely weakened him and eventually resulted in two surgeries on his hand, two postponements of a much-anticipated fight with Paul Williams and a steady stream of criticism.
The last time -- before now -- that Pavlik felt 100 percent?
He estimates it "may have been" his February 2009 defense against Marco Antonio Rubio.
"But," Pavlik said, "it was probably the [Gary] Lockett fight."
That bout was all the way back in June 2008.
After the Lockett fight, Pavlik lost a lopsided decision at 170 pounds to Bernard Hopkins in late 2008, beat Rubio and finally got the infection diagnosed, treated and under control before returning Dec. 19 to knock out overmatched mandatory challenger Miguel Espino in the fifth round.
"Because it was on five weeks notice and coming off the hand injury, it was not fully healed, but we got through it," Pavlik said of the Espino fight. "We went in there and beat a mandatory and we stopped him, which is what we were supposed to do."
But before the Espino bout, the year had been difficult, mainly because the infection forced him to twice pull out of the fight with Williams.
"It was frustrating because we were doing everything we were supposed to do, but it was getting worse," Pavlik said. "I began taking antibiotics and was bedridden. It wasn't at the point [of wondering] if I was ever going to fight again, it was, 'When was it going to finally heal?' It was a frustrating 2009 and there wasn't much we could do about it."
The fight with Williams had been rescheduled for early December, but Pavlik wasn't ready, so Williams went ahead and fought a replacement opponent -- junior middleweight titleholder Sergio Martinez of Argentina.
Martinez (44-2-2, 24 KOs) wasn't well-known but he gave Williams everything he could possibly handle in a sensational action fight. Martinez wound up losing a majority decision, but made his point -- that he is also one of the best fighters in the world.
When Pavlik (36-1, 32 KOs) and his promoter, Top Rank, and Williams and his promoter, Dan Goossen, could not agree on how to put the fight back together, Martinez got the call and will challenge Pavlik for the 160-pound crown Saturday night (HBO, 10 ET) at Boardwalk Hall -- Pavlik's home away from home -- in Atlantic City, N.J.
"I'm feeling real good and I think it's the strongest I've been, and I'm anxious to get in there and do my thing," Pavlik said.
Opening HBO's strong split-site telecast, Lucian Bute (25-0, 20 KOs) defends his super middleweight title against Edison Miranda (33-4, 29 KOs) at the Bell Centre in Montreal.
Pavlik said he is happy to have the past couple of years behind him and looks forward to getting back into the ring with a highly regarded opponent.
"I went into this camp feeling great," said Pavlik, who turned 28 on April 4. "There are no 'ands' or 'ifs' about it. I was ready to get to camp. I am always playing basketball or doing something to stay active. I couldn't last year. For the Espino fight I was ready because we stay active. Going into camp this time was really a plus because I was ready.
"I don't have to worry about the hand being tender. Everything has held up great and there are no problems, knock on wood."
When Pavlik survived a hard early knockdown to rally to knock out Jermain Taylor to win the title at Boardwalk Hall in September 2007, he rocketed to stardom.
But following a decision win against Taylor in early 2008 in a nontitle, super middleweight rematch, Pavlik faced the obscure mandatory challengers in Lockett, Rubio and Espino while also losing to Hopkins.
The extended run of poor matchups, with the loss mixed in, hurt his standing and eroded his popularity.
Promoter Bob Arum, however, is convinced all will be forgotten with one good win against Martinez.
"The public is very fickle," Arum said. "They caught onto Kelly leading up to, and including, the Taylor fight. Then there has been a falloff -- his performance against Hopkins and the injury and so forth. But I am convinced, beyond any measure, that we are going to see the old Kelly Pavlik against Martinez, and as soon as we see that and as soon as the public sees that -- and thanks to HBO it will be a huge audience -- he will be right back on top and people will be clamoring for his next fight, whether it be against Paul Williams or Lucian Bute or somebody else."
Pavlik was particularly stung by criticism that he was ducking Williams when it was the infection that was giving him problems and forced him to postpone.
"It was a little upsetting to hear what people were saying, but I couldn't pay too much attention to that," Pavlik said. "I wanted to fight Williams and they said I was lying. The doctors had to prove that I wasn't lying and we couldn't make the fight happen."
That left Martinez, 35, as the clear choice as the best opponent available for Pavlik to fight.
"Other than Paul Williams, his is the biggest name in the division and the biggest fight for me to take," Pavlik said. "Even though Martinez lost to Williams on the judges' scorecards, he may be the better fighter. He may not have the name that Paul Williams has, but I'm definitely taking a chance and I'm proving to the people that I have always taken dangerous fights and have never strayed away from big fights. I went up two weight classes to fight Hopkins, after Paul Williams pulled out [the first time the camps negotiated the fight in 2008], so that goes to show I'm not hiding from anybody. The flak is going to be there, there is nothing I can do."
Whatever the grief Pavlik gets from some people, Martinez and his team give Pavlik credit for taking the fight, because other than Williams, Martinez has had no luck getting any significant opponents to face him.
"We know Pavlik didn't have to fight Sergio," said Lou DiBella, Martinez's co-promoter. "He could easily have gone out and fought somebody else. He knows Martinez is a tough opponent and we give him all the credit for taking the fight when he didn't have to, especially when he is coming off his problems. The kid's a true champion. He knows we are a tough opponent and we know Pavlik is a tough opponent."
Caballero hooks up with DiBella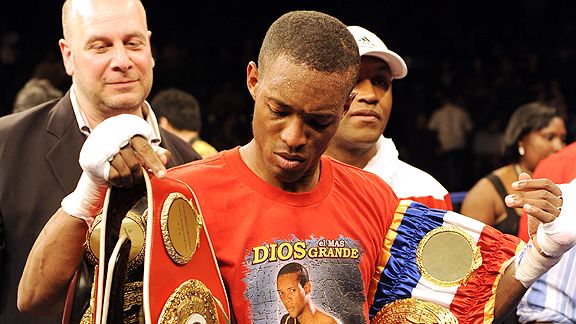 Doug Murray/Icon SMITime to get paid: Celestino Caballero has hooked up with Lou DiBella.
Promoter Lou DiBella told ESPN.com that he's signed Celestino Caballero, the former junior featherweight titlist who moved up to featherweight and dominated Daud Yordan in his HBO debut on DiBella's card last week.
"We signed a multi fight deal. He wants big fights. That's what the deal is about," DiBella said.
Caballero had been promoted by Warriors Boxing, but was unhappy. DiBella and Warriors chief Leon Margules are good friends and Margules also serves as DiBella's attorney, so they worked out a deal for DiBella to sign him.
"It was an easy deal because Leon is my friend," DiBella said. "The relationship between him and Caballero had become fractured, so it made sense for everybody."
DiBella said Caballero is ready for a big fight in a talent-rich division.
"I think the fight he had with Yordan served its purpose -- anyone who doubted that he was one of the best fighters in the world, they saw that he is," he said. "I think that was the kind of fight he needed. For a guy in his early 30s, he's been underexposed. It was a good move for HBO to put him on because HBO is invested in the featherweight division. There is a lot of heat there and a lot of big fights with guys like [Juan Manuel] Lopez, [Yuriorkis] Gamboa, Chris John, Elio Rojas and even the winner of the Israel Vazquez-Rafael Marquez [fourth] fight."
Dan Rafael covers boxing for ESPN.com.
QUICK HITS

Alvarez
• Golden Boy has finalized three scheduled 10-round bouts for the televised undercard on the May 1 Shane Mosley-Floyd Mayweather HBO PPV card at the MGM Grand in Las Vegas. Mexican welterweight prospect Saul Alvarez (31-0-1, 23 KOs), 19, who recently signed with Golden Boy, will face Puerto Rico's Jose Cotto (31-1-1, 23 KOs), the brother of former two-division titlist Miguel Cotto, co-feature. Former junior featherweight titlist Daniel Ponce De Leon (38-2, 32 KOs) of Mexico meet Cornelius Lock (19-4-1, 12 KOs), a Mayweather protégé, in a featherweight fight. In the opening bout, welterweight Hector David Saldivia (33-1, 26 KOs) of Argentina faces Las Vegas-based Moroccan Said Ouali (26-3, 18 KOs).

Darchinyan
• The proposed rematch between junior bantamweight champ Vic Darchinyan and interim titlist Nonito Donaire, who drilled Darchinyan in a flyweight title bout, is in jeopardy. Darchinyan promoter Gary Shaw told ESPN.com that Darchinyan has signed a bout agreement for the bout, which would take place Aug. 21 at the Home Depot Center in Carson, Calif., but that he is having problems finalizing the deal with Donaire promoter Top Rank. The reason: they are arguing over the Filipino television rights. Shaw said Top Rank misrepresented to him that Donaire owned the rights and they are hung up on who gets them. Shaw said he has offered to buy Arum out of the rights after Arum offered a price that he felt was way too low. Shaw also said that Showtime "may move on" because it wasn't going to "wait around" to schedule the date.
• ESPN and Canadian promoter Yvon Michel said they made a deal for ESPN2 to carry the bout between hot middleweight prospect David Lemieux (22-0, 21 KOs), who is generating a lot of excitement in his hometown of Montreal, and former title challenger Elvin Ayala (20-4-1, 9 KOs) on "Friday Night Fights" on June 11. The fight, on Formula 1 Grand Prix weekend in Montreal, will take place at Uniprix Stadium, where Michel expects a 10,000-seat sellout. Ayala, who owns a draw against ex-junior middleweight titlist Sergio Mora but was stopped in the 12th round of a middleweight title bout by Arthur Abraham in 2008, represents Lemieux's most notable opponent. "Ayala is a good boxer and I know that there will be a lot of attention placed on my performance against him," Lemieux said. "This is a great challenge for me especially after Ayala's performance against (Abraham)."

Froch
• The Carl Froch-Arthur Abraham Group Stage 3 bout in the Super Six World Boxing Classic is tentatively scheduled for Aug. 21 in either Nottingham, England or Berlin, according to Sauerland Event's Chris Beyer. Froch defends his super middleweight belt against Mikkel Kessler April 24 in Group Stage 2, but will face Abraham regardless of the outcome. Abraham lost his second-round bout of the tournament to Andre Dirrell via 11th-round disqualification last month.

Mayorga
• Former two-division titlist Ricardo Mayorga, idle since Shane Mosley stopped him in the 12th round in September 2008, resurfaces May 15 when he moves to mixed martial arts. He faces Din Thomas (trained by 1976 U.S. Olympic gold medalist Howard Davis Jr.) in a three-round bout at 160 pounds in the main event of a pay-per-view card in Fayetteville, N.C. Mayorga's boxing trash talk has come with him to MMA. "I conquered the world in the boxing ring all the while I was puffing cigarettes and drinking beer, " Mayorga said. "I won three world title belts and I stood toe-to-toe with so many legends, beating some of them. Vernon Forrest, God rest his soul, was a great boxer yet I beat him back twice. I cannot be denied as I am a force of nature. Now I will shock the MMA fans and I know so many of my fans from boxing will follow me as I expand my repertoire. They can't deny me in MMA and I will destroy Din Thomas. I am going to smash him. To me, a fight is a fight in a ring, in a cage or on the street. Fighting is my middle name."

Diaz
• Junior welterweights Julio Diaz and Herman Ngoudjo, both 30, will be essentially fighting for their careers when they meet in the "Friday Night Fights" (ESPN2) main event on May 14 in Primm, Nev. Diaz (30-6, 26 KOs), a former two-time lightweight beltholder, has lost two in a row and three of his last five bouts. Ngoudjo, a native of Cameroon living in Montreal, is two-time junior welterweight title challenger who is 3-3 in his last six. "I know Ngoudjo is a very dangerous fighter but I'm prepared to show the fans that I still belong at the top of the sport," Diaz said. "I lost focus for a little while but I'm back on track and ready to perform." Said Ngoudjo, "This is a good opportunity for me. Since I lost my fight against (Juan) Urango (for a vacant title in January 2009), I've had a different level of focus. I'm aware of the talent of Diaz. He's very experienced. It's going to be a great fight but I'm convinced I can beat him."

Cruz
• Top Rank has scheduled the Cristobal Cruz-Orlando Salido featherweight title bout. The bout between Mexican countrymen will take place May 15 in Ciudad Obregon, Mexico, Salido's hometown, Top Rank's Carl Moretti told ESPN.com. Top Rank, which promotes Salido (33-10-2, 22 KOs), gained control of the fight after winning the purse bid for $251,000, just $1,000 more than Cruz's promoter, Artie Pelullo, bid. Cruz (39-11-2, 23 KOs), who outpointed Salido via split decision to win the vacant belt in October 2008, will be making his fourth defense.

Funeka
• South African lightweight Ali Funeka (30-3-3, 25 KOs), who dropped a split decision to Joan Guzman in a vacant lightweight title bout on HBO March 27 in Las Vegas, tested positive for banned substance following the bout, according to Keith Kizer, executive director of the Nevada State Athletic Commission. Kizer said Funeka tested positive for the diuretic hydrochlorothiazide. Diuretics can be used as masking agents for steroids and are also used to help weight loss. Guzman, of course, was nine pounds overweight for the bout, so only Funeka was eligible to win the belt. The commission will hand out its punishment to Funeka at Friday's commission meeting, but Kizer said he faces a fine of up 100 percent of his purse and a suspension of up to one year.

Agbeko
• The bantamweight title eliminator between former beltholder Joseph Agbeko (27-2, 22 KOs) and ex-title challenger Vusi Malinga (19-3-1, 12 KOs) has been postponed, according to Don King spokesman Allan Hopper. King, who promotes Agbeko, had already sent a staffer to South Africa for the fight, which was supposed to take place Friday in Johannesburg. However, earlier in the week, the fight was called off, supposedly because of a scheduling issue between promoter Branco Milenkovic and the South African television network that was supposed to televise the bout. However, according to Agbeko manager Vinny Scolpino, tickets had never even gone on sale for the card. It remains to be seen when, or if, it will be rescheduled. "We still have no firm date and we're not sure what the IBF is going to do, but Joseph was ready to fight and we're very disappointed," Scolpino said. "We wanted to fight so we could win and get in there and fight [titlist] Yonnhy Perez again. Training was going great. We were all set to go and it got called off. Hopefully, Branco can pull it together." Branco won the purse bid with an offer of $70,000 to King's $50,000 bid.
QUOTABLE

Mosley
"The theme of this fight is 'Who R U Picking?' Well people should be picking me because I have proven that I can knock people out in any round. I'm experienced and I have the speed, power and agility to win this fight."
-- welterweight champ Shane Mosley, on his May 1 (HBO PPV) showdown with Floyd Mayweather Jr.
QUOTABLE

Mayweather
"They all talk about Shane's strength, but in boxing you need all over strength from head to toe. If we were in a weightlifting match then strength might have something to do it with it. But we are in a boxing match and I am the best boxer in the sport. If you compare our records you have to ask yourself which fighter is better and smarter. That would have to be me."
-- Mayweather, on Mosley.