Arreola, Adamek out to make history

By Dan Rafael
ESPN.com
Archive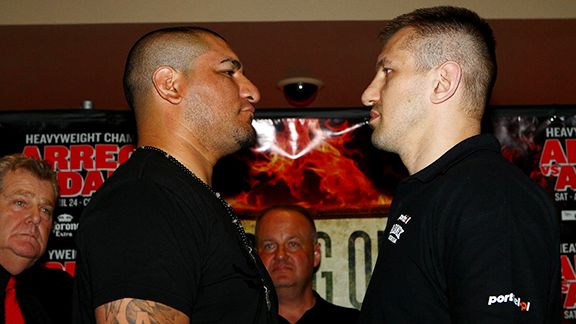 Jan Sanders/Goossen Tutor PromotionsCris Arreola, left, brings a whole lot of size to the table against Tomasz Adamek.
Tomasz Adamek has been a light heavyweight titleholder and the cruiserweight world champion, but his ultimate goal is to become a heavyweight champion.
Cristobal Arreola, a career heavyweight, dreams of someday also becoming a heavyweight champion -- the first of Mexican descent.
Adamek and Arreola, both crowd pleasers, will fight each other in an effort to keep those dreams on target when they meet in a significant heavyweight fight at the Citizens Bank Arena in Ontario, Calif., on HBO's "Boxing After Dark" on Saturday night (11:15 ET/PT).
"I'm on a mission to do something no boxer has ever done. I want to be the first light heavyweight, cruiserweight and heavyweight world champion," Adamek said. "So I'm fighting for myself and history."
Said Arreola, "I respect him but my job in this fight is to show him he doesn't belong in the heavyweight division."
Although Arreola was stopped in the 10th round of a one-sided fight challenging heavyweight titlist Vitali Klitschko in September, he bounced back with a fourth-round knockout of the smaller Brian Minto to set up the Adamek fight.
"I'm very excited to be fighting someone who is as able and proven as Tomasz Adamek," Arreola said. "He's a proven champion and he knows how to win, but I have a lot to prove still. After I lost to Klitschko I set out [again] to win a title and to prove to a lot of people that I am an able fighter."
Interim junior middleweight titlist Alfredo "Perro" Angulo (17-1, 14 KOs) of Mexico squares off with Colombia's Joel "Love Child" Julio (35-3, 31 KOs) in a showdown between all-action sluggers in HBO's co-feature.
Poland's Adamek, now living in Jersey City, N.J., where promoter Main Events has built him into a big ticket seller, is going cross-country to Arreola's turf -- he's from Riverside, Calif. -- for his third heavyweight fight since vacating the cruiserweight title last year.
"I know what Arreola is about but I jumped at the offer to fight him," Adamek said. "There was no hesitation. It makes no difference that this fight is in his backyard. The most important thing for me is to win and I am very confident.'' In his first heavyweight bout, Adamek knocked out faded former contender and countryman Andrew Golota in the fifth round in October in what is considered the biggest fight in Polish history. Then Adamek outpointed 2004 U.S. Olympian Jason Estrada.
Now, however, Adamek (40-1, 27 KOs) is facing a far more formidable heavyweight in Arreola (28-1, 25 KOs).
Once again, Adamek will be at a major size disadvantage. Golota outweighed him by 42 pounds. Estrada had a 17-pound cushion. Arreola, who weighed 250½ at Thursday's weigh-in, will have 33½ pounds on Adamek, not to mention a 3½-inch height advantage.
Adamek, 33, doesn't care about the disparity.
"The size of Cris Arreola really makes no difference. He's 6-9, 6-8, 260, 220, it doesn't really matter," said Adamek, whose lone career loss came when Chad Dawson outpointed him to take his light heavyweight belt in 2007. "It is what is in your head that matters, not your size. I don't plan to go down after three, four or five punches from Cris. The way I've been training for the past eight or nine weeks will bring me the success and expose everything that I need to expose.
"Actually, fighting at the heavier weights has been better for me because the guys are slower. I can see the punches better and they take longer to get there."
Although Adamek has made a series of exciting slugfests at light heavyweight and cruiserweight, his biggest advantage over Arreola is speed. Arreola, 29, doesn't expect Adamek to trade with him, given his size advantage and power.
[+] Enlarge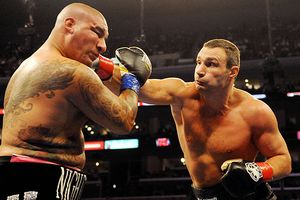 Mark Ralston/AFP/Getty ImagesCris Arreola, left, won't have to worry about size and range like he did against Vitali Klitschko.
"I'm sure Adamek is going to stick-and-move, which is what he has done since he's moved up from light heavyweight and cruiserweight," Arreola said. "I'd be pleasantly shocked, but happy, if he tried to stand and fight and exchange with me. But he's never faced a guy that hits like me. You can't compare how he did against Jason Estrada with how he might do against me because Estrada can't punch.
"He got away with things against Estrada that he definitely will not be able to get away with against me. No way is Adamek accustomed to fighting a true heavyweight like me. He'll feel my power and get hit like he's never been hit before.''
Adamek admitted he won't stand in front of Arreola. He's smart enough to know that wouldn't be wise.
So he and trainer Ronnie Shields -- who replaces Andrew Gmitruk, who was advised by his doctor to give up training because of his health -- have devised their plan around Adamek's boxing ability and movement.
"One of my main strengths is my ability to adapt so I have a lot of options," Adamek said. "I am prepared for everything Arreola brings to the fight. You can say whatever beforehand, but it's how you deal with what's happening in the ring when it happens that counts and I will know what to do when it's time to do it.
"I expect a tough fight, of course, and nothing else. All fights at this level are tough and one punch can change everything. I will fight smart and box. I am not going to just stand there in front of him, but I won't run either."
Arreola is expecting a far different fight than the one he got against Klitschko, who was much bigger than him.
"Tomasz Adamek is a proven champion and my respect goes out to him [but] I know he's going to run away from me," Arreola said. "I know I'm going to have to cut the ring off and once I get him against the ropes, I'm going to have to bang away. He's no Vitali Klitschko. You know, Vitali was big and rangy. So eventually I will catch him and when I do it's going to be all over.
"I don't care about this David and Goliath crap. I'm not here to preach the Bible. I don't care. I'm a fighter and that's what I do."
Featherweight possibilities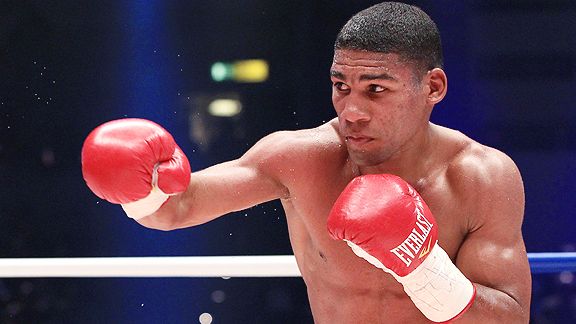 Martin Rose/Bongarts/Getty ImagesIs Yuriorkis Gamboa, above, ducking a featherweight showdown with Celestino Caballero?
Before Celestino Caballero looked so impressive routing Daud Yordan on April 10, Top Rank's Bob Arum had said he planned to try to make a deal for Caballero to challenge his featherweight titlist, Yuriorkis Gamboa, on July 24 on HBO, as long as Caballero won. Well, he did, but Caballero promoter Lou DiBella said he hasn't heard from Top Rank and is exploring other options in case Top Rank decides Caballero is too dangerous.
DiBella said he's talking to Don King about matching Caballero with titleholder Elio Rojas.
"They haven't said a word to me about Gamboa since my guy's win, so I'm talking to King about Rojas, which I think would be a sensational fight," DiBella said. "Don said he's absolutely interested. He realizes the only way he's getting Rojas on [HBO or Showtime] is by having him fight a major fight."
DiBella said he's also had preliminary conversations with Gary Shaw about matching Caballero with Rafael Marquez, should Marquez defeat Israel Vazquez on May 22.
"We've talked about it and we know [Showtime's] Ken Hershman loves Marquez-Caballero," DiBella said. "I think Caballero impressed enough people and got enough attention with the way he fought Yordan that he has options."
King is also talking to Top Rank about Gamboa-Rojas as the promoters jockey for a big fight. Rojas is interested in Gamboa.
"I am a world champion and so is Gamboa. Why don't we fight in a world title unification?" Rojas said. "I am ready to make this fight happen if Gamboa is ready. It has always been one of my goals to become a unified champion."
Said King: "It would be a Caribbean world championship slugfest with Rojas, the pride of the Dominican Republic, against Cuba's own Gamboa. It's a natural. Anticipation would emanate from the two fighters' home islands and would spread around the world. I think Elio Rojas is the best featherweight in the world.
"I'm ready to put everything we have worked for on the line to back up that statement. I'd be happy to work with Bob Arum, one of the best promoters in the world, to bring this fight to the ring. He's somebody that knows how to get a deal done. We're ready to make it happen."
Volcanic impact
Saturday's Carl Froch-Mikkel Kessler super middleweight title bout isn't the only fight that was impacted by ash from the Iceland volcano that snarled worldwide air travel.
England's Rendall Munroe will meet Mexico's Victor Terrazas in a junior featherweight eliminator Friday night, with the winner to get a mandatory shot against titleholder Toshiaki Nishioka, but it wasn't easy to keep the fight together.
British promoter Frank Maloney went to great lengths to preserve the bout after Terrazas' flight to England was canceled because of the ash. Maloney said he got Terrazas and his team the last tickets on a flight from Mexico City to Madrid, whose airport was open. After they landed in Spain, they took a 17-hour car ride to England -- a limo from Madrid to Paris and then a change of cars to make the rest of the trip from Paris to England via the English Channel tunnel.
"I have moved hell and high water to make sure the show goes on and nerves have been frayed," Maloney said. "The good thing for Victor is that we got him into Europe a few days before the fight and that gives him a chance to acclimatize and shake off jet lag." Maloney claims he spent nearly $40,000 to make the travel changes.
Dan Rafael covers boxing for ESPN.com.
QUICK HITS

V. Klitschko
• Heavyweight titleholder Vitali Klitschko's May 29 defense against Albert Sosnowski at Veltins Arena in Gelsenkirchen, Germany, will be available via Integrated Sports pay-per-view in the United States, the Klitschko camp told ESPN.com. The $24.95 card will air live at 3:30 p.m. ET. American heavyweight Johnathon Banks will also be featured against an opponent to be named. Despite Sosnowski being an unknown and the fight taking place on Memorial Day weekend, Klitschko elected to go the pay-per-view route even though Top Rank made an offer to buy the American rights to televise it to a much wider audience on tape delay as part of its "Top Rank Live" card on Fox Sports Net that night. Klitschko's brother, Wladimir Klitschko, ignored American television altogether for his March defense against Eddie Chambers, which was available in the U.S. only via Internet pay-per-view. It was poorly received, did weak business and had technical problems, and perhaps that's why Vitali will be back on television.

W. Klitschko
• Talks have begun between the camps in an effort to make a Wladimir Klitschko-David Haye heavyweight title unification bout, Klitschko adviser Shelly Finkel told ESPN.com. They'll get down to more serious business next week because Haye, manager/trainer Adam Booth, Finkel and Golden Boy's Richard Schaefer (Haye's co-promoter) will all be in Las Vegas for the Shane Mosley-Floyd Mayweather fight and will meet face to face. Although Klitschko has an IBF mandatory due against Alexander Povetkin, the organization's rules allow a unification bout to trump a mandatory. John Hornewer, Klitschko's attorney, told ESPN.com that the Klitschko camp has notified the IBF about its effort to make the Haye fight and that because of that, the IBF has put on hold the free negotiation period for the Povetkin fight and won't call a purse bid unless Klitschko-Haye isn't made. "The IBF wants us to keep them posted on the negotiation," Hornewer said. "If we notify them we can't make a deal or Haye makes a deal for another fight, then we'd go back to negotiating with Povetkin."

Marquez
• The rematch of 2009's fight of the year between lightweight champ Juan Manuel Marquez and ex-titleholder Juan Diaz is almost finalized, but it's moving to a new date and venue, Golden Boy CEO Richard Schaefer told ESPN.com. It was planned for July 10 at Las Vegas' MGM Grand, but will go on July 31 at sister property Mandalay Bay. "The World Cup final is July 11. That is a huge sporting event, especially in the Hispanic world," he said. With thousands expected to be in Las Vegas watching and betting on the soccer game, Schaefer was concerned that the Hispanic-themed card would be overshadowed. The other reason is for promotional purposes. By moving to July 31, the card will follow July 17 and July 24 HBO cards, allowing the pay-per-view to be promoted during the telecasts. Marquez-Diaz II will be a "full-blown" HBO PPV telecast, Schaefer said. That means HBO will produce it and use its announcers. As for the venue change, he said, "I think a 10,000-seat venue is better than a 16,000-seat venue for this fight." Schaefer said the fighters have agreed to terms and that "we are getting it signed." He'd like the deal done in time to hold a kickoff news conference in Las Vegas on May 1 on the morning of the Shane Mosley-Floyd Mayweather fight.

Barrera
• Top Rank's "Latin Fury 15" pay-per-view card on June 26 at the Alamodome in San Antonio, which will be formally announced Monday, includes a bit of a surprise: former three-division champion Marco Antonio Barrera, who faces a foe to be named in a 10-round lightweight fight. Barrera, recently released by Don King, is now working with Mexico's Fernando Beltran, Top Rank's close associate. Barrera's inclusion comes as a bit of a surprise given that he was so often on the other side from Top Rank and Beltran, including all three of his rancor-filled fights with rival Erik Morales. Barrera hasn't fought since a bloody five-round technical decision loss to Amir Khan in March 2009. "We got a call from Beltran to put Barrera on," Top Rank spokesman Lee Samuels said. "We think with his name, he'll be a powerful addition to the card. He really adds something." The main event features middleweight Julio Cesar Chavez Jr., who will be trained by Freddie Roach, against John Duddy. Also, interim bantamweight titlist Eric Morel defends against Jorge Arce (who has a tuneup Saturday night on "Top Rank Live") and featherweight Salvador Sanchez, nephew of the Hall of Famer with the same name, faces a foe to be named.

Martirosyan
• Junior middleweight Vanes Martirosyan (27-0, 17 KOs) will face Joe Greene (22-0, 14 KOs) in a battle of rising contenders June 5 (HBO) on the Yuri Foreman-Miguel Cotto undercard at Yankee Stadium. Martirosyan, 23, a 2004 U.S. Olympian from Glendale, Calif., is coming off his first significant win, against ex-titlist Kassim Ouma in January. Greene, 24, from the Bronx, N.Y., is relatively untested. HBO had also approved a welterweight bout between Mike Jones and Antwone Smith, but Top Rank elected to go with Martirosyan-Greene, Top Rank's Carl Moretti told ESPN.com. He said they would look for a spot for Jones-Smith, a more expensive fight, later in the year.

Hopkins
• Golden Boy's Schaefer told ESPN.com that the final pay-per-view total for the April 3 Bernard Hopkins-Roy Jones rematch will fall "between 135,000 and 145,000 when everything is said and done." If that's the case, Jones, who was to be paid after expenses were covered and Hopkins received the first $3.5 million of profit, won't make a penny for his trouble in the lopsided decision loss. Hopkins will make money but nowhere close to $3.5 million.

Jacobs
• Middleweight Daniel Jacobs (19-0, 16 KOs), the 2009 ESPN.com prospect of the year, will appear on the Amir Khan-Paulie Malignaggi undercard at New York's Madison Square Garden Theater on May 15, Schaefer told ESPN.com. He said HBO would show highlights of Jacobs' bout on a telecast that also features junior welterweight Victor Ortiz facing former lightweight titlist Nate Campbell in the opener. Jacobs was sidelined for seven months because of a hand injury until returning to score a first-round knockout of Jose Rodriguez in March.

Escalante
• Featherweight contender Antonio Escalante, slated to headline May 7 on ESPN2 in his hometown of El Paso, Texas, against Carlos Rodriguez, withdrew because of elbow problems. Golden Boy and ESPN are working on a new bout. "He was trying to fight through it and getting therapy but having a lot of pain," Lester Bedford, Escalante's manager, told ESPN.com. "He has a nerve problem in his right elbow and tendinitis in his left elbow. He's been having problems off and on but it never kept him from fighting. This kid has never pulled out of a fight in his life, but it was getting worse. He was in pain every time he was extending his arms. The doctor told him he needs to rest for six to eight weeks."

Garcia
• Golden Boy now settles into the weekly grind of putting together cards for the return of "Solo Boxeo Tecate" on Telefutura. Following former two-division titleholder Robert Guerrero's return in the April 30 debut, the second and third cards are also coming together. On May 7, junior welterweight prospect Danny Garcia (16-0, 10 KOs) headlines in his hometown of Philadelphia against Chris Fernandez (18-9-1, 11 KOs). On May 14 in the Bronx, N.Y., featherweight prospect Carlos Velasquez (12-0, 10 KOs), who looked tremendous in a fourth-round knockout of Ira Terry April 2 on "ShoBox," faces Alejandro Perez (14-2-1, 9 KOs), who had withdrawn from the April 2 bout because of an injury.

Tua
• Heavyweight David Tua (51-3-1, 43 KOs), who easily outpointed journeyman Friday Ahunanya in his home country of New Zealand on March 31, treks to Brazil to continue his self-titled "Tua De Force" on June 26 in Sao Paulo. Tua's opponent isn't signed yet, but he said they are trying to finalize a bout with faded former contender Monte Barrett. "I'm willing to fight anybody they put in the ring with me," said Tua, who lost his only title shot to Lennox Lewis in 2000. "I just want to continue fighting towards my dream of winning the world title. I'll leave the fight details to my trainer, Roger Bloodworth, and my promoter, Cedric Kushner."
QUOTABLE

Mayweather
"Shane Mosley's a good fighter, and I don't doubt that, but I truly believe that my nephew is the best fighter in the sport of boxing period, hands down. I'm not saying what Shane Mosley can't do, but whatever he can do, he can't do it better than Floyd. That's what I'm saying. I understand about boxing."
-- trainer Roger Mayweather, talking about his nephew Floyd Mayweather Jr., whom he will guide against Mosley on May 1 (HBO PPV) in the year's biggest fight so far.
QUOTABLE

Richardson
"The game plan I have is that I'm bringing Sugar Shane Mosley to the table. I'm not bringing those other 40 guys that he fought. I'm bringing Sugar Shane Mosley. I'm bringing another decorated, documented legend to the table. Some of the questions are going to have to be asked of Floyd Mayweather and what he's going to have to do to deal with Sugar Shane Mosley, because nobody said we're going to come in and follow the cookie-cutter ideology that these other athletes [took] when dealing with Floyd Mayweather. We're bringing Sugar Shane to the table."
-- trainer Naazim Richardson, Mosley's trainer, on the fight with Mayweather.