Can Vazquez, Marquez light the fire once more?

By Dan Rafael
ESPN.com
Archive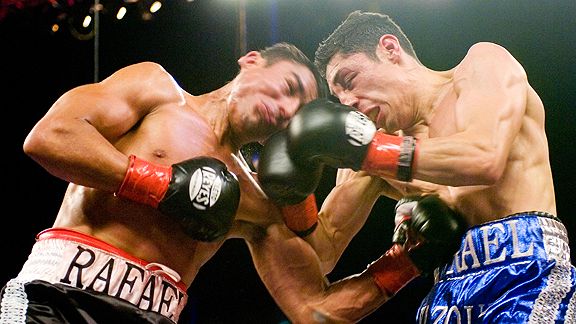 Chris Cozzone/FightWireImages In Rafael Marquez-Israel Vazquez I, the fighters traded blows before Vazquez retired on his stool.
What can Israel Vazquez and Rafael Marquez possibly do to top their already-legendary trilogy?
Maybe nothing, but the Mexican warriors are ready to try their best.
They'll meet Saturday night (Showtime, 9 ET/PT) at the Staples Center in Los Angeles in a continuation of one of boxing's greatest -- and most violent -- rivalries, in a fight appropriately titled "Once and Four All."
"I am so excited and so ready, I just want Saturday to get here," Vazquez said. "It is the biggest day of my life. With this fight, Marquez and I will definitely be part of boxing history, even more so than now. My motivation to win is like none I have had before."
Marquez, who trails the series 2-1, is also stoked even though some have said the two shouldn't fight again because of the damage they are likely to inflict on each other again.
"Israel Vazquez and I are destined to be intertwined together because of the legendary battles we have waged against each other, but I intend to close the book on our rivalry by dictating the final chapter," Marquez said. "I have never wanted to win a fight so much in my life. I'm training to win. I'm fighting for my legacy."
Their first three fights, each for the world junior featherweight championship, were instantly the stuff of legend. The first fight was merely sensational and a strong candidate for 2007 fight of the year. It was trumped by the rematch, which was also in 2007 and took the honors. The third fight, in 2008, was also named fight of the year and is regarded as the best of the three fights -- and one of the best in boxing history.
"There has been no greater privilege for me than to have promoted Corrales-Castillo I and the Vazquez-Marquez series," Marquez promoter Gary Shaw said. "At the end of the day, boxing and boxing fans are the winners. Rafael Marquez and Israel Vazquez are two of the greatest warriors ever. They are the stuff Hollywood movies are made from."
Marquez isn't surprised how intense their battles have been.
"Since the first few minutes of Round 1, I knew we would be destined to be part of a special series of real wars," Marquez said. "Our styles are perfect for each other. They mesh."
The fourth fight, a rarity these days, will be a nontitle bout in the featherweight division, but belts hardly matter when these guys are involved. What does matter is the pride each takes in giving it his all and the thrills they can give the crowd. Both expect the fourth chapter to be no less memorable than the previous three.
"It is going to be the greatest fight of the year," Vazquez said.
There are also high expectations for the co-feature, in which bantamweight titlist Yonnhy Perez (20-0, 14 KOs), a Colombian based in Santa Fe Springs, Calif., makes his first defense against friend and 2004 Mexican Olympian Abner Mares (19-0, 12 KOs), who also lives in Southern California and who could become the first world titleholder Golden Boy has developed from his pro debut.
"When it's time to fight, you know we will put forth nothing less than an all-out effort," Vazquez said. "We've done it three straight times, and I expect the same from both of us on Saturday."
"It's going to be a great fight -- just like the other three," Marquez said. "I can't wait to get in the ring. It's going to be a spectacle. Israel is a good fighter, and that's the kind of fights that we make. We're here to please the fans and that's exactly what we're going to do."
That is certainly what they did the first three times.
In their first fight on March 3, 2007, Marquez (38-5, 34 KOs), the bantamweight champion who was moving up in weight, claimed the junior featherweight title. He broke Vazquez's nose in the first round, but they waged a toe-to-toe slugfest for six more rounds until Vazquez (44-4, 33 KOs), barely able to breathe, retired on his stool after the seventh.
They fought the rematch on Aug. 4, 2007, and topped the searing action of the first fight as Vazquez regained the title by stopping Marquez in the sixth round of another brutal slugfest.
They fought for a third consecutive time March 1, 2008, and again exceeded the incredible ferocity of the first two bouts in an epic, all-time classic. Vazquez kept the title when he scored a knockdown in the final seconds of the fight and eked out a split decision, the knockdown being the difference.
But the fights took their toll. Vazquez needed multiple eye surgeries to repair a damaged retina. Both needed year-plus layoffs. Each has fought just once since the third fight, and neither looked particularly good.
However, they say they're refreshed from their layoffs and ready for another grueling battle, if that's what it takes to win. They also both admit they're doing it for the money, as they're set for the biggest of paydays. The sides will split the gate from a crowd expected to number about 10,000, plus Showtime's $1.6 million license fee.
"My mindset is totally on Saturday, and winning the fight. I'm sure Rafa's is too," said Vazquez, 32. "Physically, I am 100 percent and ready to go. ... Mentally and physically, I feel like a new man."
"I still feel physically fine," said Marquez, 35, who split with longtime trainer Nacho Beristain and is being trained by Hall of Famer Daniel Zaragoza. "The only thing that's different with me this time is I'm more mature."
Whatever happens Saturday, Vazquez and Marquez have established an incredibly high standard for action fights. You'll never be able to say one name without the other.
"With the three fights we've already had, I think Marquez and I have already solidified our legacy," Vazquez said. "But they asked if we wanted to do it again, so of course I said, 'Sure.' Why not? If the fans want this fight, so do I. I believe our rivalry is far and above the best rivalries ever, for one reason: Outside the ring, both of us totally respect each other as human beings. And that counts a lot to me."
Said Marquez: "I've always wanted a fourth fight with Vazquez. I didn't know if it would happen, but I'm very grateful."
It might be crazy, but could there possibly be a fifth match?
"A fifth fight?" Marquez asked. "Let's see what's left of us after the fourth one."
Next for Khan?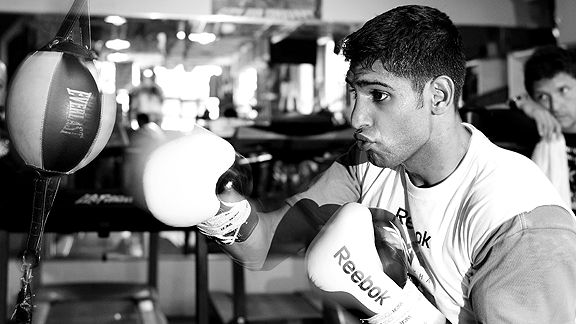 Ed Mulholland/FightWireImages.com Amir Khan hopes to be back in action again before August, with a fight in his native England.
Junior welterweight titlist Amir Khan, fresh from his near-flawless American debut and 11th-round TKO of Paulie Malignaggi, might return July 31 for a fight in his native England. Khan would like to fight before the start of the Muslim holiday Ramadan in mid-August.
If things work out the way Golden Boy CEO Richard Schaefer envisions it, Khan's fight will be held July 31 and will turn the HBO PPV card featuring Juan Manuel Marquez-Juan Diaz II in Las Vegas into a split-site card.
Schaefer told ESPN.com he has two venues on hold for Khan's fight -- the O2 Arena in London and the MEN Arena in Manchester -- and that he is planning a trip to England in early June to meet with British Sky television network executives about the fight and to talk to Khan's team about opponents.
"The date we have, the site we have, now we need to hone in on potential opponents," said Schaefer, who suggested Australian interim lightweight titlist Michael Katsidis, who blew out British contender Kevin Mitchell in England last week.
"I talked to Brendan Smith [Katsidis' manager], and what they would like to do is fight Marquez as the mandatory challenger," Schaefer said. "They might just wait to see what happens with Marquez-Diaz, but if the right opportunity comes along? They are not saying yes and they are not saying no."
Schaefer also said having Khan on the telecast with Marquez-Diaz could set up a fight with the winners.
"Let's say Khan and Marquez [the lightweight champion] win on the same card -- it would be possible to see them fight each other," he said. "Marquez wants to become the first Mexican to win a title in a fourth weight class, and maybe we could make the fight with Khan in the fall."
Khan's mandatory challenger is interim titlist Marcos Maidana, whom Khan said he wants to fight. But Maidana is unavailable for July 31 after withdrawing from a July fight against titlist Timothy Bradley Jr., claiming a back injury.
Calzaghe-Hopkins II?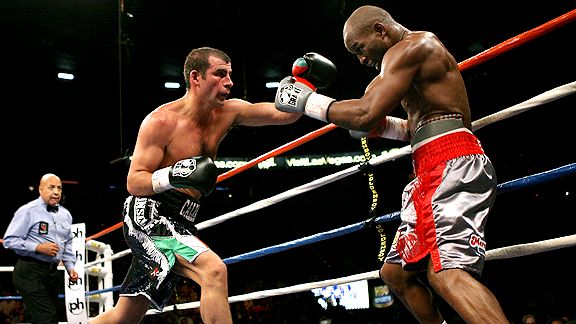 John Gichigi/Getty ImagesWill Joe Calzaghe consider ending his retirement to give Bernard Hopkins another shot at him?
Golden Boy's Richard Schaefer said that when he goes to Britain in early June one of the items on his agenda is to meet with former light heavyweight and super middleweight champ Joe Calzaghe, who is considering ending his retirement. Schaefer has designs on putting together a Calzaghe-Bernard Hopkins rematch, which would take place in Wales.
"I want to talk to Joe face-to-face and see what his plans are," Schaefer said. "We've talked and sometimes he's more inclined to say, 'Yes, I'm going to fight,' and sometimes it's, 'No, I'm not going to fight.' He's his own man and he'll do this on his own timetable."
Schaefer said he would also speak to Hopkins to gauge his interest in the rematch of the 2008 split decision won by Calzaghe. Schaefer said he and Hopkins smoothed things over in the wake of Hopkins' win against Roy Jones Jr. in April, when Hopkins was upset with remarks Schaefer made after the fight suggesting that Hopkins consider retirement.
"We're cool," said Schaefer, who sat with Hopkins at last week's Amir Khan-Paulie Malignaggi fight. "We told each other how much we love each other. We're going to sit down next week in L.A. and talk about a bunch of things. He's interested to fight and looking for the right opportunity. Maybe it's Calzaghe. Maybe it's [super middleweight titlist] Lucian Bute."
Dan Rafael covers boxing for ESPN.com.
QUICK HITS

W. Klitschko
• The IBF-imposed deadline for heavyweight champion Wladimir Klitschko to let the organization know if it could make a unification bout with titlist David Haye came and went without a deal, so Klitschko has been ordered to make his mandatory defense against Alexander Povetkin. "At this point, we are in the negotiation period for the Povetkin fight," said Shelly Finkel, Klitschko's adviser. "The time ran out and we didn't conclude anything with Haye." The IBF has given Klitschko and Povetkin a month to make a deal or it will call a purse bid. If the fight happens, it will be in Germany on Sept. 11 or 18. Sauerland Event promoter Chris Meyer, who handles Povetkin, said he may meet with Finkel next week in Germany while Finkel is there for brother Vitali Klitschko's May 29 title defense to begin negotiations. However, behind the scenes the talks between Wladimir Klitschko and Haye are continuing.

Dzinziruk
• Artie Pelullo, co-promoter of junior middleweight titlist Sergei Dzinziruk, said he was rebuffed by promoter Dan Goossen in an attempt to ignite talks for a fight with Paul Williams, once Dzinziruk's mandatory challenger before he was stripped of an interim belt. Pelullo said before Dzinziruk's May 14 American debut (a 10th-round TKO of Daniel Dawson), Goossen called him to wish him luck. "We've been friends for many years, and in my mind I think he was thinking about a possible Williams fight if Sergei won," Pelullo said. "I called him back after the fight said I'd like to talk about Williams and Sergei. He said they were looking to go back to welterweight. I told him if the plans change and you don't fight at 147, give me a call because I'd love to talk about a Williams fight." Dzinziruk, who ended an 18-month layoff with the victory and plans to continue fighting in the U.S., said he's ready for any name opponent at 154. "There are a lot of interesting names in my division," he said. "Paul Williams, the interim champion [Alfredo] Angulo, [Kermit] Cintron. I just have to be patient and I know I will meet the best in the division."

Pavlik
• Kelly Pavlik against Roy Jones Jr.? No, it's not in the works, but Cameron Dunkin, Pavlik's co-manager, told ESPN.com that Troy Ridgley, the former NFL player and Pittsburgh promoter who is friendly with Jones, called him to gauge Pavlik's interest in making the light heavyweight fight. "He said he was contacting me on Jones' behalf and was Kelly interested in the fight, even if we wanted to do it in Youngstown [Ohio, Pavlik's hometown]," Dunkin said. "No, there is no interest right now. I told him, 'Look, Roy just came off that terrible fight with Bernard Hopkins, and my guy just lost [the middleweight title to Sergio Martinez]. Why would we do a fight like that? There's not even any money in a fight like that."
• Top Rank middleweight prospect Matvey Korobov (11-0, 8 KOs) will be idle until at least early August so that he can have nose surgery to fix a breathing problem, manager Dunkin told ESPN.com. He said the 2008 Russian Olympian has a deviated septum, which has left him with an almost entirely clogged right nostril and a left nostril that is about 75 percent clogged. Dunkin said his fighter would have the surgery soon. "He's been having trouble breathing and I was wondering why he was getting tired in his fights," Dunkin said. "The surgery should do the trick. This is something that's been going on for a few years with him and it's time to get it fixed."
Jones
• Although ESPN rejected the Mike Jones-Irving Garcia welterweight bout for "Friday Night Fights," Showtime jumped at it and is finalizing it for July 9 on "ShoBox" in Atlantic City, N.J., Showtime's Gordon Hall told ESPN.com. Welterweight Antwone Smith will box in the co-feature. Lou DiBella, Smith's promoter, and Russell Peltz, Jones' promoter, both said they've come to terms on the card. What's intriguing is that there is talk of Jones fighting Smith. It was under consideration to open HBO's June 5 Yuri Foreman-Miguel Cotto card at Yankee Stadium, but Top Rank, which works with Peltz on Jones, went with the Vanes Martirosyan-Joe Greene bout instead. DiBella said having Jones and Smith on the same card should generate interest. "Out of the young welterweights, they are the two best American guys," DiBella said. "A fight between them was being considered, but [Top Rank and HBO] wound up going with the other fight. But Smith-Jones can be considered later. This card will be a great prelude to that and it will create a basis of comparison. I think it's just going to be fun."

Guerrero
• Middleweight prospect Fernando Guerrero (18-0, 15 KOs) returns to "ShoBox" on June 25 in Bernalillo, N.M., to face an opponent to be named in the main event, according to Showtime's Hall. Guerrero could face Derrick Findley (16-3, 10 KOs) or Alex Bunema (31-7-2, 17 KOs), either of whom would be a step up from the opponents he has been facing. The intriguing fight on the card is the co-feature, which pits junior welterweight prospect Lanard Lane (12-0, 7 KOs) and Michael Dallas Jr. (14-0, 5 KOs).

John
• Featherweight titlist Chris John's defense against Fernando Saucedo has been rescheduled for July 26 in Jakarta, Indonesia, John adviser Sampson Lewkowicz told ESPN.com. Indonesia's John (43-0-2, 22 KOs) was slated to make his 13th defense against Argentina's Saucedo (38-4-3, 1 KO) on May 22, but John suffered a shoulder injury, forcing postponement. It will be John's first fight since easily outpointing Rocky Juarez in a September rematch in Las Vegas.

Boytsov
• Heavyweight contender Denis Boytsov (27-0, 22 KOs), a German-based Russian, is out until September after undergoing right hand surgery to relieve chronic pain, promoter Universum announced. The 24-year-old had a piece of bone from his hip removed to stabilize the hand during the operation in Hamburg. "For several years, I've felt a lot of pain after my fights," Boytsov said. "The operation was successful and I already notice a large effect. Everything feels much more stable. In the coming months, my punching power will prove to be higher." Boytsov injured the hand when he was 17 during the World Amateur Championships and it never healed properly.

Gevor
• Although junior middleweight titlist Sergei Dzinziruk recently left German promoter Universum and middleweight titlist Felix Sturm has been embroiled in a lengthy dispute with the company, Universum worked out its problems with middleweight Khoren Gevor (31-4, 16 KOs). He elected to stay and will be rewarded with a July 17 shot at interim titlist Sebastian Zbik (29-0, 10 KOs). "I still have a lot of plans and am convinced that there is no better promoter with which to reach my goals," said Gevor, 31, who lost previous title bouts to Sturm and Arthur Abraham. "I'm glad that we can go on together." Said Universum's Klaus-Peter Kohl: "After Khoren had signaled that he would like to continue with us, we didn't hesitate. He has delivered great fights, and further attractive fights -- which have the stuff to be classics -- are possible with him."
• With all the attention paid to drug testing prior to the May 1 Floyd Mayweather Jr.-Shane Mosley fight, it's no surprise their drug tests came back clean. All of the fighters on the card were clean except junior lightweight Gilberto Sanchez Leon (29-7-2, 9 KOs), according to Nevada Athletic Commission executive director Keith Kizer. After Sanchez Leon was outpointed by prospect Eloy Perez, his urine sample tested positive for Nandrolone Metabolite (an anabolic agent), Kizer said, adding that Sanchez Leon had been temporarily suspended pending a hearing.

Donaire
• Interim bantamweight titlist Nonito Donaire will open Showtime's July 10 card in San Juan, Top Rank's Carl Moretti told ESPN.com. He has no opponent yet, but under consideration are former titlist Jose "Carita" Lopez (39-8-2, 32 KOs) of Puerto Rico and Mexicans Victor Zaleta (15-1, 8 KOs) and Hernan Marquez (27-1, 20 KOs). … Moretti also said welterweight prospect Mike Alvarado will be on Top Rank's June 26 "Latin Fury 15" undercard. It hasn't been determined who will open the telecast -- Alvarado or featherweight prospect Salvador Sanchez. … Rather than fighting June 26 in Brazil, as originally planned, heavyweight David Tua (51-3-1, 43 KOs) will meet Monte Barrett (34-9, 20 KOs), loser of three straight and six of nine, July 17 in Atlantic City, N.J. … Ex-heavyweight champ Hasim Rahman (46-7-2, 37 KOs) will face Shannon Miller (16-4, 9 KOs) June 19 in Niagara Falls, N.Y., in Rahman's second bout since champion Wladimir Klitschko crushed him for seven rounds in December 2008. … On June 12 in Mexico, Manny Pacquiao protégé Richie Mepranum (22-2-1, 5 KOs) will face Mexico's Julio Cesar Miranda (31-5-1, 24 KOs) for the flyweight belt vacated by Omar Narvaez. … Ex-titleholders Mzonke Fana (29-4, 12 KOs) and Cassius Baloyi (37-4-1, 19 KOs) will meet in a rematch for the junior lightweight belt vacated by Robert Guerrero. The South African countrymen fight Aug. 6 in Johannesburg. Baloyi claimed a majority decision the first time, taking Fana's belt in April 2008.
QUOTABLE
V. Klitschko
"Fights against David Haye and Nikolai Valuev are interesting fights, but I am not sure if they dare to step in the ring with me or my brother [Wladimir Klitschko]. Anyway, I am not thinking of any opponents other than Albert Sosnowski."
-- Heavyweight titlist Vitali Klitschko, on potential future bouts following his defense against Sosnowski on May 29 (Integrated Sports PPV, $24.95).