Judah moving on down to jump-start career

By Dan Rafael
ESPN.com
Archive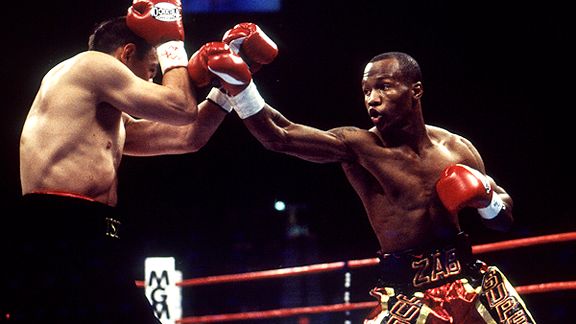 John Iacono/SI/Icon SMIIt's been awhile since we've seen Zab Judah, right, campaign as a junior welterweight.
Zab Judah, the former two-time junior welterweight titlist and former undisputed welterweight champion, has been to the top.
He's also scraped bottom more than he probably cares to remember -- losing fights he was supposed to win (like to Carlos Baldomir), being badly knocked out (by Miguel Cotto) and having his license revoked for a year and being fined $250,000 (for his role in a melee that took place during his loss to Floyd Mayweather).
Judah has had more chapters in his career than a good book. He's hoping to start yet another one now that he's reunited with original promoter Main Events and returns to action July 16 after an eight-month layoff.
"At this part of my career, I have some say with what goes on and I want to finish my career off strong, like I started it," said the 32-year-old Brooklyn, N.Y., native.
Judah is going "just across the water, a hop, skip and a jump from New York," to headline "Friday Night Fights" (ESPN2) at the Prudential Center in Newark, N.J., where he'll face former interim lightweight titlist Jose Armando Santa Cruz at a maximum weight of 143 pounds.
Judah said his days at 147 are over and that his intention is to fight in the deep 140-pound junior welterweight division. Certainly, the addition of a name fighter like Judah to the talented crop of youngsters at 140, including titleholders Devon Alexander, Timothy Bradley and Amir Khan, would add even more interest to the division than there already is.
"At the 140 pounds, I want to let people know I am the best," Judah said. "My plan is to make 140. I can make it now."
Judah (38-6, 26 KOs) won't be at 140 to face Mexico's Santa Cruz (28-4, 17 KOs) because he said there is no reason.
"Why do it now? There's no title involved in this fight and those three extra pounds are a comfort, like a comfy pillow," he said. "But I'm campaigning at 140. That's my thing. I don't want to hear no questions about 147."
Judah had success at welterweight, beating Cory Spinks to become undisputed champ in 2005, but he said the move up in weight was only for money. He said he wants to fight men his own size now.
"I always felt that fights I was getting, guys were bigger than me," Judah said. "What if we went to my weight class and we were the same size, how would I do then? A lot of time when I fought, I would only go up to like 151, maybe 150, after I weighed in. I was giving away too much. Let me go back to where I'm comfortable."
Between the size aspect and potential riches at 140, Judah decided to move down.
"There are a lot of talented fighters at 140 pounds. That is one of the main reasons I am coming back to the division," he said. "Khan has good speed and power. Devon is a young little plant that is starting to sprout flowers. Bradley is a fast fighter with speed and power. You gotta give it up to him. That's why I want to be in this weight class."
Judah, of course, is also very confident.
"But compared to my skills, they're still green to me and I can go in there and steal from these little kids. I'm like a schoolyard bully," Judah said. "They're like little kids to me. I can go in there and take what's mine. I don't need to single them out and make one feel bigger than the other. Whichever one comes first, we'll figure out who will be the next victim."
Most assume he'll get past Santa Cruz, so Judah addressed the big three in the division: Alexander, Bradley and Khan, all of whom are fighting on HBO, which has televised many Judah fights.
Alexander is from St. Louis, where Judah has a history; it's where he knocked out hometown fighter Spinks.
"Devon is a good fighter, but the fight with Devon isn't about Devon. It's about St. Louis and Zab," said Judah, who could have faced Alexander in August on HBO but didn't want to have to re-sign with Alexander promoter Don King to get the fight. "They get these fly-by-night champions in St. Louis. Like a Batman movie, they put out the signal and I go to St. Louis and clean up for them. He happens to be one of the guys holding a title at 140, so he can be next in line. I'm like a hungry wolf.
"I want to fight him in St. Louis. It's like my third home. I would love for it to be in St. Louis. They need to get that fly-by-night champion out of there."
Judah attended Khan's dominant 11th-round knockout of fellow New Yorker Paulie Malignaggi on May 15 and came away impressed with the Brit.
"I like the kid. He's a good fighter," Judah said. "He has a longer reach than I thought he did. I think it would be a good matchup for Zab Judah."
Judah was offered a July fight with Bradley but didn't take it as he sorted out his promotional situation.
"I've seen him fight a couple of times. He's a smaller fighter," Judah said. "Every now and then he tries to be a bully. I think that would be another excellent fight for myself."
Eventually, Judah hopes to be back on HBO in one of those big fights.
"Me and HBO are cool. That's the Home Boy Network," he said. "It's a business. I understand what they want. They want exciting fights, we want big money. We gotta meet in the middle.
"We'll be looking to sit down with those guys very shortly."
Main Events' Kathy Duva said she's already talked to HBO about Judah and that "they want to see him get into the ring and fight" and then they'll talk more specifically. She added that if Judah is successful next month, the plan is for Judah to fight again Oct. 2 in Newark.
Calderon by knockout?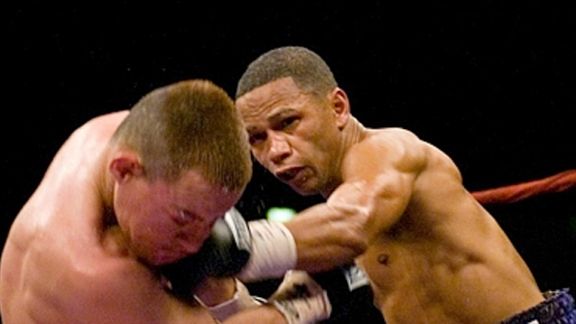 Chris Cozzone/FightWireImages Ivan the Terrible: Calderon, right, promises to bring the pain to Jesus Iribe.
With Puerto Rican star Miguel Cotto defeating Yuri Foreman last week at Yankee Stadium, promoter Top Rank still wanted to have a Puerto Rican-themed fight card Saturday night, the eve of the annual National Puerto Rican Day parade in New York.
That's where junior flyweight champion Ivan "Iron Boy" Calderon (33-0-1, 6 KOs), the island's second-most popular active fighter, comes in. He'll defend his 108-pound title for the sixth time against Mexico's Jesus Iribe (17-6-4, 10 KOs) at the Madison Square Garden Theater on Saturday night on "Top Rank Live" (FSN/FS en Espanol, 10 ET).
Calderon, 17-0-1 in world title fights, is known for superb boxing skills but a severe lack of power. Nonetheless, the 35-year-old surprisingly predicted a knockout.
"You are going down and getting knocked out on Saturday night," Calderon told Iribe, who lost previous title fights to Brian Viloria and Edgar Sosa, during a media appearance.
Calderon, who hasn't had a knockout since stopping Miguel Tellez in the ninth round of a 2006 strawweight defense, later said, "I looked into his eyes and saw a troubled fighter. I'm always in tough title defenses. Nothing easy comes my way. When I looked at Iribe I saw something -- a twitch, a tremble, a weakness. So I told him straight up what will happen on Saturday night."
Iribe laughed off Calderon's prediction.
"I am fighting for the world title and I am expecting him to run from me," he said. "I'll catch up and beat him. I will be such a big hero in Mexico."
Funeka suspended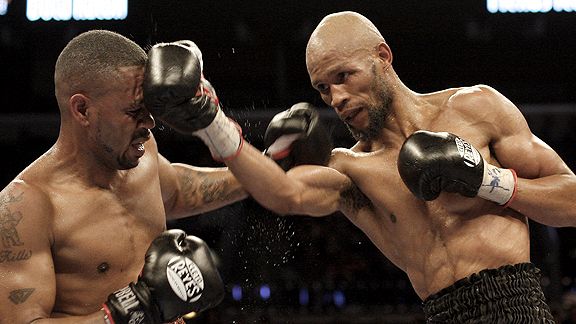 ICON/SMIAli Funeka, right, will serve a nine-month suspension for testing positive for a diuretic.
South Africa's Ali Funeka (30-3-3, 25 KOs) was suspended this week by the Nevada State Athletic Commission for nine months, fined $35,000 of his $105,000 purse and ordered to pay back $15,625 to Joan Guzman for testing positive for a banned substance, according to executive director Keith Kizer.
Funeka tested positive for the diuretic hydrochlorothiazide following his split decision loss to Guzman on March 27 in Las Vegas. Guzman had paid the $15,625 to Funeka out of his purse as a punishment for showing up nine pounds over the 135-pound lightweight limit.
They were slated to fight for a vacant belt in a rematch of their 2009 draw, but only Funeka could win it because of Guzman's weight.
"It's unfortunate for Ali Funeka, as he was an innocent victim of circumstance. He's poor and can ill afford to give up this much out of his purse," Gary Shaw, Funeka's co-promoter, said. "However, he did break the rules of the Nevada commission and for that he must take his punishment, but he will be back to win a world title."
Before being reinstated, Kizer said Funeka has to supply a clean urine test.
QUICK HITS

Khan
• Junior welterweight titlist Amir Khan won't fight July 31, as had been discussed, Golden Boy's Richard Schaefer told ESPN.com. Schaefer is in England this week and met with Khan to discuss a potential fight with Joel Casamayor or Michael Katsidis. It would have taken place in England and televised in the U.S. as part of the HBO PPV show headlined by the Juan Manuel Marquez-Juan Diaz rematch. However, Khan will instead be in Las Vegas ringside for that fight. Schaefer said Khan won't fight mainly because Sky, the British network he was talking to about Khan, "feels that July and August are big holiday months and everyone is gone plus you have the World Cup, which is like religion there, so that's bad for pay-per-view." Schaefer said Khan would more likely return in November or December, possibly in the U.S. against Marquez if he beats Diaz.

Linares
• With Khan's slot now available on the pay-per-view, Schaefer said he's revisiting trying to make a fight between Casamayor and Robert Guerrero. Golden Boy matchmaker Eric Gomez told ESPN.com both sides have agreed to fight, but they're trying to work out money with Casamayor. If the fight happens, it would be at a maximum weight of 138 pounds, Gomez said. One fight that is on the July 31 undercard is between former two-division titlist Jorge Linares and Rocky Juarez, who will meet at 133 pounds. Both are in dire need of a high-profile victory. "I think to have Linares back [fighting in the U.S.] and fighting a credible opponent like Rocky, I think it's a big test for Linares, and it's high noon for Rocky. It's a very interesting matchup," Schaefer said.

Berto
• Welterweight titlist Andre Berto and promoter Lou DiBella talked about the possibility of Berto moving down to junior welterweight, where there are major fights brewing. However, Berto told ESPN.com that it's probably unlikely he would drop all the way down. "Nah, maybe a catch weight (between 140 and 147) if it makes sense for a huge fight," Berto said. "I wouldn't go all the way down for nothing less than a megafight. I'm staying at 147. That's where all the action fights are, [where] the megafights are." Berto has designs on fighting welterweight Manny Pacquiao and Floyd Mayweather Jr.

Froch
• The tentative date for the Arthur Abraham-Carl Froch Super Six fight is Sept. 18 in Europe and Showtime would pair it with another fight, perhaps one featuring Rafael Marquez or Vic Darchinyan, taking place in the U.S. However, the handlers for Abraham and Froch are still arguing over the venue. Froch says he won't fight in Germany because he doesn't believe he can get a fair shake and wants to fight in his hometown of Nottingham, England. Abraham's team wants the fight in Germany. Froch has suggested that he would be OK fighting on neutral turf in Montreal. However, that would minimize the revenue. "For me, he is just f---ing scared," said Chris Meyer, general manager of Abraham promoter Sauerland Event. "Mikkel [Kessler] must have broken his pride. That's not the Froch anymore that went to the USA to fight [Jermain] Taylor." In his two fights in the tournament, Froch eked out a split decision against Andre Dirrell in Nottingham and then lost a unanimous decision to Kessler in Denmark, where he said he was the victim of a hometown call.

Huck
• German promoter Kalle Sauerland, whose Sauerland Event promotes one-third of the Super Six field in Kessler and Abraham, hopes to bring the round-robin tournament concept to other divisions. He's eyeing cruiserweight. The company promotes Steve Cunningham, whom it recently signed and saw win a vacant belt last week, as well as titleholder Marco Huck. "After the tremendous success of the Super Six tournament, we will be trying to put together something similar in this exciting division. … I can promise fight fans all over the world that the best will be fighting the best at cruiserweight, too. We will try to sort out the details in the next couple of weeks." Huck (29-1, 22 KOs) will make the fourth defense of his belt Aug. 21 in Erfurt, Germany, against an opponent to be named.

Mora
• Former junior middleweight titlist Sergio Mora (22-1-1, 6 KOs), who stopped Calvin Green in the seventh round April 3 on the Bernard Hopkins-Roy Jones II undercard to end a 16-month layoff, returns July 23, manager Cameron Dunkin told ESPN.com. Mora, now a middleweight, headlines a Telefutura card in Temecula, Calif., against former junior middleweight title challenger J.C. Candelo (30-10-4, 20 KOs). "Sergio really wants a title fight after this," Dunkin said. He said ideally Mora would get a shot at the winner of the July 31 Daniel Jacobs-Dmitry Pirog vacant title bout. "If Jacobs wins, like most people think he will, then we would like to fight him. Hey, if the other guy wins, we would love to fight him too, although making a fight with Jacobs would be easier since we're both with Golden Boy. But Sergio definitely wants to fight for the title after this."

Luevano
• Former featherweight titlist Steven Luevano (37-2-1, 15 KOs), who lost his belt when Juan Manuel Lopez stopped him in the seventh round in January, is getting ready to return. "He's been training for two weeks," said Dunkin, Luevano's manager. "He wants to fight in July or August and he'd like to stay at 126. There are still good fights for him. Chris John would be a good fight for him. Celestino Caballero. Steven will fight anyone." Dunkin said Luevano's return probably would come on a "Top Rank Live" card.

Bika
• Golden Boy this week won a purse bid for the super middleweight title eliminator between Sakio Bika and Jean Paul Mendy. The winner will become the mandatory challenger after Jesse Brinkley gets his shot at titlist Lucian Bute in the fall. Golden Boy, the only bidder, won Bika-Mendy with a bid of $30,000. Bika gets 60 percent ($18,000) and Mendy 40 percent ($12,000). Mendy's side rejected an offer of $50,000 from Golden Boy to force the purse bid, which turned out to be a whopping error.

Molitor
• Junior featherweight titlist Steve Molitor (32-1, 12 KOs) hasn't fought outside of Canada since 2007, but last time he did it was in England in November 2006, when he stopped Michael Hunter in the fifth round for a vacant belt. Molitor is 3-0 in England and looking to go to 4-0 when he leaves the comfort of Rama, Ontario, for an optional defense against British and Commonwealth champion Jason Booth (35-5, 15 KOs) on July 23. Molitor, who will be making the first defense of his second reign, which began in March when he claimed a vacant belt, is familiar with the Booth family. In 2002 in England, Molitor outpointed Nicky Booth, Jason's younger brother. "He wants my belt and some revenge for his brother," Molitor said. "But I'm not leaving anything to chance. That title is coming back to Canada." Said Booth, a recovering alcohol and drug addict: "I owe him for what he did to my brother and Nicky has already given me some tips. He said, 'You better train hard because he's good.' I know what to expect from him, though. He's a class act and he's a good fighter."

Gamboa
• Top Rank and HBO are haggling over the money, but assuming they come an agreement, the July 24 "Boxing After Dark" card will feature Yuriorkis Gamboa in a featherweight unification bout with Orlando Salido and lightweights Anthony Peterson and Brandon Rios in a lightweight eliminator at The Palms in Las Vegas. … Heavyweight contender Tony Thompson suffered a shoulder injury training, forcing his fight against Friday Ahunanya to be called off. They were scheduled to meet June 19 on the Andre Ward-Allan Green undercard. … Welterweights Demetrius Hopkins (29-1-1, 11 KOs) and Mike Arnaoutis (22-5-2, 10 KOs) meet July 2 (ESPN2) in Ontario, Calif. … Showtime's July 16 "ShoBox" card headlined by middleweight Fernando Guerrero with junior welterweight Lanard Lane facing Mike Dallas underneath, has been expanded to a tripleheader to include junior middleweight Shawn Porter.
QUOTABLE
Ward
"He's desperate to win it. I'm desperate to keep it. You got two desperate men in the ring."
-- super middleweight titlist Andre Ward, on the importance of his title when he meets Allan Green on June 19 (Showtime) in the final Group Stage 3 bout of the Super Six World Boxing Classic
QUOTABLE
Green
"Preparation is the key word. I know I have the power to knock Andre Ward out, but I'm not looking for a one-punch knockout with him. If he opens himself up for a knockout, I'm going to take it. He's a very clever fighter and a hard fighter to catch with a knockout punch. I'm going to fight a smart fight. My training and conditioning have prepared me to go 12 rounds if I have to go the distance."
-- Green on next week's title shot