Arum letting Lopez-Gamboa marinate

By Dan Rafael
ESPN.com
Archive
Top Rank's Bob Arum promotes Juan Manuel Lopez and Yuriorkis Gamboa, two of the most exciting fighters in the world. They're both undefeated and both hold featherweight titles. Arum's master plan is for them to eventually meet in what would surely be a major fight.
But Arum is also a businessman. He wants to build the fight. He wants to let it, as he says, "marinate."
He doesn't believe it's ready yet and perhaps won't be for another year. Until the pressure mounts and the dollars pile up, Arum said, he's content to have them fight other titleholders and contenders in the deep division, and if and when they're still standing, he'll match them.
Arum isn't shy about his intentions either. After Lopez vacated his junior featherweight title and won a featherweight belt in January by stopping Steven Luevano in the seventh round and Gamboa retained his belt on the undercard by blowing away Rogers Mtagwa in two rounds, Arum addressed the situation head on.
"When everyone is panting about seeing these guys fight each other, I'll do a big, big blowout kind of show. I promote both of them. I owe it to both of them to make them the biggest amount of money they can make," Arum said, adding that he has next summer in mind. "It's a great fight, but it's got to be the kind of fight where, even though they are only 126 pounders, they will make a s--- load of money."
Gamboa has a unification match with Elio Rojas slated for Sept. 11 as he tries to roll toward Lopez. For his part, Lopez makes his first title defense against fellow Top Rank fighter Bernabe Concepcion, a 22-year-old Manny Pacquiao protégé from the Philippines.
They meet Saturday night (Showtime, 9 ET/PT) in San Juan, Puerto Rico, where Lopez has become the island's second-most popular active fighter behind Miguel Cotto.
In the Showtime opener, Nonito Donaire (23-1, 15 KOs) defends his interim junior bantamweight belt against Hernan "Tyson" Marquez (25-1, 18 KOs) in what is expected to be Donaire's final bout at 115 pounds before moving up to bantamweight, where he'd like to face unified titlist Fernando Montiel, or even junior featherweight.
Although there are big plans for Lopez (28-0, 25 KOs) beyond Concepcion (30-2-1, 17 KOs), he said he isn't taking him for granted, even though he's a significant favorite.
"Concepcion is a very strong guy," Lopez said through translator Ricardo Jimenez. "We know he has power, but we also know with our speed and movement we should be able to defeat him. You have to give him credit for taking the fight here. He's a professional and he's willing to come here, but there are only two guys in the ring fighting. You have to respect that he would come to my home to fight me."
Concepcion earned the fight in a de facto eliminator when he outpointed Mario Santiago in surprisingly easy fashion in February in a fight in which Arum had promised the winner a shot at Lopez.
Although Lopez, 27, has scored numerous early knockouts, he said, "I think it's going to be a long fight. I know he's not a great defensive fighter and he gets hit a lot, so it could be a short fight. But I don't expect that. I think he'll try to put a lot of pressure on me. I think he'll be able to take my punches and be in condition, but as the fight goes deeper, it will be to my advantage and I can hurt him later in the fight."
If Lopez wins and comes away uninjured, there is already a deal in place for his next fight. He's lined up for a Sept. 18 Showtime fight at the MGM Grand in Las Vegas against Rafael Marquez, the Mexican action star and former two-division champ coming off a third-round stoppage of rival Israel Vazquez in their fourth fight in May.
It's all part of Arum's plan to have Lopez and Gamboa face other top featherweights before facing each other. The fight with Concepcion was planned long before the Marquez fight came up, but even though it's now on the books, Lopez insisted he's not looking ahead.
"I'm just thinking about this fight," he said. "I know that fight is out there and I know I will eventually fight him, but I'm only thinking about Saturday night. After that I will think about what's next.
"I have a fight and a fighter who will be tough, so you can't be thinking about anyone else. But Marquez is a [future] Hall of Famer and it's been a dream of mine to fight him. So of course, I'm motivated for Saturday night like I am for any fight, but even more because I think he might be the next one.
"There are a lot great fighters and interesting fights that can be made in this division and I look forward fighting them. Sooner or later there will be two of us left and I hope to be one of them, and when we make that fight with Gamboa it's going to be one of the biggest fights the division has ever seen."
Marquez is expected to attend the bout and to formally announce the September fight afterward, assuming Lopez wins.
Arum said he doesn't think Lopez will feel the pressure of that situation as he readies to fight Concepcion.
"He's a grounded kid. He's the kind of kid who is disciplined, who is not looking ahead to the next fight, so I'm not concerned that he is looking past Concepcion," Arum said. "But the Filipino is a tough, tough kid with a great, great punch. If you relax for a second he can tag you, and then it's all over.
"We didn't make this fight as a setup fight. We weren't even contemplating the Marquez fight when we made this fight. Concepcion is a legitimate tough opponent. The featherweight division is really heating up isn't it?"
Barrera going for lightweight belt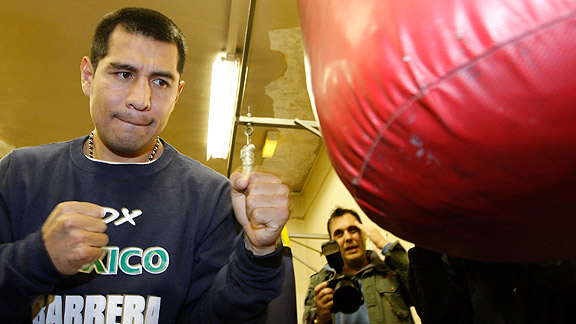 AP Photo/Jon SuperMarco Antonio Barrera is determined to clinch another title in a fourth weight class.
Marco Antonio Barrera, a former junior lightweight, featherweight and junior featherweight champion, will get the opportunity he's wanted -- to fight for a lightweight title knowing a victory will make him the first Mexican fighter to win belts in four weight classes. Barrera's bitter rival, Erik Morales, tried and failed against David Diaz in 2007.
Top Rank's Bob Arum, who now promotes Barrera after years or doing battle against him, including with Morales, told ESPN.com that Barrera (66-7, 43 KOs) will challenge lightweight titlist Humberto Soto. Although they talked about the fight taking place in Mexico in September, Barrera probably will take one more fight before facing Soto.
In his first fight with Top Rank, Barrera, 36, easily outpointed Adilton De Jesus on June 26. After the fight Arum said he would eventually give Barrera a shot at one of the two 135-pound titlists he promotes, Soto or Miguel Acosta. Arum said this week it would come against Soto.
"That is definitely happening," Arum said.
Top Rank is planning a pay-per-view card from Mexico on Sept. 25 featuring Julio Cesar Chavez Jr., who is coming off his impressive win against John Duddy on the same show that Barrera beat DeJesus. Barrera's tune-up could come on the undercard before he goes for a belt against Soto.
"I don't know who wins that fight. Sometimes I think Barrera, sometimes I think Soto. I don't know," Arum said. "I'm not thrilled with these titles anymore, but for Barrera it's big. It's a big goal for him to be the first Mexican to get a title in that fourth division."
Soto (52-7-2, 32 KOs) won a vacant belt against Diaz in March and has made one defense.
Sturm saga over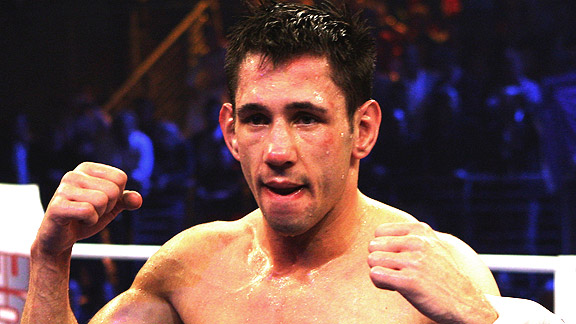 Vladimir Rys/Bongarts/Getty ImagesA free man: Felix Sturm has cut ties with promotional outfit Universum.
Middleweight titleholder Felix Sturm, idle since last July during a legal battle over his contract with Universum, reached a settlement this week with the German promoter and is now a free agent.
"Universum Box-Promotion and Felix Sturm have come to a settlement of the lawsuit and will amicably go our separate ways," Universum said in a statement. "Both sides have agreed to keep the details of the settlement confidential. Universum wishes Felix Sturm all the best for the future."
According to German media reports, however, a German court ruled that Sturm (33-2-1, 14 KOs) could buy his way out of the contract for $1.2 million -- less than Universum was seeking -- which he did.
Sturm, under his own promotional banner, is expected to defend his title Sept. 4 in Germany.
A Sturm representative has offered the fight to junior middleweight contender Kermit Cintron (32-3-1, 28 KOs), according to Lou DiBella, Cintron's promoter.
"They made us an extremely low offer, but an offer to fight for a middleweight title in Germany," DiBella told ESPN.com. "We're interested and we're talking, but right now the money is just way too low. If we can work it out, Kermit is interested and obviously considering it."
Cintron doesn't have many notable options in the U.S. following his HBO-televised debacle in May against Paul Williams, in which Cintron fell out of the ring and didn't continue in the what became a four-round technical decision loss.
QUICK HITS

Pavlik
• Former middleweight champ Kelly Pavlik, who lost his title to Sergio Martinez in April, is making plans for a fall ring return, Cameron Dunkin, Pavlik's co-manager, told ESPN.com. "Kelly is just waiting to hear from me and from Top Rank. They have talked to me about a small fight in October, probably at 168. They asked me if Kelly would be interested in fighting again in mid-October and I said absolutely. Kelly is ready to get started and get going again." Top Rank's Carl Moretti told ESPN.com that the fight Dunkin was talking about was a possible match in Montreal on Oct. 15. Moretti said InterBox, promoter of super middleweight titlist Lucian Bute, has offered Pavlik a spot on the undercard of Bute's title defense against Jesse Brinkley at the Bell Centre. An eventual match between Bute and Pavlik has been discussed as an HBO bout for next year. Having them on the same card and on the same schedule would stoke interest in an eventual showdown.

Luevano
• Former featherweight titlist Steve Luevano (37-2-1, 15 KOs) will be released by Top Rank, the only promoter he's ever been with, manager Dunkin told ESPN.com. Top Rank signed him out of the amateurs in 2000 and guided him to a featherweight title in 2007. He made five defenses before Juan Manuel Lopez stopped him in the seventh round in January. "He's being released. They sent me the paperwork," Dunkin said. "Steven didn't ask for a release, but (Top Rank's) Carl Moretti told me they didn't have anything for him, there wasn't a place for him and it didn't make any sense to keep him." Dunkin was not happy with the situation, adding that, "I was told when he fought 'Juanma' that they were going to take care of him no matter what happened, and not turn their back on him, but you know how that goes. We're big boys. We understand. It's just business."

Ortiz
• Junior welterweight contender Victor Ortiz (27-2-1, 21 KOs), coming off a lopsided decision against Nate Campbell May 15, is penciled in to fight on Golden Boy's Sept. 18 Shane Mosley-Sergio Mora pay-per-view undercard from the Staples Center in Los Angeles. Golden Boy CEO Richard Schaefer told ESPN.com that Ortiz's likely opponent is former titleholder Vivian Harris, who is also with Golden Boy. "That is the fight we are working on," Schaefer said. Harris (29-4-1, 19 KOs) is coming off a highly controversial fourth-round TKO loss to Lucas Matthysse, who wouldn't give him a rematch.

Julio
• Junior middleweight Joel "Love Child" Julio (35-4, 31 KOs) will look to rebound from an 11th-round knockout loss to Alfredo "Perro" Angulo when he fights Aug. 21 in Newark, N.J., on the undercard of heavyweight contender Tomasz Adamek's bout with Michael Grant. "We have penciled in the 'Love Child' for the co-feature and plan to start moving him back down to 147," Main Events' Kathy Duva told ESPN.com. Julio probably will weigh about 152 in an effort to eventually get down welterweight, where he was most formidable. Main Events and Integrated Sports are putting the finishing touches on a deal that will see the card available on pay-per-view for $29.95.
• British promoter Frank Maloney got himself a new two-year deal to provide England's Sky Sports with regular Saturday night fight cards beginning in September. Sky has been airing boxing on Fridays, but the move to Saturday, a higher-profile night for fights, is viewed as a positive move for the sport in England. "It is a massive boost for boxing in general that they have decided to move our sport from Friday to Saturday and proves how committed they are," said Maloney, who is best known for his work with Lennox Lewis. "The two year-deal also gives me time to develop other fighters that I am very excited about." Two of his blue-chip prospects were both 2008 Olympic bronze medalists: super heavyweight David Price and light heavyweight Tony Jeffries.

Estrada
• After pulling out of several fights because of ongoing problems with his right hand, super middleweight prospect Shawn Estrada (6-0, 6 KOs), a 2008 U.S. Olympian, is again scheduled to fight. He's slated to go July 23 in Lemoore, Calif., on the ESPN2 undercard of the show headlined by light heavyweight titlist Beibut Shumenov in his mandatory defense against Vyacheslav Uzelkov. Because of the injury and surgery, Estrada hasn't fought since May 2009.
• The vacant lightweight title bout between Ji Hoon Kim (21-5, 18 KOs) and Miguel Vazquez (25-3, 12 KOs), which will take place Aug. 14 in Laredo, Texas, has gained U.S. TV distribution. The bout will headline an edition of "Top Rank Live" on Fox Sports en Espanol. In the co-feature, hot contender Mikey Garcia (22-0, 18 KOs) faces Cornelius Lock (19-5-1, 12 KOs) in a title eliminator that sets up the winner for a mandatory shot at Orlando Salido. Since Salido and Garcia are promoted by Top Rank, the company could have given Garcia a shot without having him fight an eliminator. However, Garcia's team accepted the fight. "It's a tough fight. Lock can punch, he's got a lot of experience and he's dangerous as hell," said Cameron Dunkin, Garcia's manager. "Top Rank wanted to do this fight and we're OK with it." Lock is coming off a competitive points loss to former junior featherweight titlist Daniel Ponce De Leon on the May 1 Floyd Mayweather-Shane Mosley undercard.

Marquez
• Fight fans will be able to see the Juan Manuel Marquez-Juan Diaz lightweight title rematch, and the accompanying undercard, live on July 31 in nearly 300 movie theaters around the country thanks to the continuing relationship between promoter Golden Boy and NCM Fathom. This will be the fourth fight Golden Boy and NCM Fathom have brought to the big screen, following on the heels of Floyd Mayweather's bouts with Juan Manuel Marquez and Shane Mosley and the Bernard Hopkins-Roy Jones rematch. "Seeing a battle like this on the big screen is an incredible front-row experience for fans who love to experience the thrill of boxing matches in their local movie theater," said NCM Fathom vice president Dan Diamond. "This rematch between two great champions on 40-foot screens and in HD is as close to being ring-side as you can get."

McBride
• Heavyweight Kevin McBride, the one-hit wonder who ended Mike Tyson's career with a sixth-round knockout in 2005, is ending a nearly three-year layoff Saturday night. McBride (34-6-1, 29 KOs), who was knocked out by Mike Mollo and Andrew Golota in his post-Tyson fights, faces Zack Page (20-29-2, 7 KOs) in an eight-rounder in Poughkeepsie, N.Y. The card is available for $12 on NESportsTV.com. "Nobody thought I could beat Tyson and I did," McBride said. "They didn't believe in me then and they're going to doubt me now. I beat Tyson under tremendous pressure and feel that I'm capable of beating anybody. I've been out of action 2˝ years. I had injuries to my back, ankle and wrist, but I'm healed now and ready to go all out. I was supposed to get a world title shot after I beat Tyson, but I didn't and that took away my hunger for boxing."

Foreman
• Former junior middleweight titlist Yuri Foreman is up and about after right knee surgery following his title-losing ninth-round TKO to Miguel Cotto on June 5 at Yankee Stadium. Foreman said he is now "walking a bit with a knee brace" and that "rehab (is) going well, but I would like to speed up the process." He expected to return in February. & Junior lightweight contender Argenis Mendez (16-1, 9 KOs), coming off the biggest victory of his career, returns to headline promoter Lou DiBella's "Broadway Boxing" card against Shamir Reyes (18-6-2, 7 KOs) July 28 in Manhattan. Mendez, a 2004 Dominican Olympian, outpointed Martin Honorio in May to muscle his way into the top 10 rankings. & Featherweight contender Antonio Escalante returns to headline Telefutura's "Solo Boxeo Tecate" Aug. 6 from his hometown of El Paso, Texas, against Edel Ruiz. Escalante, who has been bothered by elbow problems that forced to withdraw from a fight a couple of months ago, is coming off a decision win against Miguel Roman on ESPN2 in a fight of the year candidate.
QUOTABLE
Caballero
"Great champions are willing to fight great champions. I should not be victimized by the politics of boxing or the cowardice of other fighters. Why should I have problems feeding my family because I'm too good?"
-- featherweight contender and former unified junior featherweight titlist Celestino Caballero, on his inability to get any of the top featherweights to fight him, particularly titlist Yuriorkis Gamboa, who refused the bout HBO most wanted.