Diaz sees Marquez bout as win-win situation

By Dan Rafael
ESPN.com
Archive
LAS VEGAS -- Juan Diaz began his career by winning his first 33 fights and unifying three lightweight titles. Big stuff for a kid who wasn't even 25. He was making good money and climbing the pound-for-pound list after a string of impressive title defenses and exciting fights.
That was then. This is now.
Diaz still makes exciting fights, but some view him as close to washed up at age 26. He no longer has his belts and he is 2-3 in his past five fights. Take away a highly controversial win by decision against Paulie Malignaggi in their first fight last summer and Diaz's record very well could be 1-4 in his past five.
So Diaz is facing the cold reality that he badly needs a win to remain a main event player in big fights.
That is what the "Baby Bull" faces against lightweight world champion Juan Manuel Marquez in a rematch of the 2009 fight of the year on Saturday night (9 ET, HBO PPV, $49.95) at the Mandalay Bay Events Center.
"This is going to be a great fight," Marquez said. "It will definitely live up to the 'fight of the year' hype. I know Diaz is working hard and is going to do everything he can to avenge the knockout and regain the lightweight title. He has a lot to prove and I am going to do everything I can to defend my title."
Indeed, Diaz understands the importance of the fight, but he doesn't appear to be putting a lot of pressure on himself.
"I see this as a win-win situation for me, because this fight is going to prove to me whether I have it or I don't," Diaz said. "This fight right here is what's going to take me to the top and make me the superstar that I've been wanting to be in the lightweight division. But if it doesn't happen then that means it's not meant to be and I'll move on to bigger and better things, which could be start from the bottom and pick up the pieces to rebuild myself up or just completely do a 180 and just go in the opposite direction."
That direction could be to move on from boxing. Diaz, a recent college graduate, is studying for his law school entrance exam and plans to become a lawyer. He has always made his studies a priority and done well balancing them with boxing. Win or lose, Diaz, who also owns a construction business with younger brother Jose, has plans for the future that don't necessarily include boxing.
"This fight here, a lot of people have been mentioning to me that it's a do-or-die fight," Diaz said. "Well, I don't think it is a do-or-die fight. I think it's a win-win situation because either I become a world champion once again and become a superstar or it opens up doors for me to do other things and focus on other aspects of my life.
"I'm not going to close any doors, because I'm still a young fighter. If my plan is to continue fighting after this fight then that's exactly what I'm going to do. If it's not the best decision when I sit down and talk to my family and my managers and my promoter, if that's not the best thing to do then I'm not going to be stubborn. I'm smart enough. I have a college degree. I'm smart enough to know that I'm not going to be chasing a dream that's not going to come true again. I know when it's time to go and I know when it's time to stop."
Fight of the Year: The Rematch
TV lineup for the Golden Boy-promoted HBO PPV card Saturday night (9 ET, $49.95) from the Mandalay Bay Events Center in Las Vegas:
• Lightweights: Juan Manuel Marquez (50-5-1, 37 KOs) vs. Juan Diaz (35-3, 17 KOs), 12 rounds, for Marquez's world title
• Middleweights: Daniel Jacobs (20-0, 17 KOs) vs. Dmitry Pirog (16-0, 13 KOs), 12 rounds, for a vacant title
• Junior welterweights: Joel Casamayor (37-4-1, 22 KOs) vs. Robert Guerrero (26-1-1, 18 KOs), 10 rounds
• Lightweights: Jorge Linares (28-1, 18 KOs) vs. Rocky Juarez (28-6-1, 20 KOs), 10 rounds
Diaz (35-3, 17 KOs) was in his hometown of Houston when he and Marquez (50-5-1, 37 KOs) fought an epic battle in February 2009. Diaz sprinted to an early lead, but a nasty cut over his eye, carelessness on defense and veteran champion Marquez making adjustments led to a ninth-round knockout loss in a thrilling action fight.
It was named fight of the year by ESPN.com, Ring magazine and the Boxing Writers Association of America, and although both men moved on to other business -- Diaz splitting two fights at junior welterweight with Malignaggi and Marquez getting routed at welterweight by Floyd Mayweather Jr. -- it was such a great fight that Golden Boy put together the rematch back at their more effective weight.
"I'm 10 times more comfortable at 135 because at 140, the last fight we fought [against Malignaggi in December] I came in weighing 139 and then the night of the fight I stepped on the scales -- and that was with my shoes and my pants on -- and I was weighing 143. So that goes to show you that I don't gain too much weight. … I'm a pretty solid 135. At 140, I'm not that solid."
Marquez also feels more comfortable at lightweight. The move to welterweight as the hand-picked opponent for Mayweather in September was a business decision -- he was guaranteed his biggest payday, a $3.2 million purse plus a piece of the pay-per-view.
"At 147, I felt very heavy," said Marquez, 36. "Welterweight was just too much weight for me. I know that now.
"I am not worried about the drop in weight. I am feeling great. I feel stronger and faster. I definitely think this is my ideal weight."
Although Marquez won the first fight with Diaz by spectacular knockout, connecting with a brutal uppercut to end matters, he said he's not over confident.
"I'm not thinking of any way I can be different or do anything differently," he said. "I'm coming with everything. I'm not going to be overconfident because I've beaten him, because I've knocked him out. I'm going in just like as [if] it was the first fight,100 percent ready to take care of business.
"The first fight is in the past. Diaz could completely change his style for this fight."
Diaz making a drastic change is unlikely, but he said he wants to be more relaxed. In the first fight, he said the cheering throng of more than 14,000 in his hometown really pumped him up.
"This time I am going to be more relaxed," Diaz said. "I have already done this on a big world stage, so I know what it feels like. I am concentrating on what I am going to do in the fight. I need to outsmart him. I can't fight recklessly. I need to focus on what punches I throw.
"The first fight was my fight to win, and I didn't. When you leave something undone, it's a terrible feeling. I want nothing more than to be world champion again and I know what I need to do to get there."
Casamayor's last stand?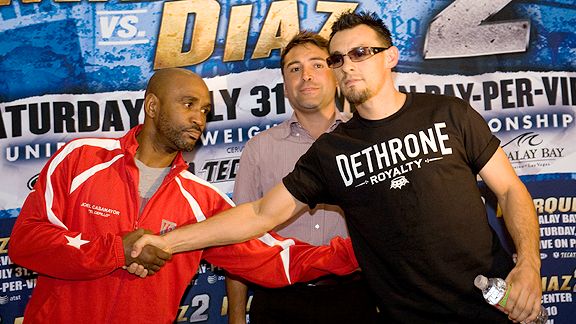 Chris Cozzone/Fightwireimages.com He might be 39, but that doesn't mean Joel Casamayor, left, is riding into the sunset quietly.
Joel Casamayor, the former lightweight and junior lightweight champion, is 39 and has fought just once since he lost the lineal lightweight title to Marquez via spectacular 11th-round knockout in September 2008. In his only bout since, Casamayor was career-heavy 146 pounds and had some struggles against journeyman Jason Davis in November.
But now Casamayor (37-4-1, 22 KOs) is back against a high-level opponent, former two-division titlist and fellow southpaw Robert Guerrero (26-1-1, 18 KOs), 28, to prove he's not done just yet when they meet in a junior welterweight bout on Saturday night's Marquez-Diaz II undercard.
Although Casamayor will only make $50,000, big chunks of which will go toward satisfying an IRS issue and court-ordered child support, he views the fight as an opportunity to put himself in position for a much bigger fight.
"You know Robert Guerrero is one of the best up and coming fighters in the world and it's a great opportunity to bring him to my den," Casamayor said. "If I beat Guerrero, I'm in line for anybody and I could fight any fight I would want. I've been pushing Golden Boy and my manager, Luis DeCubas [Jr.]., because I want a rematch with Juan Manuel Marquez. I think by beating Robert Guerrero, I'll be in line for Juan Manuel Marquez or [junior welterweight titlist] Amir Khan or whoever it is, but that's the fight I'm hoping for and it's the reason I took this fight."
Casamayor, a 1992 Olympic gold medalist for Cuba, said although he would prefer to fight in the junior welterweight division, he would make lightweight if it was for a big fight.
"I'm at 140 pounds right now, but, as I said, if the opportunity opens itself at 135 pounds I could still probably make the weight," Casamayor said. "Whatever it takes to get Marquez back in the ring. Marquez is a great Mexican warrior. A lot of people have been asking for that rematch. It was a very, very close fight. I thought the fight was stopped unjustly, but I mean that's boxing. Basically, wherever [Golden Boy's] Richard [Schaefer] tells me there's a great opportunity at '35 or '40, whichever it is, I'm there."
QUICK HITS

Margarito
• Another potential American site has emerged as a possible host for the Manny Pacquiao-Antonio Margarito fight that Top Rank is planning for Nov. 13: Boardwalk Hall in Atlantic City, N.J. Top Rank hopes that Margarito, who remains unlicensed in the United States after last year's hand wrap scandal and his subsequent license revocation in California, will obtain a provisional one-fight license in Nevada so they can have the fight in Las Vegas. But even if he doesn't, Top Rank's Bob Arum is confident he'll be licensed elsewhere. Any state can license Margarito since he served his revocation period. Arum said Atlantic City was a possibility and Ken Condon, the longtime casino executive who books fights at Boardwalk Hall, told ESPN.com he was having "very, very preliminary discussions" with Top Rank's Carl Moretti. "We have a whole list of states ready to license him," Arum said. "We filed for a license in California [on Wednesday] and that makes everybody happy even if they don't give it to us. That's California's call, but there is no legal impediment from anyone else licensing him." Margarito's application in Nevada was tabled recently when the commission told him they wouldn't vote on it until he applied in California. "I'm now in the enviable position of having choices for this fight," said Arum, who also has an offer from Abu Dhabi. "I got strong armed into giving them an extension until Aug. 2 to come up with the money. It's a lot of money. I'm embarrassed by how much it is, but if it's real, I'm ready to ride there on my camel."

Bika
• Golden Boy's Richard Schaefer announced that Saturday's super middleweight title eliminator between Sakio Bika (28-3-2, 19 KOs)) and Jean Paul Mendy (28-0-1, 16 KOs), which is on the Marquez-Diaz II undercard, will be available on satellite services and many cable systems as part of a one-hour free preview (8 ET) before the HBO PPV telecast begins. "Fight fans from around the world are going to have an opportunity to see that great fight, that great battle, as well," Schaefer said. The winner becomes the mandatory challenger for the winner of the Oct. 15 fight between titlist Lucian Bute and Jesse Brinkley.

Perez
• Bantamweight titlist Yonnhy Perez (20-0-1, 14 KOs) has signed a managerial contract with Frank Espinoza. Espinoza saw Perez up close in his last fight when retained his title via majority draw in grueling May defense against Abner Mares, another of Espinoza's fighters. "Yonnhy has demonstrated world class abilities and heart," he said. "He's a true warrior in every sense of the word. The future is only going to get better and brighter for Yonnhy." Perez, 31, is due to for a mandatory rematch with Joseph Agbeko, from whom he won the title by decision in a thrilling battle in October. A purse bid is scheduled for Friday, although there has been talk of Perez seeking an exception to face Mexican star Jorge Arce in the fall.

Morales
• Former three-division champ Erik Morales is planning his second fight since ending a 2½-year retirement by outpointing Jose Alfaro in a March welterweight bout. Morales (49-6, 34 KOs) is slated to face Willie Limond (33-2, 8 KOs) of Scotland on Sept. 11 (Integrated Sports PPV) in Mexico City. Limond has won five in a row since Amir Khan stopped him in the eighth round in 2007.

Latimore
• Junior middleweight contender Deandre Latimore (21-3, 17 KOs), who dropped journeyman Darien Ford three times in the second round for the knockout on Saturday, is seeking a bigger fight. He'd like to fight Alfredo "Perro" Angulo. "They call Alfredo Angulo a beast and say he's the next big deal at 154. I'd love to fight him," Latimore said. "We're both all action aggressive fighters that can't help but make for a good TV fight. The last guy Angulo fought, Jochim Alcine [on HBO on July 17], didn't even want to be in the ring with him. Before that it was against [Joel] Julio, who's really a welterweight, and two guys, [Harry Joe] Yorgey and [Gabe] Rosado, who didn't belong in the same elevator with him let alone the ring. And off these four fights, he's the next monster at 154? Same thing with Miguel Cotto. I'm ready to go right now. He's a great fighter and I know he's looking for a fight in the fall. I'm ready to hit Madison Square Garden, his home turf, and give him the fight of his life. Just like Angulo, we can't help but make a terrific action fight. HBO and Showtime talk about wanting action fights. Well that's what I bring. Whether it's Angulo, Cotto or the younger guys like Vanes Martirosyan or Julio Cesar Chavez Jr., I'm ready to go right now." In Latimore's only title fight, he dropped a split decision to Cory Spinks in April 2009.

Adamek
• Main Events formally announced heavyweight contender Tomasz Adamek's fight against former title challenger Michael Grant (46-3, 34 KOs) this week. They'll meet Aug. 21 (Integrated Sports PPV, $29.95) at the Prudential Center in Newark, N.J. Adamek's handlers selected Grant because he's 6-foot-7 and Adamek (41-1, 27 KOs) has designs on eventually fighting one of the equally big Klitschko brothers for a title. "I am working with tall sparring partners to get ready for Grant's height," Adamek said. "I am learning more movement everyday. I have a stronger right hand and left hook now. I am quick, much more quick than most heavyweights." Roger Bloodworth, Adamek's trainer, said they are not taking Grant lightly even though he hasn't been a factor in the division for almost a decade, despite winning eighth in a row since 2003 against lesser opponents. "You can be surprised sometimes, because when everyone is saying a fighter is down, that is when he can be most dangerous," Bloodworth said.

Ross
• Troy Ross, a former winner of "The Contender," is angling for a fight with Danny Green, whom he called a fraud after his controversial 29-second knockout last week of Paul Briggs, who went down without being hit with anything other than a grazing jab. "He (fought) a guy who hadn't fought in nearly three years, who was a light heavyweight that had retired on medical grounds," Ross said. "To add further insult he calls Paul Briggs a dog and humiliates him by hurling insults from inside the ring. I saw YouTube and couldn't believe it. In America he would be lucky to leave the ring alive with a low act like that -- but in this case the commissions would never allow a farce like that to happen here in the first place. Said Jeff Wald, Ross' co-promoter, "The message is loud and clear -- anywhere anytime Danny. Troy is happy to come to your backyard and knock you out in your home country. It's sure to generate plenty of revenue because from what we are hearing over hear, it looks like the Australian public will be happy to pay to see you knocked out."

Tua
• After David Tua was trounced by challenging then-heavyweight champion Lennox Lewis in 2000, he said that a rib injury in training had hampered him in the lopsided decision loss. Now, Tua's handlers are attributing his poor performance in a draw July 17 with Monte Barrett, who dropped Tua hard for the first knockdown of his career in the 12th round, to a left shoulder injury. Although Tua hasn't spoken about it, promoter Cedric Kushner is using it as excuse for Tua's struggle with Barrett. "I have a letter from David's doctor, whom he went to see in California, where he had planned to spend a couple of weeks before returning home to New Zealand," Kushner said. "The doctor suggested that he take some time off before returning to the ring. David specifically stated he didn't want to take anything away from Monte, who fought the fight of his life, but that he felt entitled to set the record straight as to his injury."
QUOTABLE
Diaz
"During a lot of the interviews with the media, people have been asking about my heritage and nationality. Am I 50 percent this, 25 percent, 100 percent that? I don't want to be any of that. I am 100 percent warrior. I fight for all of my fans whether it is Mexicans, Mexican-Americans, blacks, whites or Asians. I want to give everyone a great fight. I want to make all of the fans happy. I am going to give all of the 'Baby Bull' fans a great fight."
-- Former lightweight titlist Juan Diaz, on his rematch with Juan Manuel Marquez on Saturday night
QUOTABLE

De La Hoya
"Up until now, it's been a very difficult negotiation process for various reasons but right now we're very close. We're very close in finalizing the contracts that were once very complicated. The two fighters now realize that this fight must be made. It has to be made because the boxing fans want to see it happen and right now it's the biggest fight that can be made in the world. It's going to be a big, big fight. I think right now we are very, very close in finalizing the contracts. I can't talk right now in detail about the negotiations but I will say that we are very close."
-- Golden Boy promoter Oscar De La Hoya, speaking about negotiations for a Manny Pacquiao-Floyd Mayweather fight on June 11 in translated comments from Univision's "Republica Deportiva," which he recanted this week following statements from the Mayweather camp and business partner Richard Schaefer saying negotiations never happened