Alexander's hard work, dedication paying off

By Dan Rafael
ESPN.com
Archive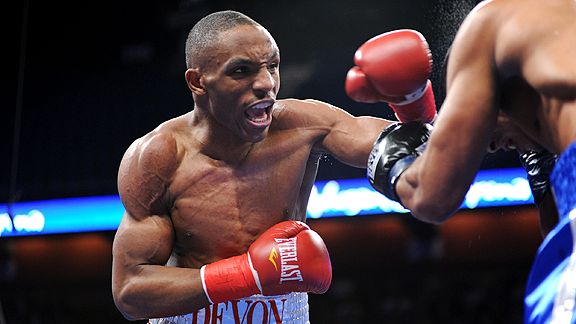 Emily Harney/Fightwireimages.comDevon Alexander serves as an example to the people of his city and his fellow fighters.
ST. LOUIS -- Devon Alexander toiled in Las Vegas training for the past eight weeks. He ran up rugged Mt. Charleston in the blazing heat every morning, miles at a time. He sparred in the afternoon. And, while staying at one of promoter Don King's homes just off the famed Strip, slept in the bed Mike Tyson used when he too trained there.
For Alexander, the 23-year-old unified junior welterweight titleholder, all the hard work was a lead-up to a homecoming for his first world title fight in his beloved St. Louis, where he defends his belts against former titlist Andreas Kotelnik (31-3-1, 13 KOs) of Ukraine at the Scottrade Center on Saturday night (HBO, 10 ET/PT).
In the televised opener, Tavoris Cloud (20-0, 18 KOs) makes the first defense of his light heavyweight belt against former champion Glen Johnson (50-13-2, 34 KOs). In another world title bout (although one that isn't part of the HBO telecast), St. Louis' Cory Spinks (37-5, 11 KOs) makes a mandatory defense of his junior middleweight title against Cornelius "K9" Bundrage (29-4, 17 KOs).
Alexander was lights out last August, when he made former titlist Junior Witter quit on his stool after eight rounds to win a vacant title. Then Alexander was even more impressive when he starched Juan Urango with an brilliant uppercut in the eighth round in March to unify two of the 140-pound belts.
Now, Alexander faces the rugged, 32-year-old Kotelnik -- a 2000 Olympic silver medalist and the only man to hang a loss on fearsome puncher Marcos Maidana, but who also has losses to Witter and titleholder Amir Khan -- hoping to thrill the hometown faithful and move on to massive business in one of boxing's most loaded divisions.
As far as fighting at home, especially as a defending champion, Alexander was almost at a loss for words.
"Oh, man, it's a great, great, great feeling," Alexander said. "I mean, from coming in on the undercard, fighting first on the undercards of guys that I saw and admired for years, to become a main event at home at Scottrade Center, the biggest arena in St. Louis, I mean, it's a blessing because most people, they don't get an opportunity like I do, coming from where I come from."
Where he came from is one of the roughest neighborhoods in the nation, in North St. Louis. While numerous childhood friends and gymmates fell to gangs and drugs -- many are dead or incarcerated, including Alexander's brother, Vaughn, who is doing 18 years for armed robbery -- Alexander (20-0, 13 KOs) made it out and made it big.
"My whole career, I have counseled young boxers that they have an opportunity to do great things, win titles and earn the type of money normally reserved for people of a different background," King said. "Then here comes Devon, a kid from Vashon High, who not only is tearing up one of the toughest divisions in boxing, but he wants to be a role model for kids in St. Louis and around the country. This young man is special. He is a gift from God."
It's the stuff of TV movies.
Fox Sports Midwest liked Alexander's story so much that it produced an inspiring, 30-minute documentary -- "Gateway to Greatness: The Devon Alexander Story" -- that premiered Thursday night.
St. Louis Rams coach Steve Spagnuolo was so impressed by Alexander after a recent promotional visit to Rams training camp that he arranged a team bus trip to see the fight.
"I have a great deal of respect for what boxers go through to prepare for a fight," Spagnuolo said. "Devon is a local talent, and it was important for us that he knows the entire Rams organization is behind him and wish him the best Saturday night."
To hear trainer and manager Kevin Cunningham, Alexander's father figure since he picked up gloves as a kid, his star pupil not only avoided the temptations of the street, but he never had so much as a neighborhood fight.
"Devon is the perfect example of what you can do with hard work and dedication," Cunningham said. "He was not born with a silver spoon in his mouth. He wasn't even the best fighter in my gym, but look at him now. Look at what hard work and remembering to rise above your circumstances can do."
Now Alexander is on the precipice of stardom. Of course, the huge fights won't happen without a victory against Kotelnik.
"There has been a lot of talk about Devon being in these mega-fights with Kahn, [Manny] Pacquiao and [Floyd] Mayweather, but we don't get caught up in that," Cunningham said. "Kotelnik is talking about coming here and taking these belts. We are focused on the Ukrainian. We don't get distracted."
But Cunningham wasn't afraid to make a prediction.
"Devon's going to knock out Kotelnik in two rounds. We're kicking his ass," he said.
Even more than the three fighters Cunningham mentioned as potential future Alexander opponents, there is the much-discussed showdown with Timothy Bradley Jr., who also holds a belt. He and Alexander rank as the top two in the division. Bradley fought last month and rolled to a decision against Luis Carlos Abregu at welterweight. He's likely headed back to 140, where a unification showdown with Alexander is one of boxing's most anticipated bouts.
"I love the idea of hyping up a fight with the two best 140-pounders in the world, Devon and Tim," Cunningham said. "Bradley took care of business [July 17]; now Devon has to take care of business."
It's a fight Alexander wants.
"I definitely want that [fight] because I think he's a roadblock," Alexander said. "He's the reason that people are not seeing me as the best 140-pounder in the world. He's a roadblock in me becoming a megastar."
HBO Sports president Ross Greenburg has been vocal about his desire to match them Jan. 29, the Saturday the week before the Super Bowl, a slot the network reserves for only its biggest fights.
Alexander knows it and is using the Kotelnik fight as motivation to keep the Bradley bonanza on track.
"Hard work pays off. I know I got to keep working," Alexander said. "I know I got a tough task, and I'm focused 100 percent on that. But I know after this -- if I take care of this -- I know it's bigger and bigger opportunities down the road. So, I kind of stay focused on the task ahead and just use the future tense as motivation."
No Pacquiao-Marquez III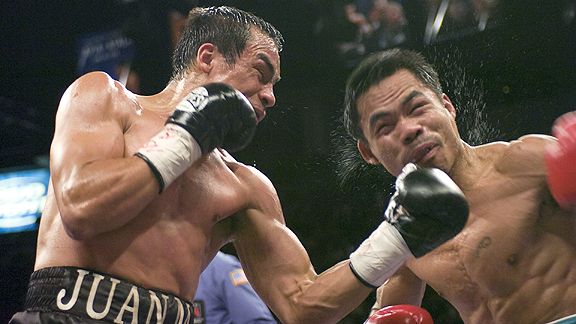 Chris Cozzone/Fightwireimages.com Juan Manuel Marquez, left, won't be getting another crack at Manny Pacquiao.
Despite lightweight champ Juan Manuel Marquez's pleas for a third fight with Manny Pacquiao following his dominant win against Juan Diaz in their rematch last week -- a fight promoter Golden Boy also wants to make -- Top Rank's Bob Arum, Pacquiao's promoter, put the kibosh on it.
Arum intends to match Pacquiao with Antonio Margarito for a vacant junior middleweight belt on Nov. 13. Marquez is not in the picture, he said.
"Marquez is a terrific kid and a terrific fighter, but he's a smaller-weight fighter," Arum said. "He demonstrated that at the higher weight he can't handle it [when he lost every round to Floyd Mayweather at welterweight last fall]. Now, if that perception is incorrect, let Marquez go fight a bigger guy and prove that he belongs with Manny at a higher weight.
"Let him go fight Andre Berto or [Joshua] Clottey, Tim Bradley or [Devon] Alexander. If he beats one of those four guys, he can say, 'I belong with Manny at the higher weight.' Pacquiao demonstrated that he can go up, but Marquez hasn't. Maybe he can, but he needs to show it." Arum said Pacquiao, who now holds a welterweight title, would not drop down to junior welterweight to meet Marquez, either.
"Once a guy goes up, you don't bring him down, especially if he's the A-side," Arum said.
Pacquiao and Marquez fought to a controversial draw in their first fight, one that many believed Marquez won, for the featherweight championship. Pacquiao claimed a controversial split decision in their rematch for the junior lightweight title, another fight many believed Marquez won.
Calderon-Segura heats up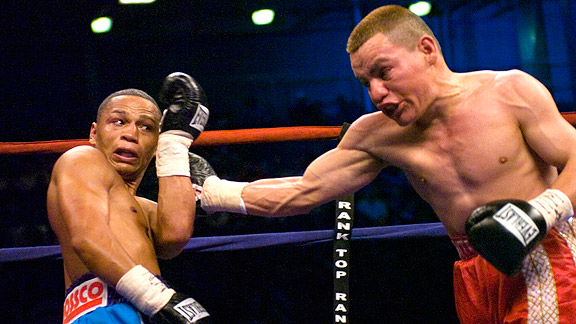 Chris Cozzone/Fightwireimages.comIvan Calderon, left, will need to put his slick skills to good use against Giovani Segura.
As big fights go in the little weight classes, the junior flyweight unification match between Puerto Rico's Ivan "Iron Boy" Calderon, one of the most technically gifted boxers of this generation, and Mexico's Giovani Segura, a pure slugger, is a big deal. They'll meet Aug. 28 (Integrated Sports PPV, $39.95) in Calderon's hometown of Guaynabo.
Both appear to be taking the 108-pound showdown quite seriously as both came in well under the maximum weight they could have been for their prefight weight check. Calderon was 116½ and Segura was 113. They could have been as heavy as 124 pounds.
"We are working hard for this bout, looking for a victory and another good performance," said Calderon, who will be making his seventh defense. "As always, the weight is not a problem. I'm in good shape and focused for this fight."
For Segura (24-1-1, 20 KOs), 28, who will be making his fourth defense, facing a long-time champion such as Calderon (34-0-1, 6 KOs) is what he has wanted.
"It's my dream fight," Segura said. "To fight an icon like Calderon is a great honor for me, but by the same token, I am not intimidated to go into his home for this fight. It will be a battle of wills, and my power will be the difference."
Ricky Mota, Segura's manager, has had his eye on Segura facing Calderon for awhile.
"It's all we have been talking about since he became a world champion and I know how hard he is working to be ready and to win this battle," Mota said.
QUICK HITS

Chavez Jr.
• Although Top Rank's Bob Arum wanted to match Julio Cesar Chavez Jr. with former middleweight champ Kelly Pavlik, his own matchmakers and members of Chavez's team were against it. Now, Arum thinks he's found just the right fight. He wants to match Chavez and junior middleweight titlist Miguel Cotto, who also needs a fall fight, on pay-per-view Dec. 4. Before that can come to fruition, Chavez needs to defeat Pawel Wolak, whom he'll meet in a 10-rounder Sept. 11 (FS en Espanol) in Queretaro, Mexico, at a contract weight of 158 pounds. "If Chavez looks good [against Wolak], then we're going to do the Cotto fight for Miguel's title either in Las Vegas or Atlantic City," Arum told ESPN.com. "I think it's a great fight, a real fun fight. Any time it's a Mexican against a Puerto Rican, it's fun. So that's the fight we're discussing." He said that despite his excitement about Pavlik-Chavez, Bruce Trampler, Top Rank's chief matchmaker, and trainer Freddie Roach were more comfortable with Cotto because he and Chavez are closer in size.

Donaire
• Arum also told ESPN.com that if Cotto-Chavez is finalized, he's considering a bantamweight showdown between unified beltholder Fernando Montiel and Nonito Donaire as the pay-per-view co-feature. "We might double those fights up and make it a real good card," said Arum, who has been talking about Montiel-Donaire for months. Neither will enter Showtime's proposed 118-pound tournament. Arum said one of the reasons was because he wanted to see it as an eight-man, single-elimination tournament, not a six-man, round-robin event like the Super Six that Showtime is currently doing at super middleweight. "Make it an eight-man tournament, loser goes home," Arum said. "Then we're interested. But don't stretch it out for [18 months]. We have faith in our guys. We'll put them in, and it's three fights to win it. I'm not going to get involved in that Super Six stuff. Loser goes home and it's a different story." Arum said a second option for Montiel-Donaire is to put it on the Manny Pacquiao-Antonio Margarito undercard Nov. 13.

De Leon
• Golden Boy's Richard Schaefer told ESPN.com that the finishing touches were being put on a featherweight fight between former junior featherweight titlist Daniel Ponce De Leon (39-2, 32 KOs) and Mikey Roman (30-7, 22 KOs), who are both from the Mexican state of Chihuahua. It would open the Shane Mosley-Sergio Mora HBO PPV card from Staples Center in Los Angeles on Sept. 18. Although Roman lost a competitive decision to Antonio Escalante on ESPN2 in February, it was a fight of the year candidate. He's won two in a row since. "If Ponce beats Roman, we'd like to match him with Escalante, and if Roman wins, we'd like to make a rematch with Escalante," Schaefer said.

Marquez
• Lightweight champion Juan Manuel Marquez's decision against Juan Diaz in their pay-per-view rematch of 2009's fight of the year last week generated between 150,000 and 200,000 buys, far exceeding what was needed to break even, Golden Boy's Schaefer told ESPN.com. "I think it has an opportunity to reach 200,000," Schaefer said. "We only have the satellite numbers, but they are strong. I'm very pleased. With the gate we did, $900,000, and the closed circuit, it shows that Marquez has established himself as a star in the United States. It also shows as well that an outstanding undercard created an event not only driven by the main event. I was very pleased with the way it was embraced." The fight will be replayed Friday night on HBO Latino (9 ET/PT) and again after Saturday's Spanish-language airing of "Boxing After Dark." Diaz-Marquez II will be televised in Spanish with announcers Mario Solis and Genaro Hernandez. HBO planned to have the English audio feed of Jim Lampley and Emanuel Steward from the PPV telecast available by pressing the SAP button on your remote. However, according to HBO spokesman Ray Stallone, there were technical issues that prevented that. Stallone said the English version will be available on HBO On Demand beginning Monday.

Perez
• Whether Showtime goes through with a bantamweight tournament or not, titlist Yonnhy Perez (20-0-1, 14 KOs) and former titlist Joseph Agbeko (27-2, 22 KOs), the mandatory challenger, will meet in a rematch, probably Nov. 6. Perez co-promoter Gary Shaw told ESPN.com that he and Don King, Agbeko's promoter, had made a deal to avoid a purse bid. Vinny Scolpino, Agbeko's manager, said he was waiting for paperwork from King. "We're in," he said. "The first fight was a great fight, and Joseph is excited to have another shot at the belt. We're ready to go." Perez won the title from Agbeko via unanimous decision in one of the most action-packed fights of 2009 and has made one defense, a majority draw in another all-action fight against Abner Mares in May.

Lorenzo
• Giovanni Lorenzo (29-2, 21 KOs) doesn't care that he was the third choice to face middleweight titlist Felix Sturm (33-2-1, 14 KOs) on Sept. 4 in Cologne, Germany. He's just glad he is getting the opportunity, his second crack at a title after dropping a split decision to Sebastian Sylvester in Germany in September. "I've seen Sturm fight numerous times so I know what to expect," said Lorenzo, who got the nod after Marco Antonio Rubio and Peter Manfredo both declined the fight. "I was so close to winning the world title against Sylvester and I'm very excited to get another chance, and I plan to bring the belt back to New York. The German fans were terrific to me last time I was there, and I'm confident that I can beat Sturm whether it's by stoppage or decision."
• Cruiserweight titlist Krzysztof Wlodarczyk (43-2-1, 32 KOs) of Poland makes the first defense of his second reign against American Jason Robinson (19-5, 11 KOs) on Sept. 25 in Warsaw, according to Leon Margules, Wlodarczyk's promoter. Robinson is fighting for the third time since ending a 2½-year layoff in March. Wlodarczyk won a vacant belt via eighth-round knockout of Giacobbe Fragomeni in their May rematch. Robinson has lost whenever he's stepped up to face top competition, suffering defeats to James Toney, O'Neil Bell, Grigory Drozd and Ezra Sellers.

Munroe
• European junior featherweight champion Rendall Munroe (21-1, 9 KOs) of England gets his first shot at a world title when he travels to Tokyo to challenge Toshiaki Nishioka (36-4-3, 23 KOs) on Oct. 24. Munroe is a confident fighter but said he gained even more confidence when he met Nishioka at a WBC event in Wales recently. "I'm even more confident of beating him now," Munroe said. "We got on well and he seems a nice man, but I grew in confidence after seeing him. I'm convinced that world title is mine. It is always tough fighting away, but once I get in a rhythm, my size and strength will cause him nonstop problems." Manager Frank Maloney said he's not concerned about Munroe having to fight far away from home. "Going to Japan doesn't faze Rendall at all, and he is the most laid-back fighter I have worked with since Lennox Lewis," Maloney said.

Klitschko
• Heavyweight titlist Vitali Klitschko will defend on Oct. 16 in Germany, manager Bernd Boente told ESPN.com. His opponent isn't set, but ex-champ Shannon Briggs is the leading candidate, Boente said. … HBO is holding Nov. 6 for a "Boxing After Dark" card to be promoted by Golden Boy as part of its output deal with the network. Golden Boy's Schaefer said there are several possibilities for the card, but a fight he wants to make is Michael Katsidis against Robert Guerrero in a lightweight bout. … Schaefer also said that if a Dec. 11 Amir Khan-Juan Manuel Marquez fight, which would be in the U.S., doesn't happen, Khan would still fight on that date, but possibly against Victor Ortiz or Marcos Maidana in his native England. "There are a lot of moving targets," Schaefer said. "But Katsidis-Guerrero would be perfect for Nov. 6. I'll discuss the scenarios with HBO." … Although ESPN2's "Friday Night Fights" season ends this month, there will be a live special Nov. 11 in honor of Veterans Day. Like it did last year, ESPN2 will televise a card (fights to be announced) from the New River Marine base in Jacksonville, N.C. There won't be tickets available, just freebies for the military at the base.
QUOTABLE

Lopez
"For me this is a great honor to fight a fighter the caliber of a Rafael Marquez. When you fight the best you become the best, and this is the opportunity for me to become the best. To fight a guy at this level, it is my chance to show everybody what I'm capable of doing. I'm really looking forward to this fight."
-- featherweight titlist Juan Manuel Lopez, on his much-anticipated Sept. 18 (Showtime) showdown with Marquez.
QUOTABLE

Marquez
"I know they say he has big punching power, but I have faced big punchers like [Israel] Vazquez. I know he is younger also. But age has nothing to do with anything in this sport. It all depends on how you take care of yourself and how you prepare yourself for the fights. And that is the key. Age will not make a difference. This fight will end by knockout and I'm going to win."
-- Marquez, on his title shot against Lopez