Becoming best at 175 piques Dawson's interest

By Dan Rafael
ESPN.com
Archive
Josh Holmberg /Icon SMIChad Dawson, left, plans to put his pole-like jab to good use against Jean Pascal.
Chad Dawson is in Montreal with a singular goal in mind. Forget the belts. He's there to emerge as the clear-cut best light heavyweight in the world.
He's already widely regarded as the No. 1 fighter at 175 pounds and among the top five fighters on the pound-for-pound list, but critics point to his two wins apiece against Glen Johnson and Antonio Tarver in his past four bouts and say they were great names, but old guys. Johnson was 40 and Tarver was 39. Many of those critics have long forgotten Dawson's dominant title-winning effort in 2007 against Tomasz Adamek, the future cruiserweight champ and now a top heavyweight contender.
So when the 28-year-old, in-his-prime Dawson steps into the ring at the Bell Centre on Saturday night (HBO, 10:30 ET) to face titlist Jean Pascal of Montreal, nobody can say he's facing an old man. Pascal is 27, one of the best in the division, and making his third defense.
Not only is the winner likely to emerge as the consensus No. 1 in the division, he will also claim the Ring magazine (lineal) title.
Although Dawson likes having the belts, they don't drive him like they do so many other fighters. He's more interested in being recognized as the best.
"This fight means a lot," Dawson said over the phone from Montreal, where his sons could be heard playing in the background. "We're fighting to see who's the best light heavyweight in the world. I am already considered No. 1 by a lot of people, but this will prove it because he's right behind me. It's not about the belts, it's about showing everybody who's the better fighter."
In fact, Dawson's disinterest in the titles and the game plan set out by promoter Gary Shaw led to Dawson (29-0, 17 KOs) winning the WBC and IBF versions of the title only to abandon them when faced with a choice of defending against lesser-known mandatory challengers or taking higher-profile fights.
"I held the WBC title. I've held the IBF title. Titles don't mean nothing," said Dawson, who goes into the fight with Pascal with an interim belt and as Pascal's mandatory challenger. "You have to get in the ring and show people what you are made of. I already think I'm the best, but now I can show everyone, and I can do it against a young guy in his prime."
That doesn't mean Dawson won't be excited to accept the Ring belt, which won't cost him a sanction fee, if he wins.
"It's a good feeling that this fight is for it," Dawson said. "I have no doubt I'll come away with the victory. Pascal is a good fighter, but I know deep in my heart that I'm a little too much for him, size and strength-wise."
Shaw was happy the fight was designated for the vacant Ring title.
"This fight is really significant," he said. "The Ring title, [it represents] the lineage. We chased Bernard Hopkins a long time for that opportunity and he never wanted it. So Hopkins took himself out of the running. He's yesterday's news and Chad is today's news.
"There was not one time Chad said he didn't want to give up the WBC or IBF titles. It was whatever I lined up. He just wanted to fight the best. He's never ducked anybody. I think he's destined for the Hall of Fame. I hope I'm still around to introduce him."
Besides accepting the match with Pascal (25-1, 16 KOs), born in Haiti but living in Montreal, Dawson is facing him north of the border.
Dawson has usually fought on neutral turf. For his last fight in November, a repeat decision against Johnson, he fought in Hartford, Conn., near his hometown of New Haven. But the fight drew poorly, giving Dawson little leverage to entice Pascal to come to Connecticut because Pascal is a major draw in Montreal.
But going on the road is no problem for Dawson, who said he's enjoyed the hospitality and surroundings in Montreal this week.
"There's a right time for everything," Dawson said. "I knew there'd come a point when I'd have to travel to get a major fight. I'm looking forward to doing it again after this. I have no problem traveling. I'll fight anyone, anywhere. It doesn't matter where it is because inside that ring, it's my territory. I'm excited about the opportunity to be here in a big arena.
"Everybody has been very polite and very respectful up here. I can't complain. The fans have been great, but I'm not sure how they'll be after I beat their boy."
Said Shaw: "I had the heartache of watching the U.S. give up the hockey gold medal to Canada [in the Winter Olympics], so we're here to take the gold back in the form of the belts. And after Pascal, it's gotta be [super middleweight titlist] Lucian Bute [of Montreal]. If Chad beat them both, he'll be the new darling of Montreal. He'll have found a new home."
Dawson, with about a five-inch height advantage and a considerably longer reach, figures he'll shut down Pascal with his long jab.
"My jab is a weapon in every fight. Guys can't get past it," Dawson said. "I'm right-handed but I fight lefty and my power is in my right [jab] hand. All my power is in my jab. That's why I believe the jab will win the fight."
Pascal, naturally, disputes that.
"Dawson is with no doubt the best fighter I have ever faced," Pascal said. "[But] this is my country, my town and my belt. I hope Dawson is coming to fight like a champion, but if he thinks he is going to run like a chicken and leave with my title, he is making a big mistake."
Both fighters are coming off long layoffs. Dawson has been idle since the rematch with Johnson in November while waiting for Pascal, whose lone defeat came in an action-packed and competitive decision to Carl Froch in a 2008 super middleweight title bout.
Pascal-Dawson was delayed multiple times while Pascal recovered from a badly dislocated shoulder suffered in his decision win against Adrian Diaconu in their December rematch. Pascal fought the last several rounds of the fight with the injury, unwilling to quit.
"I don't think the layoff will play a role in this fight," Dawson said. "We've both been off, but we're both young guys. But he had shoulder surgery and we don't know how that's going to hold up. Might go out in the later rounds. We've got that in the back of our mind that he is coming off major surgery."
With a victory, Dawson said he'd like to fight Bute, who is even more popular in Montreal than Pascal. He also mentioned Tavoris Cloud, who has a belt and barely outpointed Johnson last week. Shaw said he'll meet with Bute's representatives at InterBox while he's in Montreal.
"I have options like Bute and Cloud," Dawson said. "And after the Super Six [tournament] a lot of those super middleweights will be coming up to light heavyweight, so and the division will be alive again."
But first comes Pascal and the opportunity to claim the division mantle outright.
"I'm looking forward to that," Dawson said. "Pascal is a good fighter, but I am confident and looking forward to raising my hand and saying I am the best light heavyweight in the world."
Bantamweight tournament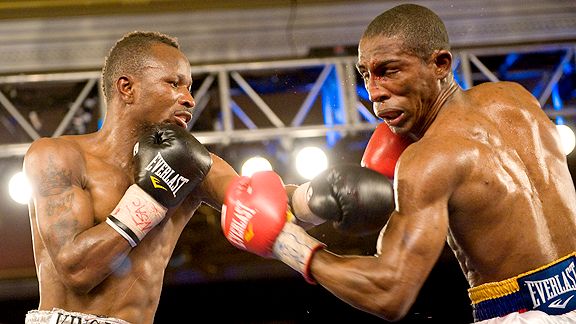 Chris Cozzone/Fightwireimages.com Looks like Joseph Agbeko, left, will get a chance to avenge his loss to Yonnhy Perez.
Showtime, which scored a hit with its Super Six World Boxing Classic in the super middleweight division, is moving ahead with a four-man bantamweight tournament, representatives for the fighters involved told ESPN.com.
In one semifinal, titlist Yonnhy Perez (20-0-1, 14 KOs) and ex-titlist Joseph Agbeko (27-2, 22 KOs) will meet in a mandatory rematch of Perez's decision in their all-action slugfest last year. On the other side of the bracket, Abner Mares faces junior bantamweight champ Vic Darchinyan, who is moving up. Both fights will be on the same card -- Nov. 6 or Dec. 18 -- Gary Shaw, who promotes Darchinyan and co-promotes Perez, told ESPN.com.
The winners would fight in early 2011 with the losers also ticketed to meet in a third-place bout.
"I still need to meet with [Showtime's] Ken Hershman, but the fights will happen," Shaw said. "This a true fight fan's card."
There is no site yet, but Shaw said he thought it "feels like a West Coast card."
Shaw said he doubted there would be any issue wrapping it.
"I think we've all agreed. I will sign my name on behalf of Perez and Vic," he said. "Showtime is giving these little guys a chance of a lifetime. HBO isn't in the 118-pound division. If they don't sign, where are they going?"
Agbeko manager Vinny Scolpino said he was waiting for the paperwork, but intended to commit and Frank Espinoza, who manages Mares and Perez, said he and his fighters are anxious for it.
"We're in," said Espinoza, who added that Mares promoter Golden Boy is on board. "It's a no-brainer. I think it's a great opportunity, especially for the lower weight divisions. I'm all for it. I like what Showtime is coming up with and we're looking forward to it. The bantamweight division is hot. It would have been nice to have [unified titlist] Fernando Montiel and Nonito Donaire in, but the matchups we have are all good matchups."
Showtime hoped to do another Super Six, but Top Rank declined to involve Montiel and Donaire.
Dan Rafael is the boxing writer for ESPN.com. Follow him on Twitter @danrafaelespn.
QUICK HITS

Alexander
• The representatives for junior welterweight titleholders Devon Alexander and Timothy Bradley are moving toward a deal for them to meet Jan. 29 on HBO, Bradley co-promoter Gary Shaw told EPSN.com. He said he was going to meet with HBO next week to hash out the money for his side. Alexander promoter Don King will do the same. "I'm hopeful the fight will get done," Shaw said. "I see no reason why it won't get done. We want it. Alexander's side says they want it." Shaw said he already made an offer to Bradley manager Cameron Dunkin, but added, "I told him to hold off bringing it to Timmy yet because I'm trying to do better with HBO. But I'm not a game player. We're going to make this fight. I believe both fighters need the fight, the fans need the fight and boxing needs the fight. Everybody was hoping for Pacquiao-Mayweather. That's not happening. This could be the most significant fight other than that fight. Somebody is walking out of that fight a real star and the best 140-pounder in the world and then they will call the shots as to who they want to fight at 140 or maybe have the opportunity to fight Mayweather or Pacquiao at 147. The Bradley side is all on the same page and I believe Devon and [manager/trainer] Kevin Cunningham really want the fight and that King won't stand in the way."

Cotto
• The proposed Dec. 4 pay-per-view fight between junior middleweight titlist Miguel Cotto and Julio Cesar Chavez Jr. could take place at New York's Madison Square Garden, where Cotto has drawn big crowds for years from the city's large Puerto Rican fan base. Top Rank promoter Bob Arum said he has the arena on hold. "We're very fortunate in that the Knicks and Rangers are not playing at home, so we have the Garden on hold," Arum told ESPN.com. "[Top Rank president Todd duBoef] and I believe that Cotto is such a tremendous draw in New York; how could you pass that up?" Arum said. Cotto won his belt from Yuri Foreman at Yankee Stadium in June. Chavez was planning an interim bout against Pawel Wolak on Sept. 11, but the fight was canceled Thursday. Arum said, "Julio has some personal things going on and he's not in camp." Chavez had not shown up at Freddie Roach's Wild Card gym in Hollywood, Calif., to train, apparently dealing with a family issue, Arum said.

Berto
• Although talks to make Sergio Martinez-Paul Williams II for Martinez's middleweight championship in the fall have re-ignited, it won't take place Oct. 2, as HBO originally had planned. Instead it would move to Nov. 20 if signed. Promoters Lou DiBella and Gary Shaw hope to sell HBO a tripleheader to fill Oct. 2, which would feature welterweight titlist Andre Berto (no opponent yet), junior middleweight titlist Sergei Dzinziruk against ex-welterweight titlist Luis Collazo, who is moving up in weight after a long layoff, and featherweight Celestino Caballero testing junior lightweight, possibly against Jason Litzau. DiBella wants to put the card at MCU Park, home of the New York Mets minor league team the Brooklyn Cyclones. "I'm working on putting some fights together. I have to lock everything in with the managers and fighters and HBO before I publicly talk about anything," DiBella said. "We don't have this done. It's something we're talking about."

Hearns
• With Cornelius "K9" Bundrage claiming a junior middleweight belt from Cory Spinks in dominant fashion on last Saturday's Devon Alexander-Andriy Kotelnik undercard, talk has already begun about his first defense, which could come against fellow Detroit fighter Ronald Hearns. DiBella, Hearns' promoter, said he's already talked to Don King, Bundrage's promoter. "We've had some preliminary talks," DiBella told ESPN.com. "It would be a big fight in Detroit. I'd have to give Don options on Ronald, but I'd say it's a possibility and we'll have more conversations about it. I love the fight. Ronald wants any title fight and Don said they're interested." A major storyline would be the fact that Emanuel Steward, Bundrage's trainer, would be in the opposite corner from the son of the man, Thomas Hearns, whom he is so closely linked with. Also, Steward would face his nephew, Javon Hill, Ronald Hearns' trainer.

Manfredo Jr.
• DiBella told ESPN.com that he signed super middleweight Peter Manfredo Jr. (35-6, 19 KOs) to a multi-year agreement after Manfredo split with TKO Boxing, the financially crippled promoter. Manfredo, 29, a former title challenger and star of "The Contender" reality series, has won four fights in a row since being stopped in the third round by Sakio Bika in November 2008. In his only title shot, Manfredo, 29, of Providence, R.I., was also stopped in three rounds by then-super middleweight champ Joe Calzaghe in 2007. DiBella said Manfredo's debut under his banner will likely come in October in New England. "I've always liked Peter and I think he's an exciting fighter," DiBella said. "I think you have to match him right, but I think he's better at 160 than at 168 and it's a wide open division. He's a good ticket seller in New England and even though he's not going to be on the pound-for-pound list, he's never going to be in a bad fight. I'm happy to work with him."

Rigondeaux
• Top Rank has announced some upcoming "Top Rank Live" (FS en Espanol) bouts in Mexico. On the Aug. 21 card in Tijuana, two-time Olympic gold medalist Guillermo Rigondeaux (5-0, 4 KOs) makes his Top Rank debut in an eight-round junior featherweight bout against Jose Angel Beranza (33-18-2, 26 KOs). The Sept. 4 card in Guadalajara features two title bouts with interim junior lightweight titlist Jorge Solis (39-2-2, 28 KOs) making his second defense against an opponent to be determined and Omar Nino (29-3-2, 11 KOs) defending his junior flyweight belt for the first time against Ronald Barrera (27-7-2, 17 KOs), a three-time loser in strawweight title challenges. On Sept. 25, lightweight titlist Humberto Soto (52-7-2, 32 KOs) warms up for an expected showdown with Marco Antonio Barrera by defending against Colombia's Fidel Monterrosa (23-1, 18 KOs), who got the fight when Soto decided against facing original foe Urbano Antillon.

Darchinyan
• Junior bantamweight champ Vic Darchinyan was stripped of one of his belts by the WBC, which has ordered Tomas Rojas, whom Darchinyan brutally knocked out in the second round in December, to face Kohei Kono for the vacant trinket. Darchinyan is moving up to bantamweight anyway for Showtime's tournament. The WBC also designated Antonio DeMarco as its mandatory lightweight challenger, meaning Soto must face him following an optional bout in September. That could be interesting because Soto promoter Top Rank wants to match him with Barrera instead.

Molitor
• Junior featherweight titlist Steve Molitor has resumed training for his defense against Jason Booth. The bout was postponed from July 23 to Sept. 11 because Molitor had a stress fracture in his shin. But after four weeks of rest, "The Canadian Kid" is back at work. "Without a doubt it's frustrating," Molitor said. "After I [regained] the title on a Saturday [against Takalani Ndlovu] I was straight back in they gym on Tuesday and it's hard not being able to train 110 percent. "But in other ways it has been a blessing in disguise. I'm now a 100 percent recovered after taking all of the time off that the doctors advised me to. I've stayed in good shape, riding the bike, etc., but come Sept. 11 I'll be coming to fight. Molitor will fight Booth in his native England, having already beaten his younger brother, Nicky Booth, there in 2002.

Julio
• HBO is planning a four-part "24/7" assuming the Manny Pacquiao-Antonio Margarito HBO PPV fight slated for Nov. 13 is signed. …As he makes his way back to welterweight, Joel "Love Child" Julio (35-4, 31 KOs) will face Jamaal Davis (12-6, 6 KOs) in the co-feature of the Tomasz Adamek-Michael Grant heavyweight fight Aug. 21 (Integrated Sports PPV) at the Prudential Center in Newark, N.J. Also appearing on the televised undercard: 2008 U.S. Olympian Sadam Ali (8-0, 4 KOs) against Lenin Arroyo (20-12-1, 4 KOs) in a welterweight bout … ESPN2 closes out the "Friday Night Fights" season with a special Saturday card Aug. 28 in Montreal. Rising middleweight prospect David Lemieux, a big ticket seller in Montreal, was supposed to headline, but he suffered a wrist injury and was forced out of the fight Thursday. Canadian cruiserweight Troy Ross, who is also with promoter Yvon Michel, could fight in a new main event. Junior middleweight prospect Demetrius Andrade, the 2008 U.S. Olympic standout, fights in the co-feature … Top Rank's Bob Arum said Showtime isn't going to buy a co-feature for the Juan Manuel Lopez-Rafael Marquez featherweight title card Sept. 18 at Las Vegas' MGM Grand. "We pushed very hard for one," Arum said. "They're not doing one. We didn't get any reasons. It is what it is."
QUOTABLE

Adamek
"I love tough fights because people remember them for a long time. I want to be champion and I would like to fight great fights."
-- heavyweight contender Tomasz Adamek, a crowd pleaser who is preparing to face former title challenger Michael Grant on Aug. 21 (Integrated Sports PPV)
QUOTABLE

Lara
"I feel that I am ready for a title right now. I have 12 professional fights and over 300 amateur fights. But we know that this is a business and some fighters have the luxury of not being forced to fight the best. I have been after [Alfredo] Angulo, [Sergio] Martinez, [Kermit] Cintron, [Cornelius] Bundrage, or any other champion out there that is willing to give me the opportunity. I believe that a lot of these guys are ducking me, but soon they will have no choice but to fight me or get out of my division."
-- junior middleweight prospect Erislandy Lara, the former amateur world champion and Cuban defector, who faces Willie Lee on Aug. 18 (ESPN2)