Peter out to exact revenge against Klitschko

By Dan Rafael
ESPN.com
Archive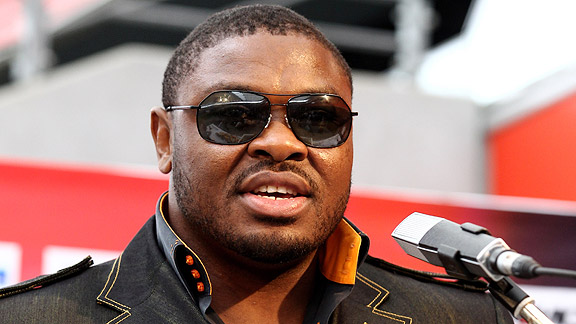 Alex Grimm/Bongarts/Getty ImagesSamuel Peter, above, finally gets a long-awaited rematch with Wladimir Klitschko.
Heavyweight champion Wladimir Klitschko hasn't been in a competitive fight for five years, routing his past nine opponents -- eight by knockout -- while winning two belts and earning recognition as the lineal champion.
The last time he was in a real fight? Sept. 24, 2005, in Atlantic City, N.J. That's when he faced Samuel Peter in a title eliminator.
Although Klitschko won a unanimous decision -- 114-111 on all three scorecards -- and went on to blow out Chris Byrd in his next fight to win a world title, Peter left a lasting impression on Klitschko (54-3, 48 KOs), dropping him three times in their dramatic fight.
From the moment the fight was over, Peter and manager Ivaylo Gotzev sought a rematch. Now, they've finally got it.
Peter, a former titleholder, will challenge Klitschko at the Commerzbank Arena, which will be scaled for 45,000, in Frankfurt, Germany, on Sept. 11. The fight can be seen live in the United States on ESPN3.com (5 p.m. ET) as well as at 8 p.m. ET on same-day tape delay on ESPN Deportes with a Sept. 12 replay at 4:30 p.m. ET on ESPN.
"Our roads have collided on two occasions and Sam will provide the biggest challenge to Klitschko in the last five years," Gotzev said. "You have seen the first fight and you will see a great fight on Sept. 11."
Peter (34-3, 27 KOs) landed the title shot after Alexander Povetkin -- a Klitschko mandatory challenger for more than two years -- withdrew, declining a career-best purse of more than $2 million. Peter, next in line in the IBF's ratings, jumped at the opportunity to fill in for Povetkin.
"Samuel is a true warrior and there was really no hesitation at all for him wanting to get back in the ring with Wladimir," said Tom Loeffler, managing director for Klitschko's K2 Promotions. "In fact, ever since the first fight, Ivaylo has told me he wanted a rematch and now it's coming to fruition."
Since the loss, Peter has had his ups and downs.
He went on to knock out Oleg Maskaev in 2008 to win a world title only to lose it in his first defense when Vitali Klitschko, Wladimir's big brother, made him quit after eight rounds of bruising punishment.
Peter lost his next fight too, coming into a match with Eddie Chambers in horrible condition. At a career-heavy 265 pounds, Peter lumbered through a decision loss. Many wrote him off after that fight, but a change of scenery to promoter Top Rank and trainer Abel Sanchez seems to have helped.
"I have been with Sam now since last May. The dedication has been the big difference I have seen in Sam," Sanchez said. "I have been able to keep him in the gym six or seven days a week. We have been in camp for eight weeks and we are looking forward to a great heavyweight fight because I think he has put in the work this time. I think in the past he has allowed outside sources to distract him and he had a lack of commitment, but I think his time, to me, it has changed."
With Sanchez in his corner, Peter has won four fights in a row -- albeit against soft opposition -- all by knockout. But he's been in top condition each time, including for a second-round destruction of Nagy Aguilera in March in a title eliminator that put him in position behind Povetkin.
Peter is confident and excited for his second opportunity against Klitschko.
"I have a lot to prove," Peter said. "I have a chance to redeem myself from the 2005 fight. It is going to be a great fight. I am getting another chance to prove that I am the best heavyweight champion in all. The loss was a bad mistake. This time I am going to prove that I can become a champion again. For sure, on Sept. 11 in Germany it is going to be a great fight. I don't have much to say because I know that my gloves will speak for me in the ring."
The loss to Chambers was rock bottom for Peter. He went into the fight unhappy with his promotional situation with Dino Duva and his partner, Don King. Obviously, Peter hadn't trained very hard based on his conditioning.
"Everything was frustrating at that time," Peter said. "I had lost the championship and the promotion was so bad. I am OK now and everything is straight up. I have the best promoter in the world and the best coach in the world. I have the best manager in the world and I am going to be the best."
Sanchez brought him to the isolation of the mountains of Big Bear, Calif., to train, and Peter, who usually trains near his home in Las Vegas, took to the new routine.
"Everything in Big Bear is great. It's a great place to train. It's very peaceful," Peter said. "I didn't know about Big Bear for all these years, but it is a great place to train. Abel brought me up here and he doesn't take my nonsense. He doesn't take no for an answer. He wants to see me working. I am happy about being here."
Next week, Peter will be in Germany, where his only experience was the loss to Vitali Klitschko. But this time, Peter says he's in a better frame of mind and will be looking to finish what he started with the three knockdowns against Wladimir five years ago.
"On Sept. 11, he will be down and will not stand up again," Peter said. "The victory and my judges I have in my right hand, and the judge is my left hook. There will not be a decision this time around. This time he will not get up from my left hook. I am ready and I am prepared and I will not need a referee or a judge."
Pavlik returns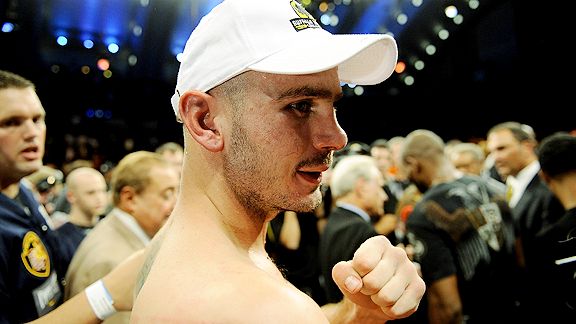 Jeff Zelevansky/Getty ImagesExpect to see Kelly Pavlik, above, on the Manny Pacquiao-Antonio Margarito undercard.
Former middleweight champ Kelly Pavlik, who lost his title to Sergio Martinez in April, is planning a return on the Manny Pacquiao-Antonio Margarito HBO PPV undercard Nov. 13 at Cowboys Stadium in Arlington, Texas.
Top Rank and manager Cameron Dunkin have been going over potential opponents and trying to lock in a deal.
Dunkin said Pavlik was anxious to fight again and loved the idea of being on a card with Pacquiao and fighting at Cowboys Stadium in front of a crowd that could push 70,000.
"I want to go over things with Kelly," Dunkin said. "We kinda know the money, but I'm supposed to get a contract and we're going over the names. But Kelly is willing to fight on the card. The bottom line is I have to say to him, 'This is who you are fighting, this is what you are making.' He really wants to do it. He'd love to go to Dallas. He thinks it's really neat down there and he loves the stadium and he loves [Cowboys owner] Jerry Jones. To go to Dallas with the Cowboys and Jerry Jones and fight at that stadium and get that kind of exposure with the best fighter in the world in front of that crowd? He wants that. He wants to fight again and what better place to do it? Kelly is willing to work on the money, but I just want to go over all of it with him and get his thoughts. I feel he's definitely going to fight. But I want him happy and ready to come back. I want boxing to be fun again for him."
Another fighter who could appear on the card is hot welterweight Mike Jones (22-0, 18 KOs), the rising Philadelphia prospect, against Jesus Soto Karass (24-4-3, 16 KOs). If Jones appears on the card it will only be if his promoter, Hall of Famer Russell Peltz, enters into a co-promotional deal with Top Rank. No decision has been made, Peltz told ESPN.com. He is also weighing an offer from Main Events, he said.
The Chinese are coming
Promoter Dino Duva has been logging the frequent-flier miles going back and forth to China for the past couple of years, as he's been working closely with the Chinese Boxing Federation to gain a foothold in the potentially lucrative Chinese market as well as expose the Chinese prospects in the United States.
The first tangible evidence of the effort will take place Oct. 1 in New York when he, Global Sports & Entertainment and the Chinese federation put on an amateur boxing card featuring some of China's 2012 Olympic hopefuls facing a team of top Americans -- which has not been named yet -- on a card called "Empires Collide."
The card, which will take place in Manhattan's Chinatown, includes 2008 Chinese Olympians Zhang Zhilei, the 26-year-old, 6-foot-7 super heavyweight silver medalist, and light flyweight gold medalist Zou Shiming.
The Chinese team and trainers are scheduled to arrive in the United States on Sept. 10. They'll prepare at the Fernwood resort in Pennsylvania's Pocono Mountains under the direction of famed trainer Lou Duva, Dino's father, who is a consultant to the Chinese national team.
"This is the first U.S. promotion for our venture with the Chinese Boxing Federation, and it's an extremely exciting one," Dino Duva said. "I look forward to working together in presenting a tremendous night of amateur boxing featuring the best that China and the USA have to offer. It will be an historic night."
Dan Rafael is the boxing writer for ESPN.com. Follow him on Twitter @danrafaelespn.
QUICK HITS

Alexander
• Slowly but surely, the Devon Alexander-Timothy Bradley junior welterweight unification match, slated for Jan. 29 (HBO), is coming together. Two weeks after promoters Don King and Gary Shaw agreed on the money from HBO, they are closing in on making a deal with their fighters. Shaw offered Bradley $1.1 million and while he doesn't have a deal yet with manager Cameron Dunkin, they have a dialogue. "Timmy is all for the fight and we want to still negotiate," Dunkin told ESPN.com. "There are revenues that could come in or changes. We're leaving things open but Timmy is willing to fight. So you could say we've accepted [the offer] with a caveat of if things change in terms of revenue that we have the right to share in the revenue." Meanwhile, King finally extended an offer to Alexander on Wednesday. "Don made an offer and we're pretty close," Kevin Cunningham, Alexander's manager/trainer, told ESPN.com. "I think within a couple of days we should have a done deal. [The offer] was close to where we need to be. We should have a deal. We're in an area that we can work with." No site yet for the fight, although New Orleans and Washington, D.C., are in the mix, Shaw said.

Katsidis
• Days after lightweight champ Juan Manuel Marquez (51-5-1, 37 KOs) decided to remain at 135 pounds to face mandatory challenger Michael Katsidis (27-2, 22 KOs) rather than pursue a junior welterweight title bout with Amir Khan, the fight has come together, according to Golden Boy's Richard Schaefer, who promotes all three. "Katsidis has accepted the deal and Marquez accepted the deal, and we are working on the contracts," Schaefer told ESPN.com. Marquez-Katsidis is slated to take place Nov. 27 (HBO) at the MGM Grand in Las Vegas. With HBO fall dates tight, Schaefer said he's working with HBO and promoter Lou DiBella on a scenario in which welterweight titlist Andre Berto could defend his belt against mandatory challenger Selcuk Aydin on the undercard. The deal is not done, however, because Berto -- who was paid $1.5 million for his April defense against Carlos Quintana -- would have to accept a greatly reduced purse compared to what he's been receiving, since HBO is not all that interested in the match. If it works out, the card would be a tripleheader and would also include another DiBella fighter: featherweight contender Celestino Caballero in the opener, possibly against Matt Remillard. "The asked me if I was open to having Berto and Caballero on the card and I was fine with it as long as it doesn't cost me," Schaefer said. "I talked to Lou and HBO about it and I'm fine with it."

Khan
• Marquez's decision to face Katsidis has paved the way for Khan (23-1, 17 KOs) to face interim titlist Marcos Maidana (28-1, 27 KOs), who struggled in a decision in his native Argentina against ex-titlist DeMarcus "Chop Chop" Corley last Saturday. HBO is holding Dec. 11 for the fight, which could take place in Las Vegas or Detroit, Schaefer said. "I talked to Khan's attorney and I made him an offer for Khan to fight Maidana and I am waiting to hear back. HBO made an offer for the fight, and based on that offer, I also went to Maidana and I'm waiting for his response, but it looks good." England's Khan probably will take some time to finalize the fight as he is doing relief work in flood-ravaged Pakistan, where his family is from. HBO's offer for Khan-Maidana, according to a source, is $2 million if it takes place in the United States, $1.75 million if it's in England but live in U.S. prime time, and $750,000 if it's in England and airs on tape-delay in U.S. prime time. Schaefer wouldn't comment on the figures. If Victor Ortiz defeats Vivian Harris on Sept. 18, he could appear on the undercard. Ortiz also fought on Khan's undercard in May as Golden Boy builds toward a possible showdown.

Andrade
• Now that the light heavyweight title bout between champ Jean Pascal and Bernard Hopkins has been agreed to, the promoters are working on the undercard. Golden Boy's Richard Schaefer told ESPN.com he's talking to Universum about bringing light heavyweight titlist Jurgen Brahmer (36-2, 29 KOs) of Germany to Quebec City to defend his belt against Mexican contender Librado Andrade (29-3, 22 KOs), who considers Quebec a second home. Andrade has fought his past four bouts in the Canadian province and five times overall. "They're interested," Schaefer said of Universum. "Librado would love another chance to fight for a title. It's an interesting match for that card if we can get it done." Brahmer would be making his third defense.

Ornelas
• Enrique Ornelas (30-6, 20 KOs), who lost a lopsided decision to Bernard Hopkins in a game performance in a December light heavyweight bout, is getting a title shot at his more natural weight. Ornelas, 29, a native of Mexico living in La Habra, Calif., will challenge 168-pound titlist Robert Stieglitz on Oct. 15 in Germany, Golden Boy matchmaker Eric Gomez told ESPN.com. Ornelas rebounded from the loss to Hopkins to stop Justin Fogle in the fourth round in April. Stieglitz's previous defeat came via knockout to Andrade, Ornelas' brother, in a 2008 title eliminator on HBO, so he'll be looking to exact revenge on the family. "Great style for Enrique," Gomez said. "Stieglitz is very aggressive. If Enrique ever has a chance to win a title, this is the right style."

Luevano
• Featherweight Steven Luevano (37-2-1, 15 KOs), who lost his title via seventh-round knockout to Juan Manuel Lopez in January, has retired. He fought for 10 years as a pro after a standout amateur career, winning a vacant world title in 2007 in England, where he knocked out hometown fighter Nicky Cook in the 11th round. Luevano, 29, made five defenses, mainly as a staple of Top Rank pay-per-view undercards. Following the loss to Lopez, Top Rank, which promoted him for his whole career, released him. That deeply hurt Luevano, manager Cameron Dunkin said. "He told me that when Top Rank let him go it stuck a dagger in his heart and he said he never recovered," Dunkin said. "He said it hurt him so bad. He said, 'I thought we were like family.' When that happened he said, 'I just didn't want to fight.' He said, 'I thought I would come out of it,' but he went to the gym a few times and he didn't. He's an emotional and sensitive kid. He said he thinks it's better if he retires. He's retired. He did well. He made about $2 million. He saved his money, paid his taxes, has a beautiful home and family. I'm really happy for him."

Donaire
• Junior bantamweight star Nonito Donaire, who is moving up to bantamweight and headed toward a fight with unified titlist Fernando Montiel, will fight in December, probably on Miguel Cotto's next undercard, manager Cameron Dunkin told ESPN.com. However, the fall fight won't be against Montiel, as originally proposed. "Top Rank told me Nonito would be on that pay-per-view and that will lead to the Montiel fight early next year," Dunkin said.

Gonzalez
• Although the main audience will be watching on Mexican network Televisa, Jhonny Gonzalez (45-7, 39 KOs), a former bantamweight titlist, faces 2000 Uganda Olympian Jackson Asiku (26-3, 14 KOs), who now lives in Australia, in a featherweight fight that will be available in the United States as the headliner on a Mexican Independence Day card from the Las Vegas Hilton on Sept. 15 (Integrated Sports PPV, 10 p.m. ET, $24.95). In the co-feature of the Roy Englebrecht-promoted card, former junior lightweight titlist Juan Carlos Salgado (22-1, 16 KOs), also of Mexico, faces Tyrone Harris (24-6, 16 KOs).

Povetkin
• No opponent yet, but heavyweight contender Alexander Povetkin is slated to fight Oct. 30 in Rostock, Germany, on the undercard of middleweight titlist Sebastian Sylvester's defense against Mahir Oral. It will be Povetkin's first bout since dropping out of a long-overdue mandatory fight with champion Wladimir Klitschko on advice of trainer Teddy Atlas, who was against the fight. … The Sept. 3 edition of Telefutura's "Solo Boxeo Tecate" will feature a replay of Shane Mosley's 2009 destruction of Antonio Margarito as well as highlights of Saul Alvarez bouts as Golden Boy promotes its Sept. 18 HBO PPV card featuring Mosley-Sergio Mora and Alvarez-Vivian Harris. … Golden Boy will continue offering its pay-per-view cards in movie theaters in conjunction with NCM Fathom. The Sept. 18 Shane Mosley-Sergio Mora HBO PPV show from the Staples Center in Los Angeles will be in more than 300 theaters nationwide in HD. This will be the fifth fight Golden Boy and NCM Fathom have brought to the big screen. … German-based Russian heavyweight contender Denis Boytsov (27-0, 22 KOs) is on the road to recovery after right hand surgery earlier this summer. The 24-year-old has returned to training this week after having a piece of bone from his hip removed and placed in his hand for stability. "For several years I've felt a lot of pain after my fights," Boytsov said. "Now everything feels much more stable."
QUOTABLE

Pacquiao
"Of course, I believe he knew. He's the one who wraps his hands. He's just making some alibi for some reason. What do you think? My belief is you [would] know that."
-- Manny Pacquiao, on his belief that Antonio Margarito knew he was wearing loaded hand wraps before his fight last year with Shane Mosley, during Tuesday's kickoff news conference in Los Angeles to promote his Nov. 13 bout against Margarito.