Diaz out to repeat; Malignaggi seeks revenge

By Dan Rafael
ESPN.com
Archive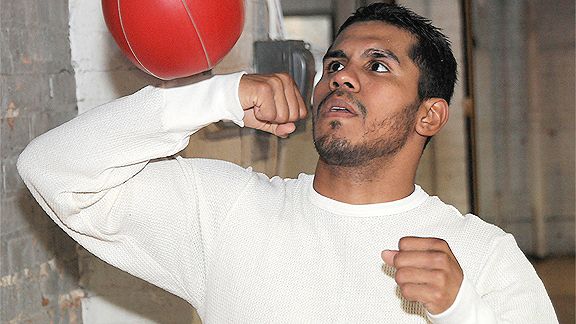 Chris Bernacchi/Hoganphotos/Golden Boy PromotionsJuan Diaz is out to prove his win in the first fight was the right decision.
Even before former junior welterweight titlist Paulie Malignaggi went to Houston to face former unified lightweight titleholder Juan Diaz in his hometown in August, he was telling anyone who would listen that he didn't think he could get a fair shake from the judges.
Malignaggi called reporters weeks ahead of time to make his feelings known. He talked about it in the days leading up to the fight. And then on fight night, Malignaggi fought his heart out in a very close bout, one many thought he won. But, sure enough, he lost a unanimous decision.
Judge Raul Caiz scored it 115-113, which few could argue with because of the close nature of the bout. There was a bit more concern about David Sutherland's 116-112 scorecard, although, again, it was reasonable in a fight with many close rounds. But then came the scorecard that had even the most ardent Diaz supporter groaning, the 118-110 tally turned in by Gale Van Hoy, the lone Texas judge on the panel.
It sent Malignaggi (26-3, 5 KOs) into near-meltdown mode in his postfight interview as he railed against a perceived hometown decision and made accusations of corruption.
With neither fighter having a major bout on the horizon, and HBO unwilling to televise either man against other opponents, here we are with the inevitable rematch at hand.
Instead of meeting again in Texas, or in New Yorker Malignaggi's region of the country -- a strong bone of contention during the negotiations -- the junior welterweights will fight on neutral territory Saturday night (HBO, 10:15 ET/PT) at the UIC Pavilion in Chicago.
"Now we are doing it again to prove who the better man is," said Golden Boy's Oscar De La Hoya, Diaz's promoter. "Juan will try to erase any doubts there were about their first encounter."
This time around, Malignaggi is content with the officials for the fight. The Illinois commission selected experienced referee Geno Rodriguez and judges Mauro DiFiore of Illinois, Tom Miller of Ohio and Florida's Michael Pernick.
"The first time around I had reservations because I knew it was going to happen," Malignaggi said of his controversial loss in August. "I knew I was going to get screwed. This is a regular situation. I never complained before other fights. I had a reason to say stuff. I was proven right. This is a neutral situation. I think both parties can benefit from it. We'll see who's the best. I'm cool. I don't have any reason to complain."
Although Diaz (35-2, 17 KOs) had nothing to do with the selection of the judges or the scoring of the fight, he was the target for some who complained about the outcome of the first fight.
"Every time I go in the ring I go there to do the best that I can," Diaz said. "I don't have no control over the judges or the referee, so it upset me a little after the fight for a few weeks when people were coming up to me or interviewing about Texas judges, Texas judges, Texas judges and they'd say it was in Houston so you won. My thing is just to fight, in Houston, Chicago, Vegas, wherever. I get paid to fight. My job is to fight and win. This time I am happy it's in Chicago. Like in the first fight, I got nothing to do with the referee or the judges.
"I'm gonna step in the ring and do what I do best and show the world the first was the right decision."
After lengthy negotiations, Diaz took the rematch because he wanted to clear the air.
"It wasn't a macho thing at all," he said. "We put up a great fight and sometimes controversies make for better fights. I think the fans wanted to see the rematch. I don't want to leave my fans with any doubt. Through my 37 fights there's never been any doubt and I don't want to have any of my fights in doubt. So why not [do a rematch]? There are a lot of possibilities out there for me, but why have this doubt? I told [manager Willie] Savannah let's make it happen."
One thing Diaz didn't want to do is dwell on the August fight.
"That fight is in the past," he said. "I'm looking to the future. Different night, different city, and I am ready to decisively win."
Said Malignaggi, "I'm really happy I got the rematch. I made enough of a stink after the first fight to help get me the rematch. We are going to clear everything up on [Saturday]."
De La Hoya said he believed Diaz won the first fight, but he understood the massive negative reaction to Van Hoy's scorecard.
"My problem was how far apart the scores were, that was the controversy," De La Hoya said. "It wasn't who won the fight. It was a close fight where you could make a strong case to go either way. I talked to people who were neutral who felt Diaz won the fight. That judge had an off night. We're having the rematch and we'll move on from there."
Ortiz looks to rebound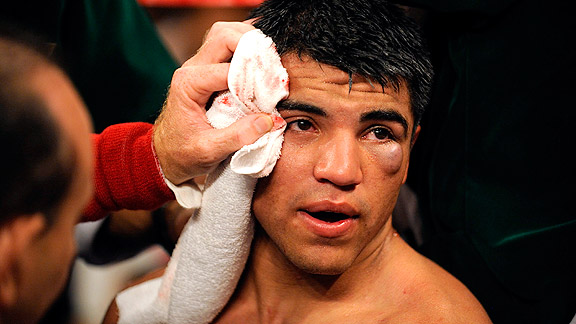 Matt A. Brown/Icon SMIOn the mend: After a painful loss to Marcos Maidana, Victor Ortiz is ready to get back in the ring.
Junior welterweight Victor Ortiz, Golden Boy's 22-year-old uber prospect, had everything going for him. The 2008 ESPN.com prospect of the year was viewed by many as the next big thing, an exciting, charismatic, bilingual young fighter with a bright smile, speed and two-fisted power.
Company chief Oscar De La Hoya had personally taken Ortiz under his wing and often compared his potential to that of himself when he was coming up. Golden Boy had lined up Ortiz to fight in an HBO main event at the Staples Center in Los Angeles, where he would face Marcos Maidana of Argentina for an interim title on June 27.
Everything was on track. Then came the fight.
It was a sensational brawl as Ortiz knocked Maidana down in the first and second rounds while Ortiz also hit the deck in the first and sixth rounds. The crowd went wild. It was great television.
But then the unimaginable happened after Ortiz went down for the second time: With a cut over his right eye, Ortiz quit and then admitted as much in his stunning postfight interview.
The next big thing had crashed and burned under the bright lights, and questions abounded about his heart and future. There was also the matter of wrist surgery following the fight.
Now, six months later, the wrist is healed, but the questions remain. They could be answered as Ortiz (24-2-1, 19 KOs), of Oxnard, Calif., returns to face former welterweight title challenger Antonio Diaz (46-5-1 29 KOs) of Coachella, Calif., in the opener of HBO's Diaz-Malignaggi II broadcast.
"That night it was such an overwhelming night and the emotion got to him," De La Hoya said. "Victor I feel can overcome that."
But Ortiz does not apologize for quitting. He says he doesn't even remember it because he was so discombobulated from the early knockdown.
"Nothing whatsoever," he said of his recollection of the fight. "It's crazy that I even got up. I felt like I was sleeping." Ortiz said he didn't regain his senses until "two hours after they sewed my eye together. I was not on point. I have no idea what happened. It was a hell of an experience. It was an off night and I paid the consequences."
Ortiz said he hasn't watched the fight, although he's certainly aware of the brutal negative feedback for how the fight ended.
"What I say will never change anything," he said. "I don't regret anything in life."
All he can do is move on and try to prove himself again against Diaz, a friend of Ortiz's who even texted him after the Maidana fight to offer encouragement. Now, he's facing him.
"He's still a young, dangerous fighter," Diaz said. "He had a bad night. I've had bad nights. He's young and I know he's coming back strong to prove himself."
Shaw's stars returning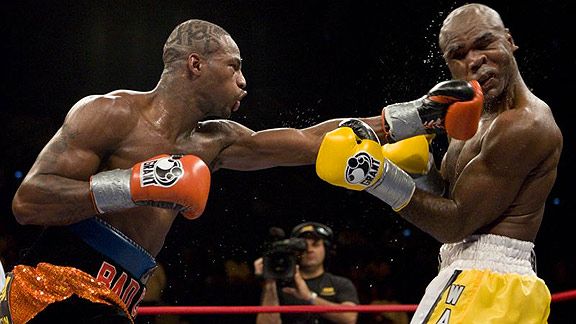 Marty Rosengarten/Ringsidephotos.comChad Dawson, left, is riding high after outpointing Glen Johnson in November.
Promoter Gary Shaw is talking with HBO about the return of two of his top fighters, interim light heavyweight titlist Chad Dawson and interim junior middleweight titleholder Alfredo "Perro" Angulo.
Dawson, who outpointed Glen Johnson last month in a rematch, probably will be back in April, Shaw told ESPN.com. He said they're awaiting the winner of Friday's Jean Pascal-Adrian Diaconu title bout in Montreal; Dawson is the mandatory for the winner.
"We'll go to Canada provided we get an agreement on the judges and referee," Shaw said. "We're also willing to go to Australia to face Danny Green [who just knocked out Roy Jones] if we could agree on the weight, although I'm not sure HBO would go to Australia. One thing I think is for sure is that Bernard Hopkins won't fight Chad."
Angulo, who blitzed Harry Joe Yorgey on the Dawson-Johnson II undercard, could also be back in April on a separate card from Dawson, Shaw said. He and HBO have a list of potential opponents in mind, including Joel "Love Child" Julio and ex-welterweight champ Ricardo Mayorga, who once was scheduled to face Angulo but withdrew after a contract dispute with promoter Don King.
Shaw also said he was interested in matching Angulo with Australia's Anthony Mundine, a former super middleweight titlist who has been campaigning at middleweight but is dropping down to junior middleweight.
QUICK HITS

Pacquiao
• Manny Pacquiao and Floyd Mayweather, who are close to finalizing an agreement for boxing's biggest fight on March 13, have both agreed to a contractual clause under which each will be subject to Olympic-style drug testing in advance of the fight, Freddie Roach, Pacquiao's trainer, told ESPN.com. Mayweather's father, Floyd Mayweather Sr., has accused Pacquiao, who was once flyweight champion and now holds a welterweight belt, of using banned substances in previous bouts, even though Pacquiao has never failed a drug test. "Mayweather's side wanted it because the expert over there, Mayweather Sr., says Manny is on steroids to get bigger. I have no problem with the testing whatsoever. They can do whatever kind of drug testing they want. They're scared of Manny and scared of his power. He'll pass any test in the world." The fighters will be subject to testing, including blood testing, throughout the lead-up to the fight. Samples will be tested at the U.S. Olympic testing center at UCLA, although neither fighter will have to have blood drawn during the week of the bout.

Haye
• Roach told ESPN.com that he was approached by heavyweight titlist David Haye and his manager/trainer Adam Booth to train him for his mandatory defense against John Ruiz, which is supposed to take place in London in March or April. When Roach was in England working with junior welterweight titlist Amir Khan for his first-round knockout of Dmitriy Salita last week, Roach said he spoke with Haye and Booth. "Adam asked me if I would help them out and I also spoke to David," Roach said. "I think David is what the heavyweight division needs and I like what I see. I would love to work with him, so we will see what we can do." The timing may be a problem, however. Roach is committed to training Pacquiao for the Mayweather fight and plans to do the first month of their camp in the Philippines before finishing up in Los Angeles and Las Vegas.

Campbell
• Former unified lightweight titlist Nate Campbell (33-5-1, 25 KOs) soon will be promoted by Golden Boy, which is in the process of finalizing a contract buyout from Don King, with whom Campbell has been embroiled in litigation. Campbell, now fighting at junior welterweight, could make his debut for Golden Boy in a title eliminator against Kendall Holt, which is due for a purse bid next week, according to Terry Trekas, Campbell's adviser. "As far as I know Don signed off on the paperwork and we're ready to get to work with Golden Boy," Trekas said. "In the next few days, the California [State Athletic] Commission will review the contract and then we'll get the i's dotted and the t's crossed."

Khan
• HBO is working on a March 6 card that it hopes will feature junior welterweight titleholders Devon Alexander and Amir Khan of England defending their belts in separate fights, although it is not a tournament situation in which the winners would fight. HBO hopes to see Alexander face Marcos Maidana, an interim titlist who is Khan's mandatory challenger but would go for Alexander's version of the title. If Victor Ortiz wins his HBO fight Saturday, he could potentially challenge Khan. The details are still being sorted out, but Kevin Cunningham, Alexander's trainer and manager, is anxious to nail things down. "It looks like our fight will be the week before Mayweather-Pacquiao, the biggest fight in boxing [tentatively scheduled for March 13], so it brings even more excitement fighting the week before that fight. It's a great opportunity. We can't wait to sign a contract and go to camp and get the game plan started on whoever we'll be fighting. They throw a name out there, we'll take 'em. It doesn't matter to us."

Williams
• Middleweight contender Paul Williams needed 36 stitches from a plastic surgeon to close cuts over both eyes in the wake of his all-action slugfest with junior middleweight titlist Sergio Martinez last week in Atlantic City. Williams, who won a majority decision in the fight of the year candidate, had a much worse cut over his left eye, caused by an accidental head-butt, than his right eye. The left eye cut was in the same place that opened during his fight last year with Verno Phillips. Despite the blood, Williams never appeared to let the wound bother him. "I admired Paul's complete control of the situation," Dan Goossen, Williams' promoter, said. "It was as if he wasn't cut. He's a cool and calm athlete in any situation. He shows a mental toughness that is only in special athletes." Goossen said Williams ought to be cleared to fight in late March with the goal to fight as soon as April. One fight that could happen is a rematch with Martinez, Goossen said. "It's a fight that has to be made sometime in 2010, either the next fight or the one after that," he said. "That will all be discussed, but I know both fighters, the fans, the network [HBO], everyone would like to see it."

Valero
• A deal is nearly done for lightweight titlist Edwin Valero to defend his belt against interim titleholder Antonio DeMarco (23-1-1, 17 KOs) on Feb. 6 (Showtime) at a site to be determined in DeMarco's home country of Mexico, DeMarco promoter Gary Shaw told ESPN.com. "I give credit to DeMarco because he could have gone around Valero because of his problems and we take on somebody else," Shaw said. "But he wants Valero. That's what boxing should be about." Shaw said Showtime is willing to go to Mexico to do the fight. It will be there because Valero, of Venezuela, hasn't been allowed into the United States because of a visa issue stemming from a drunken driving charge. Also, the only place in the U.S. he is licensed is Texas because of a past medical issue. The fight is also contingent on Valero (25-0, 25 KOs) defeating Hector Velazquez in a Dec. 19 defense in Venezuela. Valero, 28, scored a second-round knockout of Antonio Pitalua in April to claim the vacant title but has not fought since. DeMarco, 23, claimed the vacant interim title Oct. 31 with a dominant 10th-round knockout of Jose Alfaro.

Johnson
• Former light heavyweight champ Glen Johnson, who dropped a decision to Chad Dawson on Nov. 7, could find himself back in the title picture quickly. Johnson could face Yusaf Mack in a title eliminator for the right to challenge titlist Tavoris Cloud, according to Johnson co-promoter Leon Margules. There had been a chance that Johnson would face undefeated German contender Karo Murat in the eliminator but, according to Margules, the Murat camp turned down the fight, leaving it available to Mack. Margules said if they make the deal, the bout could land on the Jan. 30 Shane Mosley-Andre Berto undercard at Mandalay Bay in Las Vegas. Lou DiBella, who promotes Berto and Mack and co-promotes Johnson, could use one of his slots on the undercard for the bout.

Mora
• Former junior middleweight titlist Sergio Mora (21-1-1, 5 KOs) officially signed a promotional contract with Golden Boy Promotions that had been in the works for the past month, manager Cameron Dunkin told ESPN.com. Richard Schaefer, Golden Boy's CEO, said Mora's first bout with the company will come Jan. 30 at Mandalay Bay in Las Vegas on the Shane Mosley-Andre Berto undercard. Mora, now fighting as a middleweight, hasn't fought since losing his title via unanimous decision in a rematch with Vernon Forrest in September 2008.

Pascal
• Those looking forward to seeing Friday night's rematch between light heavyweight titlist Jean Pascal and Adrian Diaconu, whose first fight in June was one of the most action-packed bouts of the year, are out of luck, at least in terms of seeing it live. ESPN360.com planned to have live coverage of the fight from Montreal, but a technical issues due a big snowstorm in Canada will prevent the Webcast of the fight. However, the bout will air on ESPN Deportes (in Spanish) on tape delay at 8 p.m. Saturday.
QUOTABLE

Darchinyan
"Team Rojas can believe what they want to believe. They say they are going to take me out and take my belts? How does he figure that he is going to beat me? He acts brave, but when he sees me here he begins to shake. I am a fully loaded gun and I am going to shoot him down with my boxing skills." -- unified junior bantamweight champ Vic Darchinyan, on Tomas Rojas at this week's final news conference in advance of their fight Saturday night (Showtime, 9 ET/PT).

Rojas
"It's a two-for-one on Saturday because I will take two belts from Vic Darchinyan on Saturday night. He's a good fighter, but I am ready for him. Darchinyan is strong but not indestructible. I'm ready to take the belts. I'm going to throw a lot of punches. I'll throw more punches and harder ones." -- Rojas, on challenging Darchinyan