Pavlik out to salvage rocky '09

By Dan Rafael
ESPN.com
Archive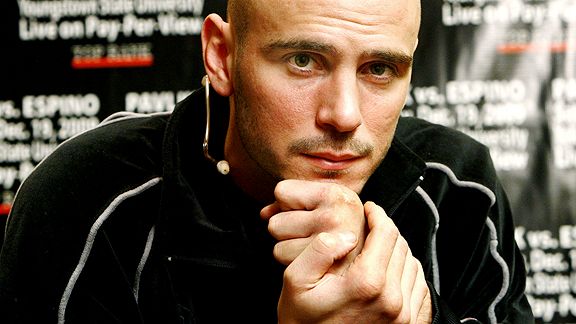 Chris Farina/Top RankA pesky staph infection nearly put Kelly Pavlik down for the count for good.
You ever just have one of those days? Well, Kelly Pavlik is having one of those years.
The middleweight champ began 2009 in fine fashion, rebounding from his October 2008 loss to Bernard Hopkins in a nontitle light heavyweight bout by easily dispatching Marco Antonio Rubio in February for his second defense.
Then things went downhill.
"It's been a long year for me, very frustrating because of a series of setbacks," Pavlik said.
There was a contract dispute with Top Rank, his promoter since he turned pro in 2000, and the most famous staph infection in boxing, one Pavlik had in a finger on his left hand that caused all kinds of problems.
Pavlik-Espino
TV lineup for Top Rank's split-site pay-per-view card Saturday night (9 ET) from Youngstown State University's Beeghly Center in Youngstown, Ohio, and Arena Itson in Ciudad Obregon, Mexico:
Middleweights: Kelly Pavlik (35-1, 31 KOs) vs. Miguel Espino (20-2-1, 9 KOs), 12 rounds, for Pavlik's title
Junior middleweight: Vanes Martirosyan (25-0, 16 KOs) vs. Willie Lee (17-5, 11 KOs), 12 rounds
From Mexico
Bantamweights: Neomar Cermeno (18-0, 10 KOs) vs. Alejandro Valdez (22-3-2, 16 KOs), 12 rounds, for Cermeno's interim title
Lightweights: Humberto Soto (49-7-2, 32 KOs) vs. Jesus Chavez (44-6, 30 KOs), 10 rounds
The contract issues were worked out, but the infection and ensuing damage it did to Pavlik's hand lingered for months. It landed him in the hospital in serious condition, necessitated two surgeries to repair a damaged tendon and forced him to twice withdraw from a much anticipated fight with Paul Williams, first in October and then from the rescheduled Dec. 5 bout.
"He's endured a lot since his last title defense," Top Rank's Todd duBoef said. "To come back from his staph infection and the life-threatening complications he suffered due to his allergic reaction to the antibiotic prescribed is the stuff of legends."
Throughout his recuperation, Pavlik was the target of harsh criticism by fight fans and the Williams camp, which accused him of ducking Williams, and he endured endless rumors about aspects of his personal life that supposedly caused the layoff.
"It has been crazy, the hand -- we have worked through that and it's in the past," Pavlik said. "The problem with the hand was time-consuming. People wanted to fight and everything was supposed to get done. After the first surgery we thought we would be ready to go. After I got the stitches out, it opened up again and the puss started coming out and it got worse. Finally we were on a new antibiotic and that wasn't doing the job so we went back in and did another surgery and after that everything was fine. The infection eventually went away with new antibiotics. After it went away we got a new reaction from the antibiotics. That put me in the hospital for four days with a very serious problem.
"At the end of the day we had two major surgeries within two months of each other and the tendons were coming out of the hand. So we had irritation and stiffness and I had therapy to get movement back in the finger. We wanted to fight, that is the main thing. We told the [Williams] people to push the fight back [again]."
The Williams camp, understandably, refused and moved on. Williams instead faced Sergio Martinez on Dec. 5 in Atlantic City, N.J., and won a close decision in a fight of the year candidate.
Pavlik (35-1, 31 KOs) also moved on and now he's ready to fight again to at least try to end a forgettable year on a high note after the longest layoff of his career.
He'll return home to Youngstown, Ohio, and face big underdog Miguel Espino (20-2-1, 9 KOs), best known for a stint on the first season of "The Contender," on Saturday night (Top Rank PPV, 9 ET, $39.95) at the Beeghly Center on the campus of Youngstown State University.
"Now I'm back. I feel great," said Pavlik, who was supposed to fight Williams instead of Hopkins last year but didn't because the Williams side increased its demands after Top Rank thought it had a deal. "I have a huge hunger to get back into the ring. On Saturday night it will be bombs away. Two fighters who only go forward. My strategy is simple. I will be leading with double and triple jabs to keep him on his toes. Once I land a big shot, it's going to be a whole new ballgame. Winning is not enough. I need to be dominant and I need to be impressive. I know what the mission is and I have every intention of completing it."
Although Pavlik's hand feels better, he still can't fully bend his finger, but it's not stopping him from going through with the fight, even though he compressed a typical eight-week training camp into five.
"The only thing with the hand right now is I can't bend it the whole way, but I would say it is at 100 percent," Pavlik said. "At first, we were wearing 18-ounce gloves just to make sure it would be safe and the last couple of times went down to the regular size. The hand is feeling good, there is no pain and everything is fine."
Pavlik is resigned to the fact that there will be those who believe he simply ducked the dangerous Williams.
"That doesn't bother me because some people know absolutely nothing about boxing," Pavlik said. "They don't know how the sport works. It doesn't bother me that much. The thing is, we had to fight, and against Espino, the kid has a great heart, a good chin and he's always in great shape so you can't overlook anyone like that. This will be his first shot at a world title and his only shot, so you know he's going to make the best of it. So our thing was we were told we had to defend the title. We had to make that fight so I wouldn't get stripped of my title. So the people that said he is now fighting two weeks later [from the Dec. 5 date meant for the Williams fight], they don't understand the story and have no idea what was behind it."
Arum is more perturbed by those who cry that Pavlik ducked Williams than Pavlik is.
"It really makes me want to cry because people like that saying what they say -- that they have absolutely no factual basis for what they are saying," Arum said. "We knew what Kelly went through physically and how close he was to not making it at all, not just to fight, but not making it at all, and to have those statements made. Like the genius [George Peterson] that trains Williams, claiming that Kelly was faking the injury. When I hear that, I feel so embarrassed for the sport. I'm 78, and I've put my whole life into this sport, and to hear morons like that talk when they have no basis for what they are saying really makes me sad."
It's that kind of harsh rhetoric between the camps, and the Williams demand for a 50-50 deal now, that makes an eventual Pavlik-Williams bout appear doomed.
"Sure, Kelly will fight Williams under the right circumstances, and if these people act like gentleman instead of the thugs that they are," Arum said. "I am angry. I am angry at this Peterson guy about shooting his mouth off about things he doesn't know about."
If Pavlik gets past Espino, Arum said their target for Pavlik's next fight in April or May would be against middleweight titleholder Felix Sturm, whom Top Rank is talking to, or a possible move up to super middleweight to challenge titlist Lucian Bute of Canada.
Espino, sounding confident, isn't worried about Pavlik's team making future plans.
"I know I'm considered an underdog. That doesn't bother me. It never has," Espino said. "I've been training to win this fight. I've been training to become a world champion. My trainer, John Bray, and I have not wasted one moment of training camp. It's a tough fight, perhaps the toughest I've ever had. But I have full confidence in my abilities. If Kelly has chosen to take me lightly, he's made a big mistake."
Jack Loew, Pavlik's trainer, said they haven't taken Espino lightly at all.
"We expect nothing but the best out of Miguel Espino," Loew said. "We are giving this kid an opportunity of a lifetime, a fight that could change his life like it did for us against Jermain [Taylor]. So we expect the best and we're not taking this kid lightly."
Loew added that he's not too concerned about Pavlik's surgically repaired finger.
"The snap in Kelly's punches is back," he said. "Over the past seven days of training, Kelly has returned to his world championship form. Kelly is ready to drop Espino more times than Tiger Woods' trousers."
Green-Hopkins Down Under?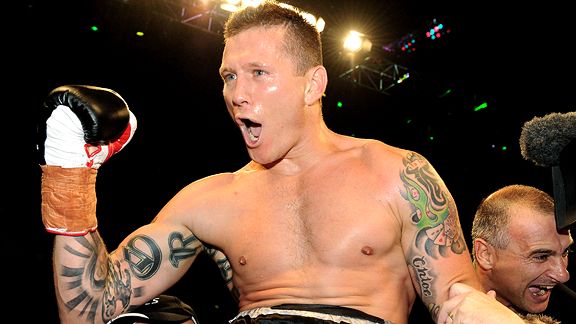 Torsten Blackwood/AFP/Getty ImagesWith Roy Jones aside, Danny Green is ready to move on to bigger things -- like Bernard Hopkins.
Promoter Gary Shaw is now serving as an adviser to Australian cruiserweight Danny Green, who stopped Roy Jones in the first round earlier this month, and they are trying to make a fight between Green and light heavyweight Bernard Hopkins in Australia in April, Shaw told ESPN.com.
They met this week with Golden Boy's Richard Schaefer, who represents Hopkins, in Los Angeles in an attempt to make the fight. Shaw said HBO has told him it's willing to travel to Australia to cover the fight, which Shaw said he'd do on a Sunday afternoon Australian time to allow for it to take place in prime time in the U.S. on a Saturday night. Shaw said he made Schaefer an offer during the meeting.
"Richard was cordial and said he would speak to Hopkins and get back to us. We are currently waiting," said Shaw, who hooked up with Green through junior bantamweight champ Vic Darchinyan, a close friend of Green's whom Shaw promotes. "We also don't have the rights fee number from HBO yet, which is the missing piece of the puzzle. My understanding is that Bernard is ready, willing and able to do the fight, but Richard said he has other options, including [super middleweight titlist] Lucian Bute."
Bute was very impressive in his knockout of Librado Andrade on HBO last month, and his handlers met with HBO this week to talk about his next fight. Shaw said if Green-Hopkins happens, it would probably take place at a catch weight around 185 pounds.
QUICK HITS

Cotto
• Top Rank's Bob Arum is laying the groundwork for the return of former welterweight titlist Miguel Cotto. Arum said he hopes Cotto will return in June in New York on the eve of the annual National Puerto Rican Day Parade, a weekend Cotto has regularly fought on. One possibility, Arum said, would be for Cotto to move up to junior middleweight and challenge New York's Yuri Foreman for his belt. Foreman outpointed Puerto Rico's Daniel Santos on Nov. 14 to win the title on the undercard of Cotto's 12th-round knockout loss to Manny Pacquiao. "Yuri is going to come back and defend his title in March. We're figuring that out now," Arum said. "Then the June fight might be Yuri against Cotto, who would step up to 154." Another possibility for Cotto if he doesn't face Foreman, or perhaps a re-licensed Antonio Margarito in a rematch, is Kermit Cintron, a former welterweight titlist who is also Puerto Rican. Arum said he has spoken to Lou DiBella, Cintron's promoter. Said DiBella: "It's a logical fight for Madison Square Garden on the weekend of the Puerto Rican parade. Bob and I had a legitimate conversation about the fight. Bob and Cotto have other options, but Cintron is certainly on the radar screen."

Solis
• Now that former heavyweight titleholder Oleg Maskaev, who was knocked out in the first round last week by Nagy Aguilera in a supposed tune-up fight, has blown his chance for a title eliminator against Ray Austin, the match could be Austin against Odlanier Solis, a Cuban defector and 2004 Olympic gold medalist, for the right to become Vitali Klitschko's mandatory challenger. Carl Moretti of Top Rank, which co-promotes Solis with Arena, said they've "had discussions with the WBC about that. That's what we're working on. We hope to put on that fight in the first quarter [of 2010]." If the fight is approved, and Top Rank and Arena can't make a deal with Austin promoter Don King, it would go to a purse bid. "[Solis] is the only heavyweight today who can be a real threat to either of the Klitschkos," Arena's Ahmet Íner said. "I hope that he will get the chance to get his hands on the brothers."

Campbell
• Golden Boy made its signing of former unified lightweight titlist Nate Campbell (33-5-1, 25 KOs) official Thursday. Golden Boy bought out Campbell's contract from Don King, from whom Campbell, 37, had been trying to break for more than a year. Terms were not announced. "I am really excited to become a part of the Golden Boy Promotions team," said Campbell, who will campaign at junior welterweight. "I am confident that Golden Boy will be able to help me to achieve everything that I am still looking to accomplish in my career and I couldn't be happier." Said Golden Boy's Oscar De La Hoya: "Nate Campbell has already shown that he has everything it takes to be a great champion. He has battled some of boxing's greatest fighters and is ready to make a run at another world title in 2010." Top Rank this week won a purse bid to promote a title eliminator between Campbell and ex-titlist Kendall Holt with a bid of $35,500. The bout, which would produce a mandatory challenger for Juan Urango, won't happen, however. Moretti said Golden Boy informed Top Rank that it had other plans for Campbell, who stood to earn only $14,200 (40 percent of the bid as the lower-rated contender). Holt will fight the next leading contender in the IBF rankings.

John
• Although there was talk of a fight between junior lightweight titlist Robert Guerrero (25-1-1, 17 KOs) and featherweight titleholder Chris John (43-0-2, 22 KOs), both of whom are with Golden Boy, it's off the table for now. Guerrero manager Shelly Finkel said they'd like the fight and spoke to Golden Boy about it for the spring, and HBO is interested in it as a "Boxing After Dark" headliner as part of its deal guaranteeing Golden Boy dates. But the John camp isn't interested. "I did receive a offer from [Golden Boy matchmaker] Eric Gomez in October to fight Robert Guerrero and I replied to him that Chris will take a long and well-deserved vacation and he will come back sometime in April or May, and we never spoke again about that particular fight," Sampson Lewkowicz, John's adviser, told ESPN.com. "There is absolutely no reason to move up to 130 because all of the big names are in the featherweight division and there is no reason to relinquish his title to fight Guerrero."

Pascal
• Light heavyweight titlist Jean Pascal, who dislocated his right shoulder three times during last week's title defense against Adrian Diaconu in their rematch in Montreal, suffered a fracture, according to promoter Yvon Michel. The injury first happened in the third round, but also came out of joint in the fifth and 10th. Each time, one of Pascal's cornermen popped it back into place and he was able to finish the fight. Pascal had arthroscopic surgery this week and will need about six weeks of rehabilitation before training, Michel said. "The doctors are saying he could be back for a fight in May," Michel said. "Our target date is June." The injury pushes back the mandatory fight between Pascal and interim titlist Chad Dawson until at least June. They had hoped to go as soon as April.

Mosley
• HBO will continue its annual tradition of showcasing its top fights of the year for five consecutive nights starting on Dec. 26. Each night at 11 ET/PT "Boxing's Best" will feature one of the most significant fights that HBO televised in 2009. The schedule: Dec. 26 (Floyd Mayweather-Juan Manuel Marquez); Dec. 27 (Shane Mosley-Antonio Margarito); Dec. 28 (Andre Berto-Luis Collazo); Dec. 29 (Marquez-Juan Diaz); Dec. 30 (Manny Pacquiao-Miguel Cotto following by Paul Williams-Sergio Martinez). The schedule had already been set before Williams and Martinez waged a sensational fight on Dec. 5, so HBO added it to the "Boxing's Best" lineup.

Tua
• Heavyweight David Tua (50-3-1, 43 KOs), who was due to fight in Atlantic City, N.J., on Feb. 6, has withdrawn from the bout, promoter Cedric Kushner announced. Tua said he pulled out because of an unspecified family issue. "I was really looking forward to coming to America after the holidays, but due to this significant family matter I simply have to remain in New Zealand and continue my preparation for my March 27 event here." Tua is scheduled to face Friday Ahunanya on that date.

Estrada
• Promising super middleweight Shawn Estrada, a 2008 U.S. Olympian who injured his right hand sparring while preparing for a Nov. 28 bout, which was called off, had surgery at UCLA Medical Center. The surgery involved repairing a ruptured tendon on Estrada's right ring finger. "The doctors basically told us by doing surgery the injury should never re-occur or be a problem again. He should be ready to return to the ring in three months," said Eric Scholnick, who co-manages Estrada (6-0, 6 KOs). Estrada hasn't fought since May because of various injuries. He was also scheduled to fight on the September Vitali Klitschko-Cris Arreola undercard but had to withdraw. "I had some bad luck with injuries this year," Estrada said. "I am confident that I will remain healthy in 2010 and continue to fulfill my goal as a world class professional."

Froch
• Mick Hennessy, promoter for super middleweight titlist Carl Froch, announced that Froch's April 17 title defense against former titleholder Mikkel Kessler would take place in Kessler's native Denmark in Group Stage 2 of Showtime's Super Six World Boxing Classic. Froch had the homefield advantage for his first bout of the six-man tournament when he won a split decision against American Andre Dirrell on Oct. 17. Now, he's headed to Kessler's turf. Froch also defended his title in the United States against Jermain Taylor in April. "Carl's been outstanding over the last 12 months," Hennessy said. "He's had three massive fights in a row against Jean Pascal to win the title, a sensational knockout against Jermain Taylor in the U.S. to retain [champion] and then opening his Super Six account by handing Andre Dirrell his first defeat. He's shown the kind of mental and physical toughness in those fights that I don't think any other British fighter in recent times has possessed."
QUOTABLE

Holmes
"I knew that I couldn't beat Mike Tyson. But again, Don King calls. I was off two years with my band, traveling around with Kool and the Gang, the Temptations, singing ding ding ding, you know? And drinking them Budweisers and stuff like that. And [a] knock on the door, Don King, 3 o'clock in the morning. 'Larry, open the door.' [I said], 'Well, what are you doing, man?' [King said], 'I want you to fight Mike Tyson.' [I said], 'You must be crazy. I can't beat Mike Tyson. I ain't did nothing for two years.' [King said], 'It's $3.5 million dollars.' I said, 'Well, come on in.' He said, 'But you got two months to get ready for the fight.' I have two months? I said, 'Man, two months?' He said, 'Well, you have $3.5 million.' And I said, 'I can't beat Mike Tyson in two months, man.' [King said], 'Here is $500,000 cash.' I said, 'OK.'" -- Hall of Fame former heavyweight champ Larry Holmes, recounting how his fourth-round knockout loss to Mike Tyson in 1988 came about during an interview airing on the Yes Network's "Centerstage."