Valero eager to please in front of the spotlight

By Dan Rafael
ESPN.com
Archive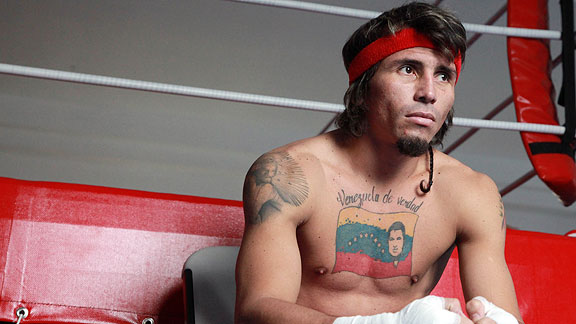 Tom Casino/ShowtimeMainstream fans will get their first look at Edwin Valero when he meets Antonio DeMarco on Saturday.
Around 2003, word started to spread. There was this junior lightweight from Venezuela who was knocking his opponents dead, all of them in the first round.
One after another, they were falling at Edwin Valero's feet, unable to survive even three minutes.
His bouts turned up in grainy footage on the Internet and he became something of an underground cult figure.
That's when he signed with Golden Boy, which intended to unleash him on a card in New York that was going to be televised on HBO Latino in January 2004. Valero was 12-0 with 12 first-round knockouts and was generating enormous buzz.
However, Valero flunked a prefight medical test. He had an abnormality on his MRI exam, the result of a blood clot on his brain suffered years earlier in a motorcycle accident. Unable to get licensed in the United States, Valero's career stagnated. After 16 months of being unable to get reinstated, Valero left for Japan, which licensed him.
The knockout streak continued. It wasn't until his 19th fight that anyone even made it to the second round. In his 20th fight, Valero won a junior lightweight title. Yet, few in the U.S. had seen him other than the most ardent of Fight Freaks.
After four defenses, Valero relinquished his belt and signed with Top Rank, which pushed hard for him to be licensed in Texas after he passed a battery of medical exams in March 2008. Thirteen months later, he crushed Antonio Pitalua in the second round in Austin to win a vacant lightweight belt.
It seemed like only a matter of time until he had big fights in the United States, especially after Nevada tweaked a rule that would allow Valero to at least apply for a license, despite a past head injury. Top Rank's Bob Arum even mentioned Valero as a potential opponent for Manny Pacquiao and hoped he'd fight on the Pacquiao-Miguel Cotto undercard in November.
But Valero shot himself in the foot, so to speak. A drunk driving charge cost him his visa, and he was unable to get into the U.S.
However, interim titleholder Antonio DeMarco, who is from Mexico but has been fighting in the U.S. on Showtime, was so hungry for a serious challenge, he pursued the mandatory fight with Valero, even though he could have easily gotten an exception from the WBC because of Valero's visa issues.
The result: Valero will defend his 135-pound belt against DeMarco (23-1-1, 17 KOs) on Saturday (Showtime, 9 p.m. ET/PT) in Monterrey, Mexico.
For Valero (26-0, 26 KOs), it will mark the first time he'll be seen on American television other than appearances on two small pay-per-views. It's been a long time coming since the aborted 2003 HBO Latino fight.
In the televised opener, welterweight Luis Carlos Abregu (28-0, 23 KOs) of Argentina meets Miami-based Colombian Richard Gutierrez (24-3, 14 KOs).
Valero is pleased that American fans will finally be able to watch him ply his trade, even if he won't be fighting in the U.S., where he'd like to box.
"Fighting in Mexico is actually a benefit for me and I look forward to it," Valero, 28, said. "Mexican fans are great fans and they know this sport very well.
"I'm very excited about this fight and thrilled to be fighting on Showtime. DeMarco is a good, young fighter who has great aspirations, like most young fighters, and I respect him a lot. But I believe my experience will be an important key. He hasn't fought the kinds of fighters I have and he hasn't fought in world title fights. I'm very confident that once I connect with one of my power punches, he will feel it."
Valero, the quintessential knockout artist -- only five foes have survived past five rounds and only one has been as far as the 10th round -- said when he was scoring all those first-round knockouts, he looked to end fights quickly to keep the streak alive. Once it ended, he said he was more relaxed.
"There was pressure on me when I was winning all those fights in the first round, but once that ended so did the pressure," Valero said. "Now, I take it round by round and let the knockout come. I don't go into any fight looking for a quick knockout. I try and measure my opponent and get my timing down and go from there. I'm in there to do a job, which is to win and stay undefeated and keep my title. If this goes the distance and I win, I'll be just as happy as if I win by knockout. I am a pressure fighter, but I know I have to also fight smart."
DeMarco, 24, has been on quite a run himself. He's unbeaten in his past 16 fights, including three consecutive knockouts against his three best opponents: Almazbek Raiymkulov, Anges Adjaho and Jose Alfaro for the interim belt in October.
So he was confident when he called for the Valero fight instead of looking for somebody easier.
"Valero's a great champion of the world and it's an honor to get into the ring with him," DeMarco said. "I have a lot of respect for him as a person and for what he's accomplished. There's a reason he's champ and he deserves all the accolades. But, for me, once I get in ring, it is my job to win and walk away victorious.
"That means I have to not only box and move but also to fight and earn his respect. I know what kind of fighter he is, I know his record and that he hits hard. But I've been working on several strategies with my team. In the event one doesn't work, you have to switch it up and make the proper adjustments to win."
American TV for Haye-Ruiz?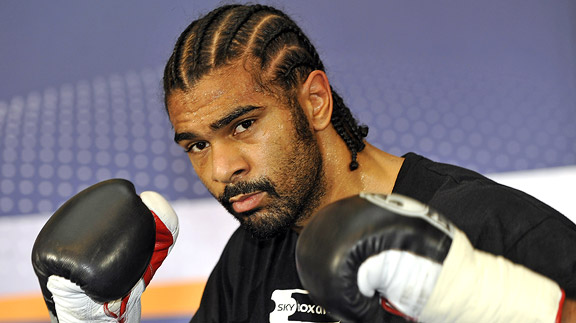 Joerg Koch/AFP/Getty ImagesIf Golden Boy has its way, David Haye will kick off a night of fights headlined by Jones-Hopkins II.
With Golden Boy promoting the Roy Jones-Bernard Hopkins rematch on pay-per-view from Las Vegas on April 3 as well as David Haye's first heavyweight title defense against John Ruiz the same day in Manchester, England, Golden Boy's Richard Schaefer is working on a scenario in which Haye-Ruiz will be available in the United States on same-day tape for free on the pay-per-view channel during the hour time slot prior to the beginning of the pay-per-view.
"I'm going to try to see if it can be done," Schaefer told ESPN.com. "As the promoter of Haye and Ruiz, the first thing is to see if a network or some outlet is interested in acquiring the rights and showing it live in the afternoon in the U.S. At the same time, I think that in a perfect world we'd do a one-hour free lead-in to the pay-per-view where people can watch the Haye-Ruiz fight for free and use it as a promotional tool for the pay-per-view while giving fight fans the heavyweight fight for free. That's what I would like to see. It would be good exposure for Haye and Ruiz and it would be good for the Hopkins-Jones pay-per-view.
"It would make it a really nice night of boxing. And I am also going to make sure that we advertise that the main event of the pay-per-view won't start until after the [NCAA tournament] basketball games are over for the night."
No overtimes, he hopes.
'Swamp Donkey' title shot
Houston's Adam "The Swamp Donkey" Richards (23-2, 15 KOs) heads to Germany for a shot at cruiserweight titlist Marco Huck (27-1, 20 KOs) March 13, Richards promoter Brian Young of Prizefight told ESPN.com.
Richards, 29, campaigned as a smallish heavyweight until Chazz Witherspoon stopped him in the eighth round of a sensational action fight in November 2008. Richards then dropped to cruiserweight, won two in a row and landed the title opportunity against Huck, 25, an aggressive puncher like Richards.
"We've been working on this since October," Young said. "Huck had to win his Dec. 5 fight [against Ola Afolabi] and come out injury free, and thank God he did. The stars have aligned and we have the title shot."
Young said they leave March 7 for Germany, where Huck will make his second defense.
"I think Huck is a world class fighter and proven himself to be a formidable champion," Young said. "We have the opportunity to dethrone him and we're going over and give it our best effort. I think it will be the most fan-friendly fight German fans have ever seen. The Swamp Donkey is coming for it. It probably won't last five rounds, but it'll be one hell of a war. It will be whoever has the better chin. They'll be going at it within 30 seconds. They'll be throwing bombs. The best chin wins, period."
Dan Rafael covers boxing for ESPN.com.
QUICK HITS

Katsidis
• Golden Boy has lined up a doubleheader for March 27 on HBO's "Boxing After Dark" featuring interim lightweight beltholder Michael Katsidis (26-2, 21 KOs), the Australian brawler, defending against junior lightweight titlist Robert Guerrero (25-1-1, 17 KOs), who will move up in weight, and interim junior welterweight titlist Marcos Maidana (27-1, 26 KOs) of Argentina defending his belt against Victor Cayo (24-0, 16 KOs) of the Dominican Republic on the undercard. Golden Boy's Richard Schaefer told ESPN.com that both fights have been agreed to. "Good to go," he said. "It's a helluva show." The site isn't set, but Golden Boy hopes to have it in Northern California, where Guerrero is a draw. Guerrero manager Shelly Finkel likes the fight for his guy. "I think it's a great win if he can do it," Finkel said. "At 135, he's got a lot of great fights ahead of him at a very competitive weight, so if Robert wins, he's in good position." The undercard bout also figures to be highly competitive. "I love the fight, I love my chances and I'm really excited," Leon Margules, Cayo's promoter, said. "I think my guy is a future star and this is a fight we really wanted."

Maidana
• Maidana agreeing to fight Cayo is part of a plan in which he's agreed to delay his mandatory fight with full titleholder Amir Khan, Schaefer said. "Everything is worked out," he said. "Maidana is going to continue to be the interim champion and we're going to promote three fights for Maidana, including March 27, and it will lead to a fight with Khan. We'll build Maidana here in the U.S. and give him great fights, and the same with Amir. If they keep winning, then you'll have the big fight sometime next year." Schaefer said a fight he discussed with HBO and Maidana, which Maidana is interested in, is a match with the winner of the March 6 Devon Alexander-Juan Urango unification fight, which HBO is carrying. Another one would be for Maidana to face the winner of the planned May 15 fight between Victor Ortiz and Nate Campbell. Maidana stopped Ortiz in June in an upset. Schaefer also said Maidana is open to facing titleholder Tim Bradley on Showtime. "The point is, there are a lot of great fights we can make in the division," Schaefer said. "We discussed the Bradley fight, but Maidana didn't want to fight him at this point, the main reason being is he didn't want to wait to June, which is when I think Showtime's next available date was. But he would fight Bradley too."

Khan
• Schaefer said negotiations for a May 15 fight between junior welterweight titlist Amir Khan and lightweight champ Juan Manuel Marquez continue because Marquez is not yet on board with the deal. So, Golden Boy president Oscar De La Hoya, who turned 37 on Thursday, is now involved. "Oscar has been reaching out to Juan and they'll discuss the issues," Schaefer said. "Oscar is personally involved now in trying to get the deal done."

Jacobs
• Middleweight Daniel Jacobs, 2009 ESPN.com prospect of the year, has been idle since August because of a hand injury. But Schaefer said Jacobs is expected back on the March 27 undercard, with HBO possibly airing highlights of the bout. "We want him to get his timing back and get some rust off, and then assuming everything goes well, have him back on May 1 on the Shane Mosley-Floyd Mayweather pay-per-view," Schaefer said. Also ticketed for the PPV telecast, according to Schaefer: 19-year-old Mexican welterweight super prospect Saul Alvarez, whom Golden Boy signed last month. "'Canelo' is going to make his big debut," Schaefer said. "He's fought a couple of times in the U.S. before, but not on a big stage like this."

Litzau
• With Golden Boy and Square Ring co-promoting Jones-Hopkins, the pay-per-view undercard could feature at least one bout matching fighters from each company. One of the bouts under discussion would see Golden Boy's Rocky Juarez (28-5-1, 20 KOs) facing Square Ring's Jason Litzau (26-2, 21 KOs) in a junior lightweight bout, Shelly Finkel, Juarez's manager, told ESPN.com. "It's not done yet, but that's what we're working on," Finkel said. "I'd like it to happen. Good fight. Litzau comes to fight." Juarez is coming off a decision loss to featherweight titlist Chris John in their September rematch. Litzau has won three in a row since he was knocked out in the eighth round challenging then-featherweight titleholder Robert Guerrero in 2008.

Sanchez
• Top Rank's Bob Arum announced that he has signed featherweight Salvador Sanchez (18-3-2, 8 KOs), the nephew of the late Hall of Fame featherweight champion with the same name. Sanchez, who has won eight bouts in a row, will make his debut for the company on the March 13 Manny Pacquiao-Joshua Clottey undercard at Cowboys Stadium, although Sanchez's bout is not slated for the pay-per-view broadcast. Sanchez is the spitting image of his uncle, who was 44-1-1 with 32 KOs before his untimely death in a 1982 car accident at age 23. Arum announced the signing while in Mexico with Dallas Cowboys owner Jerry Jones on a media tour to promote Pacquiao-Clottey. Arum also formally announced two of the PPV undercard bouts: former lightweight champ Jose Luis Castillo (60-9-1, 52 KOs) against Alfonso Gomez (21-4-2, 10 KOs) in a welterweight bout and middleweight John Duddy (28-1, 18 KOs) against Michael Medina (22-1-2, 17 KOs).

Ponce De Leon
• Golden Boy heads to Mexico City for the Feb. 20 third-season premiere of its monthly "Next Boxing Generation" series, which airs on the HBO Plus service in Mexico and Latin and South America. In the main event, ex-junior featherweight titlist Daniel Ponce De Leon (37-2, 31 KOs) of Mexico meets Orlando Cruz (16-1-1, 7 KOs) of Puerto Rico in a featherweight bout. Also, Argentina's Lucas Matthysse (25-0, 23 KOs) faces former junior welterweight titleholder Vivian Harris (29-3-1, 19 KOs). Matthysse-Harris was scheduled for Jan. 30 on the Shane Mosley-Andre Berto undercard, but when it was canceled, Golden Boy moved the bout.

Hatton
• Former junior welterweight champ Ricky Hatton, who is planning a summer comeback, is in the market for a new trainer. Hatton, idle since being drilled in the second round by Manny Pacquiao last May, split with Floyd Mayweather Sr. after the fight. Lee Beard, Hatton's longtime assistant, was slated to inherit the role. However, Hatton announced that Beard, who is relocating to the United States, would no longer be involved training him or his brother, welterweight Matthew Hatton. "Lee has strong family connections in America and we fully understand his wish to move out there," the Hattons said in a statement. "As far as Ricky is concerned he has not made any decision as to who will be replacing Floyd Mayweather Sr. as his trainer and he will address this issue on his return from holiday." Matthew Hatton, training for a Feb. 19 bout, is training with Bob Shannon.
QUOTABLE

Marquez
"This is a great honor and receiving this award is one of the highlights of my career. I thank Juan Diaz for being a great warrior, because it takes two to make a fight like this. Since my brother Rafael won the award last year, I'm also proud to be keeping it in the family." -- lightweight champ Juan Manuel Marquez, on the announcement that his ninth-round knockout of Juan Diaz last February was voted 2009 fight of the year by the Boxing Writers Association of America
QUOTABLE

Diaz
"My fight with Juan Manuel Marquez was definitely my toughest fight and I'm proud that the members of the BWAA honored Juan Manuel and I with this award. We both left it all in the ring that night and it's always special when people appreciate your hard work. Congratulations to Juan Manuel on a great fight and on winning this award." -- Diaz, upon learning of the fight of year award