Martirosyan takes center stage in Top Rank show

By Dan Rafael
ESPN.com
Archive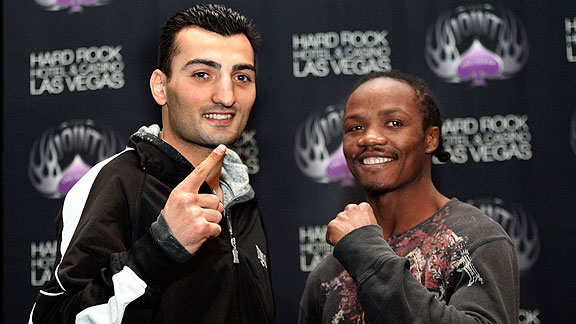 Chris Farina/Top RankStepping up: Vanes Martiosyan faces Kassim Ouma on Saturday.
After Vanes Martirosyan, the 2004 U.S. Olympian and blue-chip junior middleweight prospect, polished off Willie Lee in emphatic fashion for a third-round knockout on Dec. 19, he exited the ring already looking to fight again.
"As soon as I stepped out of the ring after that fight, I asked my manager, Shelly Finkel, 'What's next?'" Martirosyan said.
At that point, promoter Top Rank didn't have anything specifically planned for the 23-year-old from Glendale, Calif., but that changed a few days later.
"Top Rank said, 'There's a fight in a few weeks, do you want to fight?' I said, 'Of course I do,'" Martirosyan said. "I've always asked to stay active because that's what I do best. I love to fight. I'm always in the gym. After I win my fights, I'm even in the gym on Monday. I don't train, though. I let people congratulate me and watch video. I just like being at the gym and talking to the guys and watching sparring."
Top Rank was in the process of putting together the debut card for its "Top Rank Live" series, which is slated for 36 shows this year and will run three times per month on Fox Sports en Espanol (with some cards also airing on Fox Sports Net, including the debut). Former welterweight titlist Joshua Clottey, who would subsequently land a shot against pound-for-pound king Manny Pacquiao, had turned down an offer to fight in the first main event.
That's where Martirosyan (26-0, 17 KOs) came in. He looked so impressive against Lee in a surprisingly easy fight that he would have no problem fighting again a few weeks later.
Hungry for an opportunity to showcase himself, Martirosyan quickly accepted the offer and will headline the series premiere Saturday night (FSN, 11 ET) at the Hard Rock in Las Vegas. The fight is Martirosyan's most significant yet as he steps up to face former titleholder Kassim Ouma (26-6-1, 16 KOs). By all accounts, Ouma has taken the assignment very seriously. He moved his training camp to Las Vegas weeks ago.
"We're ready to make a move with Vanes," Top Rank's Bob Arum said. "We think he's ready for a guy like Ouma and this is the time in his career to make the move. I see nothing but blue horizons for him."
Ouma, 31, the Florida-based Uganda native who was kidnapped as a child and forced to become a soldier, held a title in 2004 and 2005 before losing four of his last five bouts dating to a 2006 middleweight title shot against then-champion Jermain Taylor. Despite the rut, Ouma still represents Martirosyan's first major league opponent.
"Obviously, the Top Rank team, myself and [trainer] Freddie [Roach] feel Vanes is ready to handle this challenge," Finkel said. "I would hope his youth and strength will negate the experience of Ouma."
Top Rank matchmaker Brad "Abdul" Goodman, who has made all of Martirosyan's fights, is confident but a bit nervous.
"It's definitely a step up," Goodman said. "But if Vanes wants to get that next level and fight Paul Williams or [titleholder] Sergio Martinez, this is the perfect guy for him to prove that he's ready. Ouma is a seasoned veteran and really experienced. I don't buy that he's a shot guy. I think he's in the best shape possible and will fight his heart out. It's do-or-die for Ouma and he knows it. I think it will be a very tough fight.
"If Vanes wins, it's definitely a great win because he's beating a very competent guy. It's the name, it's beating a former world champion, and after that it's on to bigger and better things."
That's music to Martirosyan's ears. All he wants is a chance to strut his stuff against top opponents.
"All I want is an opportunity to prove myself to everybody. Just give me the chance and I will do it," said Martirosyan, who was a teen when he scored an amateur victory against future junior welterweight titlist Timothy Bradley and split a pair of bouts with future welterweight titleholder Andre Berto. "I am so excited to get in there and show people what I can do with a guy like Ouma. Freddie always tells me I always rise to the occasion.
"My job is to go out there and win my fights against whoever they put in front of me," he said. "I know people say I haven't stepped up yet. I am only 23. I am only doing my job in the ring. The rest is up to my promoter and manager. Now I have a step-up fight. Bob Arum told me this is my year. Same with Shelly. They said get ready to step up. Beating Willie Lee was step one. Ouma is step two. I respect Ouma. He's a good fighter, but there was no hesitancy on my part to accept the fight. I watched Ouma fight on HBO and now I get a chance to fight him. It's like a dream come true."
Martirosyan said it's an honor to be picked to headline the first "Top Rank Live" show, which is available in more than 80 million homes.
"It excites me because I get to set the bar high," he said. "I'm glad they picked me to start off the show. Ouma is a great guy to make me look great. I think he's the right one for the job, with all due respect for him. Ouma is an awkward guy, but he's not even going to touch me."
A victory will position Martirosyan for bigger fights as 2010 progresses. Roach is on record saying he believes Martirosyan is ready to fight for a title. Finkel sees that sort of fight late in the year. Martirosyan also has that confidence.
"I think I am ready to take on the big guys," he said. "If you ask Freddie, he will say I'm ready for Paul Williams. People might say it's too soon, but I want that fight. People will see that fight and say a star is born. But right now I am thinking about Ouma and getting the job done. Then the rest will fall into place."
Dan Rafael covers boxing for ESPN.com.
Cunningham and Spinks split again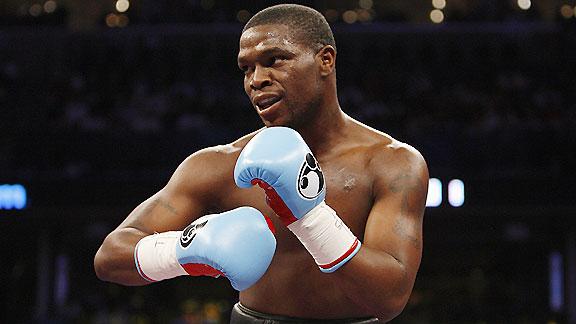 Joe Murphy/Getty ImagesOn his own again: Cory Spinks has parted ways with trainer Kevin Cunningham.
Trainer Kevin Cunningham and junior middleweight titlist Cory Spinks, who together won the undisputed welterweight title and two junior middleweight titles, have split for the second time, Cunningham told ESPN.com.
Spinks is due to make a mandatory defense against Cornelius "K9" Bundrage in March, but Cunningham said he was so disgusted with Spinks' conditioning that he ended things.
"Cory and I are no longer affiliated," said Cunningham, who also served as Spinks' manager for many years. "I fear for his safety because he weighed close to 200 pounds when he finally showed up at the gym and I refuse to try to get him ready for a fight eight weeks away in that condition. I fear for his health. That's how people get hurt in this boxing game."
Spinks and Bundrage had been penciled in for March 6 on the undercard of the Devon Alexander-Juan Urango junior welterweight unification fight, but promoter Don King told ESPN.com it would probably move to a March 27 card he's working on in Europe to allow Spinks additional time to make weight.
King added that he's still searching for a March 6 site because Treasure Island in Las Vegas changed its mind about hosting it.
Cunningham, who trains and manages Alexander, said he doubts Spinks will make the weight.
"When he came to the gym two weeks ago I told him straight out about my decision," Cunningham said. "He just said, 'OK,' and he will do what he will do. I wish him the best but I can no longer be involved with an unmotivated fighter. This whole situation with a fighter who is unmotivated, undisciplined, weighed almost 50 pounds over his fighting weight, it's old. When it gets to a point where you're not excited about going to the gym to train a particular fighter, it's time to move on."
When Cunningham and Spinks split for one fight, Spinks lost his junior middleweight belt to Verno Phillips in 2008. For Spinks' next bout, Cunningham was back in the corner as Spinks outpointed St. Louis rival Deandre Latimore to regain a vacant belt in April 2009.
"Cory is one of the nicest people you will ever meet, but the discipline and focus are not there," Cunningham said. "This is the wrong business to be in if you're not going to be focused and disciplined."
Lara steps up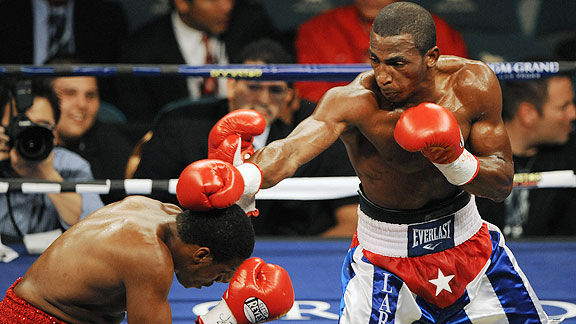 Mark Ralston/AFP/Getty ImagesErislandy Lara is on the fast track to a title, but first comes business with Grady Brewer.
Besides the new "Top Rank Live" series, which debuts Saturday night, and Golden Boy's monthly "Fight Night Club" series, which is moving from Versus this season, Fox Sports Net has a Jan. 29 (11 p.m. ET) boxing special dubbed "Fight Night with De La Hoya and Hopkins" (scheduled from the Hard Rock in Las Vegas). KZ Event and Golden Boy, which includes hosts Oscar De La Hoya and Bernard Hopkins among its shareholders, are promoting the rematch between light heavyweight titlist Gabriel Campillo of Spain against Beibut Shumenov, a Las Vegas resident from Kazakhstan. In August, Campillo (19-2, 6 KOs) went to Kazakhstan and outpointed Shumenov (8-1, 6 KOs), a 2004 Olympian who turned pro in 2007 and moved very quickly, to retain his belt via majority decision.
The co-feature is also intriguing as junior middleweight Erislandy Lara (9-0, 5 KOs), a Cuban defector and former world amateur champion on the fast track to a title shot, steps up in competition.
Manager Shelly Finkel believes Lara is ready to challenge titleholder Sergio Martinez. But since that fight isn't in the cards right now, Lara will face easily his most notable opponent, Grady Brewer (26-11, 15 KOs), the experienced 2006 winner of "The Contender."
"This is a big opportunity for me and I'm happy to be fighting a quality opponent like Grady Brewer," Lara said. "I know he's going to come ready to fight, but so am I, and I want to make a statement by giving the fans my best performance yet."
Brewer has won eight fights in a row, and four in row since returning from a serious knee injury that cost him two years.
"There's no denying Lara's talent, but he's not ready for me or this fight," he said. "I've paid my dues the hard way and now it's time for me to make my move. This ain't the amateurs and I'm going to let Lara know that."
QUICK HITS

Pacquiao
• Although Manny Pacquiao, Floyd Mayweather and their handlers killed the planned March 13 megafight in Las Vegas over the drug-testing procedures, the Nevada State Athletic Commission ordered both fighters, who are licensed in Nevada, to submit to the commission's random out-of-competition drug-testing protocol on Dec. 28, before the fight fell apart. Both fighters provided urine samples. Commission executive director Keith Kizer told ESPN.com that both samples "came back negative for all prohibited substances." Pacquiao provided his sample in the Philippines and it was tested at the IOC lab in Malaysia. Mayweather provided his in Las Vegas, his hometown.

Alvarez
• Top Rank is working on a deal with promoter Tutico Zabala to co-promote popular rising Mexican welterweight Saul Alvarez (30-0-1, 22 KOs). If the deal is finalized, his first bout would be televised on the March 13 Pacquiao-Joshua Clottey pay-per-view view card at Dallas Cowboys Stadium. Alvarez, 19, who has been drawing big crowds in Mexico and gaining exposure on Mexican television giant Televisa, would open the telecast. The promotion for the March 13 show, which Top Rank's Bob Arum said will be called "The Event," will kick off in a few days. Pacquiao is due to arrive in Los Angeles from the Philippines Saturday night. Arum said a news conference to formally announce the fight is scheduled on Tuesday at Cowboys Stadium with a second news conference scheduled at New York's Madison Square Garden on Wednesday. Arum said members of the famed Dallas Cowboys cheerleading squad would be on hand at both press conferences and would serve as round card girls for the fight. Arum added that fight tickets will be priced at $700, $500, $300, $200, $100 and $50.

Julio
• Interim junior middleweight titlist Alfredo "Perro" Angulo (17-1, 14 KOs) and Joel "Love Child" Julio (35-3, 31 KOs), two of the most exciting 154-pounders, will meet on HBO. The date isn't set, but the fight likely will open a "Boxing After Dark" card that will be headlined by heavyweight Cristobal Arreola, who may fight Tomasz Adamek, at the Citizens Business Bank Arena in Ontario, Calif. The working date is April 24. "I think it will be a very exciting fight," said Gary Shaw, Angulo's promoter. "For Angulo, it's an important fight that he must win and almost must win by knockout because people will compare his performance against Julio to James Kirkland's. It can't help but be an exciting fight. Neither guy is backing down." Mexico's Angulo has won two in a row since a points loss to Kermit Cintron in May. Colombia's Julio rebounded from two losses in row to beat a journeyman in October. One of Julio's losses came in a 2008 title fight to Sergei Dzindziruk in Germany followed by a sixth-round knockout loss to Kirkland in March 2009.

Cunningham
• Promoter Don King hasn't been too active lately, but he's lining up a card at the BankAtlantic Center in Sunrise, Fla., not far from his Deerfield Beach, Fla., base. King put on a Showtime card there in July headlined by the Joseph Agbeko-Vic Darchinyan bantamweight title bout. Now, he's going back with a March 19 card. King told ESPN.com that the show likely will feature two cruiserweight title bouts, former titlist Steve Cunningham facing Matt Godfrey for the alphabet belt Tomasz Adamek vacated and a defense by Panama's Guillermo Jones. King won the purse bid for Cunningham-Godfrey ($65,200) to beat Main Events' bid of $53,200. King said if he doesn't secure a TV outlet, he will put the card on his Web site, DonKingTV.com, for a nominal fee. "What I really want to do is get sponsors for the show and give it to the people for free," King said. He also said he plans to make a Feb. 20 fight he's co-promoting in Merida, Mexico, between featherweight titlist Elio Rojas (21-1, 13 KOs) and former titlist Guty Espadas (45-7, 28 KOs) available on his Web site.

Collazo
• Former welterweight titlist Luis Collazo (30-4, 15 KOs) and brawler Selcuk Aydin (19-0, 15 KOs) could meet for a vacant interim belt on March 27 in Germany or Aydin's native Turkey. Collazo promoter Don King told ESPN.com he's working with Arena Box's Ahmet Íner to make a deal for the fight, which was approved by the WBC because its titleholder, Andre Berto, is signed for a Jan. 30 unification bout with Shane Mosley, and his mandatory defense against Aydin is overdue. "Don came to us about that fight, but he hasn't made us a real offer yet," Nirmal Lorick, Collazo's adviser/trainer, told ESPN.com. "I think it's a good fight for Luis, but it's got to be the right terms. We want to work it out and make sure financially right, especially if he's got to go overseas."
• A pair of title bouts from different locations will be featured on the same pay-per-view telecast Feb. 27 (Integrated Sports, 9 p.m. ET, $34.95). In one bout on "The Double Assault" show, the Philippines' Marvin Sonsona (14-0-1, 12 KOs), who is just 19, faces Wilfredo Vazquez Jr. (17-0-1, 14 KOs) for a vacant junior featherweight title in Vazquez's home country of Puerto Rico. Sonsona was stripped of his junior bantamweight belt before his last fight for failing to make weight and is moving up two divisions. They'll fight for the title Juan Manuel Lopez will vacate when he fights Steven Luevano for a featherweight belt next week. In the other part of the show, Argentina's Hugo Hernan Garay (32-4, 17 KOs), a former light heavyweight titlist, faces Houston's Chris Henry (24-2, 19 KOs) for a vacant interim belt in Laredo, Texas. Also on the Laredo portion will be former unified junior bantamweight titlist Cristian Mijares (38-6-2, 17 KOs) of Mexico against an opponent to be determined.

Bailey
• Heavy hitter Randall Bailey (40-7, 35 KOs), a former junior welterweight titleholder, can move a step closer to a welterweight title shot by winning his next fight. Promoter Lou DiBella told ESPN.com that he's secured Bailey a March 12 eliminator against Jackson Bonsu (31-3, 24 KOs) in Bonsu's native Belgium. The winner will be one more win away, at most, from a mandatory shot against titlist Jan Zaveck. After Bailey, 35, was stopped in the 11th round by Juan Urango in a junior welterweight title bout in August, he considered retirement but elected to move up in weight. Bailey rebounded with a points win against Germaine Sanders in December before this opportunity came up. "At this stage of his career, Randall isn't hanging around to be an opponent. This is a situation that elevates him if he can win," DiBella said. "He's going to Bonsu's hometown but Randall has a huge advantage in punching power and if you knock him out it doesn't matter what the judges think."

Guerrero
• Middleweight Fernando Guerrero (17-0, 14 KOs), one of the top prospects in boxing, was supposed to kick off his 2010 campaign on ESPN2's "Friday Night Fights" on Feb. 19 against Jesus Gonzalez. However, Guerrero suffered a left hand injury early during his fourth-round knockout of Jessie Nicklow on Dec. 18. "(He) got through the fight with one hand," promoter Brian Young of Prize Fight told ESPN.com. "However, there is no serious injury to the hand, but he will probably not fight until late March or April." Hot junior middleweight prospect Shawn Porter (12-0, 10 KOs) headlines the card in his hometown of Cleveland in his first scheduled 12-rounder against Russell Jordan (15-6, 10 KOs).

Funeka
• A purse bid for the fight between South Africa's Ali Funeka and Rolando Reyes, who will meet for the lightweight belt vacated last year when Nate Campbell failed to make weight, is scheduled for Jan. 26, according to Funeka co-promoter Gary Shaw. He had hoped to place the bout on Showtime as the opener on his Feb. 6 card in Monterrey, Mexico. However, Shaw said because Funeka's manager in South Africa could not be reached for three weeks, it left him no choice but to make another bout for Feb. 6, which will be headlined by Edwin Valero defending his version of the lightweight title against Antonio DeMarco. The opener is a welterweight fight between big puncher Carlos Abregu and Richard Gutierrez.

Arce
• Former two-time junior flyweight titleholder Jorge Arce of Mexico has lost two of his last three bouts, both for junior bantamweight titles, including a clear decision on his home turf to Simphiwe Nongqayi for a vacant belt in September. Yet Arce is getting another title shot despite the poor recent performances. He'll face Indonesia's Angky Angkota on Jan. 30 (FSN) in Mexico, on "Top Rank Live," the new thrice monthly Top Rank-promoted series. Arce and Angkota will meet for the title stripped from Marvin Sonsona, who failed to make weight for a defense in November. Arce, 30, who has been in numerous slugfests, believes his career is on the line. "I want to win, do one or two defenses and then retire," Arce said. "If I lose, I'll retire immediately."
QUOTABLE

Jones
"I have wanted to bring a major boxing event to North Texas for many years, so why not bring in the biggest and the best? Manny Pacquiao is boxing's No. 1 pound-for-pound attraction and the world champion. Manny defending his title against Joshua Clottey is not just a great fight, it's a great event, and one we can showcase to the fullest in Cowboys Stadium. We're going to promote this like it was the Super Bowl." -- Dallas Cowboys owner Jerry Jones, on bringing Pacquiao-Clottey to his stadium for their March 13 fight