Johnson meets Mack with paydays on his mind

By Dan Rafael
ESPN.com
Archive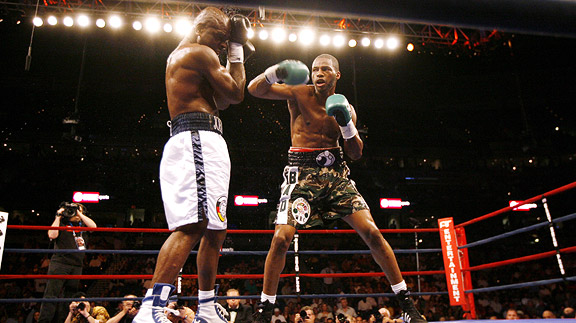 AP Photo/Mike CarlsonIn his last fight, Glen Johnson, left, found himself on the wrong end of a decision.
Even at 41 and coming off a decision loss to Chad Dawson in a November rematch, former light heavyweight champ Glen Johnson isn't ready to retire just yet, although he briefly contemplated it.
Still one of the top 175-pounders in the world, Johnson believes he has another run left in his old bones, and he wants the paydays that would go with winning another title.
Johnson was scheduled to fight Yusaf Mack in a title eliminator Saturday night in Las Vegas, with the winner earning a mandatory shot against Tavoris Cloud. However, the card was canceled when Andre Berto withdrew from the main event against Shane Mosley after the massive earthquake that rocked Haiti two weeks ago, killing eight members of his family.
That left Johnson and Mack in limbo because their fight faced a tight deadline from the IBF and they risked being bypassed for the eliminator if they didn't meet. However, the IBF agreed to a brief extension, and promoters Lou DiBella and Leon Margules did some quick work with an assist from ESPN, which cleared space and a few bucks to pick up the fight. Now, Johnson (49-13-2, 33 KOs) and Mack (28-2-2, 17 KOs) will fight just six days later than originally planned -- Feb. 5 on "Friday Night Fights" (ESPN2) at Nova Southeastern University in Davie, Fla.
The card also features a rematch of a draw between South Florida welterweights Joey Hernandez and Ed Paredes in the main event slot -- it was scheduled long ago, and they're the ones with local drawing power -- and the fifth professional fight of junior featherweight super prospect Guillermo Rigondeaux, a two-time Olympic gold medalist. But Johnson-Mack is the significant fight on the card, and Johnson couldn't be more psyched about the save.
"Obviously, I was disappointed when the fight was off, but you have to understand the situation, which is bigger than the fight," said Johnson, a Miami resident. "I always had faith that the possibility of rescheduling was there. I'm just happy that it worked out the way it did, and I hope Berto's situation is a good one and all those people over there are OK and on their way to recovery. That is a situation bigger than me."
One good thing about the date swap is that it will allow the bout to be seen nationally. When it was on the Mosley-Berto card, it wasn't going to be on HBO's telecast.
"When you're on national TV, that's always the best situation. More people can see what you still have in the tank," Johnson said. "I'm super happy the fight was rescheduled quickly and much more happy it's on TV. You put those two things together and it's a beautiful thing."
Johnson said he thought about retiring after the loss to Dawson but changed his mind. He didn't get beat up, took very few clean shots and had an opportunity to get back into the hunt for a title very quickly, which he hopes he can parlay into money fights.
"I really didn't want to put myself through the long road back at my age," he said. "This is the perfect situation for me. Instead of months and months, this opportunity came quickly and was a breath of fresh air and put new air under my wings. I am excited about it."
He isn't so excited about the paltry paycheck -- just $12,000, the same as he would have made on the Mosley-Berto card, and a long way from the $1.25 million he once made in a rematch with Antonio Tarver.
"There's not a lot of money involved, but sometimes when the money isn't there you have to look at the big picture," Johnson said. "It's an opportunity, and hopefully it will pay off down the line. I could certainly say 'no' and then look into the fog and not know what's ahead. So let's go ahead and do this and you have something to look forward to, and hopefully it will turn into something down the road. I have to take these steps to be where we want to be."
Henry Foster has managed Johnson for years and is as realistic about the financial situation as Johnson.
"We know when we lose [at some point], it's going to severely affect our ability to earn," Foster said. "That's why we're taking the fight -- not for the money but for the opportunity to fight Cloud and win the IBF title and parlay that into a high-profile, big-money fight. At 41, the economic reasons are the motivator. He's still one of the more feared guys at 41 in the division, and very seldom does a glove land clean on him. He can go on as long it stays like that and it makes economic sense. We know Mack is a tough, big, strong Philadelphia fighter. He's going to bring it, and Glen has to have his A-game together. We're not taking him lightly."
DiBella, who promotes Mack and co-promotes Johnson is impressed by Johnson's willingness not to pout over short money despite his accomplishments.
"There has never been an issue about Glen's fighting spirit," he said. "There's no question why Glen is so respected. Give him an opportunity and he'll take it. He knows at his age elimination bouts aren't coming around every day. He's realistic. Here's an opportunity again. He's a man's man, in and out of the ring."
The Johnson-Mack winner could make a quick turnaround and face Cloud (20-0, 18 KOs) on March 26, when he's scheduled to make his first defense on "Friday Night Fights."
"That's what I was told," Johnson said. "Hopefully, it works out that way. It will be very exciting, and I look forward to being a champion in a few months."
The speedy turnaround doesn't worry Johnson.
"I'm not a guy who abuses my body," he said. "I stay in the gym working. I fight better when I stay busy, and I fight back-to-back because I stay sharp. This is a great situation for me to have them so close together. I believe it will help me, not hurt me."
If Johnson defeats Philadelphia's Mack, 30, and faces Cloud, it will be for another puny purse. However, beating Cloud would put Johnson back into the big time.
"You want to get back where you get those paydays," Johnson said. "So you gotta take those opportunities. Right now, we don't see anything more beneficial than this, so we take these fights and accomplish what we want to accomplish, and then look for the next opportunity. At the end of the day, we're fighting for money. That's the name of the game, so we got to take what we have to take to be where we want to be."
"It's a tough road this Glen Johnson has to hoe," Foster said. "It ain't easy for a guy who's been doing this for 20 years."
Familiar face in Clottey's corner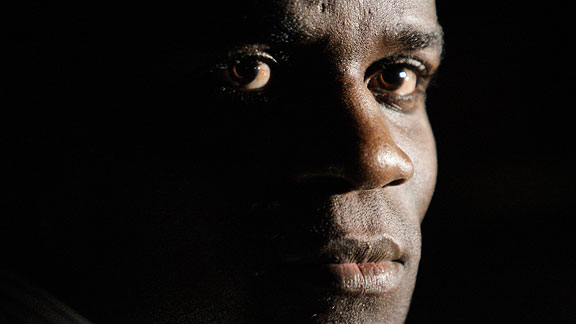 AP Photo/Frank Franklin IILooking back now: Joshua Clottey has reunited with trainer Godwin Kotey.
In preparation for his welterweight title shot against Manny Pacquiao on March 13 (HBO PPV) at Cowboys Stadium in Arlington, Texas, former titleholder Joshua Clottey has reunited with trainer Godwin Kotey. They haven't worked together since 2004.
"Godwin is a very famous trainer in Ghana," said Vinny Scolpino, Clottey's manager. "This is the trainer Joshua has been asking for to prepare for Pacquiao. It will be Godwin who puts together our game plan."
Clottey and trainer Kwame Asante split after Clottey's decision loss to Miguel Cotto last summer.
Clottey was recently in Ghana, where he helped Kotey iron out his visa paperwork. Kotey is expected to arrive in New York on Friday before going with Clottey to Fort Lauderdale, Fla., for the training camp.
"Joshua is in great fighting shape right now," Scolpino said. "He is anxious to get into the ring against Pacquiao."
Dan Rafael covers boxing for ESPN.com.
QUICK HITS

Mosley
• Talks continue in an effort to make a Shane Mosley-Floyd Mayweather welterweight title for May 1 on HBO PPV. "We're still working on it. It's coming along nicely," Golden Boy CEO Richard Schaefer told ESPN.com. "Hopefully, we'll have some good news in the coming days. But everything is coming along. They are good negotiations. It's a matter of putting pen to paper. We're working hard behind the scenes. In every negotiation, there are issues and things you have to talk about and that you have to compromise on. But these are very cordial negotiations."

Guerrero
• HBO continues to hash out its spring schedule with two new dates added to the mix. Schaefer said HBO has carved out March 27 for a "Boxing After Dark" that could feature Michael Katsidis against Robert Guerrero in a lightweight main event. Another date penciled in is May 8, which would be for the return of Paul Williams, who won a middleweight slugfest against junior middleweight titlist Sergio Martinez on Dec. 5 but might fight at junior middleweight in his next bout, possibly against Kermit Cintron. Also, HBO continues working on an April 17 split-site show. In one fight, Kelly Pavlik would defend the middleweight title in Atlantic City. Top Rank and Lou DiBella are trying to finalize a Pavlik-Martinez fight. In the other bout, Lucian Bute will defend his super middleweight title in Montreal. Edison Miranda is the leading candidate to face him.

Jones
• The Roy Jones-Bernard Hopkins rematch, signed weeks ago, now has a date locked in. It will take place April 3 at Mandalay Bay in Las Vegas, CEO Schaefer told ESPN.com. The fight originally was penciled in for April 17 but was moved so it wouldn't conflict with live HBO and Showtime cards. Schaefer said that the pay-per-view bout will be distributed by HBO PPV but that Golden Boy will handle the production, which means HBO's broadcast crew won't call the fight and there won't be an HBO replay the next week.

Marquez
• Golden Boy is working to finalize an Amir Khan-Juan Manuel Marquez bout for May 15 on HBO. "We are actively working on it," Golden Boy's Schaefer told ESPN.com. "Khan is willing to fight to him and Marquez wants to fight at 140. He told us he doesn't want to fight at 135 anymore." Marquez, the lightweight champion, would move up to junior welterweight to fight Khan, who holds a 140-pound title. England's Khan recently signed with Golden Boy, which has promoted Marquez for years. Schaefer said the two leading sites to host the fight are Las Vegas and Houston.

Ortiz
• Golden Boy made official the return of "Fight Night Club" for a second season. The monthly cards from Club Nokia in Los Angeles will air on Fox Sports Net this season after debuting on Versus last year. The season kicks off Feb. 25 with junior welterweight prospect Victor Ortiz facing Hector Alatorre (16-8, 5 KOs) in a 10-rounder, with lightweight prospect Luis Ramos (13-0, 7 KOs) in the six-round co-feature against an opponent to be named. "I've had my own share of ups and downs," said Ortiz, who bounced from the down of a knockout loss to Marcos Maidana this past summer (in which Ortiz quit) to knock out Antonio Diaz in December. "Ups are always great, downs always hurt, but you have to come back strong. I don't think I'm gonna be able to just walk right through Hector because he's tough, but I'm ready." If Ortiz (25-2-1, 20 KOs) wins, he could face former unified lightweight titlist Nate Campbell on HBO May 15 on the undercard of the potential Khan-Marquez fight, Schaefer told ESPN.com.

Alexander
• The junior welterweight unification bout between titleholders Devon Alexander (19-0, 12 KOs) and Juan Urango (22-2-1, 17 KOs) is a done deal. Alexander signed his contract this week, manager and trainer Kevin Cunningham told ESPN.com. The fight had been finalized on all other fronts other than Cunningham's working out the specifics of Alexander's deal with promoter Don King. The fight is March 6 at the Mohegan Sun in Connecticut and headlines HBO's "Boxing After Dark." It will be the HBO debut for Alexander, 22, who won his slice of the 140-pound title in August by dominating England's Junior Witter, who quit after the eighth round. Colombia's Urango, 29, is coming off a title-retaining 11th-round knockout of ex-titleholder Randall Bailey in August.

Gamboa
• Fresh off his second-round wipeout of Rogers Mtagwa on HBO on Saturday in New York, featherweight titlist Yuriorkis Gamboa (17-0, 15 KOs) will make his third defense March 27 in Germany against an opponent to be named. Gamboa is co-promoted by Top Rank and Ahmet Íner's Arena Box, and Íner recently made a deal with German network Sat.1. Gamboa will headline the debut card of the new series. The 2004 Cuban Olympic gold medalist signed with Arena after defecting and had five of his first six pro fights in Germany. "I want to promote in Germany because we started here, and after [the fight], he is back on HBO," Íner told ESPN.com. Heavyweight Juan Carlos Gomez is due to return on the undercard for his first bout since Vitali Klitschko knocked him out in a March 2009 title bout.

Solis
• Heavyweight Odlanier Solis, the other 2004 Cuban Olympic gold medalist and defector co-promoted by Top Rank and Arena, headlines "Top Rank Live" (FSN/FS en Espanol) March 20 in Key West, Fla., Top Rank's Carl Moretti told ESPN.com. Solis (15-0, 11 KOs), coming off a second-round destruction of faded contender Monte Barrett in October, will meet Carl Drumond (26-2, 20 KOs), who has lost two in a row but still is a step up. Leon Margules, Drumond's promoter, said they accepted the fight over an offer to face Alexander Povetkin in Germany on March 13.

Darchinyan
• Junior bantamweight champ Vic Darchinyan of Australia, who returns March 6 (Showtime), defends against Mexico's Rodrigo Guerrero (13-1, 9 KOs), promoter Gary Shaw told ESPN.com. The bout opens Showtime's Arthur Abraham-Andre Dirrell Super Six tournament bout telecast. Guerrero owns wins against Luis Maldonado, whom Darchinyan stopped in a 2006 flyweight title defense, and Juan Alberto Rosas, who became mandatory for a 115-pound belt after winning a November eliminator. Shaw hopes Darchinyan wins and Nonito Donaire beats Gerson Guerrero (no relation) on Feb. 13 and it leads to a Donaire-Darchinyan rematch. Donaire starched Darchinyan in the fifth round in 2007 to win a flyweight title in a major upset. "Guerrero's a pretty good fighter and I think he'll give Vic some rounds, but after that I'm going to try to make the Donaire rematch," Shaw said. "I spoke with Cameron [Dunkin, Donaire's manager], and he told me they're interested."

Lyell
• Youngstown, Ohio's Billy Lyell will try to make the most of an unexpected middleweight title shot Saturday against Sebastian Sylvester in Germany. Lyell (21-7, 4 KOs) is a longtime sparring partner for Youngstown's more famous middleweight, champion Kelly Pavlik. Lyell got the last-minute call to fight Sylvester when Spain's Pablo Navascues flunked a random drug test and was bounced from the fight last week. "This is the chance I have been waiting for," said Lyell, whose biggest win came in April 2009 when he upset John Duddy in a split decision. "Since my trainer, Jack Loew, also coaches Kelly Pavlik, a fight against him is very unlikely," Lyell said. "That is why we have been thinking about a fight with Sylvester for quite a while. We know him very well. I am in great shape since I was due to fight this weekend anyway, so I will make the most of this great chance."

Funeka
• South African promoter Branco Sports Productions won a purse bid this week to promote the Ali Funeka-Rolando Reyes vacant lightweight title bout. Branco, which doesn't have a contract with either fighter, bid $140,000, easily beating the only other bidder, Cedric Kushner's Gotham Boxing, which co-promotes Funeka with Gary Shaw and offered $76,000. According to the IBF, the fight will take place in South Africa and must be staged within 90 days.
QUOTABLE

Chambers
"I worked very hard for this championship fight. In the way I surprised [Alexander] Dimitrenko, I am going to take Klitschko by surprise and will collect his belts. This is a great chance. He is the favorite, but I am confident [I will] take his belts to the U.S." -- heavyweight contender Eddie Chambers, on his title shot against Wladimir Klitschko on March 20 in Dusseldorf, Germany