Gene Blevins -- Hoganphotos/Golden Boy Promotions
Williams and Wright find each other
Winky Wright sure knows what Paul Williams is going through. From the mid-1990s until Shane Mosley finally gave him a shot in 2004, Winky Wright had a brutal time getting big-name opponents to step into the ring with him.
Well, Fernando Vargas did in 1999, but only because he had no choice. Wright was his mandatory challenger, and Vargas barely survived to claim the controversial decision in the junior middleweight title bout.
Wright was too good for his own good. He was not a huge TV star or a ticket seller with a rabid fan base, so if you faced him you were in serious jeopardy of losing without significant financial reward.
Williams, who holds an interim junior middleweight belt, is in a similar position. Immensely talented but unable to regularly lure the best in the business into the ring to fight him -- with the exception of Antonio Margarito, whom Williams edged in a 2007 welterweight title bout -- Williams has taken somewhat drastic measures.
He and his team swear that for the right fight, Williams will fight at welterweight, junior middleweight or middleweight. He would have stayed at welterweight had a top opponent been willing to fight him, but even Margarito turned down what would have been a career-high $4 million payday to face him in a rematch.
So name your weight and Williams is there.
Wright (51-4-1, 25 KOs), looking to come back after a 21-month layoff, took Williams (36-1, 27 KOs), a two-time welterweight titleholder, up on his desire to fight a top name. Depending on whom you believe, Wright either turned down several notable fights, including bouts against Kelly Pavlik or a rematch with Jermain Taylor, or nobody would offer him a legitimate deal. Regardless, Wright is facing Williams, one of the few big names willing to do so.
"Winky is the most avoided man of the past decade because of what he's done in the ring. Paul is not avoided, but definitely feared and it's a big reason why we've moved across several weight divisions," Williams promoter Dan Goossen said. "This is a big fight and we are really concentrating on showing just how great Paul Williams is. This is the fight Paul wanted. What Winky's done in the last 10 years is remarkable. It's the big name that Paul has been looking for."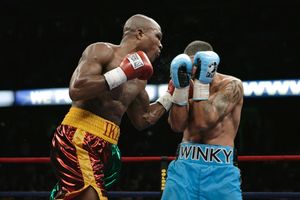 Scott Foster / Fightwireimages.com
Now you see him, now you don't: Winky Wright's elusive style makes him a tough assignment for any fighter.
We'll see the result on Saturday night (HBO, 10 ET) at Mandalay Bay in Las Vegas, where Williams and Wright will meet in an important middleweight fight.
"Winky knows he's taking on a young and hungry fighter," said Golden Boy Promotions CEO Richard Schaefer, who is working with Wright's promotional company on the event. "He knows it's a dangerous fight, but Winky has always taken on the best fighters."
"I'm just glad Winky gave me the opportunity to fight him," Williams said. "We go through the same thing. I know what he's going through. I'm just happy to get a fight."
Wright sees a bit of himself in Williams.
"No one wants to fight either one of us, so true champions fight one another," Wright said. "I could have taken an easier fight, get back and get a win, but we want to fight the best. When I fight I want to fight someone who is credible and who also has a chance to beat me. And he wants to prove himself, too, and he's willing to take chances and the opportunity to better himself. You have other fighters who aren't willing to fight a top fighter with a credible résumé. My whole career I wanted to fight the best. I'm proving it. I am putting my money where my mouth is. I wanted to fight one of the best and that's what I did."
It will be Wright's first fight since he lost a competitive decision in July 2007 to then-light heavyweight champion Bernard Hopkins at 170 pounds, well above Wright's usual fighting weight.
Williams, however, is not banking on Wright being rusty.
"You can't buy into that ring rust stuff," Williams said. "[Sugar Ray] Leonard came back [from a long layoff] and beat Marvin Hagler. I think he's been in training and working out. In a way it seems like he's been in training camp for two years. That's the way I look at it."
In the HBO opener, a significant heavyweight match, contender Cris Arreola (26-0, 23 KOs) steps up in competition against four-time title challenger Jameel McCline (39-9-3, 23 KOs), a physically imposing (6-foot-5, 270 pounds) gatekeeper and by far Arreola's best opponent.
The live fights are only one facet of HBO's big boxing night. The programming block, beginning at 8 p.m. ET, also features the debut of the documentary "Thrilla in Manila," which tells the story of the famed third fight between Muhammad Ali and Joe Frazier (told largely from Frazier's perspective), and the premier of the four-part "Pacquiao/Hatton 24/7," the reality series that will chronicle the training camps of junior welterweight champ Ricky Hatton and pound-for-pound king Manny Pacquiao as the fighters get ready for their May 2 showdown.
Ortiz will still headline
Although Germany's Universum backed out of a verbal agreement for junior welterweight titlist Andreas Kotelnik to defend against reigning ESPN.com prospect of the year Victor Ortiz on June 27 in Los Angeles, in order to take a more lucrative offer for Kotelnik to go to England to defend against Amir Khan, Golden Boy CEO Richard Schaefer said his team isn't upset with Universum. He also said Ortiz will still fight an opponent to be determined that night in an HBO "Boxing After Dark" main event in Los Angeles.
"We agreed on terms and they said they would have to run it by their fighter," Schaefer told ESPN.com. "In the meantime, they got the offer from England, which was substantially better because of what the British television money was compared to HBO. I believe in empowering the fighters and if a fighter has a chance to make substantially more money, so be it. No hard feelings and life goes on."
The undercard of the Ortiz fight will feature a rematch of one of the year's best fights. Schaefer also said the Chris John-Rocky Juarez sequel has been finalized.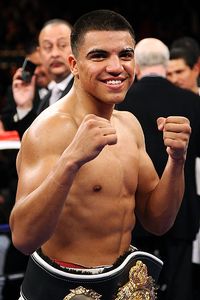 Jed Jacobsohn/Getty Images
Andreas Kotelnik might be out of the running, but the show will still go on for Victor Ortiz.
"It's a done deal," he said.
Indonesia's John, in his American debut, retained his featherweight belt against Juarez on a draw (most felt John won) in an all-action fight Feb. 28.
Schaefer said although the Kotelnik-Ortiz deal didn't work out, he's still working with Universum to finalize a fight between junior middleweight titlist Sergei Dzindziruk and Golden Boy's James Kirkland for August on HBO. Kirkland, of course, must win a May 2 fight against Michael Walker on the Ricky Hatton-Manny Pacquiao undercard.
Schaefer said the Kirkland card, which likely will take place in Kirkland's native Texas, could also feature the return of Houston's Juan Diaz, who was knocked out by Juan Manuel Marquez in a lightweight championship fight Feb. 28.
Another possibility for the Kirkland undercard is a lightweight bout between Michael Katsidis and Vicente Escobedo, both of whom won exciting fights on Golden Boy's "Lightweight Lightning" PPV card last week.
"HBO mentioned they like that fight, so I am going to see what I can do. It's a terrific fight, isn't it," Schaefer said.
Mormeck to heavyweight
Former cruiserweight champion Jean-Marc Mormeck (33-4, 22 KOs) is moving up to heavyweight. He hasn't fought since losing the world title to David Haye via seventh-round knockout in November 2007.
Mormeck, who had been linked to a possible fight with cruiserweight titlist Guillermo Jones, instead announced this week in his native France that he was going to heavyweight, where his aim is an eventual rematch with David Haye, who also moved up and will challenge unified titleholder Wladimir Klitschko on June 20.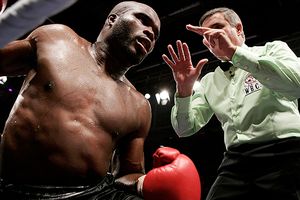 John Gichigi/Getty Images
Don't count him out just yet: Jean-Marc Mormeck plans to make a comeback as a heavyweight.
Mormeck, 36, who now has ties to Square Ring, Roy Jones' promotional company, could make his heavyweight debut in June in suburban Paris.
"I would love to have a rematch with him," Mormeck said of Haye in an interview with French newspaper L'Equipe. "I am aware of the impact of his punch, I am not crazy. But I have strong conviction that I can beat him. I am not issuing a challenge. What I plan to do is do things in the right way, achieve fights before I get to fight him again."
Dan Rafael is the boxing writer for ESPN.com.
QUICK HITS

Adamek
• Cruiserweight champion Tomasz Adamek, who rejected a lowball offer of $500,000 to defend the title against Bernard Hopkins this summer, might defend against Roy Jones this summer. Besides discussions with the handlers of ex-light heavyweight champ Glen Johnson, Adamek promoter Main Events is also talking to Jones about fighting, perhaps in mid-July on HBO. John Wirt, CEO of Jones' Square Ring, said it's a fight Jones would like. "Roy wants to fight Adamek. Adamek wants to fight Roy. So we are working on it and trying to make it happen this summer," Wirt told ESPN.com. "I think what Roy likes about the fight is that he's never won the cruiserweight title. He views Adamek as the real, legitimate cruiserweight champion. Winning that title would mean something because of Adamek's stature." Jones, 40, who rebounded from his lopsided November loss to Joe Calzaghe by stopping Omar Sheika in the fifth round on March 21, has won titles from middleweight to heavyweight with the exception of cruiserweight.

Freitas
• Former lightweight and unified junior lightweight titleholder Acelino "Popo" Freitas (38-2, 32 KOs) is planning a farewell fight, promoter Artie Pelullo told ESPN.com. Freitas hasn't fought since losing his lightweight belt to Juan Diaz in April 2007, but told Pelullo he wants to fight once more in his hometown in his native Brazil, where he is a major star. Pelullo said Freitas is going to visit him in Philadelphia to meet about the fight, as well as to talk about the fighters they co-promote together in Brazil. "He wants to talk about a farewell fight in Salvador in mid-August," Pelullo said. "He wants to fight at junior welterweight. We'll have 50,000 at an outdoor arena."

Valero
• Edwin Valero (25-0, 25 KOs), who claimed a vacant lightweight title with a spectacular second-round knockout of Antonio Pitalua last Saturday, will make his first defense July 25 on Top Rank's "Latin Fury 9" PPV card in Mexico, either Cancun or Toluca, Top Rank's Bob Arum told ESPN.com. Julio Cesar Chavez Jr. will headline. Valero's opponent hasn't been determined, but Arum said two names under discussion are Edner Cherry and Breidis Prescott, "but it is difficult to find someone brave enough to face 'Superman.' After all, nobody wants to become No. 26 on the hit parade. I want my 'Superman' to fight as often as possible because if he's as good as I think he is, he can be an unbelievable opponent for Manny Pacquiao next year."

Peterson
• Lightweight contender Anthony Peterson (28-0, 19 KOs), who suffered a knee injury in mid-February that forced him to withdraw from a Feb. 21 fight against Cherry on the Miguel Cotto-Michael Jennings Top Rank PPV card, has resumed training, Arum said. "He's been back in the gym for a week or two," Arum said. "I don't want to rush the kid back. He needs at least a tune-up fight, but down the road I can see making him with Valero."

Pavlik
• Arum said an April 23 press conference in New York is being planned to officially announce middleweight champion Kelly Pavlik's defense against former junior middleweight titlist Sergio Mora on June 27 in Atlantic City. Arum said the pay-per-view undercard will include newly-crowned bantamweight titlist Fernando Montiel against former flyweight titlist Eric Morel. Two other fights Arum said he's trying to finalize for the card are junior welterweight prospect Mike Alvarado in a step-up fight against former titleholder Paulie Malignaggi and junior middleweight Vanes Martirosyan, a 2004 U.S. Olympian, against rugged Andrey Tsurkan. On another front, Arum said the news conference announcing the Miguel Cotto-Joshua Clottey welterweight unification fight will take place April 14 in New York. The fight is scheduled for June 13 at Madison Square Garden.

Ouma
• Former junior middleweight titlist Kassim Ouma (26-5-1, 16 KOs) continues his comeback April 25 in Newark, N.J., on the undercard of the Main Events' promoted middleweight fight between John Duddy and Billy Lyell card at the Prudential Center. Ouma meets Gabriel Rosado (11-3, 7 KOs) in a 10-rounder. Ouma's star faded after three consecutive losses, including to then-middleweight champion Jermain Taylor. But Ouma ended his losing streak in October. Besides boxing, Ouma has been busy because of the planned May release of "Kassim The Dream," a documentary about his life story, which took him from harrowing conditions as a kidnapped Ugandan child soldier to world champion. "I'm excited to get back in the ring. I've been gone a long minute, working on the film," Ouma said. "That's been exciting, but now it's time to get back to what I do best. I want the championship belt again. I have something to prove with this fight."

Valuev
• At long last, the WBA has ordered a purse bid between its heavyweight titleholder, Nikolai Valuev, and "champion in recess" Ruslan Chagaev. The purse bid, necessary because the rival promoters cannot make a deal, mainly because of their competing television network contracts in Germany, is scheduled for April 13 in Victoria, Spain. The minimum bid by registered promoters is $1 million. Chagaev is due 55 percent of the winning bid with Valuev to receive 45 percent. Chagaev (25-0-1, 17 KOs) outpointed Valuev (50-1, 34 KOs) in April 2007 to win the belt, but was demoted to "champion in recess" when an injury sidelined him and Valuev claimed the vacant title.

Arslan
• Former cruiserweight titleholder Firat Arslan has withdrawn from his May 9 European title shot against Marco Huck because of a left foot injury. Arslan suffered a stress fracture in the foot in January that seemed to have healed, but the foot has not responded well to the demands of a full training camp, promoter Spotlight Boxing announced. "Until recently I had hope that this injury was healed up and I could fully get through the preparations for the fight against Marco Huck," Arslan said. "Now, however, I have a medical training ban and need to ensure my future health. I hope that the injury completely heals and then I can line up the next title chance." Huck will still fight May 9 against an opponent to be determined, according to his promoter, Sauerland Event. Promoter Dino Duva said he received an offer for interim titlist Ola Afolabi to go to Germany to defend against Huck. "It's a fight we'd be interested in but the offer they made was nothing that got me excited." Duva said he is instead talking with Frank Warren about Afolabi appearing on the Andreas Kotelnik-Amir Khan card on June 27.
QUOTABLE

Roach
"I told Manny I would be very disappointed in him if he didn't have Hatton stopped by the end of the third round. A lot of people ask me if I'm worried about Manny fighting Hatton since Hatton has never lost a fight at 140 pounds. As long as Floyd Mayweather [Sr.] is in Hatton's corner I have absolutely no concerns. It's not like his brother Roger is training him. Floyd training Hatton for this fight is our biggest advantage." -- Freddie Roach, who trains Manny Pacquiao, when asked if he was at all worried about Pacquiao facing the Mayweather-trained Ricky Hatton on May 2.
QUOTABLE

Mayweather Sr.
"Because, first of all, I've got the best fighter and I am the best trainer. That's the reason right there. I am the best and he is the best." -- Floyd Mayweather Sr., who trains Ricky Hatton, on why he believes Hatton will knock out Manny Pacquiao.
QUOTABLE

Schaefer
"I never say never, but this time I'm saying never, never, ever, ever. Oscar will never fight him." -- Golden Boy CEO Richard Schaefer, on the prospect of a fight between Oscar De La Hoya, who will announce whether he will continue fighting or retire at a Tuesday news conference in Los Angeles, and Julio Cesar Chavez Jr.