Chris Farina/Top Rank
Cotto moves on without uncle
When welterweight titleholder Miguel Cotto defends against Joshua Clottey, uncle and longtime trainer Evangelista Cotto will be absent from the corner as the result of a simmering family feud that boiled over last week in Puerto Rico.
Cotto and his uncle have had a difficult relationship for years, but they were always together come fight night. Now, however, Evangelista has been banished after being fired during the ugly incident that turned physical.
Miguel wound up with a cut nose and Evangelista reportedly wound up in the hospital after his nephew punched him out. That came after Evangelista threw a brick at his nephew, missing and instead shattering a window on Miguel's car, a 2009 Jaguar.
Sure sounds like an interesting episode of HBO's "24/7," doesn't it?
Miguel Cotto, however, is trying to put the incident behind him as quickly as possible so he can turn his attention full-time to the June 13 HBO showdown with Clottey (35-2, 20 KOs), which was announced this week. They'll meet at Madison Square Garden on the eve of the annual New York Puerto Rican Day parade, and kicked off the promotion this week with a news conference at the Garden. But the hot topic of discussion was Cotto's fight with his uncle instead of the bout with Clottey.
"[The incident] is not one of my greatest moments, but I'm going to climb out [of my personal problems] and focus on Clottey," Cotto said. "I have enough of a professional mind to keep away the problems from my training.''
Cotto continued to be evasive with specifics about the incident. "It's a family matter," he said. "I'd prefer to keep it that way.''
For now, Cotto will train under Joe Santiago, a longtime assistant who usually holds the mitts but has never spearheaded fight strategy.
"I'm looking forward to training with someone else," said Cotto, who had trained with his uncle for 18 years between his pro and amateur career. "Joe Santiago is the guy that I've worked with for a long time. For now, he's going to be the guy."
Cotto said he would not miss his uncle's input.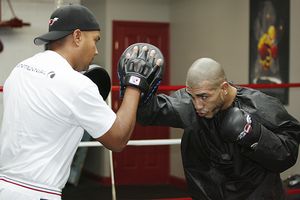 Ed Mulholland/FightWireImages.com
Now accepting applications: Miguel Cotto might bring in another trainer following his split with his uncle, Evangelista Cotto.
"I'm strong enough to be the same boxer [as always]," he said. "I know what I have to do in the gym and I know what I have to do in the ring.''
Cotto (33-1, 27 KOs) might bring in another trainer during his training camp in Tampa, Fla., which opened Tuesday.
"We gave them a list of trainers they can call on if and when they think it becomes necessary," Top Rank promoter Bob Arum said. "Miguel has two aspects of training, the fitness, which not a problem because [strength coach and nutritionist Phil Landman] is there as usual. The issue is really fight strategy. So now the question is, does he need someone to come in and give him a strategy against Clottey? That's for them to decide. We did make a recommendation. We gave him five or six possible trainers. They thanked me and took it under advisement."
The location of where Cotto would train was one of the major issues between him and his uncle. Miguel preferred to get away from Puerto Rico while Evangelista, who also trains several other fighters, wanted to have the camp on the island.
"I like a trainer who is going to spend two or three hours in the gym and work just with me, spend his time working just with me," said Cotto, who rebounded from his loss to Antonio Margarito over the summer to knock out Michael Jennings in February to claim the belt vacated by Paul Williams. "That's why I prefer to train in Florida. I don't want to have any distractions. I don't want anything with my family to [bother me] with my work."
Arum said Cotto probably will be better off without Evangelista.
"The uncle was actually a distraction to Miguel," he said. "This is an improvement because it's like a weight has been lifted from Miguel's back. Miguel hasn't had a trainer the last couple of years because he and Evangelista haven't talked to each other. He was training by himself while Evangelista was training other fighters. We knew that but it was family and we couldn't interfere."
Cotto would prefer to focus on the fight instead of the hoopla about his trainer.
"[Clottey] is a warrior," Cotto said. "He's a good fighter. I have 8½ weeks to train myself to get ready for him."
And to do it without his uncle.
Top Rank invades Philippines
If you're into smaller weight classes, Top Rank's "Global Supremacy" pay-per-view card might tickle your fancy. In the top two bouts, flyweight titlist Nonito Donaire and junior flyweight titleholder Ulises "Archie" Solis defend their belts at Araneta Coliseum in suburban Manila. The fights take place on Sunday morning Manila time, which means the PPV airs live at 9 p.m. ET Saturday in the United States.
Donaire (20-1, 13 KOs), of the Philippines, makes his third defense against Raul Martinez (24-0, 14 KOs), of San Antonio, in the main event while Mexico's Solis (28-1-2, 20 KOs) makes his ninth defense against Filipino-American Brian Viloria (24-2, 14 KOs), a former titleholder.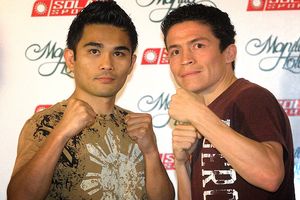 JES AZNAR/AFP/Getty Images
Ulises Solis, right, looks to notch his 10th straight win as a champion when he faces Brian Viloria on Saturday.
Solis has been an active beltholder and faced good opposition, but he's not overlooking Viloria, even though Viloria has struggled against top opponents.
"Viloria is no easy fight for me, so I have to be very cautious and very focused at all times," Solis said.
He's also not concerned about fighting outside of Mexico or the U.S. for the first time.
"Great champions don't care where they fight," he said. "They go and win under all kinds of circumstances, and if you believe in yourself and in your talent you don't hide in your home country and make meaningless defenses that amount to nothing. That's why I'm looking forward to this fight so much. I have always loved challenges and this fight against Viloria in the Philippines is a big challenge for me. But I know that I'm more than ready for this. I not only expect to win this fight but also expect to give the fans a great show."
With a victory, Solis hopes to unify the division.
"I hope I get the opportunity to fight the other champions in this division, Edgar Sosa, Ivan Calderon and Giovani Segura sometime this year and truly become the best 108 pounder in the world," he said.
Latimore anxious to fight
Junior middleweight Deandre Latimore (19-1, 16 KOs) hasn't fought since his coming out party in June, when he scored an upset, seventh-round knockout of Sechew Powell in their title eliminator. Latimore has been stuck in limbo waiting for his fight with Cory Spinks for a vacant title, which will finally take place April 24 (Showtime, 11 p.m. ET/PT) at the Scottrade Center in their native St. Louis.
Latimore, 23, has been training with Kenny Adams in Las Vegas and is anxious to fight again after a long layoff.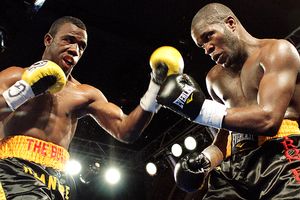 Jim Everett/Fightwireimages.com
Stepping up: Deandre Latimore, left, makes the leap to the big leagues when he faces fellow St. Louis native Cory Spinks.
"It's been 10 months since I last fought, but I'm ready to go," Latimore said. "Coach Kenny and I really turned things up in the last couple of months when the fight was being finalized. I've wanted to fight Cory for a long time. He was one of my idols growing up, and I'm thrilled to be facing him with the world title on the line. Growing up in St. Louis, he was someone I always knew about when I was in the amateurs. But we're from different parts of the city. I'm from the South side where the Peabody projects are at, he's from the North side. So for the fans, it's very much of a city rivalry, like a St. Louis high school football championship."
Spinks (36-5, 11 KOs), the former undisputed welterweight champ and an ex-junior middleweight titleholder, is also coming off a long layoff. Although he hasn't fought since losing his belt to Verno Phillips 13 months ago, he is vastly more experienced than Latimore.
"I know what he's saying, 'who have I beat' and 'what have I done to get in the ring with him,'" Latimore said. "Hopefully, after the fight he'll think differently."
On the televised undercard, fellow St. Louis native Devon Alexander (17-0, 10 KOs), the flashy junior welterweight prospect and a mandatory title challenger, faces Jesus "Chuy" Rodriguez (19-3, 5 KOs) in a 10-rounder.
Dan Rafael is the boxing writer for ESPN.com.
QUICK HITS

Mayweather
• Representatives for Floyd Mayweather Jr., who is coming out of retirement but hasn't officially announced it yet, and lightweight champ Juan Manuel Marquez continue to quietly negotiate a fight, which would take place July 18 on HBO PPV in Las Vegas. Golden Boy CEO Richard Schaefer, Marquez's promoter, told ESPN.com that he's working on it, although he didn't provide other details. However, another source with knowledge of the talks told ESPN.com that an issue hanging them up is weight. Mayweather, who retired as welterweight champion, is willing to drop to 145 pounds. Marquez, the 135-pound champion, wants Mayweather closer to 140. There also is a possibility that Mayweather could come back for a lesser foe on HBO instead of pay-per-view, but it remains to be seen if the network will come up with his asking price. The reason Mayweather-Marquez would be July 18, instead of July 11, the original date discussed for a Mayweather return, is because if he's going on PPV nobody wants to compete with UFC 100.

Clottey
• The Miguel Cotto-Joshua Clottey bout June 13 (HBO) was intended to unify alphabet welterweight belts but won't. Although Cotto will defend his WBO version of the 147-pound title he won in February, Clottey was forced to relinquish the IBF version. Although Clottey signed his contract in time to meet the IBF's deadline to approve the unification bout, Cotto didn't meet it because he didn't sign his contract until this week. The handlers of South African mandatory challenger Isaac Hlatshwayo then pressured the IBF to force Clottey to either negotiate with them or vacate. Since the Cotto fight is way bigger than one with Hlatshwayo, Clottey sent a letter to the IBF giving up the title. "As you know, I asked for the opportunity to unify the titles with Miguel Cotto. I met all IBF deadlines; Cotto did not," Clottey wrote. He went on to write, "Despite the fact that Cotto missed his deadlines, I made mine and I ask you to reconsider and allow the unification bout to take place. I ask that I not be penalized for someone else's missed deadline. … If the IBF cannot see its way free to grant my request I must, with great sadness, relinquish my title. The financial benefits of engaging in a bout with Cotto and the prestige of defeating such a great fighter is that it is literally an offer I cannot refuse." The IBF refused to reconsider and vacated the title. Clottey beat Zab Judah in August to win the vacant belt, but never defended it.

Calderon
• Junior flyweight champion Ivan "Iron Boy" Calderon (32-0, 6 KOs) of Puerto Rico, idle since August because of a bad cut suffered in his rematch victory against Hugo Cazares, could return June 13 on the Cotto-Clottey undercard in New York, Top Rank president Todd duBoef told ESPN.com. "We're discussing it. Calderon deserves to fight at the [Madison Square] Garden on Puerto Rican parade weekend. I have no television money for the fight, but I just love him. If we can make it work, I'd like to give him the opportunity. I also want to give the fans a really good show. I have to give them more than the main event and some BS four-rounders. HBO is only televising one fight that night but I need the fans to get value for their tickets so I have to give them more content."

Lara
• Two of boxing's top prospects, middleweight Matvey Korobov and junior middleweight Erislandy Lara, will be featured in four-rounders on the five-fight May 2 Ricky Hatton-Manny Pacquiao HBO PPV card. Korobov (4-0, 4 KOs), a 2008 Russian Olympian and Top Rank's prized prospect, faces Rodrigo Aguiar (5-4, 3 KOs). Lara, the 2005 world amateur champion who defected from Cuba before the 2008 Olympics, opens the show against Chris Gray (11-7, 1 KO). On his 26th birthday last Saturday, Lara (4-0, 3 KOs), promoted by Golden Boy, signed with manager Shelly Finkel in Las Vegas. "I think he's a tremendous prospect and I'm really glad to be working with him," Finkel told ESPN.com. "I think within two fights he wants to move to 10-round fights and I believe he's ready. I believe he's as good as any prospect in the world today."

Alvarado
• Hot junior welterweight prospect Mike Alvarado (25-0, 18 KOs) has signed a multiyear contract extension with Top Rank, co-manager Finkel told ESPN.com. Alvarado has been with Top Rank since turning pro in 2004 and appears poised for a breakout year. In January, he scored a spectacular 10th-round knockout of Emmanuel Clottey (Joshua Clottey's brother). On May 2, Alvarado returns to face Juaquin Gallardo on the untelevised portion of the Ricky Hatton-Manny Pacquiao card in Las Vegas. If Alvarado wins, he'll be back June 27 on the televised portion of the Kelly Pavlik-Sergio Mora PPV card, likely against former titleholder Paulie Malignaggi. "The contract was coming near the end, Top Rank gave him some money and we re-signed," Finkel said. "Top Rank has done a great job with him." Top Rank's duBoef was happy to keep Alvarado under contract. "We're very bullish on his future," he said. "I think he's our [Diego] Corrales of 2000. Blue collar fighter who is rugged and will wear you down."

Mesi
• Heavyweight Joe Mesi (36-0, 29 KOs) has found a new line of work. The former top contender whose career was sidetracked by a brain bleed in 2004 and followed by a comeback that couldn't gain much steam, unsuccessfully ran for New York State Senate last fall, but the Buffalo fighter is staying in the political arena. Mesi has been hired to run the state's new Senate Democratic majority office in Buffalo for $70,000 per year, the Buffalo News reported. According to the paper, Mesi will head an office that could include as many as 10 staffers and will serve as a liaison for the Senate majority leader and the local community.

Manfredo
• Former "Contender" star and world title challenger Peter Manfredo (31-6, 16 KOs), who was stopped in three rounds by third-season "Contender" winner Sakio Bika in November, will try to rebound Saturday in Montreal against Walid Smichet (20-5-3, 13 KOs). Although the fight is at super middleweight, Manfredo says he wants to go down to middleweight. "I only had three weeks to get ready for this fight, so making it for 168 is a trade off, I guess, for fighting this guy in his backyard," said Manfredo, who is back with his original promoter, Jimmy Burchfield. "I feel good about dropping my weight to 160. I was too small as a super middleweight and I'll be just right at middleweight. I won't be a huge middleweight like Kelly Pavlik, but look at Sergio Mora. I beat him our second fight (Mora won a controversial decision); he beat me the first fight. He won a world title at 154 and now he's fighting Pavlik for the middleweight title. I see myself as better, or at least the equal of Mora."

Lennon Jr.
• Ring announcer Jimmy Lennon Jr., known mainly to American boxing fans as Showtime's master of ceremonies, will work Top Rank's "Global Supremacy" pay-per-view card Saturday night in the Philippines. It will mark the 30th country in which Lennon has announced a fight during his 27-year career.
QUOTABLE

Mayweather Sr.
"Ricky is going to crack Manny [Pacquiao] like an egg. Freddie the joke coach Roach is counting his chickens before they hatch by thinking that Manny is going to succeed in his hunt for Ricky's titles, but there will be no resurrection in the ring for him that night." -- Floyd Mayweather Sr., trainer of Ricky Hatton, predicting the outcome of Hatton's junior welterweight title defense against Freddie Roach-roach trained Pacquiao on May 2.
QUOTABLE

Miranda
"The fight will only go up to the 10th round and that's because that is when I am going to knock Andre Ward out. Andre Ward has never been in the ring with a fighter like me. He hasn't fought anyone talented. If there is one thing that you notice about Andre's fights, he's always running. Andre doesn't have the heart of a champion. He is holding onto his one achievement, the Olympic gold medal, but that is all he will ever achieve. I feel sorry for [Ward promoter] Dan Goossen to have invested so much money in such an untalented fighter." -- noted trash talker Edison Miranda, taking verbal shots at Ward at a news conference this week announcing their May 16 super middleweight fight on Showtime.
QUOTABLE

Ward
"Miranda can say anything that he wants right now and I am not going to react, but you can bet that I will retaliate in the ring on May 16." -- Ward, taking the high road to Miranda's attack at the news conference announcing their fight in Ward's hometown of Oakland.