Tom Casino/Showtime
Froch here to make a name for himself
Carl Froch isn't shy and there are a few things the super middleweight titlist wants to get straight.
First, he wants you to know how his name is pronounced. It's Fro-CH, not Fro-CK. Got it?
He also isn't shy about telling you exactly what he believes will happen when he fights former undisputed middleweight champion Jermain Taylor on Saturday night (Showtime, 9 ET/PT) at the MGM Foxwoods in Mashantucket, Conn.
"I'll establish myself early and let him know that I'm there," Froch said. "I'll land my big, heavy shots and, as usually happens, he'll fade and fall apart in front of my eyes."
Taylor laughs that notion off.
"He's a cocky fighter and I love that because I plan on bringing all that down," Taylor said. "He doesn't know what he's getting himself into and I'm going to teach him."
Froch certainly doesn't lack for confidence. Proof of that is the 31-year-old's willingness to come to America from his native England to make the first defense of the vacant belt he won in December in a rousing distance battle with Jean Pascal.
British stars such as Joe Calzaghe, Ricky Hatton and Naseem Hamed didn't come to America until they had already found fame and fortune at home. Froch, however, wants to establish himself on the world scene as quickly as possible.
"For me it's not a big deal coming to America. I boxed in America once before," he said of a 2005 fight in California. "Traveling for me is not a problem. Obviously, to come and establish myself in the States, this is what I need to do. I need to come to America and showcase my talents on Showtime. I want to establish myself on American soil. That's what this fight is for. I'll be defending my title in style.
"I hope he's ready for the fight of his life because I know I am. He wants to know who the Froch is Froch, well I've left no stone unturned. This is my chance to make a real statement here in America and believe me, after my hand has been raised on Saturday night, Jermain Taylor will rue the day he ever heard my name."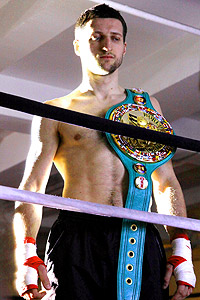 Tom Casino/Showtime
Carl Froch has no qualms about fighting in America.
Showtime boxing chief Ken Hershman, who bent over backward to make this fight happen on his network even though Taylor has spent virtually his entire career on HBO, gave credit to Froch and his team for their willingness to come to the U.S.
"Froch and [promoter] Mick Hennessy are the champs here. They didn't have to come over here and take this fight," Hershman said. "My hat is off to them for coming here and doing this. There are not many fighters that would come over here and do this."
Although Froch -- who has never been knocked down as a pro or amateur -- is undefeated and claimed a 168-pound belt in his last fight, he hasn't faced nearly the level of competition Taylor (28-2-1, 17 KOs) has. At middleweight, he twice beat Bernard Hopkins and fought to a draw with a prime Winky Wright before losing twice in a row to Kelly Pavlik.
Froch (24-0, 19 KOs) didn't sound like he was much interested in Taylor's accomplishments.
"Jermain seems very confident, talking about being back and [being] No. 1, but make no mistake. This is my belt. I am the champion. I am undefeated," said Froch, who spent the end of his training in Canada sparring with his old rival Pascal. "Only a few warriors have gone the distance with me. Everyone else hasn't been able to stay in there.
"Calzaghe didn't want to fight me. When I became the champion it was vacant and you don't get as much respect that way for some reason. But I am the WBC super middleweight champion and come Sunday morning Jermain Taylor will be disappointed that he doesn't have the belt. I'm showing the Americans what 'The Cobra' is made of."
In the co-feature, super middleweights Allan Green (27-1, 19 KOs) and Carlos De Leon Jr. (21-2-2, 14 KOs) meet in a 10-rounder with the winner putting himself in good position to eventually face the main event victor.
After Taylor, 30, lost on points in the rematch with Pavlik 14 months ago, he made the full-time move to super middleweight and outclassed 2000 Olympic teammate and ex-titleholder Jeff Lacy in November to become Froch's mandatory challenger.
Taylor has sounded more excited about boxing for this fight than he has in recent bouts.
"I have found the hunger again and it took fighting Carl for the belt to get it back. If I catch him he's going to sleep," said Taylor, the slight favorite. "At 168 I'm more focused on boxing, because I don't have to worry about making weight. This fight I want to show the doubters. I want to make a statement."
Added Taylor promoter Lou DiBella: "Froch is a worthy champion who has already proven that he can be exciting in the ring. He's going to try and make sure that everybody in the world knows how to pronounce his name."
Rigondeaux going pro
Guillermo Rigondeaux, a two-time Cuban Olympic bantamweight gold medalist (2000 and 2004) who defected in February, is preparing to make his professional debut May 22 in Miami on "Friday Night Fights" (ESPN2). The 28-year-old southpaw is one of the most decorated amateurs in history, compiling two separate streaks of 200-plus wins to go with his two gold medals.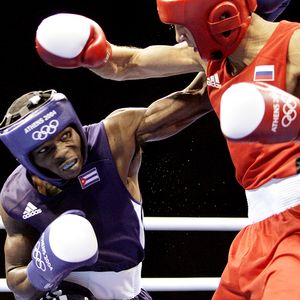 AP Photo/Murad Sezer
Time to get paid: Guillermo Rigondeaux is making the leap to the professional ranks.
He is finalizing a promotional agreement with Arena USA, director of boxing operations Luis DeCubas told ESPN.com. DeCubas has vast experience with Cuban fighters and "to me, he is the greatest Cuban amateur ever and maybe the greatest amateur period in the history of boxing. He's like a Pernell Whitaker that can punch with either hand."
Rigondeaux, who will box professionally at junior featherweight, idolizes Whitaker, who will be part of his training team, DeCubas said.
Rigondeaux hasn't boxed since a failed attempt to defect during the 2007 Pan American Games in Brazil. He was caught, returned to Cuba and kicked off the team. Despite all the amateur fights and long layoff, DeCubas believes he'll be a top pro.
"He's had some time off and that sometimes helps a fighter," DeCubas said. "He's just a terrific fighter."
Gamboa-Caballero under discussion
Once before representatives for rising featherweight star Yuriorkis Gamboa and unified junior featherweight titlist Celestino Caballero talked about them fighting. However, they went their separate ways as Caballero pursued other big names in his division and Gamboa went after a belt in his. Now, they're back on a path to each other.
Caballero promoter Leon Margules of Seminole Warriors Boxing told ESPN.com that he and Ahmet Öner of Arena-Box Promotions are working on the fight.
"We tried to make to make it once before, but Caballero really wanted to get a fight with Juan Manuel Lopez or Israel Vazquez or Rafael Marquez," Margules said. "But now it's clear they are not going to fight him. So he's willing to go to 126 after he defends his title [April 30 against mandatory challenger Jeffrey Mathebula] to fight Gamboa, now that Gamboa has a title."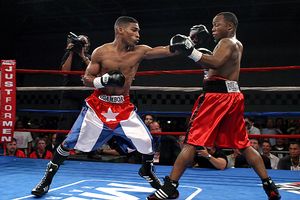 Javiel Centeno/Fightwireimages.com
A hot commodity: Celestino Caballero has his sights set on Yuriorkis Gamboa, left.
Gamboa (15-0, 13 KOs), the electrifying 2004 Cuban Olympic gold medalist, ripped through Jose "Cheo" Rojas last Friday to claim a vacant interim belt. Rojas knocked out Panama's Caballero (31-2, 22 KOs) in three rounds in 2003.
Margules said he and Öner can easily make a deal.
"We both say let's do the fight and our fighters will do the fight," Margules said. "If we can find a premium network to buy it, we're doing the fight. I have a call in to Showtime and I have spoken to Luis [Barragan] at HBO and HBO is interested. It's a terrific fight. It's another one of those fights that is what 'Boxing After Dark' is about. Gamboa is this hot, young star HBO includes in its pieces about up-and-coming guys and Caballero is a unified world champion."
Margules and Öner would like to do the fight between July and September at the Hard Rock resort in Hollywood, Fla. If neither network buys the fight, Margules said he's talked to Irish promoter Brian Peters about matching Caballero in Ireland with Bernard Dunne, who recently claimed a junior featherweight belt via 11th-round knockout of Ricardo Cordoba in a March 21 fight of the year candidate.
Dan Rafael is the boxing writer for ESPN.com.
QUICK HITS
Morales
• Discussions continue for a July 18 HBO PPV fight between about-to-unretire Floyd Mayweather and lightweight champ Juan Manuel Marquez with the sides hung up only on the exact weight limit (somewhere in the 140s). Of course, there is also the possibility that Mayweather could turn his back on the deal and sign with promoter Don King, who has been wooing him. However, if the deal is finalized, Golden Boy CEO Richard Schaefer told ESPN.com that former three-division champion Erik Morales (48-6, 34 KOs), idle since losing a lightweight title bout to David Diaz in August 2007, would appear on the card. "He is interested to fight again and potentially down the road to have a fight with Marquez," Schaefer said. "His dream has always been to be the first Mexican-born fighter to be champion in four weight classes. I said, 'Look, right now to go directly to Marquez doesn't make sense. I think you need one or two fights to see how you look and feel and take it from there.'" Schaefer said Morales' comeback would be at about 142 pounds with the idea to get down to 135.
Marquez
• Rafael Marquez (37-5, 33 KOs) is ready to fight again after more than a year off following his epic junior featherweight championship trilogy with Israel Vazquez, co-promoter Jaime Quintana told ESPN.com. Marquez, who lost the second and third fights, including the fight of the year rubber match via split decision in March 2008, returns May 23 in Monterrey, Mexico, against Colombia's Jose Francisco Mendoza (21-2-2, 17 KOs), who is 0-2-1 in his last three. They'll meet in a 10-round featherweight bout. In the main event, junior featherweight titlist Toshiaki Nishioka of Japan makes a mandatory defense against Mexico's Jhonny Gonzalez, a former bantamweight titleholder. While Marquez is coming back, Vazquez remains out while recovering from eye injuries.
Ortiz
• When junior welterweight titlist Andreas Kotelnik passed on a June 27 HBO fight against 2008 ESPN.com prospect of the year Victor Ortiz to take a richer bout the same day in England against Amir Khan, it left Golden Boy and HBO searching for a new Ortiz opponent. It will be Argentina's Marcos Maidana (25-1, 24 KOs), Ortiz manager Shelly Finkel told ESPN.com. He said Golden Boy made a deal for the fight. Maidana is a powerful puncher whose only loss came via questionable split decision to Kotelnik in February. Ortiz-Maidana will be for an interim title and the winner is in line for the Kotelnik-Khan winner, who may have to first defend against official WBA mandatory challenger Dmitriy Salita. Golden Boy's Richard Schaefer told ESPN.com he would love to make a match between Ortiz and Khan, two of the top young talents at 140 pounds. Salita passed a bout with Ortiz because he said Golden Boy made a "very low offer" and because he was already the mandatory challenger for the Kotelnik-Khan winner.
Afolabi
• Cruiserweight Ola Afolabi (14-1-3, 6 KOs), impressive in knocking out Enzo Maccarinelli in the ninth round to win an interim belt March 14, is weighing his options for his next fight. Promoter Dino Duva and Jeff Wald, who handles reigning "Contender" tournament winner Troy Ross, both told ESPN.com they're working on Afolabi-Ross for June 20 in Brampton, Ontario, about an hour outside of Toronto, where Ross lives. It would be televised on Versus, which aired this past season of "The Contender" and owes promoter Tournament of Contenders at least two live cards in 2009. Duva said if that deal doesn't work out, Afolabi might return to England, where he drilled Maccarinelli, to defend June 27 on the Kotelnik-Khan undercard.
Quintana
• Former welterweight titlist Carlos Quintana (26-2, 20 KOs), who split two fights with Paul Williams, returns June 5 on ESPN2's "Friday Night Fights" in Chicago. Quintana faces ex-welterweight title challenger Danny Perez (34-5, 17 KOs) in a junior middleweight bout. Quintana had been mentioned for various higher-profile fights, but promoter Lou DiBella said he wanted to get back to work and took this fight. DiBella told ESPN.com that Quintana would fight at junior middleweight but would go back to welterweight for the right fight. "He can go either way, but he's only going to 147 for a big payday," DiBella said. "So, 154 is probably where he will wind up."
Hatton
• Golden Boy and Top Rank announced this week that tickets for the Ricky Hatton-Manny Pacquiao fight May 2 (HBO PPV) at the MGM Grand in Las Vegas had sold out and that more than 20,000 closed-circuit seats would be opened at various MGM Mirage properties, including the Mandalay Bay Events Center. "We're extremely pleased with the way fans have reacted to this event and I'm really not surprised that this fight is sold out," Golden Boy president Oscar De La Hoya said. "You've got two of the best fighters in the world in Ricky Hatton and Manny Pacquiao, as well as two of the most exciting fighters, facing each other in their primes. This is going to be a fight to remember."
Klitschko
• How big is Wladimir Klitschko in Germany? When tickets for the unified heavyweight titleholder's June 20 (HBO) fight with former cruiserweight champ David Haye went on sale last weekend, more than 30,000 tickets to the 60,000-seat Veltins-Arena soccer stadium in Schalke, where the fight will be held, were sold on the first day. As of Wednesday, they had sold 47,000 tickets, Klitschko manager Bernd Bönte told ESPN.com. "I always wanted to fight in a soccer stadium in front of such a big crowd. Now, this dream comes true," Klitschko said.
Rodriguez
• In the wake of Joshua Clottey vacating his welterweight belt so he can fight titleholder Miguel Cotto rather than make a far less lucrative mandatory defense, the IBF ordered its top two contenders, Delvin Rodriguez and South Africa's Isaac Hlatshwayo, to negotiate a fight for the vacant belt. If no deal is reached, a purse bid will be called in mid-May. Rodriguez and Hlatshwayo fought to a draw in an eliminator in South Africa in November. The IBF's vacant lightweight belt, which Nate Campbell lost when he didn't make weight for a February defense against Ali Funeka, will be filled by the winner of a fight between Fernando Angulo and Yuri Romanov. According to the IBF, the purse bid was canceled and the fight will take place July 11 on the undercard of Joseph Agbeko's bantamweight title defense against Vic Darchinyan.
Korobov
• Middleweight prospect Matvey Korobov, the standout Russian amateur and 2008 Olympian, has parted ways with trainer Dan Birmingham, manager Cameron Dunkin told ESPN.com. Korobov, who faces Rodrigo Aguiar in a four-rounder on the May 2 Ricky Hatton-Manny Pacquiao HBO PPV undercard, is being trained by his father, George Korobov. Korobov (4-0, 4 KOs), Top Rank's No. 1 prospect, is also scheduled to fight June 13 in New York on the Cotto-Clottey undercard.
Chagaev
• When heavyweight titleholder Nikolai Valuev (50-1, 34 KOs) meets Ruslan Chagaev (25-0-1, 17 KOs), the WBA's so-called "champion in recess" because the organization demoted him while he was injured, on May 30, it will be at the Hartwall Arena in Helsinki, making it the first time Finland will host a heavyweight title fight. Valuev's only defeat came against Chagaev via majority decision in a 2007 title bout and he's looking forward to gaining revenge. "The day has come to settle the score," Valuev said. "I have been waiting for two years to make amends. Only a victory over Chagaev can put my mind at rest."
Richards
• Adam "The Swamp Donkey" Richards (21-2, 14 KOs), who is coming off an eighth-round TKO loss to Chazz Witherspoon in November in perhaps the best heavyweight fight of 2008, returns Saturday night. However, Richards, who weighed 217 pounds against Witherspoon, is coming back at cruiserweight to face Mexico's Gustavo Enriquez (15-8, 12 KOs) in the eight-round main event of Prize Fight Promotions' regular show at the Fitz Casino & Hotel in Tunica, Miss.
QUOTABLE
Roach
"I know Floyd is trying to deprogram Ricky from being a one-dimensional puncher, but it's too late to try and brainwash a fighter who has close to 50 fights during a 12-year professional career. The fact is Floyd couldn't program a VCR much less a fighter with so many bad habits ingrained into him." -- Freddie Roach, Manny Pacquiao's trainer, taking yet another swipe at Ricky Hatton trainer Floyd Mayweather Sr. before the Hatton-Pacquiao showdown on May 2.
QUOTABLE
Haye
"There is no chance the fight will go to 12 rounds, unless he gets a chin transplant. It will be his last fight." -- former cruiserweight champion David Haye predicting the outcome of his June 20 challenge to unified heavyweight titleholder Wladimir Klitschko.