David Martin Warr/Don King Productions
Campbell rolls with the punches
Since he first put on boxing gloves, all Nate Campbell has ever wanted was to become a world champion. He accomplished that goal in impressive fashion 13 months ago by outpointing the heavily favored Juan Diaz to claim three belts.
For a fighter who had been relegated to journeyman status by some a few years earlier because of his maddening inconsistency in the ring, defeating one of the top young fighters in the sport and winning all that hardware was highly significant.
Campbell couldn't have been happier. He was on top of the world and looking forward to all sorts of potential big fights in the deep 135-pound division.
However, it didn't quite work out the way Campbell had hoped after that memorable performance in a bullring in Cancun, Mexico.
Although Campbell is set for his first defense -- against South Africa's dangerous Ali Funeka (30-1-2, 25 KOs) in a mandatory defense Saturday night (HBO, 10 ET/PT) at the BankAtlantic Center in Sunrise, Fla., in the main event of a tripleheader that also includes interim junior middleweight titlist Sergio Martinez against Kermit Cintron and hot junior middleweight prospect Alfredo Angulo against Cosme Rivera -- the past year has been a tough road getting to this fight.
After beating Diaz, Campbell (32-5-1, 25 KOs) was suddenly saddled with an unexpected mandatory defense against Joan Guzman, who vacated his junior lightweight belt and moved up to lightweight and immediately started bashing Campbell. By the time the fight was made for mid-September, Campbell was anxious to shut Guzman up.
Campbell, as always, was ready to fight but Guzman arrived in Biloxi, Miss., and was overweight at the weigh-in. He then refused to go through with the fight as a nontitle, over-the-weight match. Just a couple of hours before they were to enter the ring, the fight was canceled. With no fight, Campbell didn't get his $300,000 purse.
Already dealing with mounting financial problems, including an $110,000 IRS bill, not to mention a new wife and their combined six children to support, Campbell declared bankruptcy a few weeks later. That also cost his family the house they planned to close on after the Guzman fight.
That sounds like a pretty rough year, doesn't it? Campbell, however, seems to have let it simply roll off his back with ease.
"It's not been rocky for me at all," he said this week. "I'm lightweight champion of the world. That's all I ever came into the sport to be, to be champion and to make the Hall of Fame. I can still fight and I can fight damn good, so how could this be a bad year for me? I didn't think I'd ever make the money I did in boxing. I don't let none of that deter me."
With the Guzman fight canceled, the lack of television dates late in the year and the bankruptcy keeping him idle, Campbell had a long layoff. But he said he stayed in shape and didn't let it get to him.
"Hey, he didn't want to fight," Campbell said. "I was upset, but at the same time, I'm still lightweight champion of the world. I can't get mad over what some other man wouldn't do.
OK, he didn't want to fight. Nothing I could do about it. Move on."
While Campbell seems at ease with everything that has happened, Terry Trekas, his adviser and close friend, is more emotional and outspoken.
"It's been a lot harder on me than him," Trekas said. "Nate doesn't let that kind of stuff get to him. He's like, 'Sooner or later they have to fight me, in nine months, 19 months, 90 months, sooner or later the top guys will have to see me.' I get more frustrated with these things than he does and all the politics that allowed this to happen."
Campbell didn't even seem too upset by the bankruptcy. His viewpoint is that he's been poor most of his life, so this is nothing new.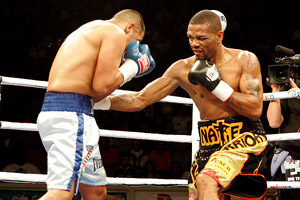 AP Photo/Eduardo Verdugo
Nate Campbell, right, thought he'd be on the fast track to success after defeating Juan Diaz but it hasn't worked out that way.
"I'm blessed. People don't understand that," Campbell said. "I don't dwell on money like that. I want to have money, don't get me wrong, but I'm not caught up in it like that. The bankruptcy was a business decision I had to make. But in all actuality, I'm just ecstatic about being lightweight champion and I want to be a champion for a long time.
"I've been through enough in my life that something like that was not going to faze me. I ain't never had nothing. I had financial problems all my life. I was poor. I'm not letting my family starve. We will be OK. We've been OK. I'm not the guy who will lose everything and jump out a window. I have lost everything before. All I had for a long time was my belief that I could be world champion."
Trekas helped Campbell navigate the bankruptcy and rented him a house to live in until he can get back on his financial feet, which they figure will happen with a win over Funeka, after which Campbell will be a promotional free agent.
"Nate had some plans with the house and stuff that had to be put on hold with the bankruptcy, but this sort of stuff rolls off him," Trekas said. "After the next [fight], he can find an even better house.
"In a way, Nate's kind of used to this because every part of his boxing career has gone the hard way. He never had silver spoon. He's had to struggle swimming against the current. This is more of the same, so it is nothing new. The biggest disappointment for him was he didn't get to fight, because that's what he loves to do. Put the money aside, he just wanted to get in the ring and kick the s--- out of Guzman."
Now, Campbell is looking forward to doing it to Funeka, who earned his mandatory status with an impressive knockout of contender Zahir Raheem.
When the fight was made, Campbell had never even heard of Funeka, but got to know about him quickly when Funeka made some disparaging remarks about him in the South African media.
"Funeka, whether he knows it or not, would have been better off not talking and maybe he could have gone the distance. Now, he's going to take a beating. He's going to take a smashing.
"Funeka said he knows me like the back of his hand. Now he gets to meet the front of my hand on Saturday night."
Mosley wants Cotto, but not in New York
With Antonio Margarito's license revocation derailing a June rematch with Puerto Rico's Miguel Cotto, that leaves Shane Mosley, who crushed Margarito in January, as the biggest available opponent for Cotto to fight this summer.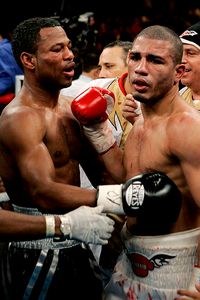 Al Bello/Getty Images
Shane Mosley, left, would be happy to fight Miguel Cotto again -- just not in New York.
Margarito and Cotto had been slated for a rematch in June, on the eve of the annual Puerto Rican Day parade, at New York's Madison Square Garden, but Margarito won't be able to fight in the United States for at least a year after his license was revoked for tampering with his gloves before his fight with Mosley.
Mosley said he'd love to take Margarito's place in the fight and face Cotto again in an attempt to avenge a tight decision loss in 2007 at the Garden, Cotto's home away from home.
However, if the rematch happens -- and Cotto first has to make it past Michael Jennings at the Garden next Saturday (Top Rank PPV) -- Mosley told ESPN.com he would not fight Cotto in New York again.
"I won't be flying into New York if there's a rematch," Mosley, of Pomona, Calif., said. "They'll be coming to Las Vegas or Los Angeles. He can fight in New York in June, but it won't be with me. This time, it will have to be on the West side. But I definitely want to fight Cotto again."
"Tijuana Thunder"
Top Rank formally announced its March 28 "Tijuana Thunder" pay-per-view card, which will be headlined by junior middleweight Julio Cesar Chavez Jr. facing Luciano Cuello. Promoter Bob Arum said the $39.95 card would include five televised bouts. In the co-feature, junior lightweight titlist Humberto Soto will defend against an opponent to be determined.
Also on the card will be junior bantamweight titlist Fernando Montiel, who will move up to bantamweight and will likely face Diego Silva for a vacant interim belt; welterweight Jose Luis Castillo, the former two-time lightweight champion who is finalizing a deal to fight former title challenger Antonio Diaz; and junior flyweight contender Giovani Segura against a foe to be named.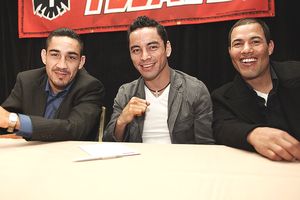 Chris Farina/Top Rank
Humberto Soto, Fernando Montiel and Jose Luis Castillo take Tijuana by storm on March 28.
Segura had been ticketed for a Feb. 28 rematch with interim titleholder Cesar Canchila, a fight that has been on and off for months. However, Canchila didn't want to face Segura in Mexico and the fight has yet again been scrapped. Instead, Canchila is likely headed for Puerto Rico to challenge junior flyweight world champion Ivan "Iron Boy" Calderon on a card there March 28.
"From top to bottom, this is the greatest Mexican boxing event ever and I'm proud to be promoting it," Arum said in just a wee bit of an overstatement.
Dan Rafael is the boxing writer for ESPN.com.
QUICK HITS

Alexander
• Junior welterweight prospect Devon Alexander, the St. Louis prodigy who turned 22 this week, issued a letter to media members declaring his willingness to fight a long list of contenders or former titleholders in an effort to get on either HBO or Showtime. Coincidentally, Alexander manager and trainer Kevin Cunningham said he was approached this week by HBO to gauge his interest in matching Alexander with fellow rising prospect Mike Alvarado on HBO's April 25 "Boxing After Dark" card headlined by junior featherweight titlist Juan Manuel Lopez versus Gerry Penalosa in Puerto Rico. Top Rank, which is promoting the show, has not lined up an opening bout, although HBO has interest in Alvarado as well. Cunningham said he has talked to their promoter, Don King, and their side is willing to negotiate the bout. "I think it's a great fight with two young up-and-comers," he said. "That's what 'Boxing After Dark' is all about, matching up guys to find the future stars of boxing. That's a fight we want. HBO likes it, we like it. If Alvarado is the fighter Top Rank thinks he is, then they should make the fight. It's two young guns and the winner moves on."

Casamayor
• Golden Boy Promotions has rounded out its four-fight April 4 (HBO PPV) lightweight tournament card, aptly titled "Lightweight Lightning," which will take place in Texas -- in San Antonio or Austin. Besides the three previous bouts lined up -- Edwin Valero-Antonio Pitalua for a vacant interim belt, Michael Katsidis-Jesus Chavez and Jorge Barrios-Carlos Hernandez -- Golden Boy CEO Richard Schaefer told ESPN.com that Joel Casamayor will face Julio Diaz. Casamayor is coming off an 11th-round knockout loss to Juan Manuel Marquez in September, when he lost the recognized 135-pound title. Other than Pitalua, the rest of the fighters have all held pieces of world championships at either lightweight or junior lightweight. Ideally, the winners will meet in the semifinals later in the year, Schaefer said. He'd like the winner to eventually face the winner of the Feb. 28 fight between Marquez and former titleholder Juan Diaz. "The fighters in this tournament all have a chance to really make some noise in the lightweight division," Schaefer said. "We've got eight fighters, seven former champions, and four evenly matched, exciting fights."

Marquez
• After losing the last two fights in his epic trilogy with Israel Vazquez, former junior featherweight champion Rafael Marquez (37-5, 33 KOs) is ready to get back in the ring after a long rest. Marquez, also the former bantamweight champion, hasn't fought since losing a split decision to Vazquez in their rubber match 11 months ago in the 2008 ESPN.com fight of the year. But Marquez will return in March or April in a tune-up fight in his native Mexico, promoter Gary Shaw told ESPN.com. "[Trainer] Nacho Beristain wants him to get one or two fights under his belt and then we'll look for something bigger," Shaw said. A fourth fight with Vazquez remains a possibility, Shaw said. Vazquez, healing from eye injuries, is expected to return around June.

Angulo
• Hot junior middleweight prospect Alfredo "Perro" Angulo had a hard time finding someone to fight him Saturday night (HBO, 10 ET/PT) on "Boxing After Dark." Originally, Angulo (14-0, 11 KOs) was scheduled to fight former titleholder Ricardo Mayorga in a bout announced in November. But Mayorga pulled out 10 days before the fight, leaving promoter Gary Shaw and HBO scrambling. After running through a variety of opponents, in stepped Danny Perez, who backed out just as quickly, unhappy with the $80,000 purse. Former "Contender" winner Grady Brewer and ex-titleholder Kassim Ouma were discussed, but ex-welterweight title challenger Cosme Rivera (31-11-2, 23 KOs) accepted the fight on four days' notice. Shaw was happy somebody had finally agreed to fight his prized prospect. "For 'Perro' and his trainer, they didn't care," Shaw told ESPN.com. "They would take anyone at any weight. They said yes to everyone we mentioned. It's a relief that your fighter is that confident. I'm just happy to get 'Perro' a fight at this point. HBO really worked overtime keep him on the card. To their credit, they are starting to feel Angulo's potential star power."

Peter
• In his last fight in October, Samuel Peter (30-2, 23 KOs) retired after eight rounds, losing a heavyweight title in his first defense in a beating from Vitali Klitschko. Now, Peter is back, but not by taking the usual route of a soft touch. Peter faces Eddie Chambers (33-1, 18 KOs), a contender in his own right and winner of three straight since losing a decision to Alexander Povetkin in a title eliminator 13 months ago. They'll meet March 27 in a significant "Friday Night Fights" main event (ESPN2). "We have a verbal agreement," said Peter promoter Dino Duva, adding that he's waiting for Chambers promoter Dan Goossen to send him the contract. "It's absolutely one of those career crossroads fights for both guys. A win by Sam against a very credible contender goes a long way to re-establish his standing and can begin the amnesia process of the Klitschko fight. A win by Chambers solidifies him as a valid top contender. Whoever loses is pretty much in the dumps."

Dirrell
• Promoters Gary Shaw and Lou DiBella are co-promoting a March 28 "ShoBox" card on Showtime on which super middleweight prospect Andre Dirrell, a 2004 U.S. Olympic bronze medalist, will headline against an opponent to be determined and junior middleweight prospect Ronald Hearns faces Harry Joe Yorgey in the opener. If Hearns wins, DiBella told ESPN.com that he'll try to get Hearns a title shot against he winner of the still-to-be-scheduled vacant title bout between Cory Spinks and the DiBella-promoted Deandre Latimore. That bout goes to a purse bid next week.

Johnson
• With the top fighters avoiding him, Glen Johnson (48-12-2, 33 KOs) will go about his business anyway by staying busy. The former light heavyweight champ will headline the Feb. 27 "Friday Night Fights (ESPN2) from the Hard Rock resort in Hollywood, Fla., in a rematch against Daniel Judah (23-3-3, 10 KOs), who escaped with a controversial draw against Johnson in 2003. "This is one of the fights I've been waiting to get back, and now the time is here," Johnson said. "I know I won the first fight with Judah, and I will take care of the injustice of that draw."

Lee
• Although promoter Irish Ropes had a nasty split with its top attraction, John Duddy, it will still stage its annual card on St. Patrick's Day eve, March 16, at New York's Madison Square Garden Theater. Headlining is super middleweight Andy Lee (16-1, 13 KOs), a 2004 Irish Olympian. Lee, coming off an eight-month layoff because of surgery to remove scar tissue, faces the long-faded Antwun Echols (31-9-4, 27 KOs). Despite three losses in his last four bouts and some long layoffs, featherweight Wayne McCullough (27-7, 18 KOs), an ex-bantamweight titlist, will fight in the co-feature. "I'm honored to be sharing the card with one of my heroes, Wayne McCullough, starting when he was in the Olympics and as a pro," Lee said. "He's been like a mentor to me, always helping me. It's like I'm being reintroduced in America. I lost my last fight in America and came back strong in my last fight (in Ireland), knocking out Willie Gibbs. I took some time off last year to let my eye heal. If I win this and a few more I should be in the top 10 and knocking on the door for a world title fight."

Santiago
• Featherweight contender Mario Santiago (19-1-1, 14 KOs), who drew with titleholder Steven Luevano in June in an action-packed fight, was scheduled to make his return on the Kelly Pavlik-Marco Antonio Rubio card Feb. 21 (Top Rank PPV) in Youngstown, Ohio. However, Santiago came down with the flu and has been scratched from the show, Top Rank matchmaker Brad "Abdul" Goodman said.

Godfrey
• Cruiserweight Matt Godfrey injured his hand in training, forcing postponement of his March 6 title eliminator against Herbie Hide in Germany. Hide will still fight in an eight-rounder to stay busy and the eliminator will be rescheduled with the winner due a shot at the winner of next month's bout between beltholder Giacobbe Fragomeni and Krzysztof Wlodarczyk.
QUOTABLE

Diaz
"I want to thank Juan Manuel for the opportunity to fight him. He is giving me the chance. I needed someone like Juan Manuel to put me back to the top, so that I can say to everyone that I am the best lightweight in the world." -- former lightweight titleholder Juan Diaz on his Feb. 28 (HBO) title challenge against champion Juan Manuel Marquez in Houston.
QUOTABLE

Marquez
"Everyone knows that Diaz is a great fighter and a great champion. On Feb. 28 I will put my Mexican heart and blood on the line in this fight. I'm 35 years old and I feel young, like I'm 25 years old." -- Marquez, on his upcoming showdown with Diaz.