AP Photo/Eric Jamison
Margarito hangs over Cotto's return
NEW YORK -- Although Miguel Cotto is preparing to fight England's Michael Jennings, the fighter he is far more often asked about is Antonio Margarito.
It's understandable, of course, because Cotto, battered and bloodied, was stopped by Margarito in the 11th round of their epic welterweight championship fight in July. Cotto lost his title, lost his first fight and lost the latest chapter of the fierce Mexico versus Puerto Rico boxing rivalry.
But seven months after Margarito was feted for his huge triumph, the victory has been tainted in the wake of Margarito and trainer Javier Capetillo having their licenses revoked for at least one year by the California State Athletic Commission earlier this month. They were caught loading Margarito's gloves with a foreign substance before his ninth-round knockout loss to Shane Mosley on Jan. 24.
The revelation, of course, has many believing that Margarito's gloves were loaded during his victory against Cotto (32-1, 26 KOs), whose face was bashed up and cut worse than ever before, even though there has been no proof presented.
Still, Margarito has been far more of a topic of discussion than Jennings (34-1, 16 KOs) before Jennings and Cotto meet for a vacant welterweight belt Saturday night (Top Rank PPV, 9 ET) at Madison Square Garden.
What's on tap
TV lineup for Top Rank's split-site pay-per-view card Saturday night (9 ET) at New York's Madison Square Garden and Youngstown, Ohio's Chevrolet Center: • Middleweights: Kelly Pavlik (34-1, 30 KOs) vs. Marco Antonio Rubio (43-4-1, 38 KOs), 12 rounds, for Pavlik's title • Welterweights: Miguel Cotto (32-1, 26 KOs) vs. Michael Jennings (34-1, 16 KOs), 12 rounds, for a vacant title • Middleweights: John Duddy (25-0, 17 KOs) vs. Matt Vanda (39-8, 22 KOs), 10 rounds • Super middleweights: Matvey Korobov (3-0, 3 KOs) vs. Cory Jones (4-4, 1 KO), 4 rounds
Middleweight champion Kelly Pavlik (34-1, 30 KOs) defends his title in his hometown of Youngstown, Ohio, against mandatory challenger Marco Antonio Rubio (43-4-1, 38 KOs), in the second title fight on the unusual four-bout, split-site telecast.
Although Cotto has been asked repeatedly if he thinks Margarito and Capetillo cheated against him, he has been measured in his responses and not outwardly accused them, although he's not exactly defending them, either.
"They're the only ones that can answer that question," Cotto said. "The fans might have a question about that, the media might have a question about that. Margarito had a great night. I leave it at that."
Margarito claims he had no idea what Capetillo was doing, that he was simply the fighter sticking his hands out to be wrapped.
When pressed on the issue, Cotto said, "All I know is when we get our hands wrapped every boxer knows what is in them. As a boxer you would know what is in them. You go in the ring thinking you are on the same level, this is a sport, this is not a slaughterhouse. It's about fighting to the best of your abilities. I just think we should all go in the ring and fight with what we have, with our own ability and preparation."
Top Rank promoter Bob Arum, who promotes both Cotto and Margarito, has vociferously defended Margarito as being ignorant of what was in his wraps and talked about promoting him in Mexico, which probably won't recognize his U.S. revocation.
That has really irritated Cotto, who said he wouldn't consider a rematch with Margarito while his license is revoked.
"If it's up to me, we should all abide by the rules and he should be suspended everywhere for one year," Cotto said. "It's not right for him to go and fight somewhere else. He has to abide by the rules. If he can't fight in the U.S. he shouldn't be able to fight at all."
Arum took a different stance. Since Margarito's license was revoked, he has continually talked about promoting a Margarito bout outside the United States, whose punishments are not necessarily recognized internationally.
"Miguel is entitled to his opinion," Arum said. "People can differ on the circumstances. As far as I'm concerned, California revoked (Margarito's) license. But he has to make a living and he has a right to fight anywhere he's licensed. I'm his promoter and I will do the best that I can for him. Miguel may feel otherwise as far as serving the year, and he's entitled to his opinion. I have expressed my opinion. I don't say everyone has to agree with me."
Their disagreement has led Cotto to talk this week about leaving Top Rank when his contract expires. The contract goes through at least the end of this year, according to Top Rank president Todd duBoef.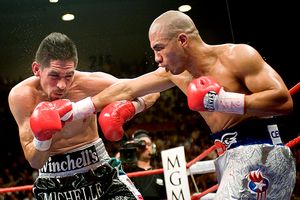 Chris Cozzone/FightWireImages
Miguel Cotto, right, is confident he'll rediscover his dominant form versus Jennings on Saturday night.
But there is still a fight Saturday and Cotto, trying to put his only loss behind him, has tried to stay focused on it despite the ongoing Margarito fallout.
"It's not difficult when you have the right people beside you," Cotto said. "You understood you made a great fight, a good fight for you, for your team, for your people. I'm just thinking about my next fight. What happened with Margarito last July is in my past."
Jennings is in Cotto's future and Cotto admitted he's not too familiar with the Brit, who has amassed his formidable record without ever facing a notable opponent.
"I don't know a lot about Michael Jennings," Cotto said. "I know he's going to come with all of his intentions to make himself the new champion and I'm ready for him."
Cotto's only knowledge of his foe comes from two fights he's watched on video.
"He's a pretty defensive fighter with a European style," he said. "He's a guy like [Oktay] Urkal and [Gianluca] Branco, that kind of fighter.
That's probably good news for Cotto. He stopped both of them in title fights.
Campbell in demand
Although Nate Campbell lost his trio of lightweight title belts on the scale this past week when he failed to make weight for his first defense, against Ali Funeka, perhaps there is a silver lining for the "Galaxxy Warrior."
He's far more in demand now than he was this past week.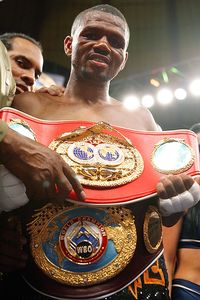 Icon SMI
Nate Campbell will begin testing the waters in the junior welterweight division.
Campbell, 36, won a majority decision against Funeka, dropping him twice, but looked a bit sluggish. The belts remained vacant and Campbell plans to move up to junior welterweight, leaving behind a lightweight division where there was no guarantee he would get the opponent he really wanted, the winner of next week's Juan Manuel Marquez-Juan Diaz fight for the lineal 135-pound title.
But at 140 pounds, Campbell suddenly has suitors for his services as now he is immediately one of the biggest names in the division.
Terry Trekas, Campbell's adviser and close friend, said that within a few days of this past Saturday's fight, he had already fielded calls from representatives of titleholder Juan Urango and ex-beltholders Zab Judah and Paulie Malignaggi to ask about Campbell's availability.
"All of these fights at this level are up the networks and when they have a date," Trekas said. "It's all about TV availability, but I'd love to get Nate back in the ring in April."
Trekas said they would have interest in either Judah or Malignaggi. The reason they won't pursue a fight with Urango, Trekas said, is because Campbell is good buddies with former titleholder Randall Bailey, who is in line to fight an eliminator for the right to face Urango, and Campbell doesn't want to interfere with his friend's path to a title bout.
"The Contender" finale set
The fighters advancing to the fourth season finale of "The Contender" reality series were revealed in Wednesday night's final taped episode featuring the semifinals. Troy Ross will face Ehinomen "Hino" Ehikhamenor in the live 10-round cruiserweight tournament final this Wednesday night (Versus, 9 ET) at the MGM Grand Theater at the Foxwoods resort in Connecticut.
Ross (17-1-0, 12 KOs), 32, a two-time Canadian Olympian, advanced by defeating Akinyemi "AK" Laleye. Ehikhamenor (12-3-0, 7 KOs), 28, of New York via Nigeria, earned his chance to fight for "The Contender" title by defeating former world title challenger Rico Hoye.
Laleye and Hoye will meet in an eight-rounder in the third-place bout in the co-feature.
The season, hosted by Tony Danza and working with trainers Tommy Brooks and John Bray, began with 16 fighters in the tournament squaring off each week through the 11 episodes leading to next week's finale.
Dan Rafael is the boxing writer for ESPN.com.
QUICK HITS

De La Hoya
• After losing numerous TV dates when Telefutura canceled "Solo Boxeo" in November, Golden Boy has been looking for a new outlet and found one in ESPN2's "Friday Night Fights" -- as long as the deal is finalized. Monday looms as the deadline for Golden Boy and ESPN to wrap up a deal that would give Oscar De La Hoya's company seven or eight of the remaining 17 dates on this season's "FNF," sources with knowledge of the deal told ESPN.com. A key element of the deal is Golden Boy's ability to deliver sponsor Tecate, the beer giant it has close ties to. If the deal is completed, Golden Boy's first "FNF" card would be April 10, headlined by middleweight David Lopez facing Kofi Jantuah. Also, Golden Boy and ESPN are in talks for the network to obtain U.S. rights to broadcast on ESPN Deportes the monthly Golden Boy shows that take place primarily in Mexico and air throughout Mexico, Central and South America on HBO Plus, which is owned by HBO and ESPN parent company Disney, among others.

Marquez
• A little alphabet soup for you: In the wake of Nate Campbell failing to make weight for his lightweight title defense against Ali Funeka this past week, Campbell vacated three alphabet belts, which remain vacant because Campbell won. One of them will be filled quickly. The WBO announced that it approved Golden Boy Promotions' request to sanction the Juan Manuel Marquez-Juan Diaz bout next Saturday night (HBO) in Houston for the vacant belt. Marquez, of course, is already recognized as the lineal lightweight champion even though he didn't hold a sanctioning organization title.

Gomez
• Tournament of Contenders has granted welterweight Alfonso Gomez's request for a release from his contract, he announced on his Web site. "I will always be grateful for the opportunities provided by 'The Contender.' But I'm happy to resolve this matter and move on to new challenges," said Gomez (18-4-2, 8 KOs), a star of the first season of "The Contender" and its most popular fighter. "More than anything, I'm eager to get back in the ring and do what I love."
Gomez, 28, who sent Arturo Gatti into retirement, hasn't fought since Miguel Cotto stopped him in the fifth round of a one-sided welterweight title bout in April 2008.

Taylor
• The Carl Froch-Jermain Taylor super middleweight title bout, ticketed for Showtime in April, doesn't have a home yet, but promoter Lou DiBella told ESPN.com he is in talks with New York's Madison Square Garden about hosting the fight at the MSG Theater, and with the Foxwoods resort in Connecticut. The date will be either April 18 or April 25, depending on which venue hosts the fight. DiBella said he and Froch promoter Mick Hennessy have agreed to terms and were exchanging paperwork. "There don't appear to be any major issues," DiBella said.

Forrest
• Now that junior middleweight Sergio Martinez has retained his interim title, held to a controversial draw with Kermit Cintron this past week, he wants his mandatory shot against beltholder Vernon Forrest, DiBella told ESPN.com. The WBC mandatory fight is long overdue. "Martinez is pressing for the title and wants to fight Vernon right now," DiBella said. "But I've been told that Vernon's camp petitioned to fight Charles Whitaker. As of right now, though, Martinez and his team are not open to stepping aside." Whitaker (33-12-2, 21 KOs) has never beaten a name opponent and is not ranked in the WBC's top 20. If that fight happens, it would be in Whitaker's native Cayman Islands next month and be on Showtime. Forrest promoter Gary Shaw told ESPN.com there was a "minor chance" of the bout happening.

Prescott
• The Jesus Gonzalez-Richard Gutierrez fight, scheduled as this week's main event on "Friday Night Fights" (ESPN2), was scrubbed because Gonzalez said he would not be able to make the contract weight of 154 pounds on Wednesday, when he weighed 158 pounds, according to ESPN. The card, already loaded with three other notable fights, will now have lightweight Breidis Prescott, in his first bout since a huge first-round knockout upset of Amir Khan in September, move into the main event against Humberto Toledo. Also scheduled for television are featherweight prospect Yuriorkis Gamboa, a 2004 Cuban Olympic gold medalist, against former title challenger Walter Estrada and former Cuban world amateur champion Erislandy Lara against Keith Gross in a junior middleweight bout. Gutierrez was offered half of Gonzalez's $7,500 purse to give up the weight and go through with the fight, but he declined.

Peter
• The heavyweight crossroads fight between former titleholder Samuel Peter (30-2, 23 KOs) and Eddie Chambers (33-1, 18 KOs) has been finalized and will take place March 27 on ESPN2's "Friday Night Fights," the promoters announced. The fight will mark the first boxing event to be held at the Nokia Theater L.A. Live, the anchor of the entertainment complex that opened next to Staples Center in downtown Los Angeles in October 2007. The fight will be Peter's first since Vitali Klitschko took the title from him in an eight-round thrashing.

Maskaev
• Former heavyweight titleholder Oleg Maskaev (35-6, 26 KOs) meets Rich Boruff (17-2-1, 10 KOs) March 14 in Mordovia, the Russian Federation republic Maskaev's father is from. It's a stay-busy fight for Maskaev, who, if he wins, remains the mandatory challenger for the winner of the March 21 bout between titleholder Vitali Klitschko and Juan Carlos Gomez. That winner must face Maskaev next after a ruling from the WBC and the Court of Sports Arbitration, which mediated Maskaev's lawsuit against the WBC. "We're not looking past Boruff, but if Oleg is the winner, he fights the Klitschko-Gomez winner in their next fight," manager Fred Kesch told ESPN.com. Maskaev lost the title via sixth-round knockout to Samuel Peter this past March and has fought once since, a shutout decision of Robert Hawkins in September in the first boxing match staged on Moscow's Red Square.

Spinks
• Promoters Don King and Lou DiBella avoided a purse bid Tuesday by making a deal for the vacant junior middleweight title bout between St. Louis natives Cory Spinks, a former titleholder, and Deandre Latimore. However, they do not have a date, site or television for the fight, which is due by late April.

Donaire
• Top Rank's Todd duBoef told ESPN.com that plans for its card in Manila next month have been worked out. The card is being planned so the bouts take place March 21, United States time, to accommodate a live pay-per-view broadcast at 9 p.m. ET, meaning the bouts will take place for television in the Philippines on the morning of March 22. Flyweight titlist Nonito Donaire, who was born in the Philippines but grew up in California, is in the main event defending his belt against American Raul Martinez. Junior flyweight titleholder Ulises Solis is scheduled to defend his belt against Filipino-American Brian Viloria in the co-feature.

Grigorian
• Former lightweight titleholder Artur Grigorian (37-1, 22 KOs), who hasn't fought since September 2004, is returning. Grigorian, 41, who held a belt from 1996 until losing it to Acelino "Popo" Freitas in January 2004, faces Kirkor Kirkorov (28-21, 6 KOs) in a six-rounder Feb. 24 in Germany on a card that will celebrate the 25th anniversary of the first boxing show promoted by Peter Kohl's Universum. Since then, Universum has promoted 274 cards and promoted 23 world titleholders.
QUOTABLE

Calzaghe
"I truly left the sport of boxing exactly as I wanted to. No one can take away from me the fact that I have retired as an undefeated fighter. This isn't a rash, Floyd Mayweather-style retirement. It was on my mind for the past 18 months. I left on my terms, not noticeably damaged from the ring and with financial security for my family, who I can now spend more time with. What more could anyone hope for?" -- former light heavyweight and super middleweight champion Joe Calzaghe, writing about his recent retirement in his regular column in the South Wales Argus, his hometown newspaper.