Tom Casino/Showtime
At last, Darchinyan and Arce finally meet
Better late than never, right? That sums up the road to the much-anticipated showdown between junior bantamweight champion Vic Darchinyan and Jorge Arce.
They have been on a collision course for two years. Finally, they will meet Saturday (9 p.m. ET/PT, Showtime) at the Honda Center in Anaheim, Calif.
Getting to this point was no easy task.
"This matchup has been a long time in the making," said Top Rank's Bob Arum, Arce's promoter. "The boys have been after each other for a while, and it's going to be a great fight.
"Arce has been looking forward to facing Darchinyan for a long time. Everybody who follows boxing, particularly those following the fighters in this weight category, has been talking about this fight for years, and they are talking like this is a fight of the year. Finally, it will happen."
In March 2007, it was one of the most talked-about potential fights in boxing, a classic match between ferocious punchers with personality, heart and desire to fight top opponents. And it looked like it would be made.
With Showtime's Ken Hershman playing peacemaker, it looked as though Darchinyan promoter Gary Shaw and Arum were going to get together and make the fight, despite boiling animosity between them stemming from Shaw's lawsuit for more than $20 million against Arum over the fact that Arum fighter Jose Luis Castillo had failed to make weight for his third fight with Shaw fighter the late Diego "Chico" Corrales. But the bout was canceled, costing everyone a ton of money.
In the end, the powerful personalities of Arum and Shaw were too much to overcome, and the deal blew up.
When Arce lost a lopsided decision to then-junior bantamweight titlist Cristian Mijares in April 2007 and, three months later, Darchinyan lost his flyweight title via crushing knockout to Nonito Donaire, the prospect of the fight was dead.
Both fighters went about the business of rebuilding their careers.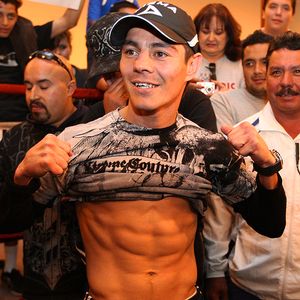 Tom Casino/Showtime
Jorge Arce might be shying away from the microphone ahead of his clash with Vic Darchinyan, but he can't help but mug for the cameras.
Australia's Darchinyan (31-1-1, 25 KOs), 33, moved up to junior bantamweight, eventually knocking out Dmitri Kirilov in the fifth round to win a title in August and then unifying three 115-pound belts by destroying Mijares via ninth-round knockout in November.
Meanwhile, Mexico's Arce (51-4-1, 39 KOs), 29, reeled off five consecutive victories (four by knockout) and claimed an interim belt.
With both fighters having rejuvenated their careers, and Arum and Shaw seemingly having made peace -- they even joked around with each other quite a bit at a news conference last month in Los Angeles -- the fight was finally made.
"Vic has been chasing Arce around the world for years, and when Top Rank and Arce finally decided to take it, it took less than an hour to make this fight," Shaw said.
In the opening bout, lightweight prospect Antonio DeMarco (19-1-1, 13 KOs) will step up his competition against "Kid Diamond" Almazbek Raiymkulov (27-1-1, 15 KOs).
With their promoters having put aside their differences to finally make the match, Darchinyan and Arce couldn't be happier to be fighting each other.
"He was a well-known fighter and he is known for being a great puncher, but I want to show everybody that I am the bigger puncher and that I am the better fighter," Darchinyan said of his reasons for wanting to face Arce, a former junior flyweight titleholder.
Said Arce: "People think because I lost to Mijares and Darchinyan beat Mijares that Darchinyan will automatically win our fight. But that's not how it works. It is just talk. It is neither here nor there. Styles make fights. You'll see after I nail him what I am saying. … I am not leaving that ring without the three belts. I am smarter than him.''
While Arce has not done too much trash talking, even skipping the news conference in Los Angeles because he didn't want to break camp in the mountains outside Mexico City, he believes he'll score a knockout.
"I will knock him out," he said. "I don't see this fight going 12 rounds. I see it as a knockout. If he knocks me down once, I'm going to get back up. He's going to have to throw a lot of punches to knock me out. He's in for a long night."
Darchinyan has been talking up a storm for months. Like he does before all his fights, he's predicting another big knockout.
"I promise that I will punish Arce just like I did Mijares," he said. "I'm not going for the big KO early. I am going to punish him, let him recover, then I am going punish him some more and then knock him out. … I am going to demolish him.''
Lightweight tournament takes shape
Golden Boy CEO Richard Schaefer, who unveiled plans last week for a lightweight tournament to build a challenger for the winner of the Feb. 28 Juan Manuel Marquez-Juan Diaz championship fight, or perhaps a challenger for titlist Nate Campbell, accelerated plans this week.
Schaefer told ESPN.com that because there was little interest from the networks, he's planning an April 4 pay-per-view card featuring several lightweight contenders in either Houston or San Antonio.
Topping the card, Schaefer said, will be Edwin Valero against Antonio Pitalua, who will meet for an interim title. Although Valero signed a promotional contract with Top Rank last week, Golden Boy is involved with Pitalua and Schaefer said he had made a deal with Ricardo Maldonado, the Mexican promoter who won the rights to Valero-Pitalua at a purse bid. Valero, despite difficulties obtaining a license in many jurisdictions in the United States because of a non-boxing head injury suffered years ago, is licensed in Texas.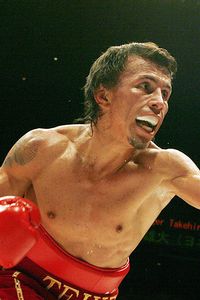 AP Photo/Junji Kurokawa
Edwin Valero, left, will top an April 4 pay-per-view card featuring several lightweight contenders.
Schaefer said two other bouts on which he is working for the card are Michael Katsidis against Jesus Chavez and Jorge Barrios against Carlos Hernandez.
Others who could appear on the card, Schaefer said, are Breidis Prescott and lightweight prospect Adrien Broner.
"We'd also leave the door open for Joel Casamayor if he wants to fight and we can work out the money," he said.
Schaefer said if Valero wins, he probably will go in another direction, given his deal with Top Rank, but "the idea is that these are the best lightweights, and we would see if we can match the winners up with each other in a second round. We'll put these guys in tough and see who will shine."
Katsidis' appearance on the card would come despite talk of a possible ESPN2 fight in April against Julio Diaz, a bout for which Sycuan Ringside Promotions said it had a commitment from both fighters. Sycuan notified ESPN on Wednesday that Katsidis had suffered a cut and cheekbone injury in his Jan. 31 decision victory against Angel Ramirez and wouldn't be ready to fight in April. Schaefer, who promotes Katsidis, said the boxer was not injured and would fight on the PPV card in April, and that nobody had ever come to him about the ESPN fight.
Chagaev returns
Heavyweight titlist Ruslan Chagaev, out of action with injuries since making his only defense against Matt Skelton 13 months ago, returns Saturday (2 p.m. ET, Integrated Sports PPV, $24.95) in Rostock, Germany.
Chagaev, demoted to the WBA's "champion in recess" during his sabbatical while recovering from a blown out Achilles, faces untested Carl Davis Drummond (26-0, 20 KOs) of Costa Rica.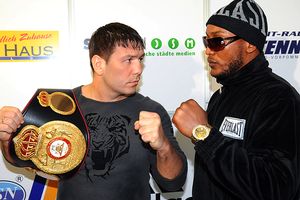 AP Photo/Frank Hormann
Ruslan Chagaev, left, has big plans for '09, but he'll have to get past Carl Davis Drummond first.
"After my injury break -- the long rehab, strength training and many, many training sessions without a break -- I'm glad that I can return so quickly to the ring," Chagaev said. "For 2009 and 2010, I have big plans. I am now fully fit and focused on this fight, which I clearly want to win."
If Chagaev wins, he'll have to face titleholder Nikolai Valuev in a rematch. Chagaev (26-0-1, 20 KOs) handed Valuev his only loss in April 2007 to win the title.
Also on the pay-per-view card, junior welterweight titlist Andreas Kotelnik (30-3-1, 13 KOs) of Ukraine makes a dangerous mandatory defense against Argentina's Rene Maidana (25-0, 24 KOs) and heavyweight prospect Denis Boytsov (23-0, 18 KOs) of Russia meets Israel Garcia (19-2, 11 KOs) of New York.
Dan Rafael is the boxing writer for ESPN.com.
QUICK HITS

Angulo
• On Thursday morning, promoter Gary Shaw thought junior middleweight prospect Alfredo Angulo would be jettisoned from the Feb. 14 HBO card in Sunrise, Fla. His opponent, Ricardo Mayorga, had withdrawn, and Shaw and HBO couldn't agree on a variety of replacements suggested, including Daniel Edouard, Saul Alvarez and Craig McEwan. One opponent they did agree on, Danny Perez, also was out due to a conflict between Shaw's matchmaker and Perez's manager. However, the issue was resolved Thursday night, and Perez (34-5, 17 KOs) will face Angulo (14-0, 11 KOs), Shaw told ESPN.com. Perez, a top welterweight contender in the late 1990s, retired from 2005 to 2008 but has won three in a row since returning, including an impressive middleweight victory against Julio Garcia in September. Also on the card: Lightweight titlist Nate Campbell faces Ali Funeka and interim junior middleweight titlist Sergio Martinez meets Kermit Cintron.

Taylor
• After weeks of on-and-off negotiations, it appears super middleweight titlist Carl Froch of England is headed stateside to face mandatory challenger Jermain Taylor. The sides haven't finalized a deal yet, but sources involved in the talks told ESPN.com one is imminent. The fight would take place April 18 or 25 on Showtime at a site to be determined in the U.S. Taylor promoter Lou DiBella had been working on a March 28 Showtime date for Taylor's next fight. When Froch turned down the offer for that date, DiBella made a deal with Jean Pascal, who lost a slugfest to Froch for the vacant belt in December. Then Pascal backed out, and DiBella was ready to match Taylor with Allan Green, whom DiBella also promotes. However, Froch promoter Mick Hennessy, unable to get the kind of money he hoped for in England, eventually came around. Green likely would appear on the televised undercard, possibly against Carlos De Leon Jr., whom DiBella also promotes. Taylor would be moving from HBO to Showtime, which also would have the rights to his next fight if he wins. HBO refused to accept Froch as an opponent.

Berto
• In an effort to build a quality opponent for welterweight titlist Andre Berto, DiBella is trying to put together a fight between ex-titleholders Zab Judah and Carlos Quintana. DiBella said he's spoken to John Wirt, CEO of Square Ring, which represents Judah, and to HBO, which is interested in it as an undercard fight. "I'd love to make it and build a major opponent for Berto," DiBella told ESPN.com. "It's a good fight, and Judah and Quintana are both quality welterweights. I talked to HBO ,and they like the fight. It's just a matter of finding a place for it." DiBella said Quintana intended to move to junior middleweight but would remain at welterweight to fight Judah or Berto. He added that Berto, who survived a close fight with Luis Collazo last month, would fight again in May or June. He said he spoke to Top Rank's Bob Arum about Berto facing Miguel Cotto in June if his proposed rematch with Antonio Margarito falls through. Cotto-Berto, however, might be a reach considering Arum's refusal to do business with Berto manager Al Haymon.

Wright
• The Paul Williams-Winky Wright middleweight fight on April 11 (HBO) has a home. Golden Boy's Richard Schaefer, who is working with Wright, told ESPN.com the bout will "definitely" take place at Mandalay Bay in Las Vegas. On the undercard, former UFC heavyweight champion Andrei Arlovski, stopped in the first round by Fedor Emelianenko in a significant MMA bout Jan. 24, will make his boxing pro debut on the undercard, Arlovski manager Bill Keane told ESPN.com. Arlovski is trained by Freddie Roach.

Guerrero
• Now that former two-time featherweight titlist Robert Guerrero is safely through his first fight in 11 months -- a first-round blowout of Edel Ruiz on the Shane Mosley-Antonio Margarito card Jan. 24 -- he has been added to the March 7 Boxing After Dark show in San Jose, Calif., where Guerrero will be the main draw since he is from nearby Gilroy. The tripleheader also includes junior middleweight Joel "Love Child" Julio against James Kirkland and 2008 ESPN.com prospect of the year Victor Ortiz against Mike Arnaoutis. Guerrero will face Daud Yordan (23-0, 17 KOs), a Golden Boy-promoted prospect from Indonesia, Golden Boy's Gomez told ESPN.com. Gomez said he first offered the fight to 2004 U.S. Olympian Vicente Escobedo, but he rejected it.

Gonzalez
• Former bantamweight titlist Jhonny Gonzalez will get a junior featherweight title shot against Japan's Toshiaki Nishioka, Golden Boy's Gomez said. Gonzalez, who has won six in a row since losing his bantamweight title to Gerry Penalosa in August 2007, is the mandatory challenger. Gomez said Golden Boy is in talks with Nishioka promoter Teiken Promotions, and if they don't make a deal, a purse bid is scheduled for Feb. 13.

Chavez Jr.
• Top Rank has shifted its March 28 "Latin Fury" pay-per-view to Tijuana, Mexico, from Cancun and switched opponents for headliner Julio Cesar Chavez Jr. Originally, Chavez was slated to face former junior middleweight title challenger Carlos Nascimento, but the new opponent in the works is Spain's Luciano Cuello (23-0, 10 KOs). The handlers for Fernando Montiel, a junior bantamweight titlist moving up because he can no longer make 115 pounds, and Eric Morel reached an agreement this week, avoiding Thursday's scheduled purse bid for their interim bantamweight title bout. Their bout will take place on the "Latin Fury" undercard.

Estrada
• Middleweight Shawn Estrada (2-0, 2 KOs), a 2008 U.S. Olympian, thought he would need surgery on his left shoulder, until a second opinion suggested the injury was far less severe than originally thought. Instead of surgery, Estrada, 23, will have physical therapy three times a week to help the shoulder heal. "It was right after my last fight," Estrada said of when he suffered the injury. "I was training back in the gym and preparing for my Jan. 24 fight. I was sparring and tried to throw a left jab and hook and felt a sharp pain. I didn't think it was anything major. My father used to tell me to always get a second or even third medical opinion, especially whenever surgery is recommended. When I went [for a second opinion] and found out surgery wasn't going to be required, I was very relieved and excited."

Liakhovich
• Former heavyweight titleholder Sergei Liakhovich (23-3, 14 KOs), who has lost two in a row and not fought since a lopsided decision loss to Nikolai Valuev in a February 2008 title eliminator, is eyeing a comeback. Liakhovich, a promotional free agent after securing a release from Don King, said he suffered a torn rotator cuff in the loss to Valuev but is now healthy. "I want to make a statement in the heavyweight division this year and have some great fights," Liakhovich, 32, said. "I'm a free man and I'm 100 percent healthy." Manager Ivaylo Gotzev said he's ready to match Liakhovich with any top opponent. "We can negotiate any fight in the world," he said. "We'll fight David Haye. We'll fight Cris Arreola. We'll fight [2004 Olympic gold medalist Odlanier] Solis. Sergei is willing to fight anyone. We'll fight on any of the networks. Let's just make the fight."

Mabuza
• Bantamweights Yonnhy Perez (18-0, 13 KOs) and Silence Mabuza (22-2, 18 KOs) will meet April 18 in Mabuza's native South Africa in a title eliminator. The winner will get a shot at titlist Joseph "King Kong" Agbeko. Perez, of Colombia, has been impressive fighting on "ShoBox," but Mabuza, who twice challenged then-champ Rafael Marquez, is a big step up. "This will be the toughest test for Yonnhy in his young career. I know Silence Mabuza very well, and he is a warrior with great skills," said Perez co-promoter Gary Shaw, who also promotes Marquez. "However, I believe that Perez will have no problem fighting on foreign soil and will come back to the U.S. victorious."

Rodriguez
• In November, welterweight Delvin Rodriguez (23-2-2, 14 KOs) went to South Africa and drew with Isaac Hlatshwayo in a title eliminator with a shot at Joshua Clottey at stake. A rematch was slated for March 6 on ESPN2 at the Mohegan Sun resort in Connecticut, but Hlatshwayo withdrew. So promoter Joe DeGuardia made a strong replacement fight with Rodriguez facing Shamone Alvarez (20-1, 11 KOs) in the "Friday Night Fights" main event. Alvarez's only loss was a 2007 decision to Clottey. Junior middleweight Demetrius Andrade, a 2008 U.S. Olympian, also will be on the card. "Delvin is a heck of a fighter," Alvarez said. "I know what I am going to be up against when we face off against each other. But if I want to be the best, I am going to have to beat the best, and I consider Delvin one of the best welterweights in the world. One thing that I do know, though, is that it's going to be a great fight. I am going to be bringing my A game, and I expect Delvin to do the same."

Cunningham
• With cruiserweight B.J. Flores passing on an elimination fight with Wayne Braithwaite, the eliminator likely to take place would match ex-titlist Braithwaite and fellow former beltholder Steve Cunningham. The winner would become the mandatory challenger for champion Tomasz Adamek, who won a December decision against Cunningham in an all-action slugfest.
QUOTABLE

Urango
"I believe the junior welterweight division is the best in boxing, and I have no shortage of great fights here. I'd love to unify the title with the other champions, but my real goal is a rematch with Ricky Hatton so I can avenge my only loss. The result of our first fight is something I can't accept, and after he fights Manny Pacquiao in May, win or lose, I want the opportunity to get even. In the meantime, line up the best in the division, and I'll fight them." -- Junior welterweight titlist Juan Urango, on his plans after regaining a belt against Herman Ngoudjo with a dominant decision Jan. 30 in Ngoudjo's hometown of Montreal.