Berto stepping up
Even when Andre Berto was a standout amateur, big things were predicted for him in the pro ranks. He had the speed, power and aggressive style of a pro champion written all over him.
After an appearance in the 2004 Olympics, Berto turned professional, and those expectations followed him. Now, five years later, Berto, 25, has done nothing to dissuade those who were on his bandwagon early on.
He has rolled to a undefeated record (23-0, 19 KOs); he claimed a vacant welterweight world title with a crushing seventh-round knockout of Miki Rodriguez this past June and made one defense in September, a unanimous decision against Steve Forbes, a quality fighter but a smaller man with little power.
There is little to rap Berto about, other than one thing -- when will he and his handlers step him up against another of the top names in the loaded welterweight division? Shoot, when will they step him up against a legitimate top-10 contender?
The time is now.
Finally.
"I'm a young fighter, and at the same time, I know I can fight the best and beat the best," Berto said. "I am eager to get in there with the best."
Berto will face his first top welterweight opponent when he meets mandatory challenger and former titleholder Luis Collazo (29-3, 14 KOs) Saturday night at the Beau Rivage resort in Biloxi, Miss., in the first HBO fight of the year (9:45 ET/PT).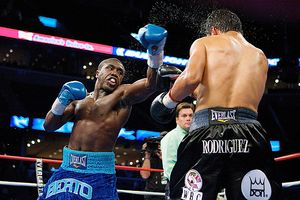 Fightwireimages.com
Finally! Andre Berto will meet Luis Collazo, his toughest opponent yet, Saturday.
Berto, held back more by his handlers -- promoter Lou DiBella and manager Al Haymon -- than by his own desire to fight big names, is excited at the prospect of facing Collazo, 27.
"This is definitely my toughest fight to date," Berto said. "Collazo isn't just a slick fighter, he's a slick southpaw. People know southpaws aren't the easiest to fight. That makes it even tougher, but I am looking forward to the task. People have seen my progression, and this will be a fight where people can really see where I'm at."
Collazo's only losses are a knockout defeat early in his career and decisions to Shane Mosley and Ricky Hatton.
The Hatton fight was regarded as highly controversial because many believed Collazo deserved the nod.
"Collazo is one of the top guys in the division. He's a b---- to fight. Just ask Ricky Hatton," DiBella said.
Berto, who is experienced with southpaws from the estimated 500 rounds he has sparred through the years with buddy Winky Wright, has a confidence about him but doesn't seem to get too far ahead of himself. He's not a young fighter who beats his chest proclaiming he's the best, at least not yet.
"I've been growing with each and every fight, improving my skill level in general," he said. "I made the transition from the Olympics, I've showed poise in the ring and shown off my speed and power, but I am not a complete fighter yet. In due time, I'll be a complete fighter. Right now, I'm continuing to take the steps and continue to take the classes. This fight is like a step-up class. It'll be like fighting an upperclassman because Collazo has been in with some of the best. He's supposed be here, and I know he's coming to fight."
Collazo is confident he can hand Berto his first defeat and put his name into the mix for the biggest fights in a division that features Antonio Margarito, Miguel Cotto, Mosley, Joshua Clottey and others.
"[Berto has] some weaknesses, but he's a really good fighter, so I don't want to take anything away from him," Collazo said. "With our styles, we both come to fight. It's going to be an exciting and explosive fight for both of us."
Although DiBella has designs on eventually matching Berto with either Mosley or Cotto, he didn't want to look to far ahead because he knows Berto is in for a tough fight Saturday.
"I don't want to jinx Saturday night," he said. "You just don't look past a guy like Collazo. He's already fought guys like Shane and Ricky Hatton, who a lot of people think he beat. Andre hasn't had the opportunity to step up like that yet. This fight is a step up in every way for Andre as a professional."
Said Berto about his deliberate road to the top: "It's a process. The true fight fans see the skills and potential, and they want to see me tested right now. Everyone goes through the process. [Oscar] De La Hoya, [Floyd] Mayweather, they had skills and people were so eager to see them fight the best. Sometimes it takes a little longer. Eventually they will see me prevail against the top guys, and it will be worth it."
Fluid situation
A couple of days after promoter Don King announced junior middleweight titlist Daniel Santos had accepted a Feb. 14 HBO fight with Sergio Martinez on about five weeks' notice -- a fight Martinez promoter Lou DiBella and HBO had been told was finalized -- Santos changed his mind.
According to DiBella, Santos said he didn't have enough time to get down to 154 pounds. Former titleholder Sergio Mora was offered the fight but rejected it. Mora, who has been sparring with Antonio Margarito during his preparation to fight Shane Mosley next week, also was not near weight, Mora promoter Jeff Wald said.
With Santos out, ex-welterweight titlist Kermit Cintron accepted the bout, which HBO will televise as part of a tripleheader.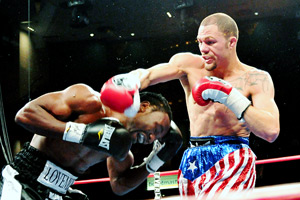 Jeff Julian/Fightwireimages.com
Heavy-hitting Kermit Cintron, right, is stepping up to junior middleweight to challenge Sergio Martinez.
Cintron was the mandatory challenger for titlist Joshua Clottey and close to a deal to face him Feb. 21 on the Miguel Cotto-Michael Jennings Top Rank pay-per-view undercard. However, Cintron elected to move up in weight to face Martinez for more money, DiBella said.
"The money was substantially better for Kermit for the Martinez fight," DiBella said. "I brought Kermit offers for both fights. [Bob] Arum was reasonable with me because he has a limited budget for his pay-per-view. Kermit was willing to fight either guy, so it tells you he is up for the challenge, but he went for the situation that was better for him economically. He was also intrigued by the fact that both of his losses are to Margarito and Martinez's only loss is to Margarito. Cintron is a big, strong-punching welterweight, so it's not a problem for him to handle 154. I think that he doesn't have to come all the way down to 147 also had a little bit to do with him taking the fight."
The HBO tripleheader -- Alfredo Angulo-Ricardo Mayorga, Nate Campbell-Ali Funeka and Martinez-Cintron -- finally found a home just a month before the show. King, co-promoting with Gary Shaw, owns the gate and had all sorts of issues finding a site until Wednesday, when he secured the BankAtlantic Center in Sunrise, Fla., King spokesman Alan Hopper told ESPN.com. It's the home arena for the NHL's Florida Panthers.
Motor-mouth Darchinyan in fine form
There are two things unified junior bantamweight titleholder Vic Darchinyan (31-1-1, 25 KOs) specializes in: knockouts and talking smack.
We'll have to wait to see whether he can stop Jorge Arce (51-4-1, 39 KOs) when they meet Feb. 7 at the Honda Center in Anaheim, Calif., (on Showtime) but the "Raging Bull" from Australia already is talking a big game heading into the much-anticipated bout.
Darchinyan became the first 115-pounder to unify three major titles when he dominated Cristian Mijares en route a ninth-round knockout in November.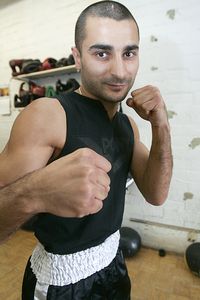 AP Photo/Reed Saxon
"Let's get it on!" Vic Darchinyan can't wait to tear into Jorge Arce.
Darchinyan loves the fact that Mijares was the third Mexican opponent he's knocked out in the past two years.
"Let's see, I've stopped Cristian Mijares, Victor Burgos and Luis Maldonado," Darchinyan said. "Unlike Jorge Arce, those three fighters were very tough hombres. Defeating Arce won't take much training. It won't even be a fight for me -- more like pest control. I'm going to swat that Spanish fly. How do you take a guy like Arce seriously? He sucks on lollipops and wears a cowboy hat from a toy store. He looks like Woody from the movie 'Toy Story.' I can picture him running around his house on a broom pretending he's riding a horse. When I finally meet him at the press conference, do I say, 'Hola, Jorge' or 'Howdy, Doody?' Arce is going to be my human piņata. Our fight will be like a Chihuahua against a bull, a raging bull."
Dan Rafael is the boxing writer for ESPN.com.
QUICK HITS

Taylor
• Promoter Lou DiBella is in talks with Showtime about bringing former middleweight champ Jermain Taylor to the network for a multifight deal that could begin March 28, DiBella said. Taylor, now the mandatory challenger for super middleweight belt holder Carl Froch, had been associated with HBO since his professional debut after receiving a bronze medal in the 2000 Olympics. However, HBO's obligations to Taylor ended with his November victory against Jeff Lacy and, according to DiBella, the network hasn't offered Taylor a date or shown interest in a fight with Froch. DiBella said Showtime is considering a series of super middleweight bouts, which will include Taylor if they make a deal. Besides talking to Froch's handlers, DiBella said he's talking with Seminole Warriors Boxing about Taylor facing ex-light heavyweight champ Glen Johnson in a 171-pound catch-weight fight. A purse bid for Froch-Taylor is scheduled for later this month. Froch has denied reports that a rib injury suffered against Jean Pascal while winning the vacant belt Dec. 6 will sideline him until June.

Cotto
• At this week's news conference in New York to announce Top Rank's Feb. 21 split-site pay-per-view card featuring Kelly Pavlik defending the middleweight title against Marco Antonio Rubio in Youngstown, Ohio, and Miguel Cotto facing Michael Jennings for a vacant welterweight belt at New York's Madison Square Garden, promoter Bob Arum talked about the likely rematch between Cotto and Antonio Margarito, who stopped Cotto in the 11th round in July in one of the most explosive fights of 2008. Arum reiterated that as long as Cotto wins (and regardless of the outcome of Margarito's fight with Shane Mosley next week), he plans to put on Margarito-Cotto II this summer. Arum said it likely will take place at MSG on June 13, the eve of New York's Puerto Rican Day Parade, a date Cotto has owned for several years.

Pavlik
• Pavlik might have lost a lopsided decision to Bernard Hopkins in a nontitle, 170-pound bout in October, but the folks still love him in his hometown of Youngstown. Top Rank announced that more than 5,000 tickets for the Feb. 21 defense against Rubio at the Chevrolet Center in Youngstown were sold in 12 minutes after going on sale. The arena, which can hold about 7,000 for boxing, certainly will be sold out and break the arena record for attendance (5,500 for a Carrie Underwood concert last summer).

Malignaggi
• Former junior welterweight titleholder Paulie Malignaggi wants to see what he's got left in the wake of his one-sided loss to Ricky Hatton in November, and up-and-comer Mike Alvarado is looking for a test. So Malignaggi promoter DiBella and Top Rank are talking about a bout between the two, DiBella told ESPN.com. It could wind up on the Feb. 21 Top Rank pay-per-view show, now that the proposed Joshua Clottey-Kermit Cintron fight, which had been ticketed for the show, was called off when Cintron elected to take another bout.

Katsidis
• Sycuan Ringside Promotions is trying to put together a potentially fiery fight between ex-lightweight belt holder Julio Diaz and all-action brawler Michael Katsidis, Sycuan's Sean Gibbons told ESPN.com. Katsidis (23-2, 20 KOs) is fighting Jan. 31 in the Philippines and would have to win. Gibbons said the fighters are interested and understand the financial parameters of the bout, which could land on ESPN2 in April. Gibbons said he'd also pitch the fight to Versus.

Gamboa
• Coming off his 10th-round TKO win against Roger Gonzalez in the Jan. 9 "Friday Night Fights" season premier on ESPN2, exciting featherweight prospect Yuriorkis Gamboa (13-0, 11 KOs), a 2004 Cuban Olympic gold medalist, will return April 3 to headline on Showtime's "ShoBox." However, it's unlikely he'll face Elio Rojas for a vacant interim belt, as has been mandated by a sanctioning body. Luis DeCubas, who works with Gamboa promoter Arena-Box, said lightweight prospect Breidis Prescott, who stunningly knocked out Amir Khan in the first round last year, will open the show -- as long as Prescott wins and comes out healthy from a bout against Humberto Toledo on Feb. 20 (ESPN2).

Luevano
• Featherweight titlist Steven Luevano is moving on after a mandatory defense against Rocky Juarez was scrapped last week when Juarez landed a shot with beltholder Chris John instead. Luevano (36-1-1, 15 KOs) will make his fifth defense April 25 in Puerto Rico in the opening bout of an HBO card. Top Rank's Bob Arum told ESPN.com that Luevano will face the Philippines' Bernabe Concepcion (28-1-1, 17 KOs), although Luevano manager Cameron Dunkin said Concepcion is just one option. Puerto Rican junior featherweight titleholder Juan Manuel Lopez is the headliner and close to a deal with bantamweight titlist Gerry Penalosa, who would move up in weight. Penalosa manager Billy Keane told ESPN.com that the fight is close and Penalosa has no problem fighting in Puerto Rico. "He really believes [Lopez] has the perfect style for him," Keane said.

Dawson
• When light heavyweight titleholder Chad Dawson and former champ Antonio Tarver meet again March 14 on HBO in a rematch (one Dawson didn't particularly want but was contractually obligated to), they'll do so in familiar surroundings. The fight is at the Palms Casino in Las Vegas, promoter Gary Shaw told ESPN.com. That's where Dawson easily outpointed Tarver to win a belt Oct. 11.

Povetkin
• Now that heavyweight Alexander Povetkin (16-0, 12 KOs) has recovered from the foot injury that cost him a December title shot against Wladimir Klitschko, he's ready to return. He remains the mandatory challenger for Klitschko, but since the deadline for that bout has been pushed back until September, Povetkin will stay busy April 4. Although no deal has been finalized, Povetkin is in talks with American Jason Estrada (15-1, 3 KOs). They both were heralded amateurs and competed in the 2004 Olympics, where Povetkin won gold for Russia.
• Showtime has replaced longtime blow-by-blow announcer Steve Albert with Gus Johnson on "Showtime Championship Boxing." Johnson, also a sportscaster for Showtime corporate cousin CBS Sports, will team with analyst Al Bernstein and make his debut Feb. 7 on the Vic Darchinyan-Jorge Arce card. Showtime offered no reason for the departure of Albert, who had called fights on the network since 1987. If Johnson's CBS schedule conflicts with a fight, Showtime said Albert will fill in.

Chagaev
• Ruslan Chagaev (24-0-1, 17 KOs), idle since last January because of a blown out Achilles and demoted to a "champion in recess" by an alphabet organization, returns to face untested Carl Davis Drumond (26-0, 20 KOs) Feb. 7 in Germany (2 p.m. ET, Integrated Sports PPV). In featured undercard bouts, junior welterweight titlist Andreas Kotelnik (30-2-1, 13 KOs) faces Marcos Maidana (25-0, 24 KOs) and heavyweight prospect Denis Boytsov (23-0, 18 KOs) faces an opponent to be determined. A Chagaev victory will set up a mandated rematch with titleholder Nikolai Valuev, who lost to Chagaev when they met for a belt in April 2007. "My injury was a big mishap for me and very lucky for Valuev," Chagaev said. "But now I'm fit again and I'm looking forward to the fight. This is a good test. I will prove to Valuev and all of the 'experts' that I am the true champion. My dream remains to be world champion of all associations and to unify all the belts. For this dream, I will also propose a fight with the Klitschko brothers."

Mares
• Rising bantamweight contender Abner Mares, a 2004 Olympian for Mexico, has been cleared to train and will be available to fight by April, Golden Boy's Eric Gomez told ESPN.com. Mares (17-0, 10 KOs), 23, has been out with an eye injury since October. He suffered a torn retina and underwent surgery, forcing him to withdraw from a bout on the Bernard Hopkins-Kelly Pavlik undercard.
QUOTABLE

Johnson
"This is a disgrace to the sport. Didn't anyone watch the first fight? Do they think anything different will happen the second time around? HBO should have put this fight on a month earlier, so it could have been the St. Valentine's Day Massacre Part 2." -- Former light heavyweight champ Glen Johnson, who lost a tight decision in an action-packed battle to Chad Dawson last spring and wants a rematch, incredulous that HBO bought a March 14 rematch between Dawson and Antonio Tarver after Dawson's lopsided victory on Showtime in October.