Tom Casino/Showtime
Joseph Agbeko and Vic Darchinyan will settle their differences in the ring on Saturday.

Tom Casino/Showtime
Vic Darchinyan fully believes his fitness and power will seize the day.

AAP Image/Dean Lewins
Vic Darchinyan became the first 115-pound fighter to unify three major belts when he destroyed Cristian Mijares in 2008.

Bryan Crowe/FightWireImages.com
In his last fight, Vic Darchinyan, right, punished Jorge Arce for 11, one-sided rounds.
Darchinyan aims to take new division by storm
When Vic Darchinyan is ready to fight, there are a few things you can count on. He'll be in great shape, he'll be ultra-confident and he'll make bold predictions of pain and punishment for his opponent.
It's been no different as Darchinyan prepares to face Joseph "King Kong" Agbeko at the BankAtlantic Center in Sunrise, Fla., on Saturday (Showtime, 9 p.m. ET/PT). The one big difference, however, is that Darchinyan will be moving up to a new weight class to challenge for a title in his third division.
Darchinyan, a former flyweight titlist known as "Raging Bull," became the first fighter in the 29-year history of the junior bantamweight division to unify three major belts when he destroyed Cristian Mijares, knocking him out in the ninth round in a lopsided fight in November. In February, he punished Jorge Arce before stopping him in the 11th round.
Now Darchinyan (32-1, 26 KOs), the Armenian-born Australian, aims to conquer the bantamweight division, where Agbeko (26-1, 22 KOs), a Ghana native living in New York, stands in his way.
"I can't spend my career just defending, defending, defending," Darchinyan said. "I have to move up in weight and go after more titles. I have the power to demolish anyone. I'm going to keep moving up."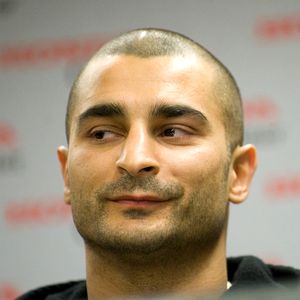 Chris Cozzone/Fightwireimages.com
New division, new weight class? No problem for Vic Darchinyan.
As usual, the brash Darchinyan is confident that the transition to a new division won't be a problem.
"I'll be ready and I'll be stronger at 118," Darchinyan said. "Agbeko will feel my power, I promise you. He's not too much bigger than me. This will be no difference for me at all. All of my sparring partners were bigger than him."
Darchinyan is confident he'll score another big knockout.
"I'm going to give him a lesson and knock him out," he said. "I'm going to play with him and destroy him. I'll start throwing bombs in the middle rounds. I'll knock him out before the end of the 12th. Every boxer should go for the KO. I seek excitement only. I want to be exciting. I want to be one of the best in the history of boxing. That means I go for the knockout.
"I'm going to take it easy early and slow him down. I'm going to make him look stupid and knock him out."
Agbeko, however, is a tough customer. His only loss, a majority decision to Wladimir Sidorenko in Germany in 2004, was controversial. Even Darchinyan believes Agbeko won it.
"I know you are a good fighter," Darchinyan said to Agbeko during a media conference call promoting the fight. "I saw your fight against Sidorenko. You were robbed in Germany. I feel you never lost. You won that fight. I love it when my opponents have never lost."
Of course, after the compliment, Darchinyan, whose lone loss came via a one-punch fifth-round knockout to Nonito Donaire in 2005, got on Agbeko's case again, saying "I think after this fight they are going to change my opponent's name [from 'King Kong'] to Joseph 'Chimpanzee' Agbeko. This is going to be the biggest mismatch. Where would you like me to hurt you most? In the body or in the face?"
Four fights after the loss to Sidorenko, Agbeko claimed a bantamweight belt with a seventh-round knockout of Luis Perez in a one-sided fight in 2007. In his only defense, he won a thrilling decision against William Gonzalez in December.
He sounded ready to fight and a bit weary of Darchinyan's mouth.
"They call him the 'Raging Bull,' Agbeko said. "I call him the 'Raging Bulls----er."
Although Agbeko, a stablemate of ex-welterweight titlist Joshua Clottey, is softer-spoken than Darchinyan, he comes off as equally confident.
"I know I'm better than Vic Darchinyan," he said. "I know he can punch. I'm really, really ready for his punches. I know he's never been on the receiving end of someone who punches like me. Vic is always talking about his power and about how he's this and that, but I've watched a couple of his fights and I never saw that power. He's always fought guys that are afraid of him and he did what he wanted with them. But in this fight I'm going to do what I want to do and beat him the way I want. I'm going to let him do whatever he wants to do in this fight, because I can do whatever he does better than him."
In the co-feature, lightweight Antonio DeMarco (21-1-1, 15 KOs) of Mexico faces Anges Adjaho (25-1, 14 KOs) of the West African nation of Benin in a title eliminator. The winner will be the mandatory challenger for titlist Edwin Valero. Also on the card, but not part of Showtime's telecast, former cruiserweight titleholders Steve Cunningham (21-2, 11 KOs) and Wayne Braithwaite (23-3, 19 KOs) meet with a mandatory shot at champion Tomasz Adamek at stake. Cunningham lost his belt to Adamek via split decision in a December brawl, one of the year's most exciting fights, and has been seeking a rematch.
Adamek in action
Cruiserweight champion Tomasz Adamek (37-1, 25 KOs) makes his second title defense against Bobby Gunn (18-3-1, 15 KOs) on Saturday night at the Prudential Center in Newark, N.J., where both fighters should have ample crowd support.
Adamek, who is from Poland but lives in Jersey City, has attracted raucous crowds there for previous fights. Gunn is from Hackensack, N.J.
None of the major networks elected to buy an Adamek fight, so Main Events is making the card available live on its Web site at mainevents.com (10 p.m. ET, $9.99).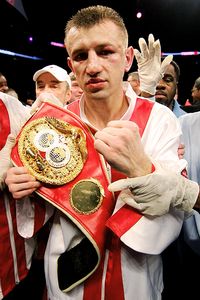 Al Bello/Getty Images
Home away from home: Poland's Tomasz Adamek enjoys partisan support when he fights in Newark.
"Many Polish people live near the Prudential Center. I feel very at home there," Adamek said. "It is very exciting to look up and see all the Polish people."
If Adamek wins, there are two potential opponents who for him who would generate network interest: Bernard Hopkins or a mandatory rematch with Steve Cunningham, whom Adamek outpointed in a December slugfest.
"I could have many fights in Poland but I can't get a big fight there," Adamek said. "I knew that if I want to be a big fighter, I had to come to the United States. I want to fight all the best boxers in the world. If you get a big name in boxing that is how you get the big TV contracts, how you can get your dreams."
Although Gunn has no wins of note and was wiped out in one round in a 2007 title challenge against Enzo Maccarinelli, Adamek insisted he wasn't taking him lightly.
"Gunn is hungry," he said. "It's his big chance, and he could be dangerous. I'm serious about this fight."
Said Gunn: "I took this fight because I wanted to fight the best. Adamek is the best. I would have taken this fight for any amount of money they gave me. This is not about financial profit. This is about my chance to show everyone that I can be the best."
Rodriguez-Hlatshwayo II set for belt
Welterweights Delvin Rodriguez (24-2-2, 14 KOs) and South Africa's Isaac Hlatshwayo (28-1-1, 10 KOs) will meet Aug. 1 at the Mohegan Sun resort in Uncasville, Conn., with a vacant title on the line.
It's a rematch of a November meeting in South Africa, a title eliminator that resulted in a spirited draw. However, with Joshua Clottey relinquishing a title, Rodriguez-Hlatshwayo II is for the vacant belt.
"I was not happy after the first fight. I know I won the fight, most people who watched the fight, including the South African press, know I won the fight. The only people who didn't seem to know were two of the three judges," said Rodriguez, who will have the home crowd this time as he lives in Danbury, Conn. "I know I am going to knock him out this time around, so the scorecards won't matter. I have a bad taste left in my mouth from Nov. 17. I plan on getting rid of it in spectacular fashion." Rodriguez promoter Joe DeGuardia preferred for the rematch to be on ESPN2, which has televised numerous Rodriguez bouts and some of Hlatshwayo's. However, the network's schedule and DeGuardia's site agreement didn't mesh. DeGuardia said he's working on deal to air the fight on a regional cable network. He added that junior middleweight prospect Demetrius Andrade, a 2008 U.S. Olympian he co-promotes with Artie Pelullo, would appear on the card.
"The first fight was a good fight, definitely worthy of a rematch," DeGuardia said. "While I think it's noteworthy that the press in South Africa thought Delvin won the fight, as did I, it is going to be a great rematch and I am looking forward to Aug. 1, not backward.
Dan Rafael is the boxing writer for ESPN.com.
QUICK HITS

V. Klitschko
• Heavyweight titlist Vitali Klitschko is close to a deal for a fall defense against former cruiserweight champion David Haye, Klitschko manager Bernd Boente told ESPN.com. The sides are reviewing the contracts and making comments, he said. Haye, of course, was scheduled to challenge unified titleholder Wladimir Klitschko on June 20 before withdrawing because of a back injury. Now, older brother Vitali is looking to fight him with Wladimir tied up with a mandatory defense in the fall against Alexander Povetkin. If the Vitali Klitschko-Haye bout is finalized, it would take place Sept. 12 at a stadium in Germany. HBO is making plans to carry it in the United States.

Peter
• Former heavyweight titlist Samuel Peter has split with longtime promoter Dino Duva and is poised to sign with Top Rank, manager Ivaylo Gotzev told ESPN.com. If their deal is finalized, Peter (30-3, 23 KOs) will fight July 25 on the untelevised portion of Top Rank's pay-per-view card in Nuevo Vallarta, Mexico, probably against journeyman Marcus McGee (22-16, 11 KOs). "If we can work it out, they're our No. 1 choice, and we've been talking," Gotzev said. "I believe Top Rank is the best promoter in the world." Peter and Duva are in Nevada court, but Gotzev said they had gotten a restraining order that will allow Peter to fight. "We have a case ongoing with Dino, but the fact is Samuel needs to fight. That's how he makes his living," Gotzev said. "Samuel can fight on any card for any promoter. Dino cannot stop him. That's the bottom line." He added that Peter is training in Big Bear, Calif., with new trainer Abel Sanchez. "Samuel looks terrific, and he will quiet the naysayers," Gotzev said. "He has recommitted himself." Peter won a title in March 2008 by knocking out Oleg Maskaev in the sixth round, but he lost his next two fights: a one-sided eighth-round TKO to Vitali Klitschko followed by a tight decision to Eddie Chambers on March 27.

Solis
• Although the arrangements were made at the last minute, ESPN360.com and ESPN Deportes will carry live coverage of Saturday night's featherweight title bout between beltholder Cristobal Cruz and mandatory challenger Jorge Solis in Cruz's hometown of Chiapas, Mexico. The two-hour broadcast begins at 11 p.m. ET. ESPN360 will use the international English feed. ESPN Deportes will produce its own show with Spanish commentary. Cruz (38-11-1, 23 KOs), making his second defense, enters with the title but looking for revenge. In 2003 in Los Angeles, Solis (37-1-2, 27 KOs), who has won four in a row since a 2007 loss to Manny Pacquiao, took a lopsided 10-round decision in their first meeting.

Lopez
• Junior featherweight titlist Juan Manuel Lopez (26-0, 24 KOs), fresh from a dominant ninth-round TKO of Olivier Lontchi on June 27, likely will make his next defense against rugged Rogers Mtagwa (26-12-2, 18 KOs). Top Rank already has Lopez scheduled to defend in the main event of a "Latin Fury" pay-per-view card at the Madison Square Garden Theater in New York on Sept. 26 with featherweight titlist Yuriorkis Gamboa defending in the co-feature (as long as Gamboa wins July 25). Top Rank's Carl Moretti told ESPN.com Mtagwa is the probable opponent, and Mtagwa promoter Russell Peltz said, "We have agreed to fight him." Mtagwa has won three in a row, including a 10th-round knockout of Tomas Villa in November in one of 2008's most exciting fights.

Angulo
• Junior middleweight prospect Alfredo Angulo (15-1, 12 KOs), coming off his first loss to Kermit Cintron on May 30, returns to headline ESPN2's "Friday Night Fights" in Primm, Nev., on Aug. 7, promoter Gary Shaw told ESPN.com. Angulo will face Gabriel Rosado (12-3, 7 KOs), who is coming off an April upset of former titleholder Kassim Ouma. Shaw said if Angulo is victorious, HBO has committed to televising his next bout Nov. 7 on the undercard of the Chad Dawson-Glen Johnson light heavyweight rematch.

Urango
• ESPN2's "Friday Night Fights" will end the season at the Hard Rock resort in Hollywood, Fla., on Aug. 28 when junior welterweight titlist Juan Urango makes a mandatory defense against former titlist Randall Bailey, Urango promoter Leon Margules of Seminole Warriors Boxing told ESPN.com. Margules and Bailey promoter Lou DiBella made a deal and avoided a purse bid. Urango (21-2-1, 16 KOs) will be making the first defense of the vacant belt he won via decision against Herman Ngoudjo in January. Urango went up to welterweight to challenge titlist Andre Berto on May 30, but lost a lopsided decision. Bailey (39-6, 35 KOs), one of boxing's biggest punchers, has won four in a row since a split-decision loss to Ngoudjo in a June 2007 title eliminator. But Bailey became the mandatory challenger in April by scoring a sensational fourth-round knockout of Frankie Figueroa in a title eliminator.

Andrade
• Golden Boy winning the purse bid for super middleweight titlist Lucian Bute's mandatory defense/rematch against Golden Boy's Librado Andrade came as quite a surprise, considering that Golden Boy will have to pay the InterBox-promoted Bute 75 percent of the winning $1.211 million bid. InterBox, the only other bidder, offered $1.195 million. But Golden Boy CEO Richard Schaefer didn't bid that much money without a plan. Schaefer has relationships with television executives in Mexico and said he is going to try to make a deal for the fight to be there this fall. "You don't see too many top Mexican super middleweights, but Librado is one of them and I think this would be a big fight there," Schaefer said. "We have some ideas." He said between the money that can be generated in Mexico along with the television money in Bute's native Romania and his adopted country of Canada, where he is a major sports figure, Golden Boy can make it a big event. Schaefer added that he is working on securing an American TV deal. There was one other reason Schaefer said he went out on a limb to win the bid. "Librado is such a great guy. He's just a terrific person," Schaefer said. "He's the sort of guy who makes you want to do everything you can to help him." Bute has been a fixture at Montreal's Bell Centre, but is ready to go on the road if necessary. "We'll be happy to fight anywhere they put the fight," said Don Majeski, an agent for InterBox.

Mayweather
• When the Floyd Mayweather-Juan Manuel Marquez HBO PPV fight was rescheduled from July 18 to Sept. 19 because of Mayweather's rib injury, HBO also rescheduled "Mayweather/Marquez 24/7," the four-part reality series that will follow the buildup to the fight. The first episode premieres Aug. 29 at 10:15 p.m. ET/PT. The second and third episodes air at 10 p.m. ET/PT on subsequent Saturdays, Sept. 5 and Sept. 12. The finale debuts on the eve of the bout, Friday, Sept. 18 at 9:30 p.m. ET/PT.

Huck
• Cruiserweight contender Marco Huck, the European champion, will get his second crack at a world title when he challenges Argentina's Victor Emilio Ramirez on Aug. 29 in Germany. In December, Huck (25-1, 20 KOs) lost his only pro fight challenging Steve Cunningham for a title. "I cannot wait to fight for the world title again," Huck said. "I am thrilled that the fight will take place in Halle, which is just 10 miles from my hometown, Bielefeld. It has always been my goal to be the best. I came close once. I will not make the same mistakes again. I have learned my lesson well." Huck has fought six times since the loss, stopping each of his opponents. Ramirez (15-1, 12 KOs) fought in Germany in January, stopping highly regarded Alexander Alekseev in the ninth round to claim an interim belt before being elevated in status. He defended his title in May in his native country.
QUOTABLE

Diaz
"Malignaggi is a slick opponent and a good test, but I'm confident that with my fans in Houston behind me, I'll win the fight in exciting fashion." -- former lightweight titlist Juan Diaz, on his Aug. 22 HBO clash in Houston with former junior welterweight titleholder Paulie Malignaggi, which was formally announced this week.
QUOTABLE

Malignaggi
"I respect Juan Diaz as a fighter and I know this fight has the potential to be fight of the year. But I know what I have to do on August 22, and that's to dominate every round. This is the kind of big fight I've been waiting for, and the fans are definitely going to see the old Paulie Malignaggi in action." -- Malignaggi, on the fight with Diaz.
QUOTABLE

Kotelnik
"All I hear from Khan's camp is that he's going to be fighting [Ricky] Hatton or [Juan Manuel] Marquez or even King Kong after he has beaten me. Amir thinks that all he has to do is turn up on July 18 and he'll be walking away with my title. He's very arrogant for a fighter who hasn't even had a world title fight yet, and I plan on punishing him badly." -- junior welterweight titlist Andreas Kotelnik, on his upcoming defense against Amir Khan.