Ed Mulholland - US PRESSWIRE
Andre Dirrell will kick off the "Classic" when he faces Carl Froch on Oct. 17.

Ed Mulholland - US PRESSWIRE
Carl Froch has momentum on his side after upending Jermain Taylor in April.

Ed Mulholland - US PRESSWIRE
Jermain Taylor can get his career back on track by upsetting Arthur Abraham.

Ed Mulholland - US PRESSWIRE
Arthur Abraham abandoned the 160-pound ranks to be part of the super middleweight tourney.

Ed Mulholland - US PRESSWIRE
Mikkel Kessler is considered by many to be the best 168-pound fighter in the world.

Jed Jacobsohn/Getty Images
Andre Ward, right, proved he can hang with the big boys by outlasting Edison Miranda.

Getty Images
Showtime's tournament might produce another 168-pound gem like Chris Eubank-Nigel Benn.
Birth of a 'Classic'
If you look through Showtime's archive of fights, you'll see that the cable network has televised some of the most significant bouts in super middleweight history.
Showtime was there for the Chris Eubank-Nigel Benn rematch, the tragic Benn-Gerald McClellan fight and many of Joe Calzaghe's bouts, including his unification bout with Jeff Lacy.
More recently, the network aired Arthur Abraham's much-anticipated rematch with Edison Miranda, several bouts involving rising contenders Andre Ward and Andre Dirrell, and Carl Froch's dramatic title-retaining knockout of Jermain Taylor with 14 seconds left in the 12th round in April.
The 168-pound division is deep, and Showtime Sports senior vice president/general manager Ken Hershman found himself spending quite a bit of his resources in the division (Hershman is responsible for deciding what fights to buy).
But the fights he was doing, while usually notable matchups, weren't leading anywhere specific. It was just one fight at a time with little long-range direction.
That all changed with the birth last week of Hershman's brainchild: the Super Six World Boxing Classic. It's a 12-fight tournament that will take about 18 months to complete and includes six top 168-pounders -- Froch, Taylor, Ward, Dirrell, titleholder Mikkel Kessler and Abraham, who vacated his middleweight belt to join the party.
It is arguably the biggest boxing story of 2009.
"The way it sort of evolved is that I looked at strategically where I was going in the division," Hershman said. "You start to think of the dream matchups and I thought Abraham is going to come up. You have Kessler, we'd been doing [fights with] the young guys, Ward and Dirrell, and we had done Froch-Taylor. I started to say, 'Look, I can do this fight or that fight.' Doing them a la carte gets very expensive. I thought this was the one division that could sustain a tournament with them all fighting each other, but the big question was: How do you get it done?"
That's no easy task when you're dealing with six fighters and five promoters from three different countries. The key was when Hershman realized it had to be a round-robin format.
"What dawned on us was that you couldn't do it as single-elimination because then it becomes all about the draw and you'll have battles over every fight and where the fight is. It becomes impossible," Hershman said.
He said the round-robin structure through the preliminary rounds and the fact that each fighter gets to fight in his home territory soothed the promoters, managers and boxers, who all knew they would be guaranteed three fights.
Four of the fighters will get a fourth fight by advancing to the semis, and two will get five high-profile fights on Showtime. They're all for good money. It was a deal that enticed everyone to sign on.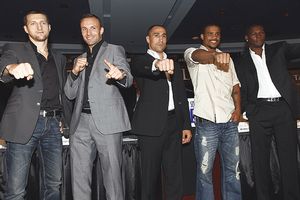 Ed Mulholland-US PRESSWIRE
The gang's (almost) all here: Carl Froch, Mikkel Kessler, Arthur Abraham, Andre Dirrell and Jermain Taylor plan to find out who's the man at 168 pounds.
"By going that way, it made the draw much less contentious," Hershman said. "It took that problem off the table and everyone was comfortable. If you are Ward or Dirrell, you're getting the opportunity to fight these top guys who are far more experienced. Are you that damaged if you don't make it? If you are Jermain, where are you getting three guaranteed fights like these, win, lose or draw? And for Froch, Abraham and Kessler? They want the American exposure and the opportunity to fight top competition. They'll get it."
The first nine fights will be in the round-robin format, with the top four advancing to the semifinals on a points system (two points for a win, a bonus point for a knockout and one point for a draw).
The tournament opens Oct. 17 with Froch (25-0, 20 KOs) defending his belt against Dirrell (18-0, 13 KOs) in Froch's native England, while Taylor (28-3-1, 17 KOs) travels to Germany to face Abraham (30-0, 24 KOs). The next fight is Nov. 21 when Denmark's Kessler (41-1, 31 KOs) heads to the United States to defend against Andre Ward (19-0, 12 KOs), probably in Ward's hometown of Oakland, Calif.
The rest of the preliminary round bouts -- Abraham-Dirrell, Froch-Kessler, Ward-Taylor, Ward-Dirrell, Froch-Abraham and Kessler-Taylor -- will be fought throughout 2010, with the semifinals scheduled for early 2011 and the final for May or June 2011.
Hershman came up with the idea and mentioned it to Kalle Sauerland of Sauerland Event, the German company that promotes Abraham and recently signed Kessler. When it became more serious, Hershman went to Germany in mid-May to secretly meet with Sauerland and company general manager Chris Meyer.
"We spent 10 hours in a conference room at a hotel going over structure after structure of a tournament," he said. "We weren't negotiating a deal. We were toying with a deal, but we were really trying to come up with the format. I came back and met with some of the U.S. guys I have relationships with and we honed it some more. From mid-May until it was announced, it's been 24 hours a day, seven days a week."
The result was a kickoff news conference last week in New York followed by a press tour to Copenhagen and Berlin that took it from concept to reality for Hershman.
"I have been involved with some of the most major and historic events in the sport, including the legendary Corrales-Castillo fight, which in my opinion is the best fight in history, the Tyson-Holyfield ear-biting incident and the Tyson-Lewis fight," Hershman said. "But never have I been more proud than I am of this tournament or prouder of the work we have done. Getting five promoters together is a herculean task in itself -- plus six of the best fighters in the division. That is a staggering accomplishment."
Meyer said the face-to-face meeting was critical.
"I think the benefit from this brainstorming came from the fact that we had never really dealt directly with each other, so that we could speak freely," Meyer said. "We talked through so many scenarios and possibilities that apparently Ken clearly shaped up the picture in his mind where the Super Six has now landed. This idea was apparently so convincing that all the other promoters picked this up, agreed to participate and helped get this idea developed into a fantastic tournament."
Hershman is no novice in fight negotiating. He understands there will inevitably be problems during the tournament, be it injury, weight issues or any number of other obstacles. That's why the contracts are detailed and cover a variety of scenarios. If somebody does fall out, Hershman is prepared.
"There's always somebody who he will be left behind and over 18 months we will need a substitute," he said. "It's inevitable. It speaks to the depth of the division that there are fighters we could still have in the tournament."
He said titleholder Lucian Bute of Canada and American Allan Green, neither of whom was invited to participate, are on the top of his list if there is an opening. They weren't invited, Hershman said, because "as an eight-man tournament it just became too drawn out, too expensive and added another layer of fights. We needed to stay with six people in order to get this done."
While he has sewn up the tournament, Hershman wants to assure fight fans that he'll still be buying other top fights.
"This tournament is a significant investment, but it's going to be great," he said. "And I still have money to program the rest of the fights on 'Showtime Championship Boxing' and continue with our ShoBox brand."
The fighters are enthusiastic.
"This is what boxing is supposed to be about, with the best fighting the best," Froch said. "It forces the best fighters in the division to all face each other."
Said Kessler: "[It's] fantastic. Boxing needs something like that and it will be a huge success."
And Abraham: "This spectacular tournament will answer the one question everybody has been asking -- who is the best fighter in this division?"
"It's good for boxing and the fans," said Taylor.
Fast track to title
In his ninth pro fight, 2004 Olympian Beibut Shumenov (8-0, 6 KOs) of Kazakhstan will fight for a world title. The 25-year-old will challenge Spain's Gabriel Campillo (18-2, 6 KOs) Aug. 15 in Kazakhstan.
"Campillo has signed the contract. It's done. All the contracts are signed," said Campillo promoter Sampson Lewkowicz, who had also been in talks for Campillo to make his first defense in Germany against Jurgen Brahmer. Campillo won the belt via majority decision from Hugo Hernan Garay in Argentina on June 20.
The self-promoted Shumenov has moved extraordinarily fast as a pro; he fought a scheduled 12-rounder in only his fourth fight. In his sixth fight, he shut out ex-champion Montell Griffin, and followed that with a 10-round decision against dangerous former title challenger Epifanio Mendoza in December. Then Shumenov knocked out former super middleweight titlist Byron Mitchell in the fourth round in May.
"I saw the tapes of him and I believe the fight will be very competitive because of his background and his amateur career," Lewkowicz said of Shumenov. "It's a very good payday for my guy and we'll maximize his income, but it will be a very competitive fight. Campillo is motivated. He went right back to training camp after he won the title."
Said Shumenov: "Fighting at home in front of my family, friends and fans makes it even more special. Campillo showed that he has the heart of a lion by going to Garay's country and taking away his championship belt. This is a tremendous opportunity for me."
Dan Rafael is the boxing writer for ESPN.com.
QUICK HITS

Klitschko
• With David Haye backing out of a deal to fight heavyweight titleholder Vitali Klitschko on Sept. 12 in Germany, Klitschko manager Bernd Boente conceded that Klitschko probably won't fight on that date and that he will instead move into October or November while they try to lock in a new opponent. Boente said it's possible Klitschko will fight Chris Arreola in the United States. The Klitschko camp is also working on the next fight for unified titleholder Wladimir Klitschko, who has two mandatories to address, Alexander Povetkin and Eddie Chambers. Boente said Wladimir prefers Chambers first "because it's the better fight for HBO and the better fight for America." Klitschko adviser Shelly Finkel is talking to Chambers promoter Dan Goossen, who also promotes Arreola, about the fight for December. Chambers scored an impressive victory July 4 in Germany against Alexander Dimitrenko to become the mandatory challenger.

Cotto
• A key element to Miguel Cotto's agreeing to terms for the Nov. 14 Manny Pacquiao fight was an agreement with Top Rank to extend his promotional contract through 2011. "It extends the old deal and improves the minimums," Top Rank's Bob Arum said. "That's generally how we've done this with Miguel. When he fought Zab Judah, I believe, we signed an extension before that fight. He's made a lot of money and he's indicated without prompting how happy he is with the company." Top Rank has promoted Cotto for his entire professional career, signing him out of the 2000 Olympics and building him into one of the sport's star attractions. Arum didn't want to talk about the specific length of the deal but said, "It will carry me past my 80th birthday." Arum turns 78 in December. Cotto told Puerto Rican newspaper El Nuevo Dia, "It was one of the clauses in finalizing the deal [for the Pacquiao fight]. I have been with them since the beginning of my career and I'm happy with them."

Solis
• The heavyweight bout between unbeaten rising contenders Kevin Johnson and Odlanier Solis has been postponed, Top Rank's Arum told ESPN.com. Johnson and Solis, a 2004 Cuban Olympic gold medalist, was scheduled for Top Rank's Aug. 15 pay-per-view undercard in Las Vegas. However, Solis' trainer is unavailable for the bout and Solis didn't want to box without him. So Arum said the fight would be rescheduled, probably for the undercard of junior featherweight titlist Juan Manuel Lopez's next fight, which is tentatively scheduled to headline another Top Rank PPV card Sept. 26 in New York. Replacing the fight on the Aug. 15 telecast will be lightweight Anthony Peterson (28-0, 19 KOs) against Luis Arceo (22-8-2, 15 KOs). It will be Peterson's first bout in a year, a layoff caused in part by knee surgery earlier this year. The card is headlined by Nonito Donaire, the former flyweight titlist who vacated his belt to move up in weight, against Rafael Concepcion for a vacant interim junior bantamweight title.

Kirkland
• Junior middleweight contender James Kirkland, who has been incarcerated since late April, pleaded guilty July 14 to possession of a firearm while on probation in Texas. He is scheduled to be sentenced Sept. 23 in Austin. One of the most exciting fighters in boxing, Kirkland was nearing a title shot when he was arrested. A few days later, Kirkland was scratched from a high-profile appearance on the May 2 Manny Pacquiao-Ricky Hatton pay-per-view undercard.

Darchinyan
• In the wake of his decision loss to bantamweight titlist Joseph "King Kong" Agbeko on July 11, junior bantamweight champion Vic Darchinyan (32-2-1, 26 KOs) will return to the 115-pound division rather than remain at 118 pounds. Darchinyan holds three alphabet belts at junior bantamweight and plans to defend them, promoter Gary Shaw told ESPN.com. One possible fight later this year could be against Simphiwe Nongqayi (15-0, 6 KOs) of South Africa. Nongqayi became one of Darchinyan's mandatory challengers after outpointing Francisco Arce in a title eliminator on Feb. 28 in Arce's native Mexico. A purse bid for the bout has been scheduled for Tuesday.

Chavez Jr.
• Julio Cesar Chavez Jr., who withdrew from Saturday night's "Latin Fury 10" pay-per-view main event against Jason LeHoullier in Nuevo Vallarta, Mexico, will be rescheduled to fight on "Latin Fury 11" on Sept. 5 back in Nuevo Vallarta, Top Rank president Todd duBoef told ESPN.com. Chavez will still face LeHoullier, Top Rank announced. Also on the card, strawweight titlist Donnie Nietes will make a mandatory defense against interim beltholder Manuel Vargas. If Top Rank completes a promotional contract it is working on with junior bantamweight contender Z Gorres of the Philippines, he is also likely to appear on the card. Gorres fought to a draw with Vic Darchinyan last year.

Rubillar
• "Latin Fury 10" has been beset by problems and was hit again Wednesday. First, interim featherweight titlist Yuriorkis Gamboa's fight was scratched because the Cuban defector had visa issues. Then came the withdrawal of Chavez Jr. from the main event. Then, on Wednesday, the Philippines' Sonny Boy Jaro, slated to challenge junior flyweight titlist Giovanni Segura (20-1-1, 16 KOs), was scratched because he also had issues with his visa paperwork. Top Rank moved quickly and saved Segura's fight by matching him with ex-title challenger Juanito Rubillar (46-12-7, 22 KOs), a Filipino whose paperwork was in order. He was expected to arrive Friday in Mexico. The main event of the ever-evolving show pits Urbano Antillon against Miguel Acosta for a vacant interim lightweight belt.
• Junior bantamweight titlist Jose Carita Lopez (39-7-2, 32 KOs) of Puerto Rico will make his first defense against the Philippines' Marvin Sonsona (13-0, 12 KOs) on Sept. 4 at Casino Rama in Rama, Ontario, according to Sonsona promoter Sampson Lewkowicz. Lewkowicz, who first brought Filipino icon Manny Pacquiao to the United States, believes Sonsona "is a future star of the Philippines, by far," he said. "Nobody in America believed in Pacquiao when I did, and I also believe in Sonsona."

Caballero
• Unified junior featherweight titlist Celestino Caballero (32-2, 22 KOs), unable to pique the interest of American television networks since his fourth-round knockout of Steve Molitor in November on Showtime to unify titles, is trying to coax titlist Juan Manuel Lopez into a fight -- even though Lopez's handlers at Top Rank have no plans to go in that direction. But Caballero is trying. "Everyone who knows me is aware that I'm a man of great faith, and I believe in destiny," Caballero said. "And I've said for a while now that my destiny is to face Juan Manuel Lopez in a fight to determine once and for all who the best 122-pound fighter in the world is. I know the answer to that question. It's just me and you now, Juanma. I won't lie. I know that beating you will finally give me the recognition that I deserve, and I know you want to fight anyone but a 5-foot-11 puncher like me. But being a champion means testing yourself against the best. You know in your heart that the fighters you're getting in the ring with aren't as good as I am. Don't try to fool your fans -- fight me and win or lose, you will have proven yourself worthy of being called 'champion.'"

Dunne
• Junior featherweight titlist Bernard Dunne (28-1, 15 KOs) of Ireland will face interim beltholder Poonsawat Kratingdaenggym (38-1, 27 KOs) of Thailand in the fall. Dunne promoter Brian Peters won a purse bid for the bout this week. He made the only offer -- the $120,000 minimum requirement. Peters said the fight would be either Sept. 26 in Dublin, Oct. 2 in Macau or Oct. 3 in New York. Dunne will be making his first defense since claiming the belt via 11th-round knockout of Ricardo Cordoba in a sensational brawl in Dublin on March 21. In that fight, Dunne was down twice and almost out in the fifth round but rallied to drop Cordoba three times in the 11th round for the victory.
QUOTABLE

Marquez
"I know where he's been hurt and I'm going for it. He is vulnerable now and I will take advantage of his weakness with a body attack that emphasizes two things, the right and the left." -- lightweight champion Juan Manuel Marquez, on using a body attack against Floyd Mayweather Jr., who suffered a rib injury that forced the postponement of their 144-pound fight until Sept. 14