Chris Farina/Top Rank
Lopez's star on the ascent
After the 2000 Olympics, Top Rank promoter Bob Arum didn't go after the high-priced Team USA boxers who were eyeing professional careers, some of whom commanded seven-figure signing bonuses and never even lived up to expectations.
Instead, Top Rank president Todd duBoef convinced Arum they should spend their money more wisely. DuBoef had his eye on Miguel Cotto, the fighter on the Puerto Rican Olympic team with the most professional style.
Top Rank signed him for a modest six-figure bonus, along with several of his teammates. But it was Cotto they were after. Less than four years later, Cotto won a junior welterweight title. Then he moved up in weight and won a welterweight championship. All the while, Cotto, with Top Rank's promotional expertise behind him, was emerging as one of the most bankable attractions in boxing.
"Latin Fury 9"
TV lineup for Top Rank's pay-per-view card Saturday night (9 ET, $39.95) from the Ballroom at Boardwalk Hall in Atlantic City, N.J.: • Junior featherweights: Juan Manuel Lopez (25-0, 23 KOs) vs. Olivier Lontchi (18-0-2, 8 KOs), 12 rounds, for Lopez's title
• Junior bantamweights: Jorge Arce (51-5-1, 39 KOs) vs. Fernando Lumacad (19-1-2, 7 KOs), 12 rounds
• Junior middleweights: Yuri Foreman (27-0, 8 KOs) vs. Cornelius "K9" Bundrage (29-4, 17 KOs), 12 rounds, title eliminator
• Junior middleweights: Vanes Martirosyan (24-0, 15 KOs) vs. Andrey Tsurkan (26-4, 17 KOs), 10 rounds

Now, he's a big-fight star -- pound-for-pound king Manny Pacquiao is probably up next in November -- and he regularly fills New York's Madison Square Garden.
After the 2004 Olympics, Top Rank signed Juan Manuel Lopez, the cream of that year's Puerto Rican Olympic team, and the building of Cotto 2.0 was under way.
"He's the next big star out of Puerto Rico," Arum said. "He has the perfect combination. He's a tremendous boxer with a concussive punch and I just have the feeling he will take his punching power up [in weight] with him. He reminds me of Felix 'Tito' Trinidad more than anyone else because of his personality. He's very outgoing and has a very fan-friendly personality."
Now, the Lopez project is at an important stage, as he is on the verge of breaking out the way Cotto did.
Lopez (24-0, 23 KOs), who grew up idolizing Trinidad, has fought on major cards in New York and Las Vegas, but now, for the first time, he's headlining his own card in the United States. He'll make his fourth junior featherweight title defense against Olivier Lontchi (18-0-2, 8 KOs) on Top Rank's "Latin Fury 9" pay-per-view card at the Ballroom at Boardwalk Hall in Atlantic City, N.J. (9 p.m. ET). If all goes well, Arum has big plans for Lopez, whom he envisions as his next pay-per-view attraction.
Lopez, who turns 26 on Tuesday, gets a kick out of hearing that and embraces the idea with an easy laugh.
"I know I am in good hands with the company," Lopez said through translator and Top Rank publicist Ricardo Jimenez. "The company has made great stars and attractions with Oscar De La Hoya, Floyd Mayweather and Miguel Cotto. It will take time and eventually I will be there, too.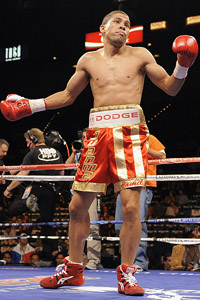 AP Photo/Mark J. Terrill
Heavy hands, good looks, an aggressive style: What more can fans ask for in Juan Manuel Lopez?
"I know this is a very important fight for me for a lot of reasons. It's my first main event in the United States and I am headlining a pay-per-view show, so I need to show that I can win and that I can sell my fights. Plus, I am also going back to where I won my title, so it is special to me."
Like Cotto, Lopez claimed a world title less than four years into his pro career. The powerful southpaw has had an explosive reign thus far, winning his 122-pound belt with a sensational first-round knockout of Daniel Ponce De Leon in June '08 in Atlantic City in an HBO-televised undercard fight.
His first two defenses also ended with first-round knockouts. In his third defense, Lopez relentlessly battered iron-chinned former bantamweight titlist Gerry Penalosa for 10 rounds until Penalosa's trainer, Freddie Roach, stopped the fight after the 10th round. It was the first time Penalosa had been stopped in 63 pro fights.
"I think the power is one of those things you are born with," Lopez said. "My left hand is so strong. Ever since I started boxing [at age 10], I noticed I could hit hard with it. I also have a right hand that I have developed, but the left is strong."
Lopez believes his power will come through and that he will stop Lontchi, 26, a native of Cameroon who has lived in Montreal for the past eight years.
"This is a guy whose style I have never fought before. He moves a lot, he boxes a lot," Lopez said. "I have not fought anyone like him. But we worked hard and we know what we are up against. We figured it out. There is no doubt in my mind I will beat him. I don't think it will be in the first round because his style won't allow me to do it, but he's definitely going to get knocked out."
That is music to Arum's ears, because if Lopez wins and interim featherweight titlist Yuriorkis Gamboa wins July 25, he plans to have Lopez and Gamboa in separate title defenses at the Madison Square Garden Theater in New York on a Sept. 26 pay-per-view card. Arum recently signed Gamboa, the electrifying 2004 Cuban Olympic gold medalist, and wants to build him up a bit more before matching him and Lopez in what he believes will be a major fight.
"If JuanMa is successful Saturday, we have the Theater on hold for that card in September. And then that would be it for the year for him," Arum said. "Then maybe we'll do a fight in Puerto Rico on [HBO's] 'Boxing After Dark.' And then, if Cotto is unavailable or whatever, we would feature Juan Manuel in the big fight on Puerto Rican parade weekend in New York."
Arum has built the mid-June weekend of the annual National Puerto Rican Day Parade into a regular big-fight weekend. Cotto has fought on the eve of the parade regularly for the past few years, including his win against Joshua Clottey two weeks ago.
With the tradition built, Puerto Rican fighters aspire to fight on that weekend. Lopez has been on Cotto undercards, but he dreams of being in the main event.
"I certainly look forward to headlining at the Garden someday," he said. "I get very excited thinking about those kinds of fights, especially at the Garden, where it's a big accomplishment for Puerto Ricans to fight. It's something special to fight at the Garden for a Puerto Rican."
Lopez said he likes Arum's plan for an eventual Gamboa fight and that he looks forward to moving up to featherweight next year.
"I know I am in good hands with this company and whatever they decide for me to be next I am all for it," Lopez said. "It will be good for them and good for me. I look forward to it. I think I can go the rest of the year at 122 but if the opportunity comes at 126, I could go up. But definitely next year I will be at 126. I know that at 126, there are a couple of big names out there for me, but that [fight with Gamboa] is definitely a big fight."
The first of many, perhaps.
Next for Williams?
Paul Williams (37-1, 27 KOs) is one of the most dangerous fighters in the world and a guy who says he can campaign in any of three divisions: welterweight, junior middleweight or middleweight. Yet, "The Punisher" continues to find it hard to get top fighters to face him, especially in the wake of his lopsided decision win against former undisputed junior middleweight champ Winky Wright, whom he fought at middleweight in April in a fight that tied for HBO's biggest boxing rating of the year so far.
Dan Goossen, Williams' promoter, would love to match him with welterweight champ Shane Mosley, be it at 147 or 154 pounds. Mosley, of course, has been campaigning for a fight with Manny Pacquiao, but that looks unlikely.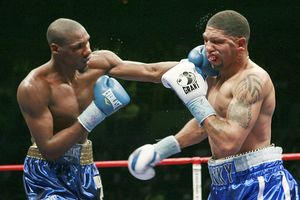 AP Photo/Eric Jamison
It's not easy landing a fight when you've done this to Winky Wright.
"Our No. 1 choice has always been Shane Mosley. He's the welterweight champ," Goossen said. "Paul wants to go back to welterweight if he can get that kind of fight. Unfortunately, we had Shane ringside that night against Winky and I don't think that played in our favor after he saw what Paul could do."
If they can't get Mosley to take the fight, Goossen said they would look possibly to face junior middleweight titlist Sergei Dzindziruk (36-0, 22 KOs), who is from Ukraine and based in Germany. Williams holds an interim junior middleweight belt and is Dzindziruk's mandatory challenger, so the bout would be relatively easy to make.
"If Shane says no, we go to Dzindziruk. It's a tough fight and a meaningful fight," Goossen said. "We tried to get Bernard Hopkins [at about 170 pounds], but Bernard has decided to sit back. We want the biggest fight we can make."
Ideally, Williams will be back in the ring in September, but it will depend on HBO's schedule. HBO is also not too warm on the idea of a Dzindziruk fight, preferring instead that Williams face either Joshua Clottey or Kermit Cintron.
Incidentally, Dzindziruk promoter Universum told ESPN.com that Dzindziruk is ready, willing and able to come to America for a fight with Williams in the fall.
Dan Rafael is the boxing writer for ESPN.com.
QUICK HITS

Pacquiao
• Negotiations for the proposed Nov. 14 showdown between Miguel Cotto and Manny Pacquiao are moving along smoothly, Top Rank promoter Bob Arum told ESPN.com. Arum met last Sunday with Pacquiao adviser Michael Koncz in Las Vegas and gave him a proposal for the fight. Arum said Koncz would fly back to the Philippines on Sunday and talk the deal over with Pacquiao. "That meeting was very productive," Arum said. "Michael was satisfied with what we presented, and now he is going back to meet with Manny about it." On the Cotto side, Arum said, "I am pretty well there with Cotto." One of the issues had been the weight, but Arum said that he feels that has been settled because Pacquiao trainer Freddie Roach has said 145 pounds, which is what Cotto wanted, was acceptable. "It seems to be case closed on the weight. Freddie says 145 is fine," Arum said. "I'm pretty confident this will get done next week. It's a big fight."

Dawson
• The rematch between top light heavyweights Chad Dawson and Glen Johnson, which was signed a few weeks ago after Dawson vacated his alphabet title to facilitate the bout instead of taking a far less lucrative mandatory defense, likely will take place Nov. 7, according to promoter Gary Shaw and HBO. The venue is still be determined.

Donaire
• Top Rank is trying to finalize its Aug. 15 Filipino-themed pay-per-view card in Las Vegas, which Arum is calling "Pinoy Power." Flyweight titlist Nonito Donaire (21-1, 14 KOs), known as "The Filipino Flash," headlines the card. He will be moving up to junior bantamweight and will face Panama's Rafael Concepcion (13-3-1, 8 KOs) for the vacant interim 115-pound belt Concepcion held briefly last year, Top Rank's Carl Moretti told ESPN.com. Plans had been in the works for Donaire to face former junior flyweight champion Hugo Cazares before the switch to Concepcion was made.

Calderon
• If junior flyweight champion Ivan "Iron Boy" Calderon's cut is healed in time, Arum might put on the rematch between Calderon and the Philippines' Rodel Mayol on the Aug. 15 PPV card. They fought to a technical draw June 13, when Calderon suffered a cut from an accidental head butt that forced the fight to be sent to the scorecards. If Calderon-Mayol II isn't Aug. 15, Arum said he would look to put it on a planned Sept. 26 pay-per-view card from the Madison Square Garden Theater. "We'll have to see about the cut," Arum said. "There is no sense pushing it." Another bout that could land on the Sept. 26 card is the bantamweight title bout between beltholder Fernando Montiel and Eric Morel. The bout was supposed to be Saturday, but it was postponed because of Montiel's hand injury.

Chavez Jr.
• Top Rank has rounded out its July 25 "Latin Fury 10" pay-per-view card in Nuevo Vallarta, Mexico. Besides the main event of Julio Cesar Chavez Jr.-Jason LeHoullier in a 10-round junior middleweight fight and Yuriorkis Gamboa defending his interim featherweight title against Whyber Garcia, there are two other bouts scheduled for the telecast: junior flyweight titlist Giovanni Segura against Sonny Boy Jaro and rising lightweight contender Urbano Antillon meets Miguel Acosta for a vacant interim lightweight title.

Bailey
• With the last week's Jean Pascal-Adrian Diaconu slugfest and Troy Ross-Michael Simms fight in the rearview mirror, promoter Tournament of Contenders has one more show this year under its deal with Versus, which televised this past season of the reality series "The Contender." One of the possibilities for that card, which would take place in late August or September, is junior welterweight titlist Juan Urango in a mandatory defense against Randall Bailey, Contender promoter Jeff Wald told ESPN.com. Wald said he was talking with Urango promoter Leon Margules of Seminole Warriors Boxing about partnering on the show, which would take place at the Hard Rock resort in Hollywood, Fla., and feature junior welterweight Steve Forbes, the runner-up on the second season of "The Contender," in a televised bout.

Santiago
• Featherweight contender Mario Santiago ends a one-year layoff against Gilberto Sanchez Leon in an untelevised match in Atlantic City, N.J., on Saturday night's Top Rank PPV card. However, Santiago was willing to fill in for Chris John and face Rocky Juarez on Saturday's HBO co-feature in Los Angeles. Juarez, however, rejected the fight because he didn't want to fight a left-hander on short notice. But Santiago was ready to go, Top Rank's Carl Moretti said. "We were looking at changing his flights and sending him to L.A. instead of to Atlantic City," Moretti said. "The kid was ready to go. He didn't even ask about the money. He just wanted the fight."

Angulo
• The return of all-action junior middleweight prospect Alfredo Angulo (15-1, 12 KOs), who lost a decision to Kermit Cintron on May 30, looks like it will take place Aug. 28 in Primm, Nev., in the main event of the season finale of "Friday Night Fights." Promoter Gary Shaw is in talks with ESPN2, which had originally had talked to Shaw about Aug. 7 as the date for Angulo's comeback. One potential opponent is Gabriel Rosado (12-3, 7 KOs), who upset James Moore on ESPN2 last summer, dropped hot prospect Fernando Guerrero in a decision loss on ESPN2 in February and is coming off an upset of former titlist Kassim Ouma in April.

Chambers
• Heavyweight contender Eddie Chambers (31-1, 18 KOs) is headed to Hamburg, Germany, on Saturday, a week before his July 4 title eliminator with Alexander Dimitrenko (29-0, 19 KOs). The winner will become one of champion Wladimir Klitschko's mandatory challengers. "I see the light at the end of tunnel," said Chambers, who outpointed former titlist Samuel Peter in a mild upset in March to set up this fight. "I have never trained this hard. I know what's at stake. I respect that [Dimitrenko] is undefeated, but he has never been in with anyone near my abilities." Last time Chambers fought in Germany, he lost an eliminator to Alexander Povetkin. "There have been a lot of people who want to talk about the Povetkin fight, but what people fail to realize [is that] I know what to expect going to Germany. So in retrospect, I am taking that experience as a positive leading into this fight. This time when I go to Germany, I am looking to destroy this man."

George
• In a meeting of light heavyweight contenders, Shaun George (18-2-2, 9 KOs) will face former title challenger Chris Henry (23-2, 18 KOs) July 10 in Philadelphia on "Friday Night Fights" (ESPN2). George made a name for himself 13 months ago when he dominated and stopped former heavyweight titlist Chris Byrd in the ninth round. "I'm excited to be back in the ring doing what I love," said George, who followed his upset of Byrd with an 86-second destruction of Jaffa Ballogou in February. "Good old-fashioned boxing without the politics. I feel like every fight is life or death for me. I'm not getting the opportunities other fighters are getting, so I have to treat this fight like it's all or nothing. Chris Henry is a dangerous fighter, and I respect him. It's going to be on ESPN2, so I want to show the world what I'm capable of doing with a top-10 contender."

Mendez
• Promoter Lou DiBella signed junior lightweight prospect Argenis Mendez (13-1, 8 KOs), a native of the Dominican Republic living in New York. "The kid has a bright future," DiBella said. "He is a truly talented athlete and knows how to conduct himself in the ring."
Mendez, who was 238-12 as an amateur, represented the Dominican Republic in the 2004 Olympics. As a pro, he signed with Top Rank but didn't live up to expectations, losing a split decision to Jaime Sandoval in October. He parted ways with Top Rank not long after. "I try to take a lesson from each and every fight," Mendez said. "I keep learning and improving. I want to give hope to the Dominican Republic and my family. That is why I fight, and I am proud to have Lou DiBella behind me."
Jones
• Maybe the third time will be the charm? Hard-punching Philadelphia welterweight prospect Mike Jones (17-0, 15 KOs) steps up in competition when he faces Larry Mosley in a 10-rounder Aug. 8 at Bally's Atlantic City, the third time the bout has been scheduled. Jones, 26, was supposed to fight Mosley (15-3-2, 6 KOs) on March 6, but the bout was called off on five days' notice because Mosley, 29, had a bad back. Two weeks before the rescheduled date of June 6, Jones strained his left biceps and pulled out.
QUOTABLE

Darchinyan
"I will transform 'King Kong' Agbeko from champion to chimpion on July 11. I am Tarzan to his Cheetah." -- junior bantamweight champ Vic Darchinyan, on his upcoming fight with bantamweight titlist Joseph "King Kong" Agbeko.
QUOTABLE

Adamek
"There is no practice for this. I come from a small village in Poland [named] Gilowice. I am a mountain guy. I am tough." -- cruiserweight champ Tomasz Adamek, who is getting ready to defend his title against Bobby Gunn on July 11 in Newark, N.J., trying to explain his iron chin.