Fightwireimages.com
Jones goes home again
Roy Jones Jr. is 40, coming off a lopsided loss to Joe Calzaghe in November and nowhere near the fighter he was when he was king of the world from the early 1990s until 2004, when he was brutally knocked out twice by Antonio Tarver and Glen Johnson, and then lost a third consecutive fight when Tarver easily outpointed him in their 2005 rubber match.
Although Jones bounced back to win three fights in a row, including against Felix Trinidad, who was even more badly faded than Jones, his modest winning streak ended when Calzaghe pitched a near-shutout for a lopsided decision.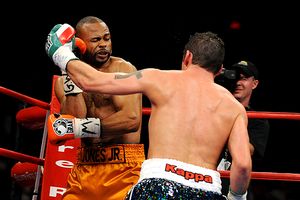 Al Bello/Getty Images
Despite a lopsided loss to Joe Calzaghe, Roy Jones soldiers on.
A few months later, Calzaghe retired as the undefeated light heavyweight champion, content with his career and place in boxing history.
Jones could have done the same years ago, but instead he soldiers on. He has always done things his own way, and he is not ready to go quietly into the night.
So Jones (52-5, 38 KOs) returns to the ring Saturday night (PPV, 9 ET) against onetime contender Omar Sheika (27-8, 18 KOs) in the headline bout on Jones' promotional company's hybrid boxing/mixed martial arts card. But instead of facing an elite opponent in a big-time fight at a famed arena, Jones is going back to his roots -- in more ways than one.
He'll fight at his hometown Pensacola Civic Center in Pensacola, Fla., for the first time since wiping out Ricky Frazier in two rounds to retain the light heavyweight championship in January 1999. But adding to the seems-like-old-times feel to the fight, Jones will have his father, Roy Jones Sr., in his corner working with trainer Alton Merkerson.
Boxing and MMA
TV lineup for Saturday night's boxing and mixed martial arts pay-per-view card (9 ET, $29.95) from the Pensacola Civic Center in Pensacola, Fla.: • Boxing, light heavyweights: Roy Jones (52-5, 38 KOs) vs. Omar Sheika (27-8, 18 KOs), 12 rounds
• MMA, heavyweights: Roy Nelson (13-3) vs. Jeff Monson (27-8), 3 rounds
• Boxing, cruiserweights: B.J. Flores (22-0, 14 KOs) vs. Jose Luis Herrera (16-5, 16 KOs), 10 rounds
• MMA, heavyweights: Bobby Lashley (1-0) vs. Jason Guida (4-4), 3 rounds
• )MMA, lightweights: Din Thomas (22-8) vs. Gabe Lemley (13-8), 3 rounds
• MMA, light heavyweights: Dennis Hallman (39-12-3) vs. Danny Ruiz (5-3), 3 rounds
Jones Sr., known as Big Roy to many, taught his son how to fight and trained and managed him during the early part of his career until Roy Jr., tired of his father's domineering ways, banished him in 1992.
Their reunion comes as something of a surprise given their years of estrangement and the poor way their last brief reunion ended. But Big Roy is back simply because his son asked him.
"I needed a tune-up. I needed an overhaul," Jones said. "And the only person that can do that is the person that taught me."
Big Roy said he was happy to be invited back.
"He never stopped being my son," he said. "Coming back was just as simple as him asking me to help him with this fight. That's all it took and here I am."
It wasn't that easy for most of Jones' career. While he was winning titles in four divisions with Merkerson in his corner, Big Roy didn't attend the fights, although he was always welcome. Jones would make sure a ringside seat was set aside for him in case he showed up.
Big Roy never did come back, though, which he said he doesn't regret.
"I was always a part of it in a sense," he said. "I always watched so I never did really miss it. Sometimes you've just got to let him go and do it. I can't live his life for him. If I could I wouldn't because there wouldn't be anything for me to be proud of. I don't have any regrets. It was his decision and whatever way he decides was up to him."
Said Jones, "Our relationship is very unique. He can either stand back and watch or come in and help. I am never against the help, but if you don't want to help I can respect that too. I respect that but he is my dad, and if he wants to come in and help he can do that too. If he didn't want to help, I wouldn't be mad."
Their estrangement lasted for many years until a brief reconciliation in 2005, when Jones asked his father to help him train for the third Tarver fight.
It didn't go well. Jones lost badly and Big Roy was gone again. At a bizarre brunch with reporters months later in Memphis, Jones blamed the loss on his father, saying that subconsciously his father's presence didn't allow him to win.
"If I knock him out, who'll get the glory? Everybody would have given the glory to Roy Jones Sr.," Jones said at the brunch. "No glory would have gone to God nor myself. So would that have been right? If I won that fight any kind of way my father gets all the glory."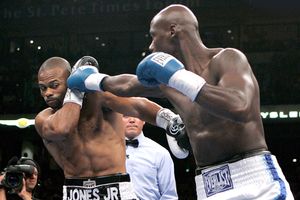 AP Photo/Chris O'Meara
Roy Jones Jr., left, blamed his rubber match loss in 2005 to Antonio Tarver on his father, Roy Sr.
Big Roy heard about those comments but said he didn't pay much attention to them and that he didn't hesitate to return to the camp for the Sheika fight.
"I am his father and he is my kid. Regardless of what he says, he is still my kid," Big Roy said. "Sometimes he might not know what to say, or he may be looking for someone to blame. A father is meant to be blamed. So if I can help him that way also, I will because he is my kid. He is still my youngin' and I am still his father, so any way I can help him [I will]. If it means putting blame on me then, I will help him."
In the wake of the third Tarver fight, Jones also blamed his father for going against their pre-arranged deal that Big Roy and Merkerson would alternate rest periods between rounds in which they would speak to him.
"It was established before the fight who would talk, but it changed during the fight," Jones said at the Memphis brunch. "You [Jones Sr.] push Merk out of the way and talk, and now I can't get Merk to say nothing. I'm seeing it all and trying to deal with all this. Somebody didn't stick to their side of the agreement. You know who it was. It's a pretty deep statement, but my father don't deserve [the glory]. He's a sharp guy. If he stuck to the plan, it all works for everybody. But he didn't stick to the plan."
They could perhaps be headed down that same path again because Jones said the plan for fight night against Sheika will be for both of them to give instructions in the corner.
"They were two different boxers and they have two totally opposite styles," Jones said, comparing his father and Merkerson. "My dad's style is basically my foundation and that's where I've been lacking, in my foundation. Things that I haven't been doing a lot lately because I got away from my foundation and I need to catch up on that. Merk, on the other hand, has added a lot of things to my game that I needed as I got older. They both have their own styles that are pretty good for me."
Big Roy said he isn't concerned with who does the talking. He just wants his son to fight well.
"I'm only concerned about getting him ready," Big Roy said. "He can take anybody into the corner that he wants. I just want him to be prepared and be ready."
Diaz brothers change foes
Brothers Antonio and Julio Diaz, scheduled to fight on separate pay-per-view cards, have both had their opponents change this week.
Former two-time lightweight champ Jose Luis Castillo, nursing an injured Achilles tendon, withdrew from his welterweight fight with Antonio Diaz (45-5-1, 29 KO) on Top Rank's March 28 "Tijuana Thunder" card, but Diaz will remain on the show and face Mexican prospect Javier Castro (19-1, 17 KOs).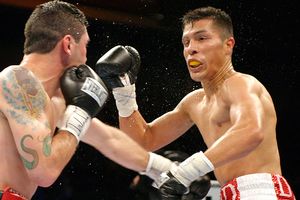 Javiel Centeno
Golden Boy is scrambling to find a replacement for Julio Diaz, right, after Joel Casamayor pulled out of their April 4 bout with an injury.
Julio Diaz (36-4, 26 KOs), a former lightweight titleholder and Antonio's younger brother, was supposed to face former champ Joel Casamayor on April 4 on Golden Boy's all-lightweight pay-per-view card. But Casamayor withdrew because of a back injury.
Golden Boy looked to match him with Castro, but he was a bit heavy and took the fight with Antonio instead. Now Julio Diaz probably will face fringe contender Rolando Reyes (30-4-2, 19 KOs), who has won four in a row since a decision loss to Castillo in 2006.
"It had been a disaster for the Diaz brothers but we've managed to resurrect both of their fights," said Sean Gibbons of Sycuan Ringside Promotions, which promotes Julio and works closely with Antonio.
Dan Rafael is the boxing writer for ESPN.com.
QUICK HITS

V. Klitschko
• So much for the first-ever heavyweight title bout on ESPN. Due to logistical reasons in Germany, Vitali Klitschko's mandatory defense against Juan Carlos Gomez, originally scheduled to air live at 5 p.m. ET Saturday on ESPN, has been moved. Instead, it will air live at 6 p.m. ET on ESPN Classic with an immediate replay at 7 p.m. ET on ESPN2. The fight will also be available live on ESPN360.com.

Berto
• The sides are moving closer to finalizing a May 30 HBO fight between welterweight titlist Andre Berto and junior welterweight titlist Juan Urango, promoters for both fighters told ESPN.com. "I offered Urango the fight and he'll fight Berto if everything falls into place," said Seminole Warriors Boxing promoter Leon Margules. "It's a good fight. Juan isn't going to win a boxing match but if he hits him on the chin, he'll knock Berto out. The other guy is quicker, but my guy is a better puncher and durable." Lou DiBella, Berto's promoter, said he's close to finalizing the fight with HBO even though they've argued over money. DiBella wanted at least as much, if not more, from HBO as it paid for Berto's January slugfest with Luis Collazo. HBO offered less. But DiBella said it would be worked out. "I'm working on sites right now. It looks like it's going to be Urango," he said. "The fight is going to happen."

Angulo
• Instead of a bout May 9 on the Chad Dawson-Antonio Tarver II HBO "World Championship Boxing" undercard, hot junior middleweight prospect Alfredo Angulo instead will fight on the May 30 "Boxing After Dark" undercard. DiBella, who is trying to finalize Berto-Urango in the main event, told ESPN.com that the undercard would feature DiBella-promoted former welterweight titlist Kermit Cintron against Gary Shaw-promoted Angulo. Although most believed Cintron lost his fight to Sergio Martinez in February despite receiving a draw, he would still be by far Angulo's best opponent. "Kermit took the fight," DiBella said. "His preference was to go back to 147 but there was nothing there for him that HBO was interested in and Angulo presented himself. Angulo comes right at you. At 154, that's the kind of guy Kermit can mesh with. Gary and I are fine on the deal."

Latimore
• Although organizers have no television outlet, the Deandre Latimore-Cory Spinks bout for a vacant junior middleweight belt will take place May 2 in St. Louis, where both fighters are from, Latimore co-promoter DiBella told ESPN.com. DiBella said he and Spinks promoter Don King are still searching for a broadcaster but the fight will go forward without television coverage if necessary.
• Golden Boy's proposed June 27 HBO tripleheader in Los Angeles -- featherweight titlist Chris John in a rematch with Rocky Juarez, junior middleweight titlist Sergei Dzindziruk defending against rising star James Kirkland and junior welterweight titleholder Andreas Kotelnik defending against 2008 ESPN.com prospect of the year Victor Ortiz -- is going to be split into two shows, Golden Boy CEO Richard Schaefer told ESPN.com. With Kirkland fighting Michael Walker on May 2 on the Ricky Hatton-Manny Pacquiao HBO PPV undercard, Schaefer said, "The May fight is so close to the June date, so that is one of the issues for HBO. I think Kirkland will win his fight in May, but it's no walk in the park. He could get cut, you never know. I probably will have to make two cards." He said Ortiz's fight will stay in June in Los Angeles and that Kirkland will probably move later into the summer and take place in Texas, where Kirkland is from. The John-Juarez rematch, Schaefer said, would be on one of the cards. Schaefer said negotiations to finalize the Kirkland and Ortiz fights were going smoothly with German promoter Universum. Because Schaefer, who is from Switzerland, is fluent in German, he's conducted talks personally in German, which he said has been a big help.

Guzman
• Lightweight contender Joan Guzman can fight again after his administrative suspension was lifted March 14 in Mississippi, Sean Gibbons of Sycuan Ringside Promotions told ESPN.com. Guzman was suspended last fall after missing weight for a title challenge against then-lightweight beltholder Nate Campbell and subsequently refusing to fight him in a nontitle match. The suspension cost Guzman a shot at a vacant belt against Yuri Romanov this spring because the IBF deemed him unavailable due to the suspension and ordered Romanov to face Fernando Angulo instead. Gibbons said Sycuan is negotiating a co-promotional deal with Top Rank's Bob Arum to become involved in his career. Gibbons said if the deal is finalized, Guzman will fight June 13 in New York in an untelevised bout on the Miguel Cotto-Joshua Clottey (a fight nearly finalized) undercard. "We've had discussions with Bob and hopefully we can wrap up the co-promotion deal," Gibbons said. "The suspension cost Guzman a title shot, but he's just looking forward to moving on with his career."

Arlovski
• Former UFC heavyweight champion Andrei Arlovski was scheduled to make his professional boxing debut April 4 on the Paul Williams-Winky Wright undercard at Mandalay Bay in Las Vegas, but he has withdrawn from the bout after suffering a mild back strain in training. "Although Andrei is healing fine and would be ready for April 11, I decided that there is no point in rushing his recovery, so I pulled him," manager Billy Keane told ESPN.com. "The hope is to see him in action in May or June at the latest."

Mijares
• Two fights ago, Mexico's Cristian Mijares was a unified junior bantamweight titleholder and racing up the top 10 pound-for-pound rankings. Then Vic Darchinyan dominated him and knocked him out in the ninth round in November. Mijares moved up in weight and in his first bout at bantamweight last Saturday, Nehomar Cermeņo (17-0, 10 KOs) of Venezuela claimed a vacant interim belt via split decision in Mexico against Mijares (36-5-2, 15 KOs), giving him two losses in a row. The Mijares camp believes Mijares deserved the decision. "Everybody saw we won, but we didn't get the decision," Mijares co-promoter Nacho Huizar said. Huizar told ESPN.com that a rematch was already being planned for June.

Lacy
• Former super middleweight titleholder Jeff Lacy (24-2, 17 KOs), attempting a comeback after losing a lopsided decision to 2000 U.S. Olympic teammate Jermain Taylor in a November title eliminator, will face less-than-intimidating Manuel Esparza (20-9-1, 5 KOs) on April 10 in Tampa, Lacy's hometown. Esparza, who has had two fights in eight years, has lost five of his past six fights (four by knockout). Having negotiated a release from his promotional contract with Golden Boy, Lacy's newly formed Left Hook Promotions is putting on the card with One Punch Productions at the USF Sun Dome.

Mares
• Bantamweight contender Abner Mares, who hasn't fought since June, is slated to make his return May 2 on the untelevised undercard of the Ricky Hatton-Manny Pacquiao bout, Golden Boy matchmaker Eric Gomez told ESPN.com. The 2004 Mexican Olympian was scheduled to fight in October on the Bernard Hopkins-Kelly Pavlik undercard but was scratched because of a retina injury. Mares (17-0, 10 KOs), 23, was on the verge of a mandatory title fight with Gerry Penalosa before the injury.

Huck
• In a showdown between top-10 cruiserweights, Germany's Marco Huck (24-1, 19 KOs) will make the third defense of the European title against former world titleholder Firat Arslan (29-4-1, 18 KOs) on May 9 in Bamberg, Germany, Huck promoter Sauerland Event announced. The fight will be Arslan's first since losing his belt via 10th-round TKO to Guillermo Jones in September.
QUOTABLE

Dawson
"Winning my first world title was a career highlight, but beating Tarver last year was a personal joy, one I look forward to repeating on May 9." -- Light heavyweight titlist Chad Dawson during a news conference this week formally announcing his rematch with Antonio Tarver.
QUOTABLE

Tarver
"Dawson's a young lion and he had a high work rate during our first fight. I missed a few times with my power shot but that's what it is, it's a game of inches. But I always learn from my losses, and as Roy Jones, Glen Johnson, and Eric Harding will tell you, I never lose twice to the same man. Dawson will learn that lesson too on May 9." -- Former champ Tarver, on Dawson at the news conference.
QUOTABLE

Afolabi
"I told you. I said this would be my coming out party and that's exactly what it was." -- new interim cruiserweight titleholder Ola Afolabi, on his sensational ninth-round knockout of Enzo Maccarinelli in England last Saturday to win an interim cruiserweight title.