Alexis Cuarezma/FightWireImages.com
Ward finally steps up
Five years after Andre Ward won the lone boxing gold medal for the United States at the 2004 Athens Olympics -- the only American boxing gold since 1996 -- he is finally fighting a recognizable opponent.
Ward meets dangerous puncher Edison Miranda of Colombia in a scheduled 12-round super middleweight bout on a special prime-time edition of "ShoBox: The New Generation" (Showtime, 9 p.m. ET/PT) Saturday at the Oracle Arena in Ward's hometown of Oakland, Calif., his first pro fight at home.
It's the kind of step-up fight previous Olympians, especially gold medalists, might have had a year or two earlier in their career. But Ward (18-0, 12 KOs) and promoter Dan Goossen have taken the slow and steady approach to the 25-year-old's career. He's moved slowly, in part, because of an assortment of injuries to his thumb and knee. But Ward finally seems to have it all together and knows how important it is to shine against Miranda (32-3, 28 KOs), who has faced several quality opponents, although he's been stopped by middleweight champion Kelly Pavlik and titleholder Arthur Abraham.
"This fight is everything," Ward said. "This is going to be a major leap forward or a major leap backward. It's going to put the winner in title contention and, I know for myself, it's going to put me in a mandatory spot [for a title challenge]. So this is a must-win. It goes without saying that we have to win this fight."
Opening the telecast, junior lightweight prospect John Molina (16-0, 12 KOs) faces Frankie Archuleta (25-6-1, 14 KOs) in a scheduled eight-rounder.
"We're looking at this as Andre's coming-out party, not only in Oakland, but to the world for 168-pound supremacy," Goossen said. "Let's face it, he's taking on a tough nut to make his statement. But that's what it's all about. No risk, no reward. That's the way that Andre has always conquered everything in his life, even leading up to the gold medal. I believe he's going to be the pre-eminent 168-pounder in the world."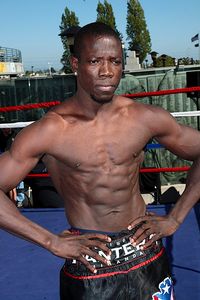 Tom Casino/Showtime
Edison Miranda is known as much for his trash talk as he is for his punching power.
Ward has looked good in recent fights, but he has faced underwhelming competition. At least Miranda, while limited, presents some danger because of his power.
"To me, this fight is totally about respect," Ward said. "It's about respect from the media, respect from the entire 168-pound division and just respect in general. There's always something to prove with each fight. On paper, this is definitely my toughest fight. Miranda is a tough, experienced fighter with good power. But fights aren't won on paper.
"I know there are a lot of people who don't think I'll win this fight who get caught up in the Miranda hoopla and his punching power, but I'm not buying it. We're coming to win."
A victory likely will propel Ward into a mandatory position for a pair of super middleweight titleholders, England's Carl Froch and Hungary's Karoly Balzsay.
"I'm exactly where I want to be and my upcoming fight will take me where I want to go," Ward said. "My goal is to ultimately be the best in my division and after this fight I will be in the position to fight the elite at 168 pounds and prove to them and everybody else that this is my time.
"The super middleweight division is one of the deepest in boxing and is fast becoming a marquee division that is very top-heavy at the highest level. The fighters in my division haven't received the recognition they deserve -- me, included -- but that has all changed in the last half year or so because the cream of the 168-pound crop are all fighting each other. I want to show I'm the best, but the only way to do it is to prove it fight after fight. I want the biggest fights."
Miranda, known as much for his provocative trash talk as he is for his punch, has had a few things to say about Ward, whom he considers too inexperienced as a professional to beat him.
"I have said it before: I have no respect for Andre Ward," Miranda said. "Andre Ward has zero chance to win this fight. I will knock him out in the 10th round."
Besides that typical prediction, Miranda also showed his humorous side with a couple of other zingers aimed at Ward:
• "I may have to save up some money for property tax because the Oracle Arena is gonna be my house after I knock Andre Ward out. The world knows that he's never faced a puncher like me, and when you add in his glass jaw, the second I land, it's over."
• "I've packed my running shoes for Oakland so I can catch up to Ward after he starts sprinting around the ring. When I do catch up to him, he's going to regret ever signing for this fight. But at least when I knock him out, he can get back to his house quickly and sleep in his own bed."
Khan set for Roach's 'hell' camp
England's Amir Khan, 2007 ESPN.com prospect of the year, is getting set to go to training camp to prepare for his June 27 challenge against junior welterweight titlist Andreas Kotelnik in London.
Khan, 22, who is moving up in weight, will train for the next six weeks at Freddie Roach's Wild Card Gym in Hollywood, Calif. It will be Khan's third bout under Roach's guidance.
"It's always tough with Freddie in charge, but I've been going through the wringer for the last week or so," said Khan. "And Freddie has told me that things are going to get much worse before they are going to get better. The runs I have to go on and the physical work that I do are agony -- and that's before the sparring starts. I've heard that Freddie has got some very tough sparring lined up for me, but it's just a case of bring it on.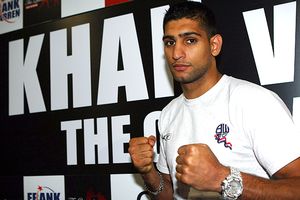 John Gichigi/Getty Images
Amir Khan continues to develop under the tutelage of Freddie Roach.
"I don't think I'll be working with Manny Pacquiao like my last two fights, but there are still lots of quality fighters in the gym, and whoever I face won't be holding back. I've never felt this good before a fight, and I've still got a month and a half to go. People are going to see a really explosive performance from me against Kotelnik."
Khan sparred with the Roach-trained Pacquiao for his past two fights and got to know him. But Khan has also been a big supporter of countryman Ricky Hatton, so he said he was torn when Pacquiao knocked out Hatton in the second round two weeks ago, a fight Khan attended.
"I was definitely neutral when it came to the fight because Ricky was one of my boxing heroes and I've obviously worked with Manny," Khan said. "But the result has given everyone in the gym a real boost, and made me want to go out there and get a win against Kotelnik. Having seen what Manny did, I want a KO victory as well. It increases the pressure on me a bit, but then I've always thrived under pressure, and people are going to see that on June 27."
San Francisco treat
Top Rank is going to be quite busy this summer. In addition to its June 13 Miguel Cotto-Joshua Clottey HBO card and "Latin Fury" pay-per-view cards on June 27 and July 25, it's also working on what might as well be called "Filipino Fury," an Aug. 22 pay-per-view card likely at San Francisco's AT&T Park.
Among the televised bouts will be three title matches, Top Rank's Bob Arum told ESPN.com. Arum said the main event he'd like to make would pit Filipino flyweight titlist Nonito Donaire, who would move up in weight, and junior bantamweight titleholder Jose "Carita" Lopez of Puerto Rico, although he has yet to commence talks with the Lopez camp. Arum also hopes to have featherweight titlist Steven Luevano defend against the Philippines' Bernabe Concepcion. They were scheduled to meet May 2 on the Pacquiao-Hatton undercard, but Luevano withdrew because of an injury.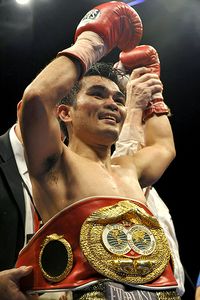 JAY DIRECTO/AFP/Getty Images

Brian Viloria will be one of several Filipino fighters plying his trade on Top Rank's Aug. 22 card in San Francisco.

"If Steven is ready to go, I want to put that fight on the card," Arum said. In a third match, Arum said Filipino-American Brian Viloria would defend his junior flyweight belt, possibly in a rematch against ex-titleholder Ulises Solis, from whom Viloria took the title via 11th-round knockout April 19. Arum noted that San Francisco is home to a large Filipino population and that he was impressed by the turnout to the stadium when baseball's Giants held Filipino Heritage Night last month and saw a significant bump in attendance when they gave away bobblehead dolls of Pacquiao, who was on hand to throw out the ceremonial first pitch. "We've been working with the people from the stadium on this card," said Arum, who has talked about doing cards at stadiums such as old Yankee Stadium before it closed and Dodger Stadium, to no avail. He said AT&T Park would be scaled "for like 20,000."

Dan Rafael is the boxing writer for ESPN.com.



QUICK HITS

Pacquiao
• Top Rank promoter Bob Arum told ESPN.com that pound-for-pound king Manny Pacquiao, who destroyed Ricky Hatton in two rounds to win the junior welterweight championship May 2, will fight again in October. "But we don't know against who," Arum said. "We're sorting through opponents." Arum said Pacquiao will be ringside in New York on June 13 to scout welterweight titlist Miguel Cotto, one of Arum's other stars, against Joshua Clottey. If Cotto wins, Arum said he'll try to match Pacquiao and Cotto, although he also said Shane Mosley was a possibility. One fight Arum said won't happen this year is Pacquiao against the winner of the July 18 Floyd Mayweather-Juan Manuel Marquez match. "Definitely not this year," he said. "Manny will fight in the fall and then we'd look to do that fight in the first part of 2010." Besides attending Cotto-Clottey, Pacquiao (and trainer Freddie Roach) will attend the annual Boxing Writers Association of America awards dinner June 12 in New York to pick up their 2008 fighter and trainer of the year awards. The day after the fight, Arum, a Hall of Famer, said he'd like to fly Pacquiao with him to Canastota, N.Y., to attend the annual International Hall of Fame inductions.

Valero
• Lightweight titlist Edwin Valero was scheduled to make his first defense against an opponent to be named on Top Rank's July 25 "Latin Fury" PPV card headlined by Julio Cesar Chavez in Mexico. However, Valero, who signed with Top Rank earlier this year and claimed a vacant belt in April, has elected not to fight because he's unhappy with the purse. "He doesn't want to fight for the money that is available," Arum told ESPN.com. "He wanted a big, big fight, so we're looking for something in September. Valero is off the show, but without any animosity." Arum said he offered Valero $200,000 to fight a handpicked opponent. "He turned that down. He wants more. He only wants to fight in fights that he can get big money for," Arum said. Valero may have a problem in that quest because he's not licensed to fight anywhere in the United States except Texas due to past medical issues. Chavez may face Jason LeHoullier in the main event. LeHoullier was slated to fight junior middleweight titlist Vernon Forrest in a nontitle bout in April, but it was scrapped when Forrest suffered a rib injury. Interim junior flyweight titlist Giovani Segura and junior lightweight titleholder Humberto Soto also may also appear on the card, Arum said.

Lopez
• Junior featherweight titlist Juan Manuel Lopez (25-0, 23 KOs) will face Cameroon-born, Montreal-based Olivier Lontchi (18-0-2, 8 KOs) in the main event of Top Rank's June 27 PPV card, Arum told ESPN.com. Lopez, who dominated Gerry Penalosa for a ninth-round TKO April 25, is coming back quicker than expected to take the place of middleweight champ Kelly Pavlik in the main event after Pavlik's fight with Sergio Mora was called off. Top Rank has shifted the card from the cavernous Boardwalk Hall in Atlantic City, N.J., to the smaller upstairs arena in the building. The rest of the card remains intact and will include bantamweight titlist Fernando Montiel against ex-flyweight titlist Eric Morel; junior welterweight prospect Mike Alvarado against former titleholder Paulie Malignaggi; and junior middleweight prospect Vanes Martirosyan, a 2004 U.S. Olympian, against Andrey Tsurkan, assuming Martirosyan wins Saturday night and is uninjured. Arum said he'd like to reschedule Pavlik-Mora for Sept. 12.

Morales
• Former three-division champ Erik Morales (48-6, 34 KOs), who plans to resume his career after being off since losing a lightweight title match to David Diaz in August 2007, plans to return in his native Mexico in August rather than appear on the Floyd Mayweather-Juan Manuel Marquez HBO PPV undercard July 18, Golden Boy matchmaker Eric Gomez told ESPN.com. There had been some initial talk that Morales' comeback would take place on the Mayweather-Marquez card, but Gomez said Morales, who'll fight around 142 pounds, preferred to fight in his hometown of Tijuana. Gomez, who is helping Morales find an opponent, said Morales inquired with Golden Boy about the availability of ex-junior lightweight titlist Jorge Barrios. However, according to Gomez, Barrios is due to fight July 18 in his native Argentina.

Afolabi
• The proposed June 20 fight between interim cruiserweight titlist Ola Afolabi and "Contender" winner Troy Ross, which would have been on Versus from Brampton, Ontario, is off. The reason, according to Afolabi promoter Dino Duva, is because Afolabi, who lives in England but trains with Freddie Roach in America, has a visa issue that prevents him from returning to the U.S. and "his management doesn't feel comfortable making short notice arrangements for him to train with a different trainer in another country." With the fight off, Ross co-promoter Jeff Wald told ESPN.com that Ross will instead have his first fight since winning the reality series tournament on June 19 in Montreal on the card headlined by light heavyweight titlist Adrian Diaconu's defense against Jean Pascal. That card is co-promoted by Ross' other promoter, Yvon Michel. If Ross wins and Poland's Krzysztof Wlodarczyk wrests a cruiserweight belt from Italy's Giacobbe Fragomeni on Saturday in Rome, Ross may fight Wlodarczyk on Aug. 13 on Versus in Chicago. Ross' promoters have already talked to Wlodarczyk promoter Leon Margules of Seminole Warriors Boxing about the fight. "If my guy wins Saturday and we can make the right deal, it's definitely something we're interested in," Margules told ESPN.com. "We'd love to fight on Versus in the United States."

Duva
• Like many, promoter Dino Duva sees the emerging markets in China as a business opportunity. That's why Duva is in China this week on one of his numerous trips there since last summer's Beijing Olympics. Duva has been in talks with Chinese officials about signing several members of the Chinese Olympic boxing team, which won its first two gold medals to go with a silver and bronze. "I've been working on this since the Olympics," Duva told ESPN.com from Beijing. "We're working on something that's going to develop the whole sport to another level in the country of China."

Rigondeaux
• Heralded Cuban junior featherweight Guillermo Rigondeaux, 28, a two-time Olympic bantamweight gold medalist (2000 and 2004) who defected, will have company when he makes his pro debut May 22 in Miami on ESPN2's "Friday Night Fights." Also scheduled to turn pro on the card are two of his Olympic teammates, fellow defectors also based in Miami. Yudel Johnson, 27, who received the light welterweight silver medal at the 2004 Olympics, will turn pro as a junior middleweight. Also going pro is light heavyweight Yordanis Despaigne, 29, Cuba's 2004 Olympic middleweight. At the Olympics, Despaigne beat Jean Pascal, who is set to challenge for a light heavyweight title, and Karoly Balzsay, now a super middleweight titlist, before losing by one point to U.S. bronze winner and super middleweight contender Andre Dirrell, who had lost to Despaigne in the 2003 Pan American Games. Despaigne also owns an amateur victory against cruiserweight champion Tomasz Adamek.
• Light heavyweight Beibut Shumenov (8-0, 6 KOs), one of the most intriguing prospects in boxing, believes he's ready for a title shot after just eight fights, most of which have come against exceptional competition. The 2004 Olympian for Kazakhstan, who now lives in Las Vegas, returned to his native country last Saturday and stopped former two-time super middleweight titlist Byron Mitchell in the fourth round before declaring himself ready for a title shot. Shumenov, who fought a scheduled 12-rounder in only his fourth bout and has also beaten former champion Montell Griffin and ex-title challenger Epifanio Mendoza, is interested in challenging either Zsolt Erdei or Hugo Garay for a 175-pound belt. "Now I'm ready for more challenges," Shumenov said. "I really want to fight Erdei or Garay and I'm hopeful that one of them steps up to give me an opportunity to fight for their world title."

Rojas
• Featherweight contender Elio Rojas (20-1, 13 KOs), a native of the Dominican Republic based in Brooklyn, will get his first title opportunity, but he's going on the road for it. Rojas is headed for Tokyo to challenge titlist Takahiro Aoh. They'll meet July 14 after Rojas promoter Don King and Aoh promoter Akihiko Honda avoided this week's purse bid and cut a deal. Rojas scored a virtual shutout of perennial contender Hector Velazquez in a September title eliminator to earn the shot at Aoh (17-1-1, 8 KOs), who claimed the title March 12 when he outpointed Oscar Larios in a rematch of their tight first fight in October.

Chambers
• American heavyweight Eddie Chambers (34-1, 18 KOs) is headed back to Germany to meet German-based Ukrainian Alexander Dimitrenko (29-0, 19 KOs) in a title elimination bout in Hamburg on July 4 after Chambers promoter Dan Goossen and Dimitrenko promoter Universum finalized their deal this week. The winner of the bout becomes one of the mandatory challengers for unified titleholder Wladimir Klitschko. Chamber's only previous fight in Germany was a decision loss to Alexander Povetkin in a January 2008 eliminator that had a shot at Klitschko's other belt at stake.
QUOTABLE

Mayweather Jr.
"I am the king and no one has taken my crown." -- Floyd Mayweather Jr., who retired last year as pound-for-pound king but has announced his comeback to face Juan Manuel Marquez on July 18.
QUOTABLE

Marquez
"[Manny] Pacquiao keeps running from me and he doesn't want to face me a third time. He just keeps running away. So, I decided to fight the very, very best and that is Floyd Mayweather." -- lightweight champion Marquez, on accepting a welterweight fight with the unretiring Mayweather.