Tom Shaw/Getty Images
Mayweather back for the long haul
Love him or hate him, the mere mention of Floyd Mayweather's name elicits a strong reaction from boxing fans. His mainstream profile has also grown bigger than any other fighter's because of a run on the popular reality series "Dancing With the Stars," a heavily hyped wrestling appearance at last year's WrestleMania, not to mention starring in a ubiquitous AT&T commercial that seems to be on television every 10 seconds.
But after 17 months out the ring in a retirement virtually nobody thought would last, the former five-division champion indeed finally announced his comeback earlier this month.
On July 18 (HBO PPV) at the MGM Grand in Las Vegas, Mayweather (39-0, 25 KOs) will face lightweight champ Juan Manuel Marquez (50-4-1, 37 KOs), the pound-for-pound star who will jump two divisions for the fight at a maximum weight of 144 pounds, nine more than where Marquez is champion.
"I'm not overlooking Juan Manuel Marquez, and I hope he's not overlooking me," Mayweather said. "He knows I've been off awhile so he might think I'm rusty, but I'm not. I'll be ready."
When Mayweather walked away, he was on top of the sport, the universal choice as pound-for-pound king and the reigning welterweight champion. His final two fights in 2007 against Oscar De La Hoya and Ricky Hatton generated a staggering 3.4 million pay-per-view buys in the United States.
Now, Mayweather says he is back to reclaim the mantle of No. 1 that Manny Pacquiao now holds, even though, as Mayweather says, he never lost his status in the ring.
"One day, somebody may shut my mouth. As of right now, I'm the top dog," Mayweather said. "I'm the king. I'm here to stay. I left on top, came back on top. I'm here to fight and reclaim what's mine. Nobody has ever took my throne. So how am I not the king if nobody ever took my throne?"
With his impending ring return, Mayweather, who is in London with Marquez wrapping up this week's six-day, three-city, two-country media tour to promote the fight, brings an avalanche of publicity to boxing.
"He crossed over to being a mainstream star," said Leonard Ellerbe, Mayweather's close friend and adviser and CEO of Mayweather Promotions, which is working with Golden Boy on the fight. "He will bring more fans to the sport and overall that will uplift the sport."
Mayweather certainly injects a jolt into the sport like no other and he's more than happy to tell you all about it.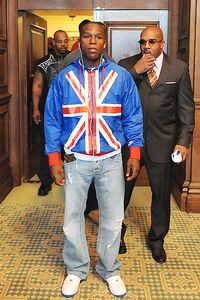 CARL DE SOUZA/AFP/Getty Images
Floyd Mayweather and Co. believe that when it comes to the biggest fights in boxing, all roads lead through them.
"When you talk boxing, you talk Floyd Mayweather," he said. "I'm back because the sport of boxing needs Floyd Mayweather. The sport truly needs me and the fans really want me. Wherever I go, they go crazy. I'm the most controversy in the sport."
If you buy the rap, the good news for boxing is that Mayweather is back for the long haul. A source with direct knowledge of his deal with Golden Boy Promotions told ESPN.com that Mayweather's deal is for five fights.
That ought to give him ample time to face boxing's biggest names, including an eventual showdown with Pacquiao, the fight the public is already demanding. If Mayweather gets past Marquez, which he is expected to do as a 3-1 favorite against the smaller man, there are several potential megafights for him: Pacquiao, Shane Mosley and Miguel Cotto among them.
So what about it, Floyd?
"The thing you got to realize about Floyd Mayweather is I don't need to call out no fighters," he said, making it clear that he thought Marquez deserved to win both of his controversial fights with Pacquiao [a draw and split decision].
Ellerbe made Mayweather's plans after Marquez a bit more clear.
"I can tell you this right now that we're gonna line all these guys up, whoever the so-called best guys are, whoever they say they, and we'll line up," he said. "Obviously, he can't fight them all in one night. But one by one, so whoever it is. He left the best, he's coming back the best. All roads lead to Floyd Mayweather."
Besides Pacquiao and Cotto, difficult bouts to make because of Mayweather's terrible relationship with Top Rank's Bob Arum, his former promoter, there is also Mosley.
"Mosley had a good win with [Antonio] Margarito," Ellerbe said. "We can't fight him right now, but he's one of the top fighters. We recognize he's one of the top fighters. He can get it too."
The time off was something Mayweather said he needed after several major fights in a row. He said he returned because he missed boxing. He also undoubtedly returned for the money, even though he doesn't want to acknowledge the millions he owes to the IRS.
"Floyd truly needed a break away from the sport and he had to realize that he missed the sport," Ellerbe said. "I think by him taking the time off and doing some other business ventures, he realized it. He's well rested."
Said Mayweather, flashing his million-dollar smile, about his return: "Somebody got to keep the sport up and running, so why not me?"
Adamek-Hopkins revisited?
When a proposed July fight between cruiserweight champ Tomasz Adamek and Bernard Hopkins fizzled because vast differences in each side's expectations, it left neither fighter with anything significant on the horizon. That realization may lead to the fight being resurrected, although not for this summer.
HBO Sports president Ross Greenburg told ESPN.com that the fight is back on the radar.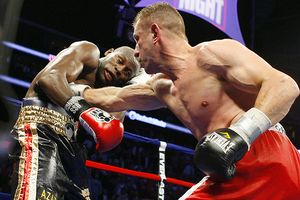 John Gichigi/Getty Images
Bernard Hopkins might get a crack at Tomasz Adamek, right, after all.
"I think it's a good fight and we've talked a little about it," he said.
If it comes back together, HBO would prefer it happen in early 2010 given an already tight budget for the rest of 2009.
When the prospect of the fight in July died a few weeks ago, it left Hopkins with nothing in the works. Adamek, meanwhile, is scheduled to fight July 10 in Newark, N.J., but without a commitment from an American broadcaster.
Showtime and Main Events talked about Adamek-Matt Godfrey, but the network elected to pass on the "ShoBox" fight on Thursday.
According to Main Events, Adamek will still fight July 10 but without U.S. television. But because there is now less money in the pot, it means a further downgrade in opponent, possibly to club fighter Bobby Gunn.
Adamek and Hopkins seem to need each other at this point to produce their biggest payday.
Arreola gets serious
Cris Arreola (27-0, 24 KOs), perhaps America's top heavyweight contender, has been roundly criticized over the past year for his conditioning. After regularly weighing in the 230s for fights in 2007 and prior, he put on about 20 pounds -- and it's not muscle. He's been above 250 for his past three fights and was a flabby 255 for his last bout on April 11, when he recorded a dominant fourth-round knockout of Jameel McCline.
Despite the ease of the victory, Arreola intends to take his conditioning more seriously. This week he hired strength and conditioning coach Darryl Hudson.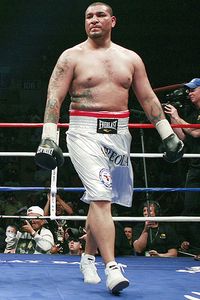 AP Photo/Eric Jamison
Looks like Cris Arreola is finally taking the necessary steps to get in shape.
"It's the first time Cris has done that," said Henry Ramirez, Arreola's boxing trainer. "Everybody at the top level has a strength coach. You need one at this level. We are not going to leave any stone unturned."
There's a good chance Arreola will land a title shot against Vitali Klitschko before the end of the year and Ramirez said he wants to be ready.
"We're going to do the strength and conditioning in the morning and then boxing evening," Ramirez said. "I'll be at both. We want to get him to a legitimate, solid 240 pounds, which is where I believe he will be at his most effective."
Ramirez met Hudson, who has worked with several boxers, at the Mandalay Bay in Las Vegas at the fight. He was working with main event fighter Winky Wright.
"I kept running him into the elevator," Ramirez said. "I got his number. We called him last week and spoke about what we'd want to do. We're going to start working with him on Tuesday. We know we could hire everyone in the world to work with Cris, but he's the one who has to be willing to make the commitment. He told us he's willing to do it, to step it up and get in great shape."
Dan Rafael is the boxing writer for ESPN.com.
QUICK HITS

Dawson
• Light heavyweight titlist Chad Dawson and promoter Gary Shaw have changed their tune about giving ex-champ Glen Johnson a rematch of their all-action fight 13 months ago, which Dawson barely won. With few notable options for the second fight of his HBO deal and coming off two wins, but disappointing performances, against Antonio Tarver, Dawson's obvious next opponent is Johnson. He's also one of the few realistic opponents that a deal can be made with (unlike Bernard Hopkins or the retired Joe Calzaghe) and one of the few opponents HBO would accept. So that's why Shaw offered the fight to Johnson co-promoter Lou DiBella on Thursday evening. The first offer was "shockingly low," DiBella told ESPN.com, but a follow-up conversation with Shaw yielded an offer DiBella said was "in the ballpark. We can make this fight. We're not going to price Glen out of the fight but we're not going to be exploited. Everyone has to eat." DiBella said HBO told him it was interested in the fight for the fall.

Bradley
• Junior welterweight titlist Timothy Bradley (24-0, 11 KOs) is close to a deal that would see him defend against former junior lightweight and junior featherweight titlist Joan Guzman on Showtime on either Aug. 1 or in September. Bradley unified belts against Kendall Holt in April, but relinquished one of them because he wasn't interested in a mandatory defense against Devon Alexander. Guzman (29-0, 17 KOs), a lightweight contender with problems making weight, would move up for the opportunity. His handlers at Sycuan Ringside Promotions told ESPN.com they are weighing the offer. The fight also needs approval from the WBO.

Judah
• With the promotion for the Floyd Mayweather-Juan Manuel Marquez fight on July 18 (HBO PPV) in full swing, Golden Boy is working on the undercard. Zab Judah, who will be on the card, will face England's Matthew Hatton, the brother of onetime Mayweather victim Ricky Hatton, Golden Boy CEO Richard Schaefer told ESPN.com. Schaefer said the welterweight fight is signed. It should help the card in England, where it is supposed to be on pay-per-view. According to Golden Boy vice president Eric Gomez, another fight close to being solidified is junior bantamweight titlist Jose "Carita" Lopez (39-7-2, 32 KOs) of Puerto Rico against 20-year-old A.J. Banal (19-1-1, 16 KOs) of the Philippines. It would be Lopez's first defense since claiming a vacant belt via unanimous decision against Thailand's Pramuansak Posuwan on March 28. "We're close to finalizing the fight," Gomez said. "There are a few things we still need to do, but it looks like it will happen. It's not done yet, but I'm confident we can get it done."

Donaire
• With Lopez likely headed toward a title defense against Banal on the July 18 HBO PPV card, Top Rank's desire to have flyweight titlist Nonito Donaire move up to challenge him for his belt is out the window. However, Donaire is still slated to fight on Top Rank's Aug. 22 pay-per-view card. Cameron Dunkin, Donaire's manager, told ESPN.com that possible Donaire opponents are ex-junior flyweight champ Hugo Cazares or Juan Alberto Rosas. Top Rank had talked about staging the Filipino-themed card at AT&T Park in San Francisco, but that's been scrapped because of the prohibitive costs and the fact that an NFL preseason game has been scheduled there on the date. Top Rank will shift the card, probably to Las Vegas, either at Planet Hollywood or the Hard Rock.

Diaz
• Golden Boy's Gomez was in New York Wednesday to meet with HBO about Golden Boy's Aug. 22 "Boxing After Dark" card, which is being planned as a tripleheader. They talked about opponents for former lightweight titlist Juan Diaz, the headliner, but there's nothing solid yet on whom he'll fight in his first bout since being stopped by champion Juan Manuel Marquez on Feb. 28. Junior lightweight contender Robert Guerrero likely will also be on the card as long he comes out clean from an ESPN2 fight against Johnnie Edwards on June 12. The third bout could involve either super middleweight prospect Daniel Jacobs or lightweight prospect Vicente Escobedo. There had been a possibility that Diaz would fight on the Mayweather-Marquez undercard, but that idea was scrapped.

Liakhovich
• Ivaylo Gotzev, who manages former heavyweight titleholders Sergei Liakhovich (23-3, 14 KOs) and Samuel Peter, told ESPN.com that the proposed heavyweight card from Primm, Nev., that would be headlined by Liakhovich facing James Toney (71-6-3, 43 KOs), will be pushed back. Originally, it was being planned for July 4, but Gotzev said it would be delayed until either Aug. 1 or Aug. 29. Peter (30-3), trying to shake off consecutive losses to Vitali Klitschko and Eddie Chambers, would fight in a televised undercard match.

Greene
• Junior middleweight prospect Joe Greene (20-0, 14 KOs), idle since last August, returns May 30 on the undercard of welterweight titleholder Andre Berto's defense against junior welterweight belt holder Juan Urango. Greene, 23, of New York, faces an opponent to be named in an eight-rounder, his first fight under an about-to-be-completed deal that will see Lou DiBella come on as his co-promoter along with Seminole Warriors Boxing. Greene was scheduled to face Sergio Martinez in January on HBO on the undercard of Berto's last fight against Luis Collazo but a bout with kidney stones knocked him out. "Joe is healthy now but it's been a long time he's fought, so he'll do this undercard fight and then another fight and then we expect to put him in a much bigger fight," DiBella told ESPN.com. "The 154-pound division is chock full of fights, so Joe will get an opportunity."

Hopkins
• Junior welterweight contender Demetrius Hopkins (28-1-1, 11 KOs) will try to rebound from his first defeat June 27 in Atlantic City, N.J. Hopkins, 28, is slated to face Hector Munoz (18-2-1, 11 KOs) in an eight-round untelevised bout on the undercard of the Top Rank pay-per-view card headlined by junior featherweight titlist Juan Manuel Lopez against Olivier Lontchi. Hopkins, the nephew of Bernard Hopkins, suffered his first pro setback Dec. 13, dropping a split decision to then-titleholder Kendall Holt in the same ring where he'll make his comeback. "Demetrius is [in Las Vegas] training and he looks really good," manager Cameron Dunkin said. "He's been running hard every day. He's on a strength program, which he's never had before. He knows he doesn't have a lot of chances left. He knows he has to make his move."

Arce
• Jorge Arce (51-5-1, 39 KOs), who was hammered into an 11th-round knockout loss Feb. 7 by junior bantamweight champion Vic Darchinyan, is on the comeback trail. Arce is scheduled to fight June 20 in Juarez, Mexico. The 12-round junior bantamweight bout will be against an opponent to be named, according to Sean Gibbons of Arce co-promoter Zanfer. It may be a little late in his career, but Arce, a brawler with little defensive prowess, is now working with legendary Mexican trainer Nacho Beristain.

Arlovski
• The pro boxing debut of former UFC heavyweight champion Andrei Arlovski has been on-again, off-again. An MMA fight got in the way one time. A sore back scuttled it another time. Now, it's supposed to be on again. Arlovski, trained by Freddie Roach, is supposed to have his first boxing match June 27 in Los Angeles on the untelevised undercard of the Victor Ortiz-Marcos Maidana HBO fight, Golden Boy matchmaker Eric Gomez told ESPN.com. There is also the possibility that he could go pro on the Floyd Mayweather-Juan Manuel Marquez undercard on July 18. Of course, there is always the possibility that MMA could once again get in the way given that Arlovski is facing Brett Rogers in a June 6 Strikeforce match in which he is replacing injured Alistair Overeem.

Valuev
• Heavyweight titleholder Nikolai Valuev has gone into virtual solitude to train for his May 30 rematch against Ruslan Chagaev, who owns the only victory against Valuev. They meet May 30 in Helsinki, Finland, the first heavyweight title bout in Finnish history. Rather than train at home in St. Petersburg, Russia, Valuev is training "in the middle of nowhere," the German village of Kienbaum, 20 miles east of Berlin. "In St. Petersburg the phone would ring every two minutes," Valuev said. "Then there would be a family duties. And I could not walk on the streets without being recognized and asked for a signature. There would be no chance to work out efficiently. That is why I like Kienbaum. I can really focus here. The landscape, the birches, the lake -- it all reminds me of St. Petersburg. So I feel like being at home, at least a little bit, even though I am far away from Russia."
QUOTABLE

Roach
"I recommend that Fraud Mayweather Jr. go to the public library and read 'The Emperor's New Clothes.' It's a fairy tale, like the one he's been spinning that he is the king." -- Freddie Roach, the trainer of pound-for-pound king Manny Pacquiao, mocking Floyd Mayweather Jr.'s claim to being No. 1 while promoting his July 18 fight with Juan Manuel Marquez after spending the past year in retirement
QUOTABLE

Cotto
"It's going to be a tough fight. Clottey is a real warrior and is coming to fight and I also fight, so it should be a great fight. I have confidence that I will win this fight and prove I am still the best welterweight in the world." -- welterweight titlist Miguel Cotto, on his June 13 (HBO) showdown with Joshua Clottey.