AP Photo/Mike Carlson
Dawson, Johnson aim to settle score
Few will argue that Chad Dawson's unanimous decision against Glen Johnson in April 2008 was one of the best fights of that year. For 12 hard-fought rounds, they displayed skill and will in a rousing, all-action fight in Tampa, Fla.
Beyond that, you'll find all kinds of disagreements over the result. There are those who believed Dawson clearly deserved the three 116-112 scores he received from the judges in defense of his light heavyweight belt.
Some viewed the closely contested fight as an even-up draw, including Al Bernstein, the Showtime analyst who called the fight.
And then are the many others, including Johnson and his team, who felt that the former champion got the short end of the stick.
Dawson moved on from the fight and twice beat former champ Antonio Tarver (who also split two championship fights with Johnson), but debate raged all along over the outcome of Dawson-Johnson.
Faced with little to pick from in terms of a name opponent -- and facing pressure from fans and media, not to mention HBO -- Dawson turned back to Johnson, hoping to leave no doubt when they meet in a rematch for a vacant interim belt Saturday night (HBO, 9:30 ET) at the XL Center in Hartford, Conn.
In the televised opener, junior middleweights Alfredo "Perro" Angulo (16-1, 13 KOs) of Mexico and Harry Joe Yorgey (22-0-1, 10 KOs) of Bridgeport, Pa., vie for a vacant interim title.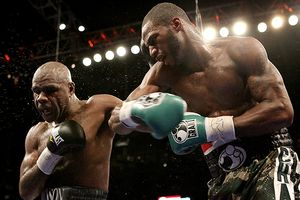 John Gichigi/Getty Images
Chad Dawson, right, and Glen Johnson took their gut-wrenching brawl to new heights during the championship rounds.
"Why fight Johnson again? Why not do it again," said Dawson, who is from New Haven, Conn., and will be the crowd favorite. "I can't get the fight with Bernard Hopkins, so he's the next worthy opponent. The first fight was a great fight, and I look forward to the second fight being just as great."
Johnson, who is from Miami, insists that he won the first fight, especially because of his performance in the late rounds, such as the 10th, when he hurt a tiring Dawson with a right hand.
"I did the cleaner, more convincing work to win the last fight," said Johnson, who has been on the wrong side of several tight decisions over the years. "Dawson moves a lot and just tried to throw punches at my defense. He threw too many ineffective punches, and so, based on that, I believe I won the fight clearly. Judges are supposed to judge clean, effective punches. If the rules have changed, then someone needs to tell me what the new rules are so I know how to fight for the judges."
Dawson (28-0, 17 KOs) dismissed the notion that Johnson can make a legitimate case that he won and said he never doubted he'd get the decision, despite the rough moments in the late going.
"I knew I won the unanimous decision," Dawson said. "I wasn't worried if it was a close fight or not. I go into this fight to erase the memory of the last fight."
Dawson said the reason he took the rematch was "to see how much I've grown since the last fight. I feel like almost two years of my career have been based on Antonio Tarver and Glen Johnson. I am ready to move on to bigger and better things."
But first comes the sequel with 40-year-old Johnson (49-12-2, 33 KOs), who certainly doesn't fight like he's 40.
"I want to do a lot of things differently this fight," Dawson said. "The first time, I got caught up in a lot of slugging, and I'm not looking to do that this time. I'm not the type of fighter who goes in there looking for the knockout. I want to go in there and just showcase my talent in front of my [fans]. I want to make it an exciting fight and definitely win convincingly.
"I know I won the last fight. I'm done talking about the last fight. I'm just ready to go into this one and win this one more convincingly than the last one. … We want to erase the whole memory of the first fight," Dawson said. "I can't wait to get in the ring and shut him up. It's been almost two years now. After I'm done with him, he won't be able to say nothing except 'I lost to Chad Dawson twice.'"
Gary Shaw, Dawson's promoter, has grown tired of people questioning the outcome of the first fight. He makes the points that even though the fight was in Johnson's home state, Johnson still didn't get the decision and that all three judges had the same score.
"Glen believes that he won the first fight. I don't. Chad does not. [Manager] Mike Criscio does not," Shaw said. "We fought in Glen's home territory the first time, and now we move to Connecticut. Either way, I think Chad will put on a convincing performance and no longer will anyone wonder if Chad Dawson is the No. 1 fighter in the world at 175 pounds, which I believe he is.
"I'm tired of hearing Glen talk about the judges and the wrongs in boxing. Every article I read about Glen, he talks about the wrongs in boxing like he's the savior of boxing. Chad Dawson won the fight in front of the eyes of all the officials. The judges were not crooked. I've seen plenty of robberies, and this was not one of them. My beef with Glen is that he keeps calling the last fight a robbery. When you lose on all the judges' cards by three or four rounds in your home state, you cannot call it a robbery. So my beef is, instead of diminishing Chad Dawson by saying it's a robbery, just say, 'I fought a very good fighter on that night. I believe I won, and I don't believe the judges saw it the way I saw it.' Just say you'd like another shot at him, and that's exactly what he's getting because that's the fight that HBO is willing to pay for."
Haye goes for heavyweight belt
JOERG KOCH/AFP/Getty Images
Former cruiserweight champ David Haye (22-1, 21 KOs) of England has talked a great game. He has talked endlessly for months. Now, it's time to see whether his fists can cash the checks his mouth has written when he challenges heavyweight titlist Nikolai Valuev in Nuremberg, Germany, on Saturday (Integrated Sports PPV, $24.95, 3 p.m. ET).
Haye hasn't fought in a year since his ballyhooed move up to heavyweight, mainly because he backed out of summer title shots with brothers Wladimir and Vitali Klitschko. Then he agreed to face Valuev (50-1, 34 KOs), the 7-foot, 325-pound Russian giant against whom Haye will give up nine inches and approximately 100 pounds.
Still, Haye, who has trashed both Klitschkos and Valuev repeatedly despite a microscopic heavyweight résumé, sounds awfully confident of victory.
"He hasn't fought anyone of my caliber," Haye said at this week's final news conference. "He's never fought anyone in their prime or someone so fired up. I'm not one of these guys he's used to fighting. I'm not over-the-hill, I'm not tainted, I'm not past my sell-by date. I am fresh, I am ready.
"Training has gone great, and I am going to make him look silly. I am going to embarrass him, knock him out. He's never fought anyone as fast or who punches as hard as me, or as accurate. I know he feels I'm a little mouthy man from England, but he's gonna be in for a rude awakening when that bell goes."
Valuev has not engaged Haye in any verbal confrontations. Instead, he said he'll answer the attacks in the ring.
"He can say what he wants," Valuev said. "I don't care about it. I will give my answer in the ring. A lot of opponents have tried to provoke me, but nobody has ever succeeded. I don't care about his statements. Needless to say, I am very confident of success."
Dan Rafael is the boxing writer for ESPN.com.
QUICK HITS

Klitschko
• When Vitali Klitschko (38-2, 37 KOs) defended his heavyweight title Sept. 26 via 10th-round knockout of American Cristobal Arreola, the fight generated HBO's best boxing rating of the year, a 4.8 for the live broadcast, which translates to approximately 2.1 million viewers (and doesn't include an additional 940,000 viewers who watched replays in the following days). So it should come as no surprise that HBO is interested in picking up U.S. coverage of Klitschko's defense against another American, Kevin Johnson (22-0-1, 9 KOs), whom he faces Dec. 12 in Bern, Switzerland. HBO Sports president Ross Greenburg told ESPN.com that he and Klitschko adviser Shelly Finkel are working on a deal for the fight. "We're in negotiations, and we hope to come to a resolution," Greenburg said. If it gets done, it would turn HBO's Dec. 12 card into a split-site tripleheader with the heavyweight bout on same-day tape along with live coverage of the Juan Diaz-Paulie Malignaggi rematch and Victor Ortiz-Antonio Diaz from Chicago. "We're looking at this as an extra bonus for the subscriber," Greenburg said of the heavyweight fight.

Arreola
• When heavyweight Cristobal Arreola makes his ring return in the Paul Williams-Sergio Martinez co-feature Dec. 5 (HBO) in Atlantic City, N.J., his opponent will be Brian Minto (34-2, 21 KOs) or Derric Rossy (22-2, 12 KOs), trainer Henry Ramirez told ESPN.com. Promoter Dan Goossen is in talks with both about the fight, although Rossy has yet to be formally approved by HBO. "I like them both," Ramirez said. "Minto is a rugged, smaller guy. Rossy has been in there with Eddie Chambers and [Alexander] Dimitrenko and been competitive even though he lost. Cris will be ready to go for either one. It doesn't matter." Arreola will be fighting for the first time since Vitali Klitschko stopped him in the 10th round of their Sept. 26 title bout.

Pascal
• When Jean Pascal (24-1, 16 KOs) outpointed Adrian Diaconu (26-1, 15 KOs) to win a light heavyweight title in one of the most action-packed fights of the year on June 19 before 13,659 at the Bell Centre in Montreal, it was one of the most significant fights in Canadian history. American fight fans were treated to live coverage of the bout on Versus. Now, after making a successful defense against former titlist Silvio Branco in September, Pascal is giving Diaconu a rematch Dec. 11 at the Bell Centre, and American fans likely will be able to see it, too. Pascal promoter Yvon Michel and ESPN are nearing a deal for the bout to be carried in the U.S. on ESPN Classic as well as ESPN360.com, both sides told ESPN.com.

Maskaev
• At the annual WBC convention, taking place this week in Jenju, South Korea, the alphabet organization determined its titleholders' mandatory situations. The most notable was in the heavyweight division, where Ray Austin and former titlist Oleg Maskaev were ordered to meet by May, with the winner becoming the mandatory challenger for Vitali Klitschko. Maskaev first has to win a Dec. 11 bout against Nagy Aguilera in Maskaev's adopted hometown of Sacramento, Calif. The organization also ruled that the winner of the Dec. 11 rematch between titlist Jean Pascal and Adrian Diaconu must next meet the winner of Saturday's interim title bout rematch between Chad Dawson and Glen Johnson. Also, super middleweight Andre Dirrell, who lost a split decision to titlist Carl Froch in the opening round of Showtime's Super Six World Boxing Classic on Oct. 17, requested a rematch. The response from president Jose Sulaiman: "The WBC is a strong supporter of [the tournament]. If the rematch could be scheduled without interfering with the tournament, it will be approved. If it cannot, then Dirrell will become the mandatory challenger after the tournament has finished."

Valero
• Lightweight titlist Edwin Valero (25-0, 25 KOs), who hasn't fought since winning the vacant belt in April, is unable to get a visa to enter the United States because of legal problems in his native Venezuela -- not to mention that the only place he is licensed in the U.S. is Texas because of a past medical issue -- will make a voluntary defense Dec. 19 in his home country against Mexico's Hector Velazquez (51-13-2, 35 KOs), whom the WBC approved even though he is coming off a June loss. Top Rank, Valero's promoter, had hoped to get him licensed in Nevada. The winner of Valero-Velazquez must next fight interim titlist Antonio DeMarco, who claimed that vacant title with a dominant 10th-round knockout of Jose Alfaro on Oct. 31 in Las Vegas.

Tua
• Heavyweight David Tua (50-3-1, 43 KOs), who blew out fellow Kiwi Shane Cameron in the second round in New Zealand on Oct. 3 in his first fight in two years, plans to stay busier. "I think David is the top heavyweight contender in the world and most certainly the most exciting," promoter Cedric Kushner said. "All David has to do is stay busy and in 2010 he will get his opportunity to become the heavyweight champion." Kushner said that Tua, 36, would return to action in January.

Pacquiao
• To warm up for the Nov. 14 HBO PPV super fight between Miguel Cotto and Manny Pacquiao, the HBO2 service will replay a pair of their most significant victories. Pacquiao's December 2008 eighth-round destruction of Oscar De La Hoya and Cotto's tight decision win against Joshua Clottey from June will be replayed at 11 p.m. ET/PT Friday and again at 10:45 a.m. ET/PT. Also, Top Rank announced that the MGM Grand Garden Arena is sold out for the fight and it has opened closed-circuit seating (all tickets $50 each) for the bout at MGM Mirage properties MGM Grand, Mandalay Bay, Luxor, The Mirage, Excalibur, Monte Carlo and Circus Circus.

Chavez Jr.
• Although Julio Cesar Chavez Jr. (40-0-1, 30 KO) has been headlining Top Rank's "Latin Fury" pay-per-view cards, he's happy to be fighting on the HBO PPV undercard of Cotto-Pacquiao, the year's biggest fight. "This is a big opportunity for me," said Chavez, who faces Troy Rowland (25-2, 7 KOs) in the 10-round middleweight co-feature. "To be part of such a big event will be very important for my career, and I will try to give the fans a good and exciting fight as I can." After Chavez's fight, he'll have a good seat for the main event, and he likes Cotto to win. "I feel that it will be a great fight. It's an even fight, but if I had to pick, I would say Cotto because he's fighting in his natural weight. But the fans will be the winner as they will surely see a fight to remember."

Hopkins
• Demetrius Hopkins (28-1-1, 11 KOs), nephew of light heavyweight star Bernard Hopkins, signed with promoter Chet Koerner's TKO Boxing. Demetrius Hopkins, 29, who previously was promoted by Top Rank, will move up to welterweight after years of struggling to make junior welterweight. He did make weight in December and lost a split decision challenging then-titleholder Kendall Holt in a fight Hopkins took on a week's notice. In June, however, Hopkins' next fight was canceled the day before when he was arrested for failure to pay back child support. "I know I'll feel a multiple stronger by being able to fight at welterweight, and I'm truly looking forward to starting this phase in my career with my new team at TKO Boxing Promotions" Hopkins said. "I won't have to struggle to make weight, and I'll be much more comfortable at 147."
QUOTABLE

Williams
"I salute Sergio Martinez for carrying himself like the champion he is to get in the ring with me and enable me to keep the Dec. 5 date so that I can show my fans in Atlantic City what 'The Punisher' is all about up close and personal. Unfortunately for Martinez, he is going to absorb the punishment I planned for Pavlik." -- Paul Williams, on Martinez's agreeing to face him on short notice in place of injured middleweight champion Kelly Pavlik
QUOTABLE

Martinez
"This is the challenge I've been struggling to get. Now it's up to me to show the world what I have. I know I can beat Williams, and believe me, I'll be ready to do just that." -- Martinez, on the Dec. 5 (HBO) middleweight showdown