Carlos Baeza/Thompson Boxing Promotions
Agbeko, Perez have different goals
Bantamweight titlist Joseph King Kong Agbeko has a revelation and a goal. Challenger Yonnhy Perez just wants to feed his family.
First Agbeko's revelation: King Kong, a seemingly ideal nickname for a tough, physical fighter to go by, is not actually his nickname. It is, in fact, the middle name Agbeko was given at birth in Ghana.
"God chose me to be King Kong," said Agbeko, who now lives in Bronx, N.Y. "When I was born, my dad gave me the name. That's why I wanted to become a world champion. I was destined for greatness. This name was a message from God.
"Growing up in Ghana, God picked me to be a boxer from a small boy. My dad gave me the name and it always pushed me to street fight and beat people. Gorillas are tough. I am tough."
Agbeko will get another chance to show how tough he is, and continue marching toward his goal, when he makes the third defense of his 118-pound world title against mandatory challenger Perez, of Colombia, in the first boxing event to be held at Treasure Island Hotel & Casino in Las Vegas on Saturday night (Showtime, 9 ET/PT).
Agbeko's lofty goal is to be more than merely a world champion. He wants to someday be considered the best fighter in boxing.
Agbeko, 29, claimed a belt in September 2007 when he thrashed titlist Luis Perez for a seventh-round knockout. After defending the title just once last year, Agbeko gained wide acclaim and landed on some pound-for-pound lists, including ESPN.com's top 20, with his impressive upset decision in July against Vic Darchinyan, the powerful junior bantamweight champion who moved up in weight to take a crack at Agbeko.
Agbeko turned back the challenge with relative ease, but he wants more.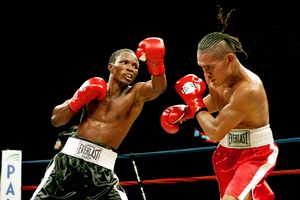 FightWireImages.com
Joseph Agbeko burst onto the scene by thrashing Luis Perez in 2007.
"My dream is to become a unified world champion [and] I want to become the No. 1 pound-for-pound boxer in the world," Agbeko said. "My dream is to defeat every boxer that comes my way, not just Vic Darchinyan, not just Luis Perez, not just Yonnhy Perez. But my dream is to win every fight that comes my way. I'm ready for the world and I'm ready to become No. 1 pound-for-pound in this game someday. That's what I always prepare for.
"My focus is to become No. 1 pound-for-pound one day. That's my dream. That's my focus, and I'm working toward it."
How dedicated is Agbeko to achieving his goal?
"He knows this is his job. He doesn't make my job very hard. I wake up and he's already gone and training," trainer Adama Eddy said.
Perez, 30, earned his shot against Agbeko the hard way. He went to South Africa in May to face highly regarded contender and former two-time title challenger Silence Mabuza. Perez was the underdog but scored a decisive 12th-round knockout.
The victory only added to his confidence coming into the title fight.
"Of course, it was a boost of confidence, but one thing that everyone needs to be aware of is that my confidence didn't come just from that fight," Perez said. "I have my confidence in my preparation and I'm confident every time I step in the ring, no matter who I'm facing. Beating Mabuza was a great deal for me, but I had confidence in my power and my ability even before I stepped in the ring, and the same thing is going to happen [Saturday]."
While Agbeko aims to follow the successful path blazed by countrymen Ike Quartey and Hall of Famer Azumah Nelson, Perez (19-0, 17 KOs) is focused on more immediate things, like providing for his poverty-stricken family in Colombia. Perez, who lives and trains in Santa Fe, Calif., said nearly all of the money he earns boxing is sent home to his family, whom he visits for a few months each year.
Thoughts of his family are what kept Perez going during the difficult fight with Mabuza.
"I was thrilled that I was able to win, but what I remember the most was going into the 12th round and knowing that it was a very difficult fight for me going throughout the first 11 rounds," Perez said. "It was a very close fight and I knew that I only had one opportunity, which was the last round. I asked God for strength to help me. He was the only one who knew how hard I had worked to get to that point. He knew how tough it was to get to that opportunity. I remembered my kids back in Colombia and all the needs that my family have.
"My motivation is to let my kids know that being in a professional sport is the cleanest way to have a decent life. I have sacrificed a lot for them. I know why I do it, and it's so they can have a better life in Colombia."
Agbeko and Perez, both with crowd-pleasing styles, are both predicting knockouts.
"He feels confident because he has never been beaten before. But I want everyone to know that he's going to get his first defeat [Saturday]. It's going to be a knockout," Agbeko said. "Perez can definitely not stay in there with me. He's definitely going to get stopped."
Said Perez, "I like the fact that Agbeko thinks he is coming to knock my block off. I really want him to show me how good he is. I love for fighters to make bold predictions. Just ask Silence Mabuza about his prediction before our fight last May. Ask him about his desire to go home early that night. Silence will tell you how dead wrong he was.
"If [Agbeko] says that he's going to deliver, that's great. I just hope that he comes ready. He's not facing a nobody, he's fighting a real future champion. He's not fighting his wife, he's fighting a real man."
Big-name heavyweights plug on
Ethan Miller/Getty Images
Former heavyweight titleholders Oleg Maskaev (36-6, 27 KOs) and Hasim Rahman, who met twice with Maskaev scoring knockouts both times, are plugging on in an effort for another big fight.
First up will be the 36-year-old Rahman (45-7-2, 36 KOs), who hasn't fought since December 2008, when Wladimir Klitschko gave him a beating en route to a seventh-round TKO to retain his heavyweight belts.
Rahman will fight a 10-rounder against an opponent to be determined on Dec. 3 in Rochester, N.Y., the hometown of manager Steve Nelson. Also on the card will be another faded contender, former title challenger Michael Grant (45-3, 33 KOs).
"We know that if we get 'Rock' a win he'll be eligible for a bigger fight next year," said Nelson, who got permission from Rahman promoter Top Rank to put him on the X-Cel Worldwide-promoted card. "His name still comes up for bigger fights, but we need him to get a win. We'd like for him to go out with something halfway decent because 2010 is probably going to be his last year in the ring, so he needs a win to put himself in that position."
Nelson said one potential fight for Rahman could be a trip to Poland to face cruiserweight champ Tomasz Adamek, who blew out Andrew Golota last week in his heavyweight debut.
Maskaev, 40, has won two in a row since being knocked out by Samuel Peter in the sixth round and losing a world title in March 2008, will go for his third win in a row Dec. 11 at Memorial Auditorium in his adopted hometown of Sacramento, Calif. Maskaev, who is from Kazakhstan and lived for several years in New York, moved to Sacramento three years ago.
Dennis Rappaport, Maskaev's promoter, said he'll face Nagy Aguilera (14-2, 9 KOs) of the Dominican Republic.
"If Oleg is successful, it's likely he'll then be in a final eliminator to become the mandatory [to titleholder Vitali Klitschko]," Rappaport said. "He has to win two fights. First, Dec. 11 and a final eliminator."
Rappaport said that final eliminator would be against Ray Austin -- as long as Austin defeats DaVarryl Williamson on Saturday in Las Vegas on the Agbeko-Perez undercard.
Dan Rafael is the boxing writer for ESPN.com.
QUICK HITS

Jones
• Versus, which already struck a deal with Golden Boy to televise Bernard Hopkins' Dec. 2 fight against Enrique Ornelas live from Philadelphia, made a deal this week with Square Ring to pair the Hopkins-Ornelas fight with same-day taped coverage of Roy Jones' fight with Danny Green from Australia, although it won't be formally announced until next week. Hopkins and Jones have a signed agreement to face each other in a rematch in early 2010 on HBO PPV -- as long as they both win their December tune-up bouts.

Vazquez
• Golden Boy has taken another step in the slow process of making a possible fourth showdown between former junior featherweight champs Israel Vazquez and Rafael Marquez. Golden Boy CEO Richard Schaefer told ESPN.com he's come to an agreement with Vazquez manager Frank Espinoza for the fight. "We have a deal in place, but Marquez still has his promotional issues," Schaefer said of Marquez's problems with co-promoter Gary Shaw. "Marquez is still under contract to Gary Shaw and I told Gary I won't do anything unless he's taken care of. Marquez wants to leave Gary, so I have tried to broker a deal. It hasn't worked out yet. If it happens, Frank and me have a deal for Vazquez. I'm trying to find a way to get the fight done." Schaefer said he's talked to Showtime's Ken Hershman about it. Showtime, of course, televised and bankrolled their three unforgettable fights in 2007 and 2008 (two of which were named fight of the year). "I would really want to do the fourth fight on Showtime sometime in the first three months of next year," Schaefer said. Vazquez leads the rivalry 2-1. A fourth fight would take place at featherweight.

Gamboa
• It looks more and more likely that featherweight titlist Yuriorkis Gamboa will defend against Rogers Mtagwa on Jan. 23 (HBO) at the Madison Square Garden Theater, rather than against Bernabe Concepcion of the Philippines, the original opponent Top Rank had in mind. Mtagwa put up an exceptional fight against junior featherweight titlist Juan Manuel Lopez on Oct. 10, also at the MSG Theater. Lopez is supposed to fight in the main event of the HBO card -- probably against featherweight titlist Steven Luevano -- with the idea that if he and Gamboa win they'll face each other in June. By having Gamboa face Mtagwa, it's a way to compare Gamboa and Lopez. Mtagwa promoter Russell Peltz told ESPN.com he's talking to Top Rank's Carl Moretti and Bruce Trampler about the fight. Moretti told ESPN.com it's the fight they intend to make. Top Rank likely will move Concepcion to its Feb. 13 "Pinoy Power" pay-per-view card, which probably will take place at the Las Vegas Hilton.

Mormeck
• Former cruiserweight champion Jean-Marc Mormeck (33-4, 22 KOs), who hasn't fought since being taken out in seven rounds and losing the title to David Haye in November 2007, is returning. Mormeck, moving up to heavyweight, will face American Vinny Maddalone (32-5, 23 KOs). However, the fight, originally scheduled for Nov. 20 in Paris will be delayed until Dec. 17 because Mormeck suffered a biceps injury in training, Maddalone promoter Joe DeGuardia told ESPN.com. Maddalone, who has a penchant for brawls and bleeding, is best known for his third-round knockout loss to Evander Holyfield in 2007.

DeMarco
• Although most of the attention this week goes to Saturday night's Agbeko-Perez fight at Las Vegas' Treasure Island, Showtime opens its telecast with Mexico's Antonio DeMarco (22-1-1, 16 KOs) facing Nicaragua's Jose Alfaro (23-4, 20 KOs), a former titlist, for a vacant interim lightweight belt, made available because of titlist Edwin Valero's inactivity and uncertain schedule. DeMarco aims to make the most of his opportunity. "This is the biggest fight of my life," he said. "A win can change things for my family and myself forever. I really want to do well, but this is going to be a good, hard fight. My opponent has a lot of experience, but if I box and fight smart, I am confident I will win." Said Alfaro: "I feel I am much more prepared for a fight like this than I was when I was champion. The first time around, I thought I could knock out anybody with one punch. I was world champ and did not think I'd ever get beat. When I lost the title, it was a very hard experience, one I'll never forget, but also one I learned a lot from. It was not a good experience, but I gained valuable experience from it. Now, I feel I'm back on track."

Austin
• Promoter Don King is making the untelevised undercard of Agbeko-Perez available on his Web site, DonKingTV.com (6 p.m. ET, $5.99). The pay-per-view will include a heavyweight bout between Ray Austin and DaVarryl Williamson, welterweight prospect James De La Rosa facing Lenin Arroyo, heavyweight prospect Bermane Stiverne meeting Jerry Butler, junior middleweight prospect Nelson Linares against Archak Ter-Meliksetian and lightweight prospect Angelo Santana against James Hope. King experimented with live boxing on his Web site in March 2008, when he featured Cory Spinks and Devon Alexander in separate fights (for free). King claims the event drew viewers from 195 countries. "I was so excited to see such interest," he said. "This new technology can take boxing back to the people and develop new boxing fans worldwide."

Kessler
• Super middleweight titlist Mikkel Kessler of Denmark is moving his training camp to Sacramento, Calif., in anticipation of his Nov. 21 (Showtime) defense against Andre Ward in Oakland in the Super Six World Boxing Classic. "I have decided to leave for Sacramento at the end of this week," Kessler said. "That gives me three weeks to adapt to the U.S. environment and time zone. That should be more than enough to be ready on Nov. 21."

Pacquiao
• So who would Manny Pacquiao and Miguel Cotto be for Halloween if they were going to break camp before their Nov. 14 (HBO PPV) fight at the MGM Grand in Las Vegas? Both were asked, "If you could dress up as any boxer in history [other than yourself], who would it be?" They each selected an all-time great former heavyweight champion -- and all-time rivals -- without knowing the other's choice. "I would be 'Big' George Foreman," Pacquiao said. "Not only because it would give me an opportunity to win a world title in an eighth weight division but in a division I would never be big enough to grow into on my own. Plus, I would be big enough to play power forward in the NBA." Cotto's choice? "Muhammad Ali, who besides being a great boxer is a sports icon who transcended the sports pages. And if I could be another athlete, I would be a NFL running back Adrian Peterson, who combines power with speed just like me."
• The Nevada State Athletic Commission has selected the officials for the Cotto-Pacquiao welterweight title bout. Kenny Bayless will serve as referee. Bayless has been the third man in the ring for three previous Pacquiao fights (his May knockout of Ricky Hatton, 2008 rematch with Juan Manuel Marquez and 2006 rematch with Erik Morales) and three previous Cotto fights (his 2008 loss to Antonio Margarito, 2004 win against Victoriano Sosa and 2002 win against John Brown). The judges will be Dave Moretti, Adalaide Byrd and Duane Ford, all of Las Vegas.

Manfredo
• Middleweight Peter Manfredo Jr., a former first-season star of "The Contender" and former super middleweight title challenger, returns to action Nov. 5. He'll face Ronald Weaver in the eight-round main event of the Fourth Annual Jonathan Ogden Foundation Charity Boxing Event at in Cockeysville, Maryland. Manfredo (32-6, 17 KOs), stopped in the third round by former "Contender" winner Sakio Bika in November 2008, shook off the loss with a seventh-round knockout against Walid Smichet in Montreal in April.

Ruiz
• Former heavyweight titlist John Ruiz (43-8-1, 29 KOs) has been formally added to the Nikolai Valuev-David Haye card on Nov. 7 (3 p.m. ET, Integrated Sports PPV, $24.95) in Nuremberg, Germany. Ruiz will face Adnan Serin (19-10-1, 7 KOs). Ruiz, Valuev's mandatory challenger, stepped aside to allow Valuev-Haye to happen with the provision that he get a spot on the card and be guaranteed a shot at the winner.
QUOTABLE

Khan
"We are professional sportsmen in a worldwide sport. This fight is huge because we are fighting for the world title but not because of any religious aspect." -- junior welterweight titlist and devout Muslim Amir Khan, at a news conference downplaying the religious overtones to his Dec. 5 title defense in Newcastle, England, against Dmitry Salita, a devout Jew
QUOTABLE

Salita
"People should not make something that it's not. We are two guys from two different backgrounds who come to fight. I respect Amir Khan inside and outside the ring." -- Salita, also trying to minimize the religious aspect of his fight with Khan