AP Photo/Brennan Linsley
Lopez, Gamboa on collision course
Junior featherweight titlist Juan Manuel Lopez, Puerto Rico's emerging star, has been steadily built as a fighter and an attraction by promoter Bob Arum's Top Rank since he signed with the company after the 2004 Olympics.
Arum signed another 2004 Olympian, electrifying Cuban gold medalist Yuriorkis Gamboa, to a co-promotional deal with Arena-Box Promotion earlier this year.
With few peers when it comes to building a big fight, Arum made his intentions clear as soon as Gamboa was under contract: He has designs on an eventual Gamboa-Lopez showdown.
Latin Fury 12: Island Warriors
TV lineup for Top Rank's pay-per-view card Saturday (9 p.m. ET) from the WaMu Theater at Madison Square Garden in New York:
Junior featherweights: Juan Manuel Lopez (26-0, 24 KOs) vs. Rogers Mtagwa (26-12-2, 18 KOs), 12 rounds, for Lopez's title
Featherweights: Yuriorkis Gamboa (15-0, 13 KOs) vs. Whyber Garcia (22-6, 15 KOs), 12 rounds, for Gamboa's title
Heavyweights: Odlanier Solis (14-0, 10 KOs) vs. Monte Barrett (34-7, 20 KOs), 10 rounds
Junior middleweights: Pawel Wolak (24-1, 16 KOs) vs. Carlos Nascimento (24-1, 20 KOs), 10 rounds
"These are two exciting young fighters, and when they meet it's going to be big," Arum said.
But it's not going to happen right away. Arum is like a cook working on a recipe. He wants this fight to simmer a bit longer until it's ready -- meaning until there is public and media demand for it.
After all, Lopez is at junior featherweight and set to make his fourth title defense, and Gamboa is at featherweight preparing for just his first defense. There's certainly no rush.
However, the road to the showdown begins at the WaMu Theater at Madison Square Garden in New York, where Lopez and Gamboa take center stage Saturday night (9 ET, Top Rank PPV, $39.95) on "Latin Fury 12."
In the main event, Lopez (26-0, 24 KOs) defends against rugged Rogers Mtagwa (26-12-2, 18 KOs) of Philadelphia by way of Tanzania.
"He's a guy that comes at you and throws a lot of punches," Lopez said of Mtagwa. "He's kind of awkward and throws punches from a lot of directions, and he plans to overwhelm you with punches. But he also leaves himself open, so you can counterpunch him and you can throw some real good punches at him. He's not a good defender. I think if I put my punches together, I think he's a guy that I can knock out."
Gamboa (15-0, 13 KOs), who defected from Cuba and turned pro in 2007, puts his belt on the line against former junior lightweight title challenger Whyber Garcia (22-6, 15 KOs) of Panama.
Arum is the first to admit both of his young stars are heavy favorites, but he doesn't dismiss either opponent.
"There always will be danger, because it's a fight," Arum said. "We're not going to embarrass ourselves by putting them in with tomato cans. They're fighting experienced guys, decent guys who can pull an upset. But that's all part of the risk you take in this business. We'll see how the fights play out, but eventually I want to put them together."
If Lopez and Gamboa, both powerful punchers, are successful, the plan is to feature them together in a Jan. 23 doubleheader in Puerto Rico on HBO's "Boxing After Dark."
Lopez could meet unified titleholder Celestino Caballero, who has relentlessly called out Lopez for months and is willing to fight in Puerto Rico.
"If Caballero is reasonable with his purse demands, yes, we'd like to make that fight," Arum said.
Arum said Gamboa would likely defend his title against contender Bernabe Concepcion.
If Lopez and Gamboa make it through that doubleheader, Arum said they could meet in June at Madison Square Garden.
"I am doing this and maybe one more fight at 122, and I am looking forward to going up to 126, and [Gamboa] is a fight that has been mentioned," Lopez said. "If it can be done, great. It's a great challenge for me, and I think it's a great fight for both of us."
Said Gamboa: "I do not lose focus in preparation for this fight, because I know that without winning this fight I can't get to the bigger fight -- Juan Manuel Lopez being one of them. I think a fight between 'Juanma' and me would make for a great fight."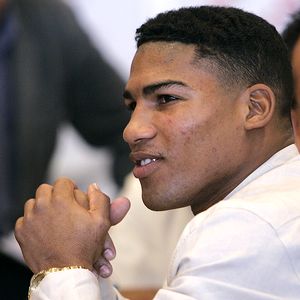 AP Photo/Alan Diaz
Yuriorkis Gamboa is focused on the task at hand -- defeating Whyber Garcia.
Lopez is trying not to look ahead, despite all the grand plans and the fact he is the fighter most prominently mentioned whenever talk turns to future major bouts at junior featherweight and featherweight.
Caballero, for one, is after him.
"I know he is out there and I'm looking forward to shutting his mouth up once and for all," Lopez said. "I am just looking forward to [Saturday], and there are some big names out there that I can fight, and whoever is next, is next."
There's talk of a fight with former junior featherweight champ Israel Vazquez, who debuts at featherweight in his own fight Saturday in Los Angeles.
"Without a doubt, I am going to be rooting for him to win," Lopez said. "I am going to win on the same night and I do look forward to fighting him in the future."
Top Rank stablemate and featherweight titlist Steven Luevano is another fighter Arum has talked about matching with Lopez. And there is, of course, Gamboa.
"It's a big compliment when people talk to me like that, about me being the centerpiece," Lopez said. "It is not only me. My company [Top Rank] has worked and my team has worked to put me at this point in my career, and now it is up to me to do what they expect me to do.
"The opportunities are out there, but we have to take them one step at a time. We can't run to them. I know I am not a rookie anymore, but I am not at the elite level yet and I need a big fight that will put me at the elite level. I am working towards that. We are all working towards that."
Todd duBoef, president of Top Rank, believes Lopez is the linchpin for the biggest fights in the two divisions because of the company's deliberate efforts to build him as an attraction in Puerto Rico and the United States. Saturday's bout will be his first as a headliner in New York, where Puerto Rican fans have flocked to fights involving Felix Trinidad and, more recently, Miguel Cotto -- one of Top Rank's biggest stars. Lopez looks like the next in that line of attractions.
"We develop these business models around these young men, that they become the epicenter of where the storm is," duBoef said. "There are people out there that know where the money is and the fighters that are the biggest attractions.
"There are two kinds of clocks with these young fighters: One is their marketability clock and one is their boxing ability clock. When we have a guy that is in the epicenter of these big fights being done with the different types of opponents that he has in front of him, we have to take both of those things into consideration. Mtagwa is going to be a fight that you are on pins and needles with. [Lopez] had a run of three or four first-round knockouts, and that was great for his marketability. But the truth is, what did it do for his boxing ability? We don't know. So these types of matches are the types that will test him, make him a better fighter and an attraction at the same time."
Opportunity knocks for DeMarco
AP Photo/Chris Carlson
Lightweight Antonio DeMarco (22-1-1, 16 KOs), the all-action slugger from Mexico, had already become the mandatory challenger for titlist Edwin Valero, but with that bout many months off, he was willing to risk his status against former titleholder Jose Alfaro (23-4, 20 KOs) on Oct. 31 (Showtime) in the chief supporting bout to the Joseph "King Kong" Agbeko-Yonnhy Perez bantamweight title bout.
However, because Valero is bogged down with outside-the-ring problems -- a DUI charge, a domestic violence charge and uncertainty over his ability to be licensed in the United States outside of Texas because of a past medical issue -- he won't defend his title for the foreseeable future. Meantime, the WBC has sanctioned DeMarco-Alfaro for the interim belt.
"The WBC is basing its decision on its Rule 1.27, which states that the organization has the authority to approve an interim championship in medical or legal cases that keep a champion from defending his title for more than six months, which is the case [for Valero]," WBC president Jose Sulaiman said.
DeMarco, 23, has been on a tremendous run in recent fights, including a ninth-round knockout of Anges Adjaho in July on Showtime, to become Valero's mandatory. Promoter Gary Shaw is happy to see DeMarco rewarded with an interim title shot, given Valero's situation.
"[I'm] very excited that Antonio DeMarco is getting this opportunity, as he deserves it as a man, family man and fighter," Shaw said. "He is very poor and if he wins the title it will mean so much to him and his family. His father-in-law trains him -- Romulo Quirarte, who I believe is one of the most underrated trainers in boxing. I think the fight will be a tough fight because Antonio makes tough fights for himself sometimes. However, that being said, he knows how to win."
Dan Rafael is the boxing writer for ESPN.com.
QUICK HITS

Klitschko
• Although the fight is not yet signed, heavyweight titlist Vitali Klitschko (38-2, 37 KOs) is close to finalizing a deal to defend against American Kevin Johnson (22-0-1, 9 KOs) on Dec. 12, probably in Germany or Switzerland. "We are working on it," Klitschko manager Bernd Boente told ESPN.com. "We are working hard." The bout has been agreed to, but the contract is not yet signed, Boente said. "We're pretty much in agreement, and hopefully things will be set for our December date [by] next week," said Joe DeGuardia, Johnson's promoter. The bout was offered to Johnson before Klitschko stopped Cristobal Arreola on Sept. 26 in Los Angeles, which is why Johnson withdrew from a fight against Odlanier Solis, which had been scheduled for Saturday. With Klitschko-Arreola doing the biggest boxing rating of the year on HBO and the biggest rating for any fight in the U.S. this year -- a 4.8 rating and approximately 2.1 million viewers (not including viewership for multiple replays) -- Klitschko's team has approached HBO about the network potentially picking up American coverage of the Johnson fight.

Berto
• Lou DiBella, who promotes welterweight titlist Andre Berto and ex-junior welterweight titlist Paulie Malignaggi, told ESPN.com he's close to finalizing bouts for both of them. DiBella has been working for weeks with Golden Boy's Richard Schaefer to finish a Shane Mosley-Berto unification fight for Jan. 30 (HBO) at Las Vegas' Mandalay Bay. "There are still some issues that have to be resolved between the Berto side and HBO," he said. "The issues are not between our side and Golden Boy. I'm optimistic that a deal can get done, but it's not done yet." DiBella and Schaefer are also close on a Dec. 12 rematch between Juan Diaz and Malignaggi, who lost a controversial decision in Diaz's hometown of Houston on Aug. 22. "There are no remaining issues on our side and I believe this fight will happen. It's the right fight at the right time," he said. "I think Golden Boy feels the same way. It's very close, but they need to finish some of their business with Diaz and [manager Willie] Savannah." The fight could take place in Chicago or Las Vegas, DiBella said. Because Malignaggi is a New Yorker, Savannah refuses to come to the East Coast, even though DiBella had a $250,000 site guarantee from a venue in Atlantic City, N.J. If the fight is finalized, Golden Boy junior welterweight prospect Victor Ortiz will appear in the co-feature.

Vazquez
• Although it comes at the last minute, Golden Boy made a deal this week with Fox Sports en Español to carry live coverage of Israel Vazquez's ring return Saturday night (10 ET). Vazquez (43-4, 32 KOs), idle for 19 months since the conclusion of his epic junior featherweight championship trilogy with Rafael Marquez -- during which he underwent three surgeries on the retina in his right eye -- faces Angel Priolo (30-7, 20 KOs) in a 10-round featherweight bout from the Nokia Theater in Los Angeles. "I'm ready," Vazquez said. "I've been training very hard over the past few months. I know there are still a lot of questions out there about whether or not I still have what it takes and if there is potential for a fourth fight with Marquez. This Saturday will answer a lot of those questions." Two six-rounders will also be televised: junior welterweight Carlos Molina (9-0, 5 KOs) against Caesar Holguin (9-2, 3 KOs) and welterweight Luis Grajeda (6-0, 5 KOs) facing Juan Carlos Diaz (3-0, 2 KOs). The card is part of Golden Boy's monthly series that airs on HBO Plus throughout Latin America, but when HBO Plus failed to find a U.S. broadcaster, Golden Boy CEO Richard Schaefer acquired the U.S. rights and made the deal with Fox Sports en Español. "There was a high demand from fight fans here in the United States to see the return of Israel Vazquez, and we're happy that we were able to make this deal with Fox Sports en Español to give fans what they want," said Golden Boy president Oscar De La Hoya.

Julio
• Hoping to end a two-fight losing streak, Joel "Love Child" Julio (34-3, 31 KOs) -- a former ESPN.com prospect of the year -- will return to action Oct. 16 in Miami in a six-round middleweight bout, co-promoter Tuto Zabala told ESPN.com. Julio, 24, who dropped a competitive decision to Sergei Dzindziruk last November and was stopped by James Kirkland in March, will fight on the Telemundo-televised card headlined by a welterweight bout between Antonio Pitalua and Wilfredo Negron, who took the fight this week when Diobelys Hurtado withdrew because of a hip injury.
• Fans looking to get even more pumped up for Showtime's Super Six World Boxing Classic super middleweight tournament, which opens Oct. 17, can look forward to Saturday night's premiere (10:30 ET/PT) of the network's six-episode reality series "Fight Camp 360°: Inside The Super Six World Boxing Classic." Produced in conjunction with NFL Films, the series aims to chronicle the revolutionary six-man tournament, which will play out over 12 fights in 18 months, from conception to the crowning of the champion. According to Showtime, the episodes will follow the fighters (Mikkel Kessler, Carl Froch, Arthur Abraham, Jermain Taylor, Andre Ward and Andre Dirrell) not just through training camp, but also during the moments leading up to their fights, in their corners during each bout and in the aftermath of the fights. The premiere focuses on the intrigue and the politics of how the tournament came together. "The round-robin nature of this tournament lends itself to a story arc and fight progression that has never before been seen in boxing," said Showtime's Ken Hershman, who put the tournament together. "This series will set itself apart by chronicling each man through that progression. No one knows where each story will lead, but our cameras will be there every step of the way. Add in NFL Films' breadth of experience and its trademark storytelling ability, and this series becomes exponentially more unique and compelling."

Tyson
• Mike Tyson is talking to Oprah Winfrey. The former heavyweight champ will be the guest for the full hour on Monday's "Oprah Winfrey Show" (check local listings). According to the news release, "no topic is off-limits and Oprah asks 'Iron Mike' about it all -- his tumultuous marriage and divorce from Robin Givens, his trial and three-year incarceration, his controversial [ear-bite] bout with Evander Holyfield, this year's documentary 'Tyson' and much more. During an emotional hour, Tyson opens up about his battles inside and outside the boxing ring as he talks about his childhood in Brooklyn and the bullying that made him a fighter -- and his training under the legendary Cus D'Amato that made him a champ. Tyson also discusses the tragic accident that took the life of his daughter Exodus in May."

Dawson
• Light heavyweights Chad Dawson and Glen Johnson, who meet in a rematch of their sensational April 2008 slugfest on Nov. 7 (HBO) at the XL Center in Hartford, Conn., are clearly taking things seriously. They participated in the WBC's mandated 30-day weigh-in Wednesday and were both well within the required limit for the vacant 175-pound interim title bout. Dawson, training in Las Vegas, was 185 pounds. Johnson, training in Miami, was 181.6 pounds. "I was 185, and that was with my clothes on," said Dawson, who won the highly competitive first bout via decision. "Everything's good. I'm ready to take on Johnson and put to rest this idea that he should have won the last fight." Said Johnson, "I think Chad knows I mean business by coming in at 181.6 pounds 30 days out. I am ready for this fight and I am taking it very seriously. I feel great. Let's get it on."

Miranda
• A lack of television dates isn't putting a crimp in promoter Dan Goossen's drive to put on noteworthy cards. He has an Oct. 22 show at the Tachi Palace in Lemoore, Calif., that will feature super middleweight banger Edison Miranda (32-4, 28 KOs) against Francisco Sierra (20-2, 19 KOs). Miranda, who recently signed a co-promotional agreement to bring Goossen on board with longtime promoter Seminole Warriors Boxing, is now being trained by Joe Goossen, Dan's brother. Also on the card: heavyweight Manny Quezada (28-4, 18 KOs) meets Nicolai Firtha (16-6-1, 7 KO); heavyweight Malik Scott (32-0, 11 KOs), who is also trained by Joe Goossen and recently extended his promotional deal with Goossen; and other Goossen prospects. "We've put on some terrific, competitive shows for our great fans at the Tachi Palace & Casino over the years, but this one ranks right up there with the best of them," Goossen said.
QUOTABLE

Froch
"You know I'm a big puncher. My record speaks for itself. If I get anyone -- and not just Andre Dirrell -- in the position where they're down and they're hurt, I'm one of the best finishers in the business. That's why [Showtime] is excited about showing my fight, because I'm exciting. I'm a big puncher and the knockouts come easy for me." -- Super middleweight titlist Carl Froch, on his Oct. 17 defense against Dirrell in the opening round of Showtime's Super Six World Boxing Classic
QUOTABLE

Dirrell
"I've spent my whole life dreaming of this night when I fight for the world title. Froch has been foaming at the mouth, saying how hopeless my chances are against him. Frankly, I find his rants tiresome. No wonder Joe Calzaghe didn't give him a shot. He's a gasbag. He may have fought southpaws and orthodox-style fighters, but he has never fought a switch-hitter like me. I'm going to go Mickey Mantle on him and shoot the works from the moment the bell rings. Mr. Froch can kiss my Yankee Doodle." -- Dirrell, on England's Froch, whom he challenges Oct. 17 (Showtime) in Froch's hometown of Nottingham