Gene Blevins -- Hoganphotos/Golden Boy Promotions
Expect Floyd Mayweather to look his best after a long layoff from the ring.

Gene Blevins -- Hoganphotos/Golden Boy Promotions
Roger Mayweather, right, doesn't feel the break will hinder Floyd Mayweather's performance.

Chico Sanchez -- Hoganphotos/Golden Boy Promotions
Expect Juan Manuel Marquez to bring his A-game to Las Vegas come Sept. 19.
Layoff doesn't worry Mayweather
From the time Floyd Mayweather Jr. turned pro in 1996 until his last fight in 2007, he was never out of the ring for more than eight months.
While the regular activity kept Mayweather sharp -- he won titles in five weight divisions from 130 pounds to 154 pounds and was long considered the No. 1 pound-for-pound fighter in the world -- it also burned him out some. In addition, there were nagging hand and shoulder injuries that never quite healed 100 percent.
But Mayweather (39-0, 25 KOs) knocked out Ricky Hatton in the 10th round to retain the welterweight title in December 2007 and announced his retirement a few months later, sending him into the longest layoff of his career.
Now, "Money" is ending the nearly two-year retirement few thought would last in order to face lightweight champion Juan Manuel Marquez (50-4-1, 37 KOs) at a catch weight of 144 pounds Sept. 19 at the MGM Grand in Las Vegas (HBO pay-per-view).
Despite the long layoff, which was extended when a July 18 bout was postponed for two months because of a Mayweather rib injury, he said he feels as good as he ever has.
For one thing, Mayweather said the rib injury is behind him.
"We had a freak accident in the past, and the only thing we trying to do is just move on," he said. "That was in the past. I'm a lot better now. I feel strong, and I'm ready to fight."
The layoff did him good, he said.
"I don't know if the two-year layoff is going to affect me, but I feel fast, I'm strong and my timing is there," Mayweather said this week. "And we're in the gym every day and we're looking good. So I feel the same way as I felt before I left. Actually, I feel a little bit better.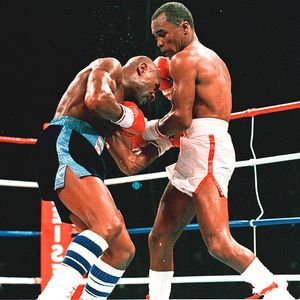 AP Photo
Sugar Ray Leonard, right, returned from a three-year layoff to edge Marvelous Marvin Hagler in 1987.
"I think the break actually helped because I haven't had a break since '87 [when he was a busy amateur]. So I think my body gets a chance to heal and I just grew mentally as a person and I feel good."
Roger Mayweather, Floyd's uncle and trainer, said the layoff would not hinder his nephew against Marquez and cited examples of other star fighters who were off even more than two years and came back with big victories.
"Well, I know one thing about layoffs and I know about fighters," he said. "If a fighter got skills -- the greatest fighters in the world had layoffs. What did you think Sugar Ray Leonard had? He had a [three]-year layoff. He had two eye detached-retina surgeries, right? But he still beat the greatest middleweight. He beat Marvin Hagler when he was laid off [three] years. Sugar Ray Robinson was laid off three years; that's the greatest fighter on the globe. Ali was laid off three years. So I mean, Floyd ain't going to be the only guy that's been laid off in boxing.
"Great fighters have something in common. They were all laid off anyway. All of them were laid off. Not just him. All of them. All of them who were good, what they called great, they all had layoffs and they all still had spectacular performance when they fought. So guy keeps asking about how you laid off, when you laid off. Fights are won by skill. That's all there is to it."
It's not like Floyd Mayweather walked back into the gym and was immediately in boxing shape. He admitted that it took some time for him to regain his timing and shake off the rust.
Before the May announcement that he was ending his retirement, Mayweather had been visiting his boxing gym and working out. But he hadn't been training for an actual fight.
When the fight with Marquez was finalized, that was when he got serious.
"When I started training, preparing for the fight, I was looking sharp anyway because when I got to gym, I worked the pads with my uncle Roger. I was looking extremely sharp," Mayweather said. "But once I started boxing, I had to box a few times, box four or five times, and the fifth time I started boxing, I still was looking good. I wasn't taking no punishment. But by the fifth time I started sparring, I started looking really, really sharp and looking really, really good, actually.
"The first day I think I [returned to boxing], I boxed eight rounds."
Mayweather sparred with such fighters as Lamont Peterson, an interim junior welterweight titleholder, and Mark Melligen, a rising prospect from the Philippines.
"I was working with a few different guys around my gym," Mayweather said. "They are all good fighters and they got me back sharp."
We'll see just how sharp Sept. 19.
Judah bails on Diaz fight
From the moment Floyd Mayweather Jr. announced on May 2 that he was ending his retirement to fight Juan Manuel Marquez, he said Zab Judah would fight on the undercard. Mayweather and Judah were longtime friends before a falling out and a Mayweather victory against him in 2006. Now they're buddies again, and Mayweather was trying to help him out by giving him a high-profile fight. When Mayweather-Marquez was scheduled for July 18, Judah was supposed to face Matthew Hatton, Ricky Hatton's younger brother.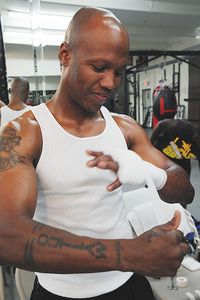 Denise Truscello/WireImage
Don't expect to see Zab Judah lacing 'em up on Sept. 19.
When Mayweather suffered a training injury and the card was postponed until Sept. 19, Judah remained on the card but was scheduled to face Antonio Diaz.
However, when a teleconference with the undercard fighters took place two weeks ago, Judah was the only fighter not to show up. Now, he has pulled out of the fight and is off the card, according to Golden Boy's Richard Schaefer.
"I don't even know what happened, but he's off the card," Schaefer said, adding that he has never been given a reason for Judah's withdrawal.
Schaefer said he'd like to find a new opponent to face Diaz so Diaz isn't penalized for doing nothing wrong. Schaefer was interested in matching him with Saul Alvarez, a rising Mexican welterweight prospect with a big following. But Alvarez is committed to a fight in Mexico, and the timing wasn't right.
If they can't find an opponent for Diaz, Schaefer said, they'll try to make a new fight on short notice.
The two other pay-per-view undercard bouts are featherweight titlist Chris John against Rocky Juarez in a rematch of their February draw and Michael Katsidis facing Vicente Escobedo for an interim lightweight belt.
Two 'ShoBox' tripleheaders
Showtime's "ShoBox" series has finalized a pair of notable tripleheaders.
On Sept. 18, heavyweight prospect Travis Kauffman (18-0, 15 KOs) headlines in his first scheduled 10-rounder against Tony Grano in Santa Ynez, Calif., on a Gary Shaw-promoted card. Also on the telecast, welterweight Antwone Smith faces Henry Crawford in a 50-50 fight between rising prospects, and exciting bantamweight prospect Chris Avalos faces rugged Giovanni Caro.
Promoter Lou DiBella's Oct. 2 card in Newkirk, Okla., is headlined by super middleweight contender Allan Green against Victor Oganov. Green is Showtime's top choice to move into the network's six-man super middleweight tournament in the event of an injury or the withdrawal of any participant. DiBella's newly signed rising super middleweight prospect Marcus Johnson also will be on the card. The third fight pits super middleweight Anthony Dirrell, the younger brother of tournament participant Andre Dirrell, against Roger Cantrell.
Smith recently signed with DiBella and Shaw has been promoting Anthony Dirrell, but the promoters placed each on the other's card because the scheduling worked best for everyone.
The Smith-Crawford fight, perhaps the most competitive on paper of the six bouts, came together quickly. Crawford promoter Main Events had been trying to match him with Mike Jones, promoter Russell Peltz's hot prospect, for several months, but they were unable to secure a television date for the bout.
"It's the first TV opportunity that came along, so we're taking it," said Kathy Duva of Main Events.
Look who's back
Former heavyweight champ Hasim Rahman (45-7-2, 36 KOs), idle since being destroyed in seven noncompetitive rounds by Wladimir Klitschko in December, will fight on the undercard of nemesis David Tua's Oct. 3 bout in New Zealand.
In his first bout in 25 months, Tua faces New Zealand rival Shane Cameron. Rahman will box an opponent to be named, manager Steve Nelson told ESPN.com.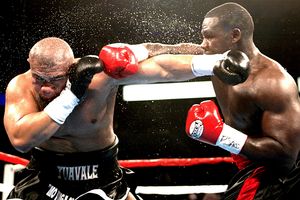 AP Photo/George Widman
David Tua, left, and Hasim Rahman are on track to fight for a third time.
Nelson said if Tua and Rahman both win, they've talked about a third meeting at the end of the year or in early 2010.
As top contenders, Tua (49-3-1, 42 KOs) and Rahman fought two controversial title eliminators. Tua stopped Rahman in the 10th round in 1998 in a bout in which he hurt Rahman badly after the bell ended the ninth round and then stopped a still-groggy Rahman in the next round. The 2003 rematch was scored a split draw in a fight most ringside observers thought Rahman won.
"As long as Tua and Rock both win, we've talked about a third fight with Tua in New Zealand," Nelson said. "Then we'll look to do a farewell fight in the States next year after he gets past Tua. Whatever happens, Rock says that 2010 is his last year and he'd like to go out in a nice way."
Nelson said a possible farewell fight could come in a rematch with former champ Evander Holyfield, who won an eight-round technical decision against Rahman in a 2002 eliminator. The fight was stopped because Rahman suffered severe swelling over his eye from a head butt.
"It would be nice as a farewell fight for both of them," Nelson said.
Dan Rafael is the boxing writer for ESPN.com.
QUICK HITS

Malignaggi
• HBO is interested in a rematch between Juan Diaz and Paulie Malignaggi for early next year, Malignaggi promoter Lou DiBella told ESPN.com. In his hometown of Houston, Diaz was given a unanimous decision Aug. 22 in a fight many felt Malignaggi won. Texas judge Gale Van Hoy's wide 118-110 scorecard was heavily criticized as well. DiBella said Diaz promoter Golden Boy was "receptive" to a rematch, although it is unclear whether Diaz and manager Willie Savannah are willing, especially since the idea would be to do it in New York, Malignaggi's hometown, or elsewhere on the East Coast. Malignaggi met with HBO executives Wednesday, and they told him they'd like a rematch, DiBella said.

Lewis
• While star fighters such as Oscar De La Hoya and Roy Jones have gotten into promoting, former heavyweight champion and Hall of Famer Lennox Lewis, an HBO commentator, is getting involved in the management end. Lewis and Josh Dubin, his friend and attorney, have founded League of Champions Boxing Management. Their clients include former welterweight titlist Kermit Cintron, Malignaggi and cruiserweight Adam "The Swamp Donkey" Richards.

Mosley
• Golden Boy CEO Richard Schaefer told ESPN.com that he's moved off Dec. 5, the HBO date meant for a Shane Mosley fight at Las Vegas' MGM Grand, to accommodate the network and promoters of the Kelly Pavlik-Paul Williams middleweight championship fight, which will go on the date, assuming Pavlik's staph infection clears up. Schaefer is working on a Mosley fight against Joshua Clottey at the Staples Center on Dec. 26, a surprising date, considering HBO always has purposely avoided bouts so close to Christmas. "I moved off Dec. 5 because you want to be a good partner with HBO and to be a nice guy," Schaefer told ESPN.com. "[Dec. 26] is being discussed. I'm evaluating the options with Shane. He wants to fight sooner than later. Dec. 5 was his date. I was asked to move off that date. I did it to be a good partner."

Pavlik
• As for Pavlik-Williams, originally scheduled for Oct. 3 in Atlantic City, N.J., until Pavlik postponed it because of a nagging staph infection in a knuckle on his left hand, Top Rank's Bob Arum said Pavlik is on the mend and he expects the fight to take place Dec. 5 in Atlantic City. "It looks like the infection has been taken out. They're doing blood work, and everything looks good," he told ESPN.com. "This thing would have gone on for years if [the Williams camp] hadn't insisted we get a medical report. They said they needed to see a report so they would know if Kelly would be OK, or they would make other plans, which I can't blame them for." Arum said Pavlik was examined at the Cleveland Clinic. "The doctor really took care of Kelly," Arum said. "They scraped [the knuckle] out, operated and it's healing perfectly. We're very optimistic, and Kelly feels much better. It looks like he can start training, but without hitting. Then he should be able to hit with the left hand in about four weeks."

Holt
• When super middleweight titlist Karoly Balzsay was stopped in the 11th round by Robert Stieglitz on Aug. 22, it killed a possible Balzsay-Sakio Bika title bout, which was being explored as the co-feature on the Nov. 28 HBO card headlined by super middleweight titlist Lucian Bute's rematch against Librado Andrade in Quebec City. The upset leaves Golden Boy looking for another co-feature. It could be interim junior welterweight titlist Marcos Maidana against ex-titleholder Kendall Holt, Golden Boy matchmaker Eric Gomez told ESPN.com. "I reached out to Top Rank to see if Holt would fight him, and [Top Rank's] Carl Moretti thinks it's doable. It's a good fight and HBO would accept it," Gomez said. Arum said his side likes the fight. "We said we're interested," Arum said. "Now we just need to see a proposal."
• A familiar face is returning, at least briefly, to Showtime. Steve Albert, who called fights for the network from 1987 until Gus Johnson took over the role this year, will be back at ringside Oct. 17, according to the network. That's the night Showtime will broadcast the first two bouts of the Super Six World Boxing Classic. Albert will team with analyst Steve Farhood to call the Arthur Abraham-Jermain Taylor fight in Berlin. That bout will air on same-day tape while the announcing team of Johnson, Al Bernstein and Jim Grey will handle the live part of the broadcast from Nottingham, England, where Carl Froch will defend his super middleweight belt against Andre Dirrell.

Montiel
• Top Rank's Arum has been hoping to make a fight between lightweight titlist Edwin Valero and junior lightweight beltholder Humberto Soto as the co-feature on the Nov. 14 Miguel Cotto-Manny Pacquiao HBO PPV undercard in Las Vegas. However, Arum told ESPN.com that Valero is having visa issues because of a DUI charge in the United States earlier this year. If that remains an issue, Arum said he'll put the overdue mandatory fight between junior bantamweight titlist Fernando Montiel against Eric Morel on the card. Montiel also must make it through a defense against Alex Valdez, which is on Top Rank's "Latin Fury 11" pay-per-view Sept. 12 in Mexico. "If we can't make Valero-Soto, we're going to make Montiel-Morel," Arum said.

Spadafora
• After years of starts and stops in his career (most caused by legal problems), former lightweight titlist Paul Spadafora (42-0-1, 17 KOs) will fight for the second time in three months Sept. 30 in his hometown of Pittsburgh. Spadafora, trained by Hall of Famer and former four-division champ Pernell Whitaker, will fight a scheduled 10-rounder against an opponent to be determined, promoter Mike Acri announced. Spadafora came back from a 14-month layoff to stop Ivan Bustos in the sixth round June 24.

Ruiz
• Former heavyweight titlist John Ruiz has accepted a deal from German promoter Sauerland Event to step aside and allow Nikolai Valuev to defend his belt against David Haye on Nov. 7. Ruiz, who is Valuev's mandatory challenger (and the mandatory is due), was upset when Valuev-Haye was made without considering him. But Sauerland Event and Ruiz attorney Tony Cardinale came to an agreement (which, according to Cardinale, isn't signed yet) under which Ruiz will appear in a 10-rounder on the Valuev-Haye undercard. Ruiz also will receive the next fight against whomever holds the WBA title after Nov. 7 (with that fight being due by May 31, 2010), Cardinale told ESPN.com. "There is no problem with the Valuev-Haye bout; everything has been sorted," said Chris Meyer, general manager of Sauerland Event. "We have struck a deal with Team Ruiz for him to step aside. Our attorneys are just putting it in writing."

Cintron
• Former welterweight titleholders Kermit Cintron and Carlos Quintana, both angling for major fights at either welterweight or junior middleweight, will stay busy in separate bouts Oct. 24 in their native Puerto Rico, promoter Lou DiBella told ESPN.com. "Both guys need to fight, and both guys are in good positions for bigger and better things," DiBella said, adding that the card will be televised in the United States on a delayed basis as part of his syndicated "Broadway Boxing" series. If Quintana wins, he has a tentative Dec. 3 fight on Versus against ex-junior middleweight titlist Verno Phillips.

Jirov
• The return of former cruiserweight champ and 1996 Olympic gold medalist Vassiliy Jirov (37-3-1, 31 KOs), originally slated for Sept. 17 in California, has been moved to Oct. 17 in Phoenix, where Jirov lives, according to manager Ivaylo Gotzev. Jirov, 35, hasn't fought since July 2007 and has fought only twice since mid-2005. He's scheduled to face Dominique Alexander (18-7-1, 9 KOs). Also on the card, Phoenix native and former "Contender" participant Eric Vega (8-4-1, 6 KOs) faces ex-cruiserweight titlist Kelvin Davis (24-10-3, 17 KOs), and Ukrainian light heavyweight Ismayl Sillakh (9-0, 8 KOs) will see action.
• Condolences to trainer Freddie Roach on the death of his younger brother, Joey Roach, on Saturday. Joey Roach died in his sleep at his Las Vegas home. He was 47. Roach, who had a lengthy amateur career and a handful of pro fights, is survived by his wife, Jacquelyn Roach, mother Barbara Roach and siblings Allen Roach, Cindy Road, Pepper Roach, Paul Roach and Freddie.
QUOTABLE

Klitschko
"David Haye is not a serious fighter. I doubt he had an injury when he gave up the fight against Wladimir. We gave Haye the same contract as he got with Wladimir. Against me, Haye had little chance to take the title. That's why he didn't want to fight. He's unserious. I don't think about him anymore. Right now, I focus on Arreola." -- heavyweight titlist Vitali Klitschko, who faces Cristobal Arreola on Sept. 26, on Haye, who backed out of title fights against Klitschko and brother Wladimir Klitschko over the summer
QUOTABLE

Lopez
"I think it's important for people to get to know both of us and we both get bigger. We sparred in France before the [2000] Olympics. It wasn't friendly sparring. We went at it pretty good. I got to watch him in a lot of amateur tournaments also. We never fought each other in those but we got to see each other often. I know there are other fights that people talk about, but I only concentrate on my next opponent." -- junior featherweight titlist Juan Manuel Lopez, addressing an eventual showdown with featherweight titlist Yuriorkis Gamboa, with whom he shares an Oct. 10 Top Rank PPV card meant to grow interest in them facing each other in 2010